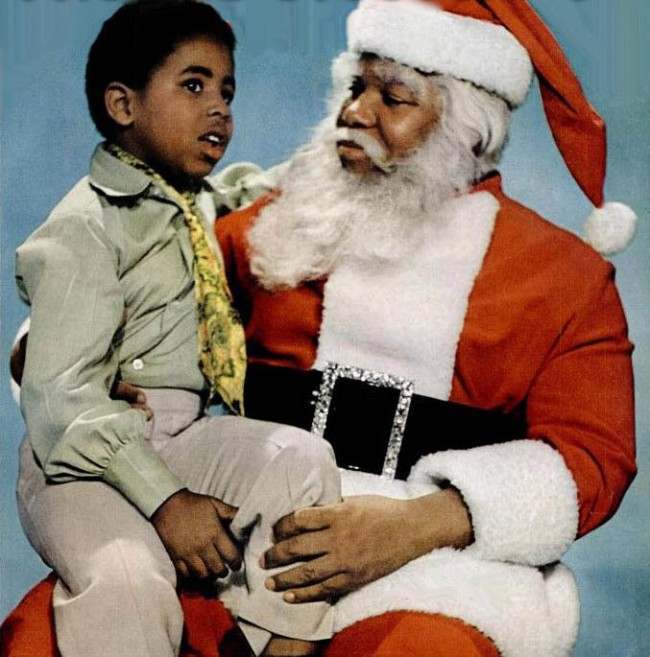 LET'S face facts: Christmas in 1960s and 70s pop culture was presented as lily white as the wind-driven snow. Holiday specials consisted of lots of smiling Caucasians in festive sweaters singing their little hearts out. Most Christmas tunes on the radio were tailor made for the likes of Pat Boone and Andy Williams – two individuals who I believe legally patented the term "white bread". I mean, I like Perry Como as much as the next guy, but sometimes it's nice to funk things up with a little afro-centric vibe (and, no, Johnny Mathis does not count).
So, here are five funky holiday classics for your listening pleasure. Don't worry – after it's over you can go back your Bing Crosby.
"Yuletide Throwdown" by Blondie and Fab Five Freddy
We're all familiar with Fab Five Freddy's rap at the end of Blondie's "Rapture". After all, who can forget the poignant lyrics: "'Cause the man from Mars stopped eatin' cars and eatin' bars, and now he only eats guitars." Well, in 1982 Flexipop included in their magazine a Christmas remix of the song. It never wound up on an official single or got included on an album, so it's a bit hard to come by.
If you can get past the banter at the intro, it really isn't half bad. Typical old-school rap over the "Rapture" refrain with a Christmas vibe…. What's not to love?
"It's Christmas" by Antonio "Huggy Bear" Fargas
Remember Huggy Bear, the jive-talking Superfly informant on Starsky & Hutch? The character was played by Antonio Fargas (and Snoop Dogg in the film version). Always decked out in pimptastic duds, Huggy Bear was Starsky and Hutch's pipeline to the criminal underworld.
Well, it only makes sense that this streetwise mack would release a Christmas single. Nothing says the Holidays like a message of Christmas cheer delivered by your local drug dealing pimp. A more apt title might've been "Merry Christmas, you stupid [censored] honkeys!"
"Santa Claus is a Black Man" by Akim and Teddy Van
Teddy Van was a ridiculously talented composer and musician; however, the decision to have his young daughter record a Christmas album may have been a bad move. In fact, I'm going to go out on a limb here and say it was an objectively terrible idea.
The song is an alteration on the well-known "I Saw Mommy Kissing Santa Claus" song… but this time Santa's sporting an afro and is ready to get down.
"Santa Claus Go Straight to the Ghetto" by James Brown
James Brown straight up commands St. Nick to hit the ghetto first – the suburbs can wait this year. The Godfather of Soul has spoken, and Santa had best heed his words.
This would've made a perfect Rankin/Bass holiday special. Be sure to check out the "unrated version" where Brown's entourage goes medieval on the Heat Miser, and the stop-motion Brown gets busy with the Snow Queen to the tune of "Sex Machine." Fun for the whole family to enjoy.
"Backdoor Santa" by Clarence Carter
With a hook later borrowed by Run DMC (for "Christmas in Hollis") this soulful ditty isn't a Christmas song per se. It's more of an announcement of Clarence's availability for any upcoming booty calls. It's the gift that keeps on giving.