TODAY I trawled the archives for pictures from 1956 worth looking at again. All captions are original.
Television – BBC TV – The Valiant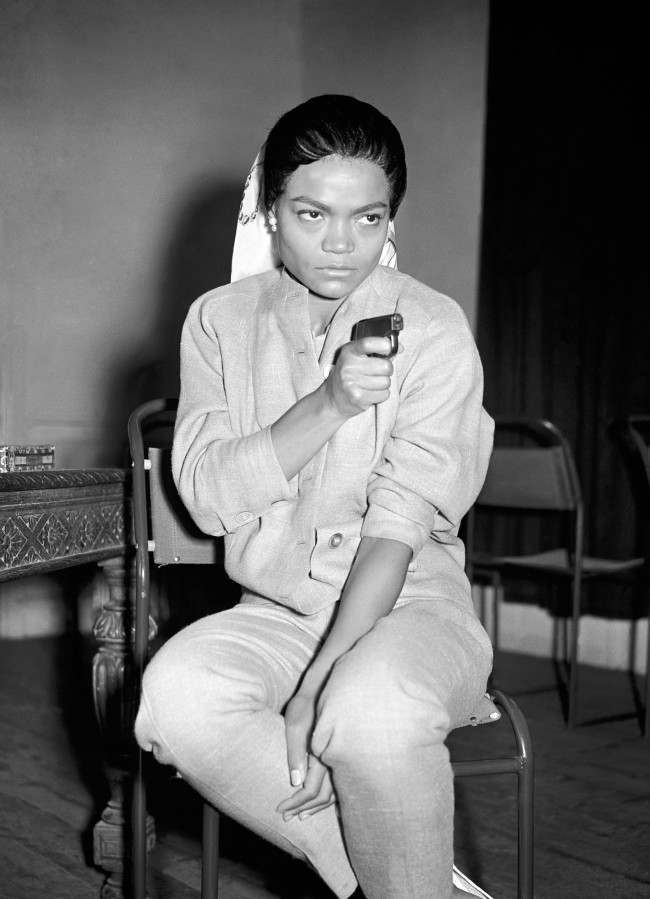 Eartha Kitt, American singer and actress, rehearsing for the BBC TV play 'The Valiant'. Date: 05/05/1956
British Seaside – Music Fan – Brighton – 1956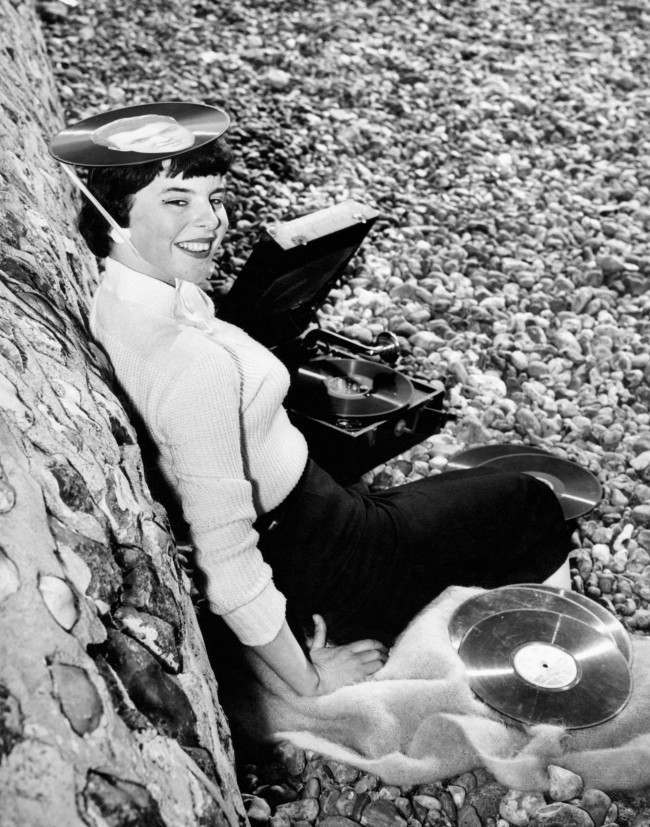 Suzanne Crowley is a "raving mad Dickie Valentine fan", his voice goes everywhere with her on the records she carries with a portable gramophone. She even made a hat for herself out of one of his records. Date: 11/05/1956
Umbrella Time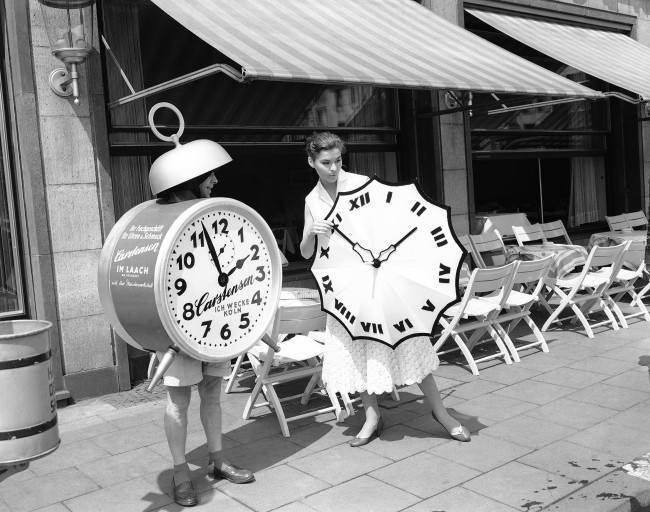 A model displays West Germany''s newest in umbrellas, designed with the face of a clock. The hands can be moved to any position. The umbrella made its appearance at an exhibit of umbrellas in Duesseldorf, June 12, 1956.  Date: 12/06/1956
Royalty – Prince Philip – Windsor Great Park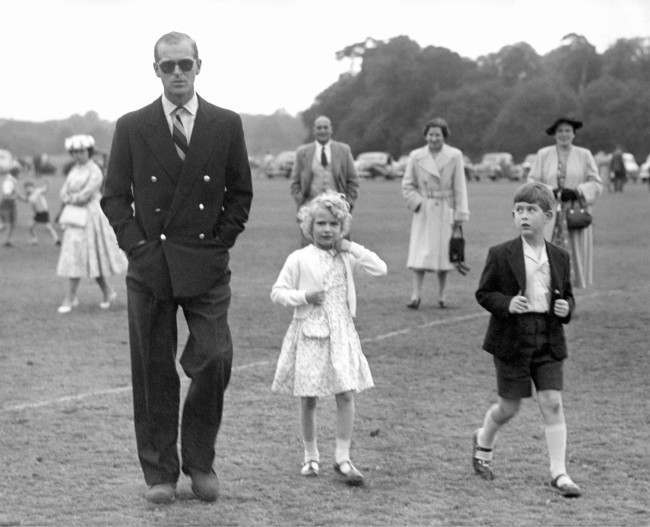 Princess Anne (c) adjusts her cardigan while her brother, Prince Charles, glances across at the Duke of Edinburgh at Smith's Lawn, Windsor Great Park, where they were watching the Polo. Date: 20/06/1956
Miniatures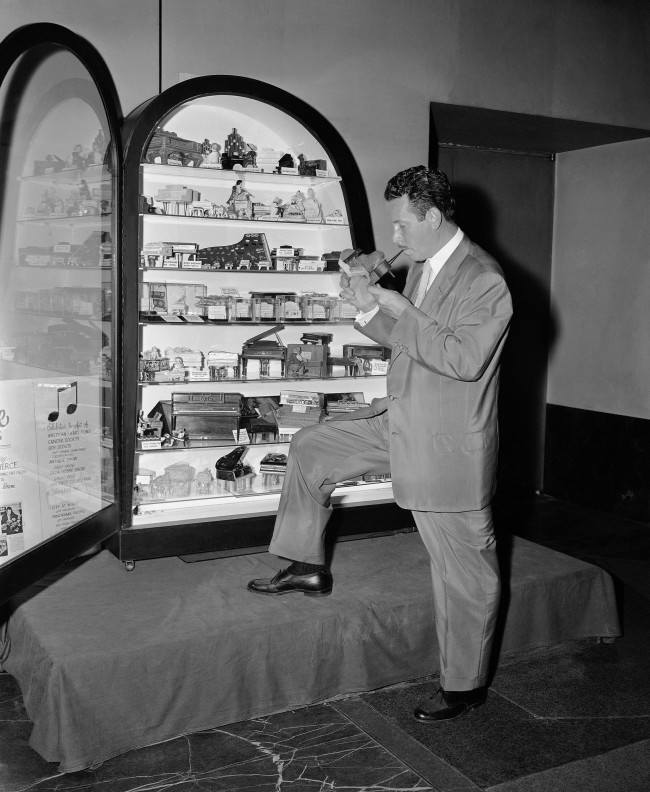 W. R. "Bob" Pierce, of Los Angeles, lights a pipe that looks like a piano with a cigarette lighter that also looks like a piano, at an exhibit of musical instruments in New York on July 25, 1956. Pierce has been collecting miniature pianos for over 30 years and believes he has the largest collection of them in the world. In the background, in a glass faced grand piano body, are the 75 to 100 in his collection. Pierce is particularly proud of his "lost weekend model, an upright containing a built-in bar with tiny whiskey bottles. He has another colorful model that plays Hot Diggity."
Comics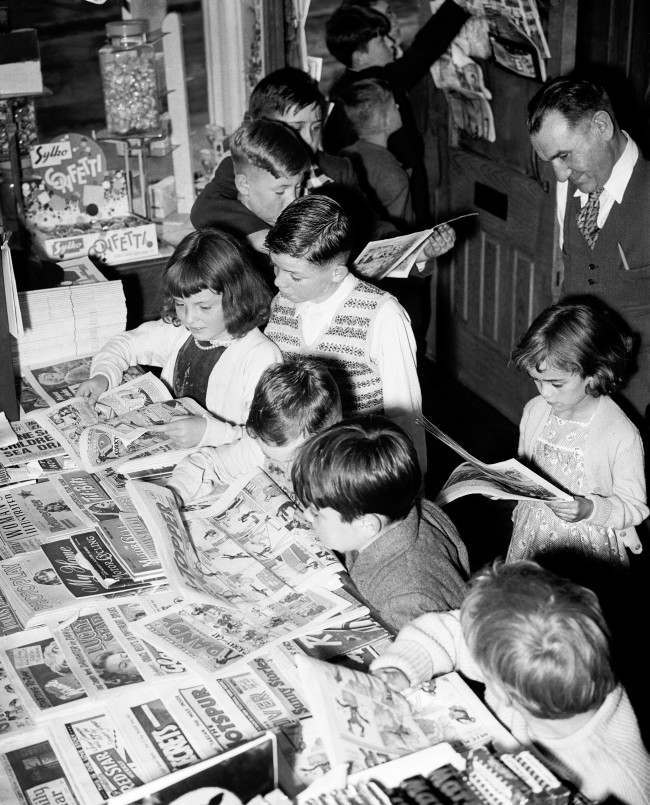 Children look at comics in a shop. Date: 07/09/1956
NYC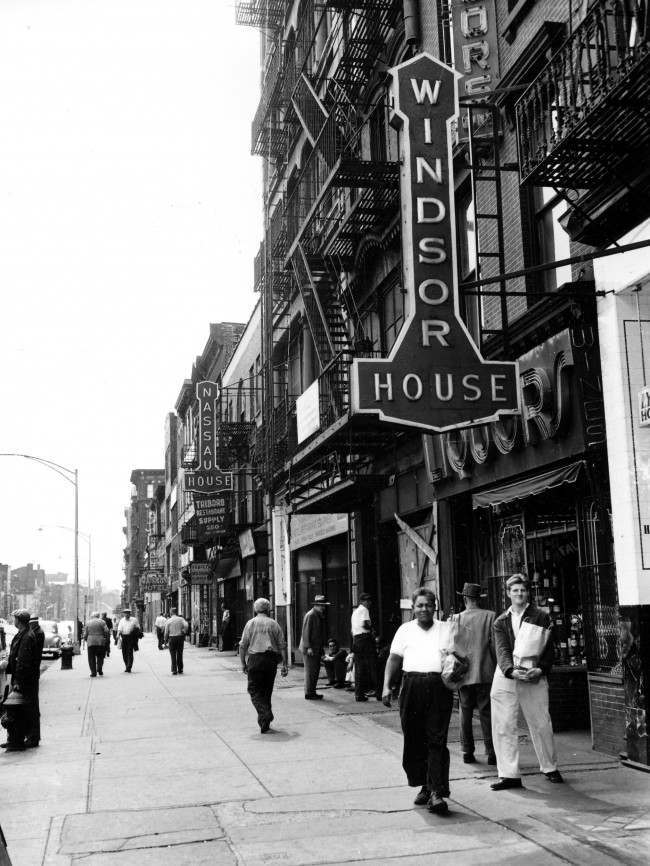 This is a view of the Bowery looking south from E. Houston to Prince Street in New York City, Sept. 15, 1956. Date: 15/09/1956
Air Pollution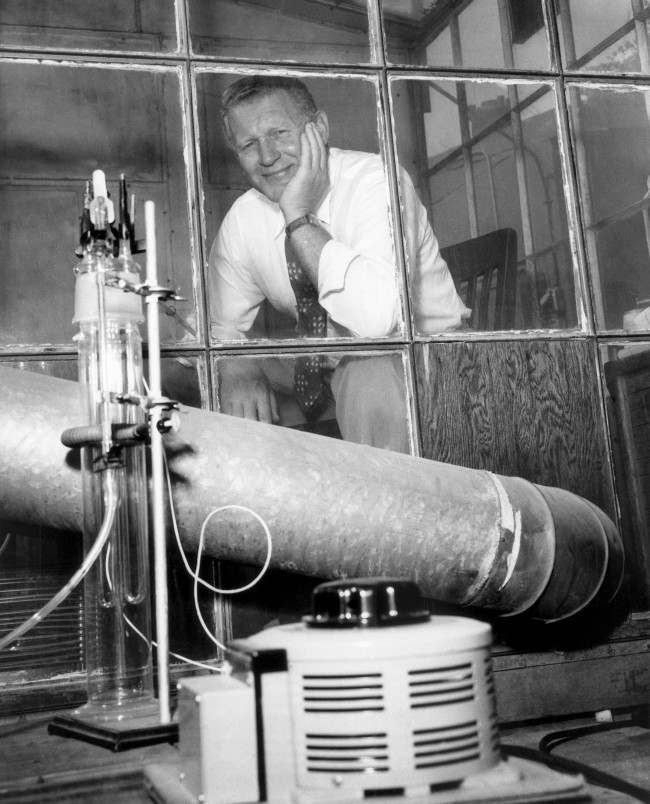 In a dramatic test of the effects of smog, S. Smith Griswold, Los Angeles smog control chief, sits in an artificial smog chamber, Sept. 17, 1956. He spent two hours in the plexiglass chamber taking a dosage of two parts of ozone to one million parts of air. The temperature was 90 degrees. Next day a doctor found his lung capacity had been cut 22 per cent. A listless feeling and a persistent tickling cough hung on for a month. Griswold also is attacking the problem of auto exhaust fumes.
Brigitte Bardot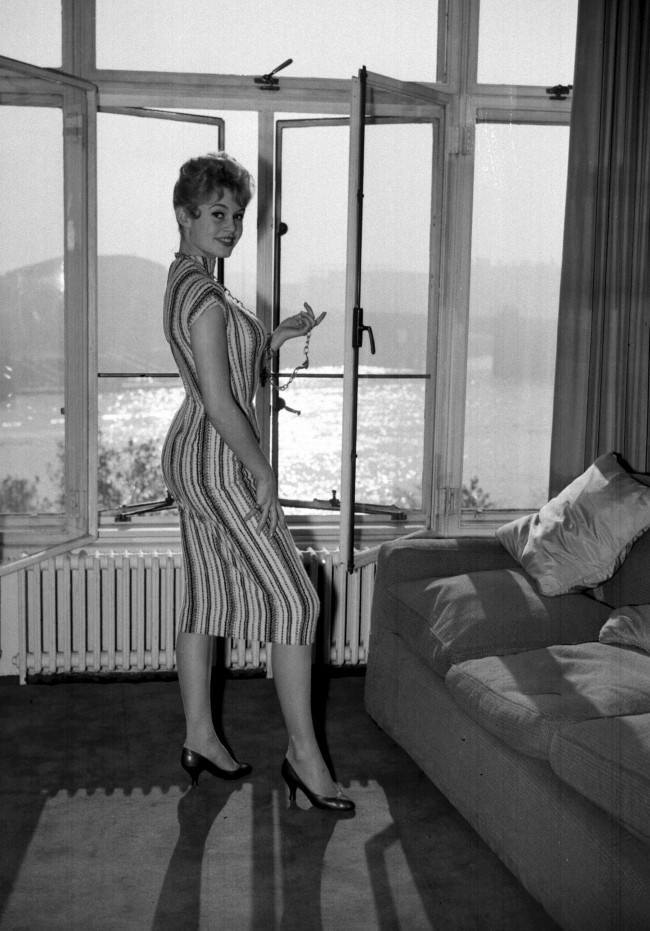 French actress Brigitte Bardot at the Savoy hotel in London prior to a Royal Film Performance. Date: 27/10/1956
KKK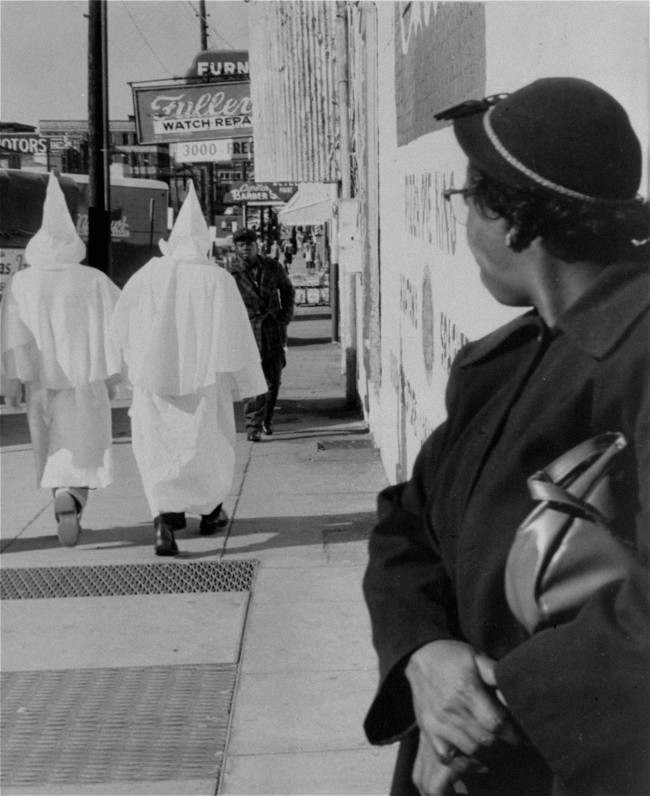 A black woman watches as robed Ku Klux Klansmen walk in downtown Montgomery, Alabama, prior to a cross burning rally that night, November 24, 1956.
Italian Circus Togni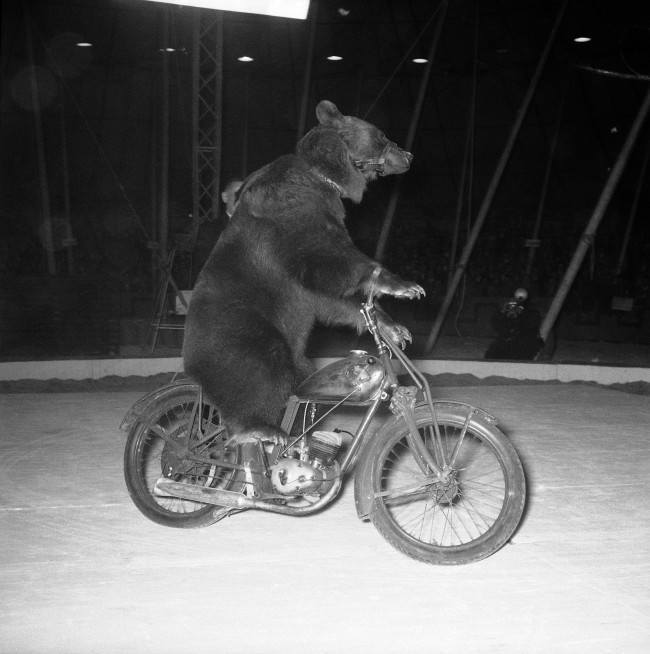 One of the most popular attractions of the Italian circus Togni is this bear, who rides around an arena on a real motorbike alone, in Rome on Dec. 14, 1956.
Korean War Orphans San Francisco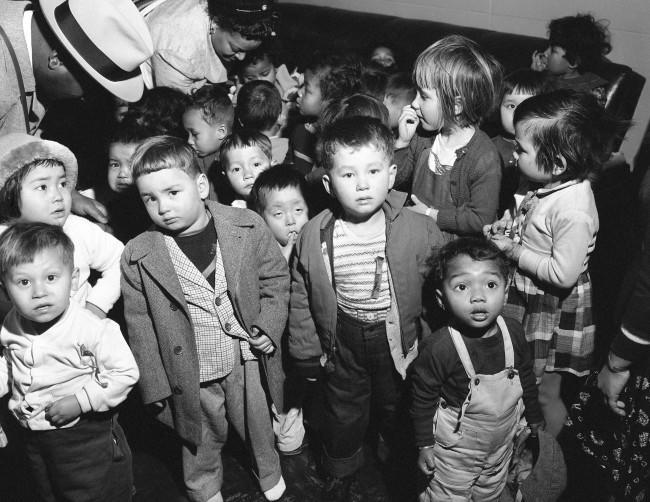 Some of the 89 Korean orphans who arrived in a chartered plane in San Francisco on Dec. 17, 1956 are a study in expressions as they mill about while waiting to be sorted" for their various foster homes in America. The group were brought from Korea by Henry Holt, an Oregon farmer who has four some time been engaged in securing a new chance in life for the homeless of Korea.
Hungarian Revolt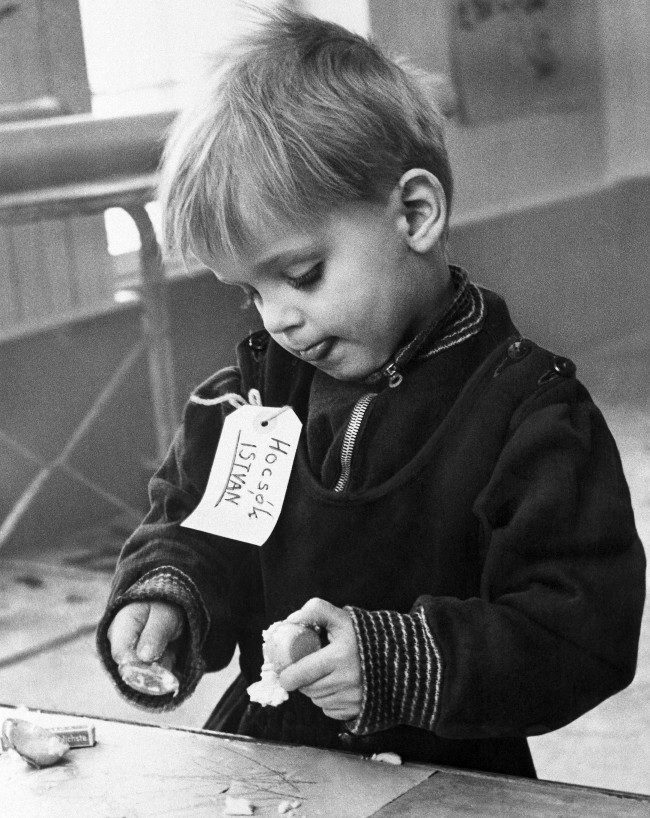 Hungarian refugee boy bites his tongue as he ponders what he can make with modeling clay in a nursery at a refugee camp near Traiskirchen, Austria, Dec. 22, 1956. He wears a name tag to prevent mistaken identity. Clay was among the toys, gifts and funds sent by youngsters from the Unites States and 16 other countries through the junior Red Cross for distribution in refugee camps.
FORMER EMPEROR OF CHINA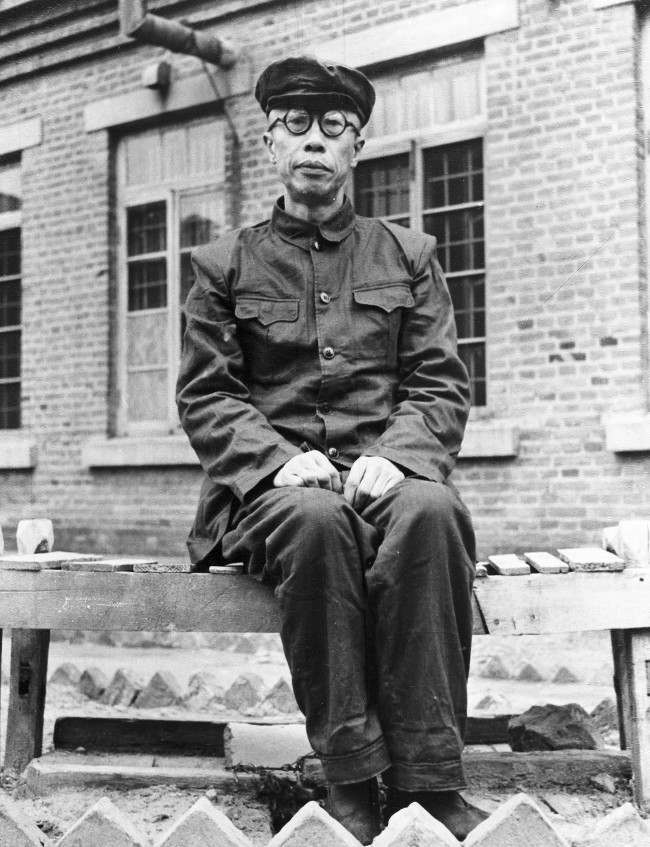 50-year-old Henry Pu-Yi, the last Manchu emperor of China, seen in a Communist prison in Fushan, China, Dec. 28, 1956, where he has spent the last 11 years of his life.
Shopping – Winter Sales at C&A Modes – Oxford Street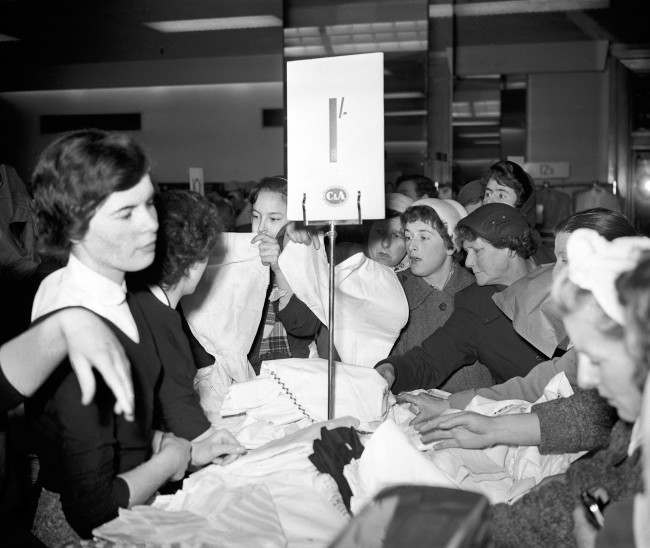 Women surrounding the 5/. dresses in the sales. Date: 28/12/1956
Willie Fraser in a vain effort to stop goal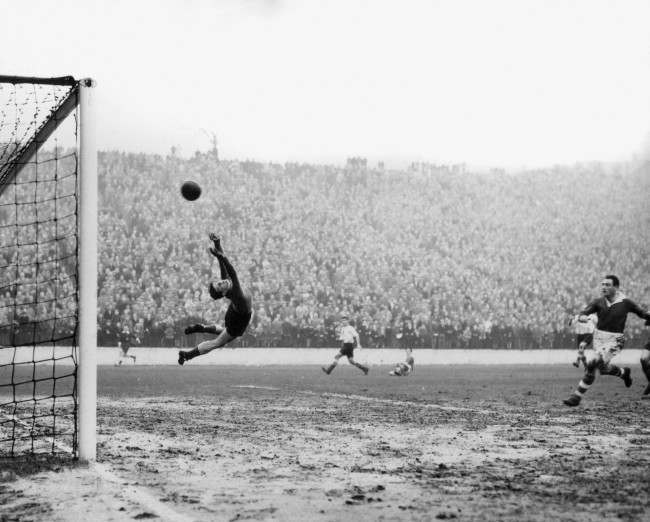 Sunderland goalkeeper Willie Fraser springs into a curving leap to stop the ball as it flies to the net to give Charlton Athletic their second goal in the First Division match at The Valley on 29th Decembr 1956
WWII France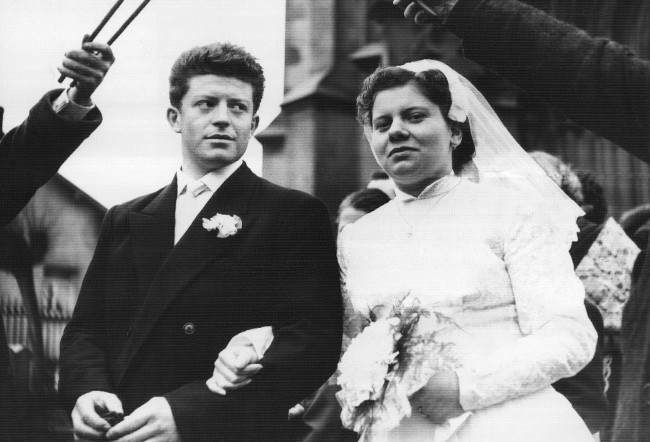 Couples whose earliest memories are of the horrors of World War II face happier days as they leave the church at Basse-Ham, France on Dec. 29, 1956, after their wedding. The groom, Roger Godfrin, was the only child who escaped when German troops shot down the men of the village of Oradour on June 10, 1944, and locked women and children in a church they set afire. The bride, Marie Agnes Laurent was lost by her parents for five weeks as a child of two when family was fleeing the German invasion of 1940.
National Schoolboys Own Exhibition – Royal Horticultural Hall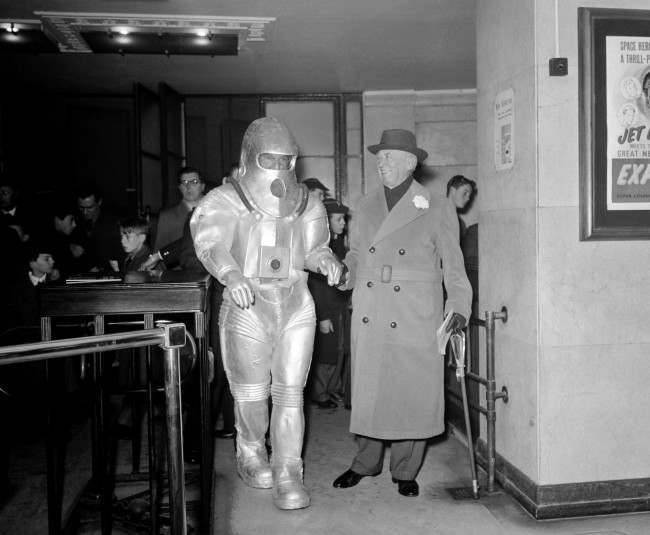 A space man enters the National Schoolboys Own Exhibition with Sir Harry Brittain. Date: 31/12/1956
Hungarian Revolution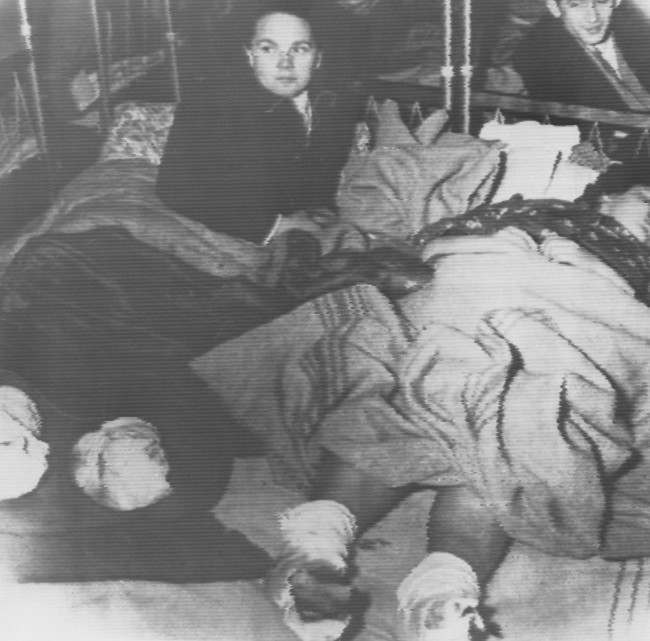 Two Hungarian women who lost their shoes fleeing their communist-dominated homeland rest with bandaged feet in an Austrian refugee camp, Dec. 31, 1956. They had to walk barefoot six miles through snow to reach freedom. Authorities withheld their names to avoid endangering relatives in Hungary.
ARGYLL AND SUTHERLAND HIGHLANDERS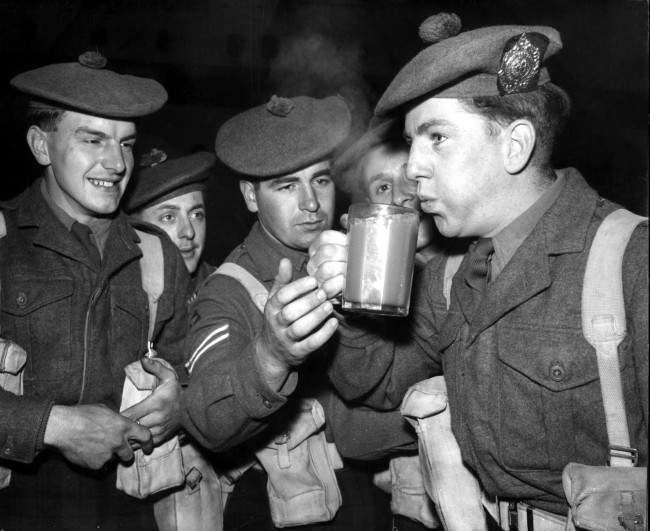 Nothing stronger was available so Willy McLeod of Dumbarton celebrated his return from Port Said, Egypt, by blowing the froth from a pint mug of Naafi tea at Southampton. Willy landed with the 1st Battalion, Argyll and Sutherland Highlanders, from the troopship 'Asturias'. Picture date: 31st Dec 1956.
Hollywoods Odd Jobs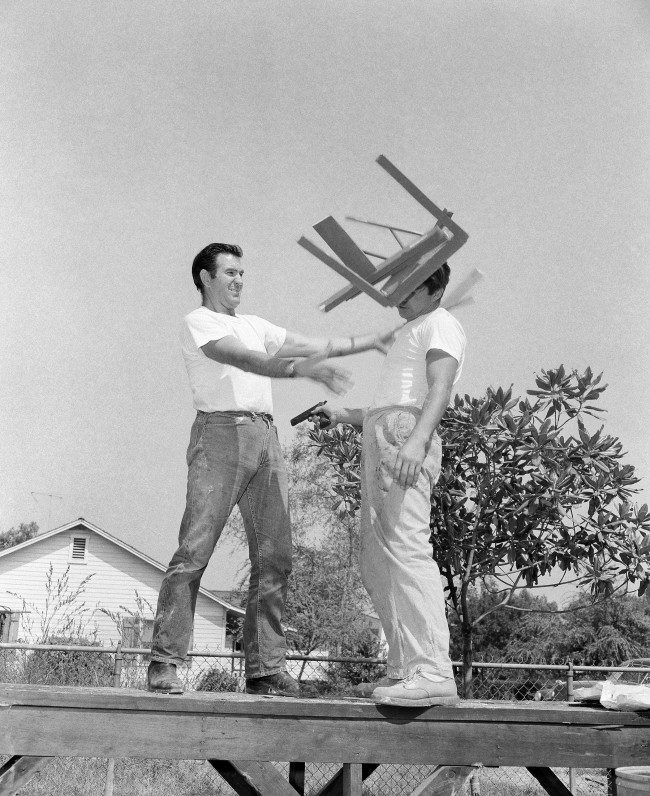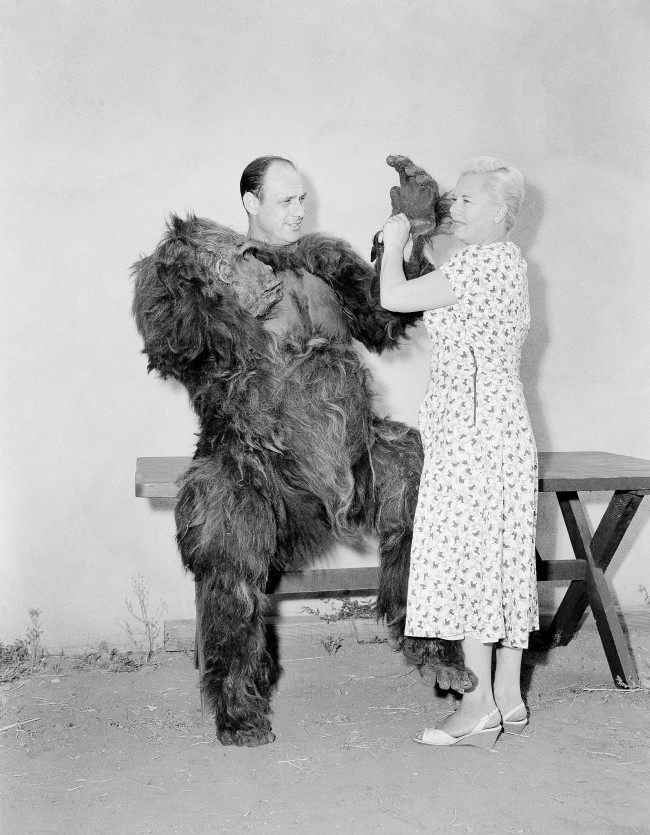 One of the little known facets of that unique industry known as motion pictures is the employment it provides for a variety of independent entrepreneurs. These people shown in 1956 are not on Hollywood studio payrolls, but they earn very comfortable livings because of their ability to provide services the studios cannot obtain elsewhere. Stunt men, they have one thing in common; only in Hollywood could they make the kind of living they do. A stunt man, for instance, may get as much as $500 for one stunt, but often he will go for a month or two between assignments. The number varies but a good guess is that there are more than 1,000 persons in Hollywood making livings with such odd enterprises.
Agatha Christie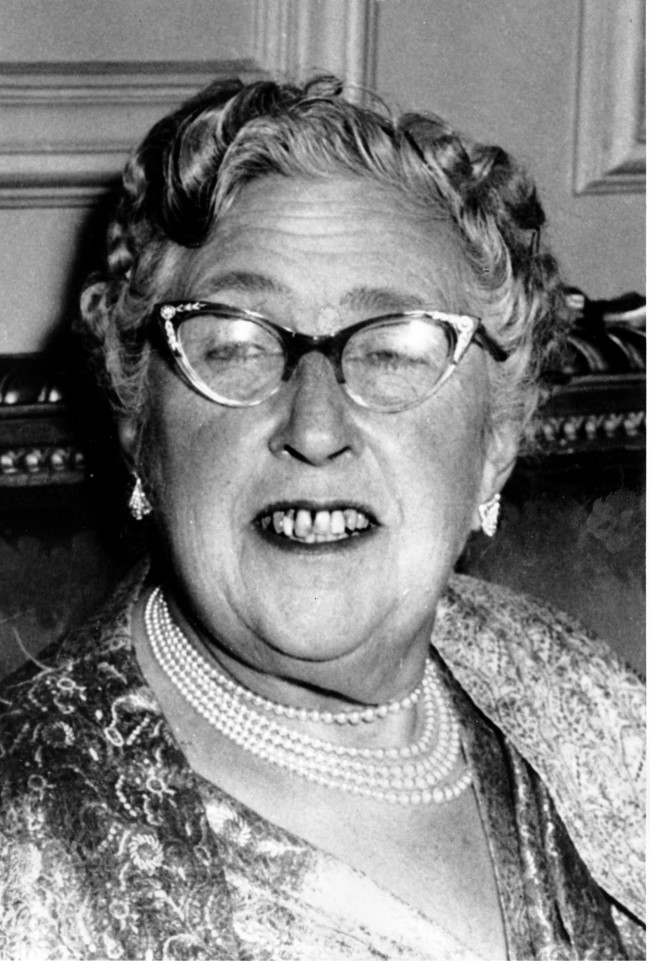 Transport – Camping Coach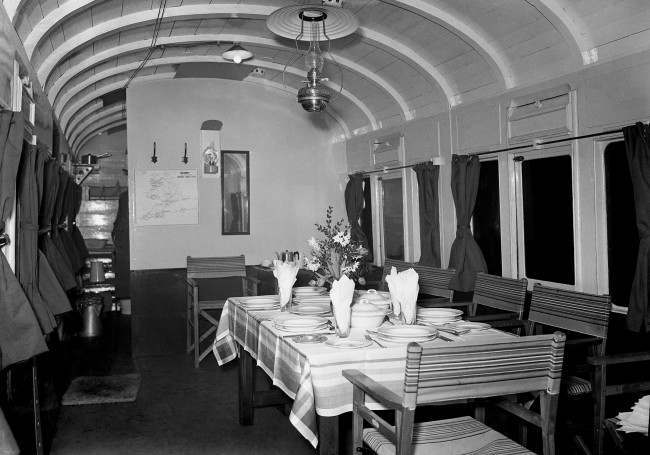 A British Railways camping coach showing the living room.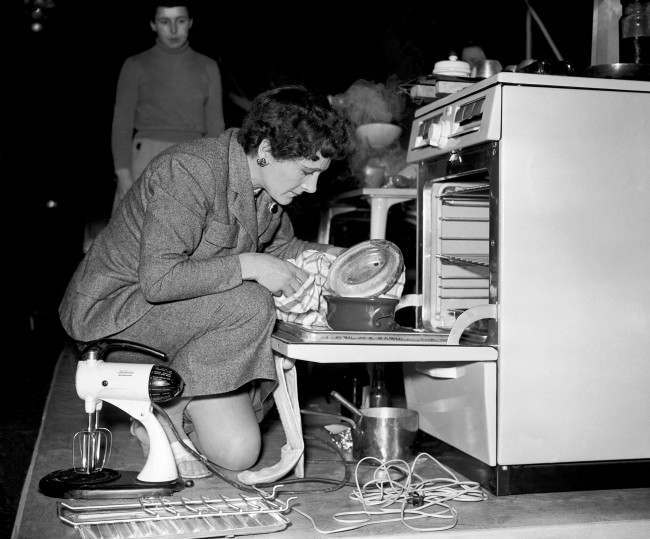 TV Chef Phyllis "Fanny" Craddock at an electric cooker onboard the new camping coach for British Rail.
Racism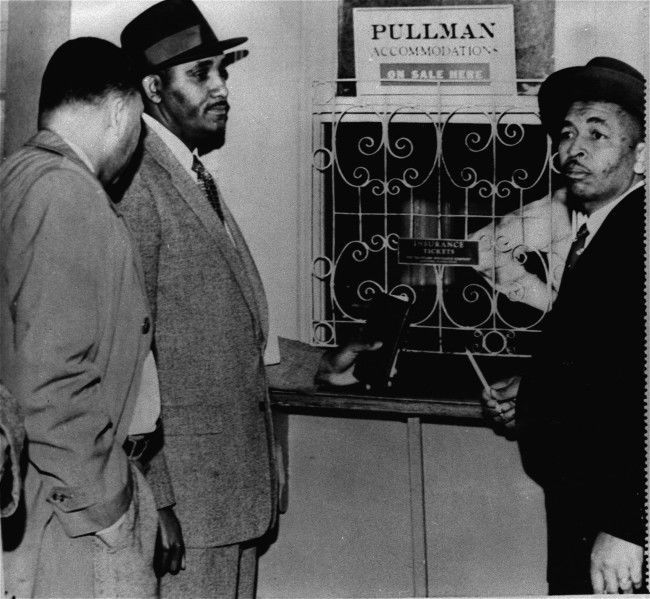 Clarence Mitchell, second from right, stands at the ticket window in the white waiting room of a railroad station in Florence, South Carolina, February 28, 1956, a few minutes after he won nolle prosse of charges he interfered with a white police officer, last night, when the officer barred him from entering the white waiting room. At right is W.W. Bennett, one of his attorneys. At left is E.E. Giles, local NAACP leader. Mitchell is director of the Washington Bureau of the NAACP.
Leader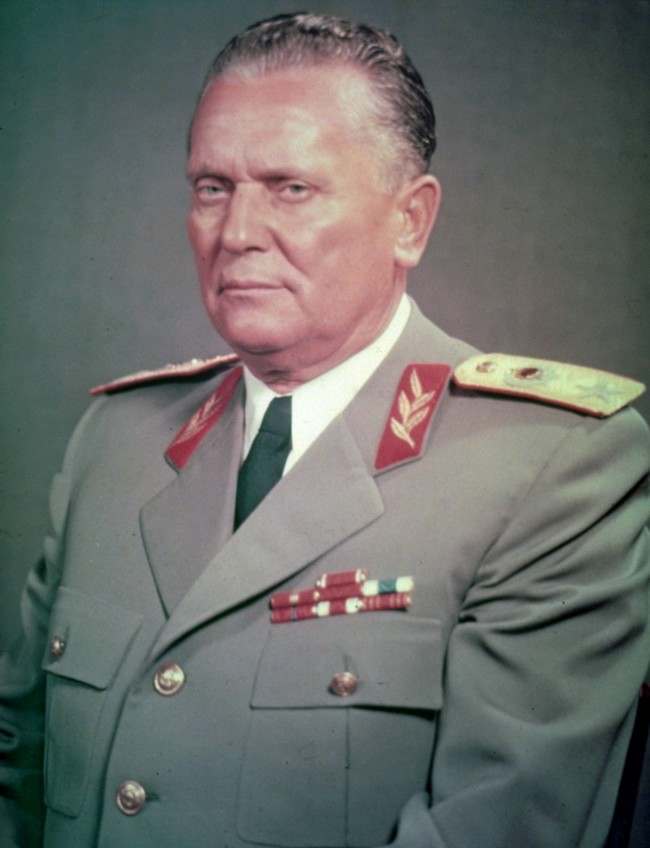 This is a March 1956 photo of Yugoslavian president Josip Broz Tito, posing in his Marshal's uniform.
Grace Kelly with her mother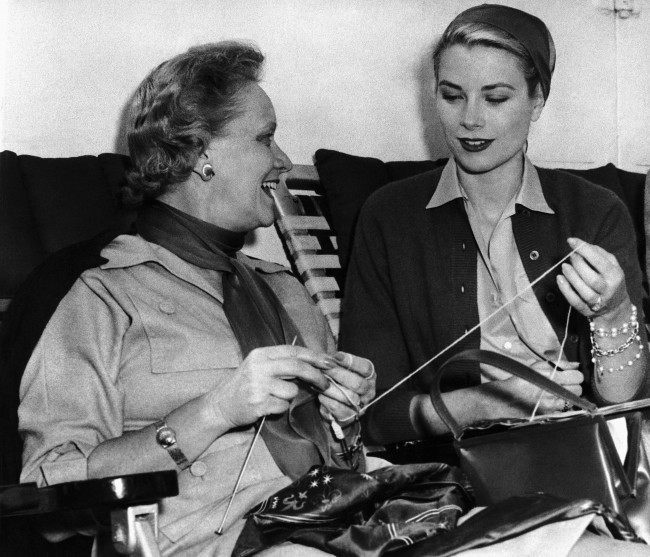 American actress Grace Kelly winds yarn for her mother in the SS Constitution, on April 12, 1956, during the voyage to Monaco for her wedding to Prince Rainier.
NYC EMPIRE STATE BUILDING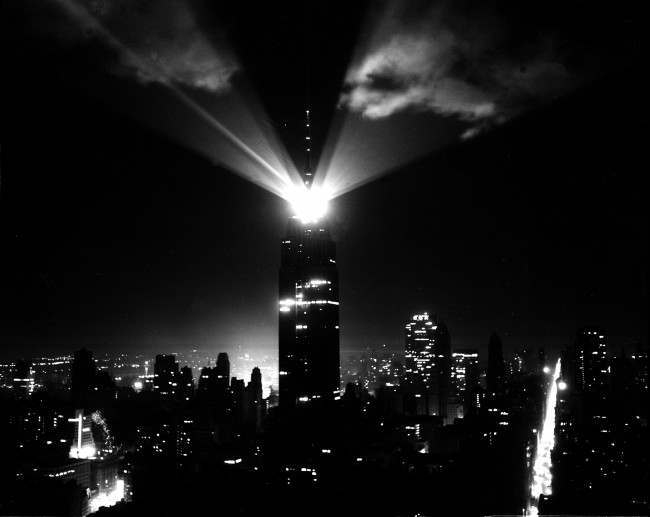 A new beacon lights atop the Empire State Building in New York City, visible for 80 miles, light up clouds as they revolve during test on April 11, 1956. The glow at left of the building is from Times Square. Madison Ave., is at right.