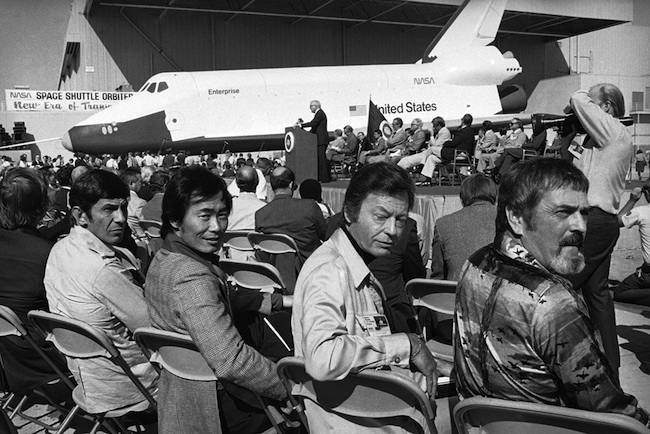 IT was no coincidence that the first Space Shuttle Orbiter was called Enterprise. Originally named Constitution (in honor of the U.S. Constitution's Bicentennial), Star Trek fans wrote to President Gerald Ford suggesting an alternative name: Enterprise. The vehicle debuted  at Palmdale California on Sept. 17, 1976. Many from the cast of Star Trek were there to see it.
Leonard Nimoy reacquainted himself with the Enterprise when it was delivered to Manhattan's Intrepid Sea, Air and Space Museum.
"This is a reunion for me," Nimoy said during a ceremony after Enterprise's touchdown. "Thirty-five years ago, I met the Enterprise for the first time."
This time he wore smaller collars.
Image 2: From left: James Fletcher; NASA administrator, DeForest Kelley; George Takei; James Doohan; Nichelle Nichols; Leonard Nimoy; Star Trek creator Gene Roddenberry, George Low; NASA deputy administrator, and Walter Koenig.