1948: THE horse meat scandal. Meat on the hoof. Black market "veal"! Eight of every ten horses head to the slaughterhouses! "This sordid trade is on the increase..!" "Shire horses are being wiped out..!"
Sugar rationing in World War 2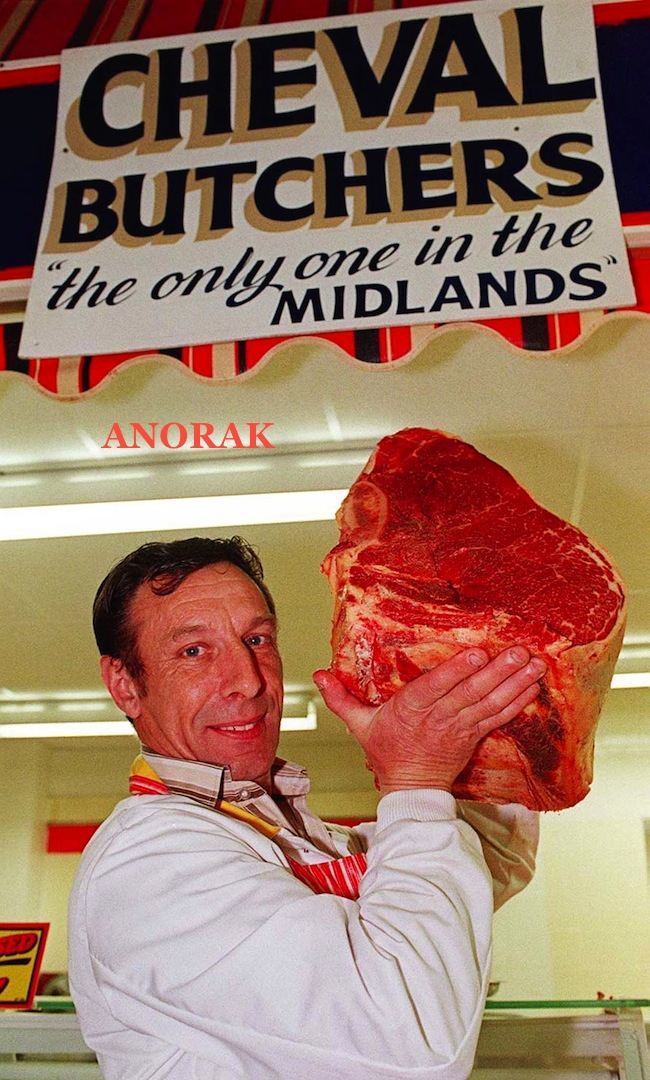 Butcher Bob Walker holds up a slab of prime meat – horsemeat, that is –  at his butcher shop in Smethwick, West Midlands, which opened for business today (Tuesday). Cheval Butchers claims it is the first in Britain to sell horsemeat, and Mr Walker, hoping to do a roaring trade in horsemeat, selling it for only 80p a pound, in the light of the BSE scare in beef, commented "It tastes very much like beef but slightly sweeter and is very good value" – 09/04/1996
A pair of Canadian soldiers, Dooley Smith, left, and Larry Toye, both of Englehart, North Ontario, serving with the Royal Canadian Tank Regiment, listen to the sales talk of the owner of a horse meat butcher's shop located in Soho, London's cosmopolitan foreign quarters on Oct. 21, 1941. The girl and shop are Belgian. The Victory sign painted on the wall at left encloses a heraldic shield in the Belgian National colors of red, gold and black.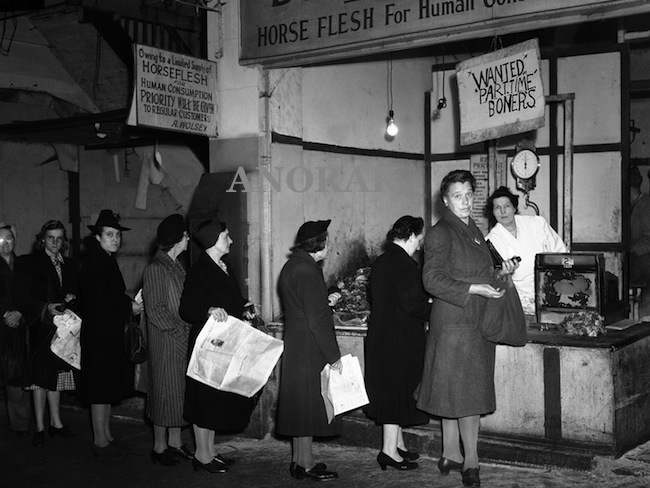 These shops are known as Continental" butchers, which means they sell horse meat for human consumption-unrationed on Oct. 18, 1945, they are permitted to sell other than horse-flesh, nor may they sell it for other than human consumption. 
Some of the dressed quarters of nutritious horse meat are pointed out by Burton Hill in his packing plant in Topeka, Kansas, Jan 7, 1943.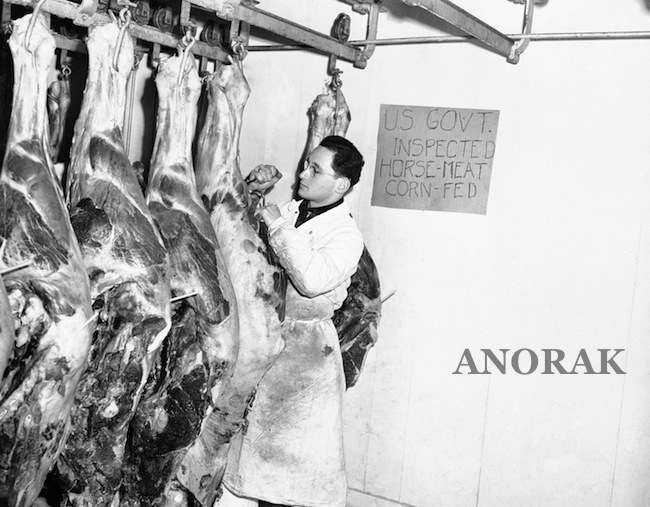 Employee Jack Rubin of the Clinton Beef Company, Boston, cuts up first of a number of a side of horse to arrive there for sale for human consumption, Dec. 8, 1942. All the horse meat bears federal inspection stamps and comes from Topeka, Kansas.
Government-inspected horse meat for public consumption sells for 25 cents per pound at an open air meat counter in Boston, Mass., Dec. 12, 1942. The sale attracted attention as busy shoppers did their weekend buying. Eight hundred pounds had been sold up to noon.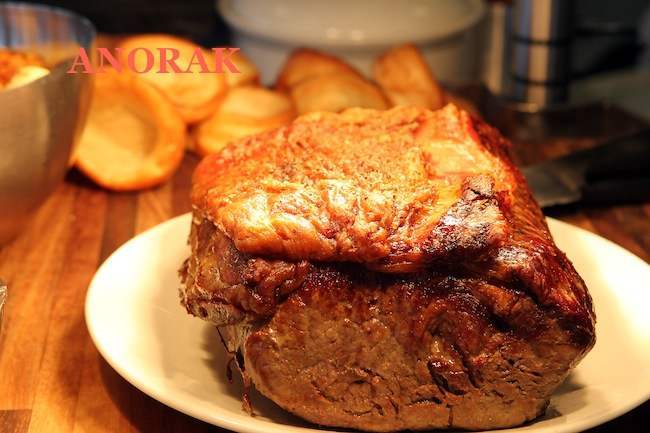 Hospitality at Kempton Park racecourse
A worker handles meat at the Doly-Com abattoir, one of the two units checked by Romanian authorities in the horse meat scandal, in the village of Roma, northern Romania, Tuesday, Feb. 12, 2013. On Monday, Romanian officials scrambled to defend two plants implicated in the scandal, saying the meat was properly declared and any fraud was committed elsewhere.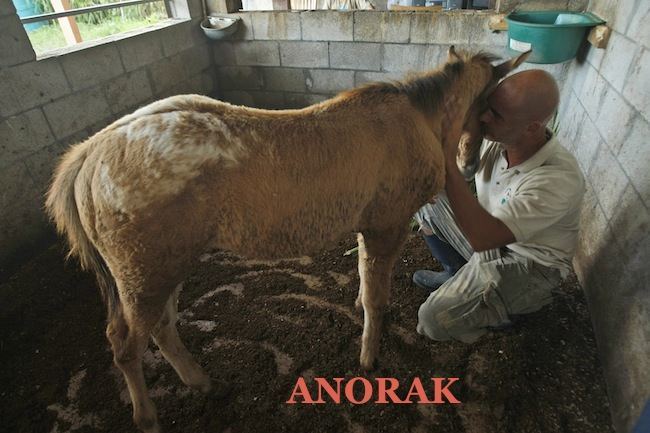 Richard Couto plays with the baby horse, whose mother was butchered at a Miami stable, Monday, July 27, 2009. Since January, police say at least 17 horses have been butchered. While police will not share their theories on who is doing the killing and why, animal advocates believe the meat is being sold on the black market.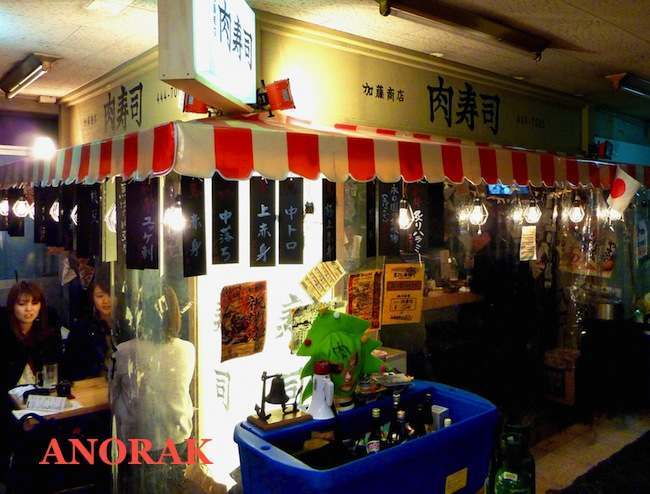 TOKYO, Japan – A group of women are seen at restaurant Nikuzushi (meat sushi), which specializes in raw meat, including beef, chicken, pork, deer and horse meat, in Tokyo's Ebisu district on Jan. 28, 2011. At least 60 percent of customers at the restaurant, which opened in May 2010, are women, with many of them around 30 years old, according to its operator Spice Works.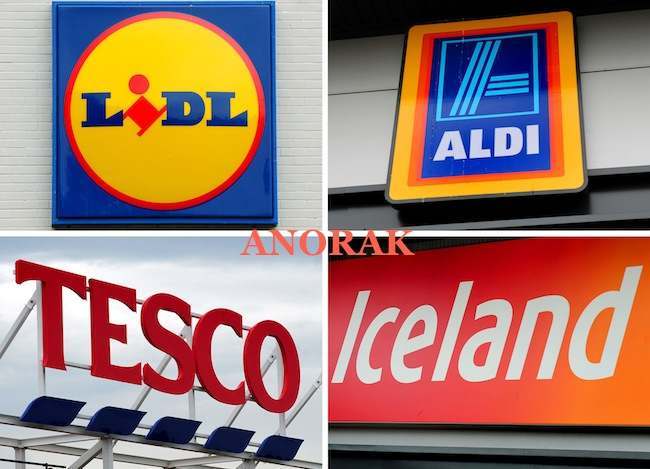 LiDL, Aldi, Tesco and Iceland who are all effected by the news that horse meat has been found in a number of their beef products.