WE'VE trawled the archives to bring you these great photos of faces and places from February 1970. All captions are from the AP or Press Association, and the original words from the date of publication. What a year that was:
Manson Family Cultists 1970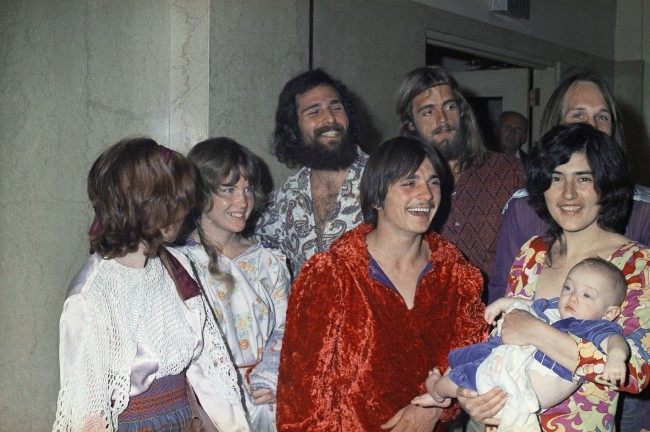 Members of Charles Manson's "family" who showed up for the arraignment of cult member Patricia Krenwinkel are shown, Feb. 24, 1970. From left: Lynette "Squeaky" Fromme, Sandra Good, Mark Ross, Paul Watkins and Catherine "Gypsy" Share holding Catherine Good's son Ivan.
Royalty – Prince Charles – Trinity College, Cambridge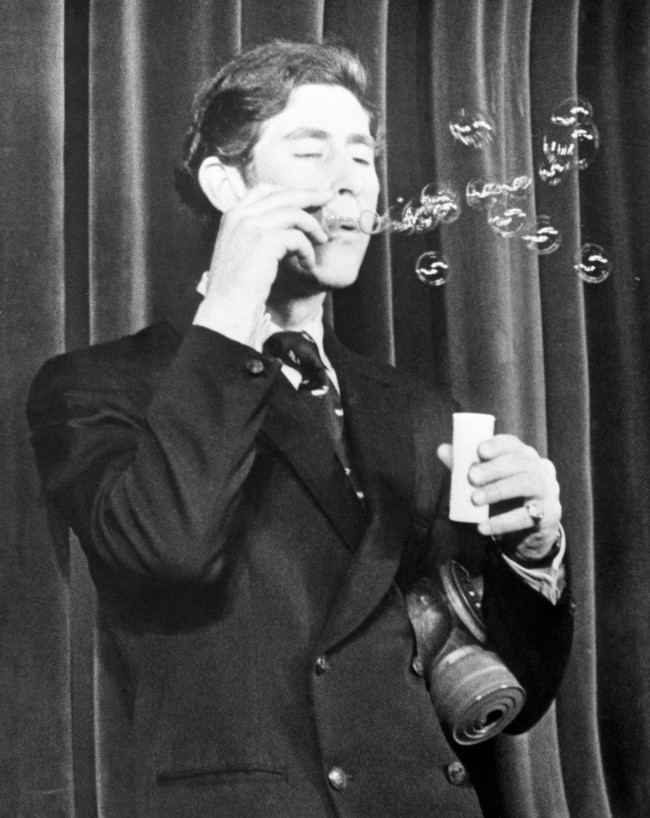 The Prince of Wales playing the role of a weatherman in a sketch. He is rehearsing for the Dryden Society's Trinity College revue. Date: 23/02/1970
Calculators Computers 1970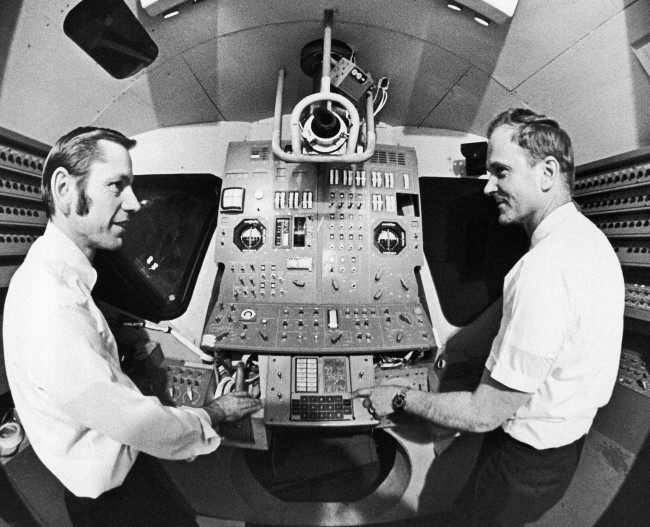 Russell A. Larson, left, Massachusetts Institute of Technology project manager for the lunar module flight program, and David G. Hoag director of Apollo Group MIT Draper Lab, point to computer in lunar module model designed for a safer way to land men on the moon for Apollo 13 in Cambridge, Massachusetts Feb. 24, 1970.
HARVEY ON BROADWAY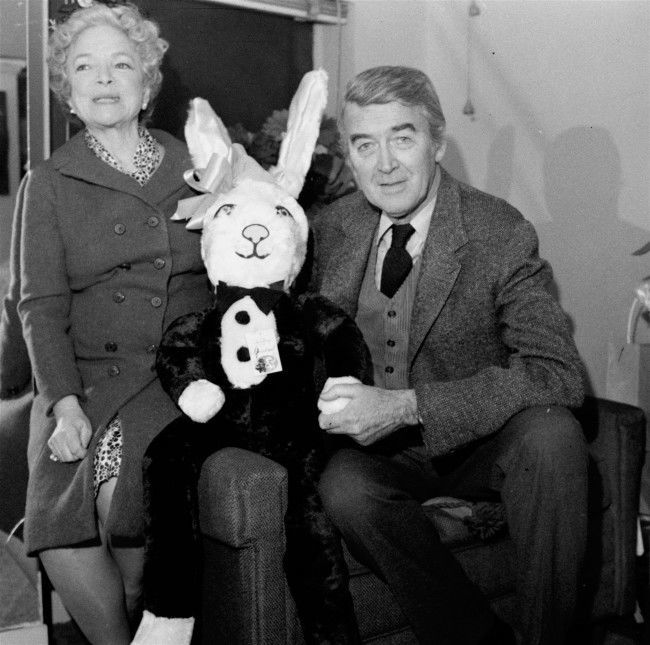 James Stewart poses with Helen Hayes at New York's Anta Theatre February 24, 1970, following the opening of the Mary Chase comedy, "Harvey", in which they both star.
Zsa Zsa Gabor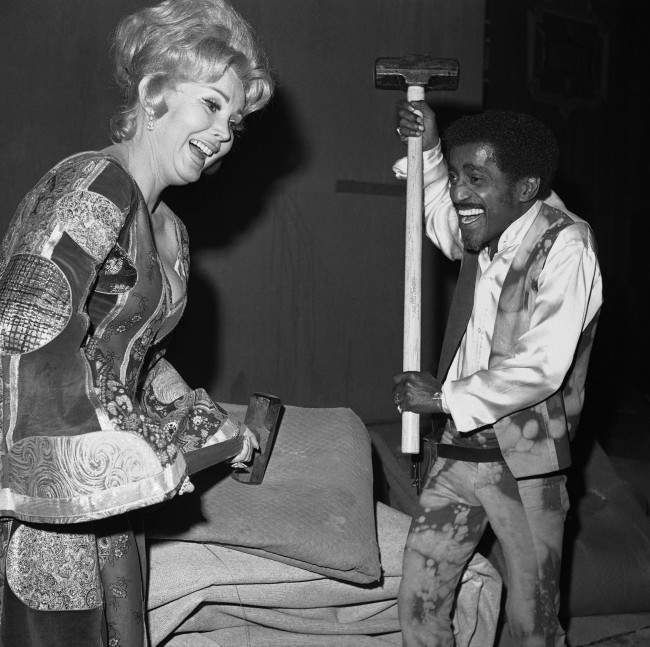 Zsa Zsa Gabor has a bit of trouble getting her sledgehammer into position, but Sammy Davis Jr. is ready to start demolition of the famous Coconut Grove nightclub in Los Angeles, on February 25, 1970. The club is being torn down to make room for a bigger, fancier one.
Kyrenia Cyprus 1970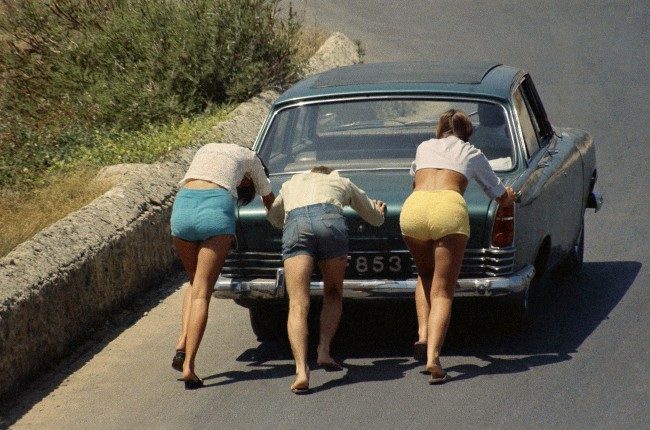 Three women push their car, Feb. 27, 1970, Kyrenia, Cyprus. Date: 27/02/1970.
(The one in the middle is a woman?)
Rugby Union – Five Nations Championship – England v Wales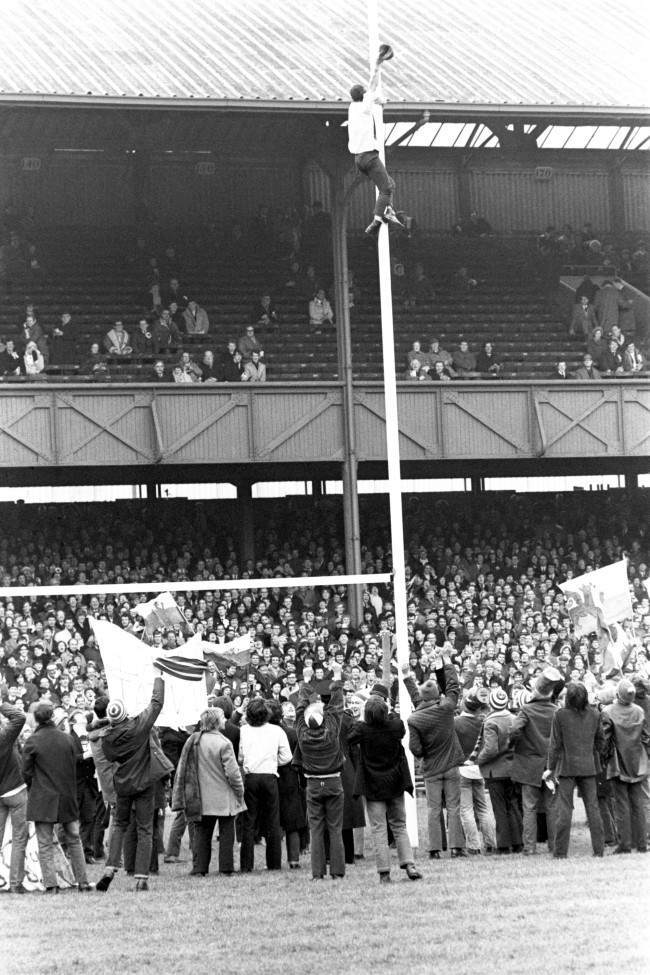 Wales fans who invaded the pitch cheer as one of their number scales the Twickenham goalposts. Date: 28/02/1970
Soccer – Friendly International – Belgium v England – England Squad – Heathrow Airport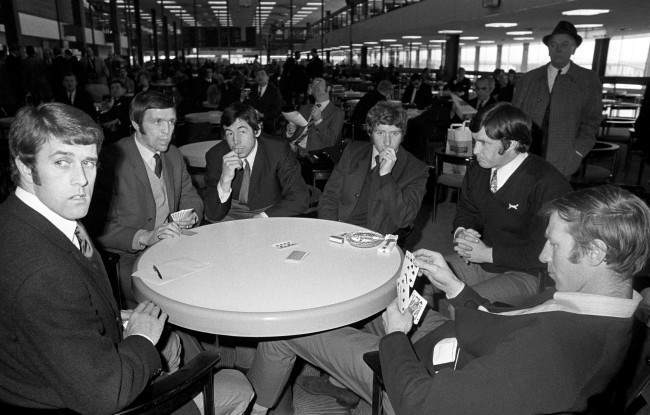 A game of cards takes the mind off football and relieves the tedium of waiting for the plane for members of the England party en route to Belgium from Heathrow Airport. From left to right; Geoff Hurst, Jeff Astle, Gordon Banks, Alan Ball, Tommy Wright and Jackie Charlton. Date: 23/02/1970
Water Pollution 1970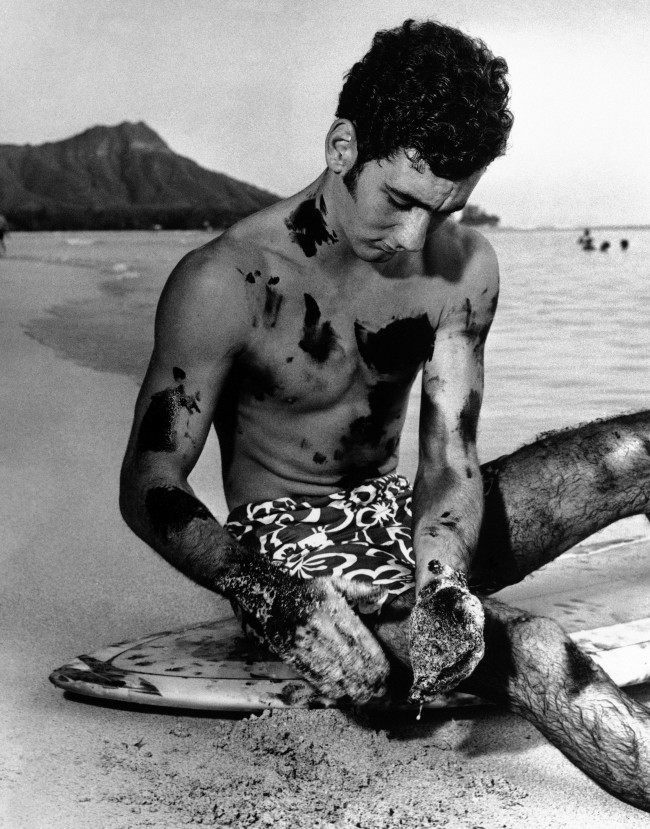 "I'd rather have jellyfish and Portuguese men-of-war than this," said surfer Blaine Webber, 20, after he caught an oily wave off Waikiki in Honolulu, Feb. 19, 1970. No one knows where the fist-sized globs of thick oil or tar came from, but surfers and bathers alike emerged from the ocean covered with it.
King of Hearts
South African heart transplant specialist Dr. Christiaan Barnard, 47, and his 19-year-old bride, Barbara, sit in limousine at New York's Kennedy Airport on February 18, 1970 after their arrival from Rome where they have been honeymooning. The couple will spend the night in New York and go on to Philadelphia February 19th. They plan a six-day visit in this country.
Gina Lollobrigida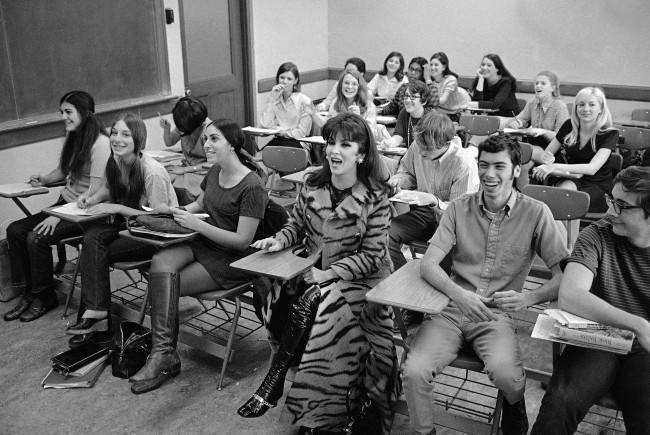 Gina Lollobrigida was a surprise addition to these students in their Italian class at the University of California, Los Angeles on Feb. 13, 1970 where the actress went to visit a friend who teaches the class.
Animals – Cruft's Dog Show – Olympia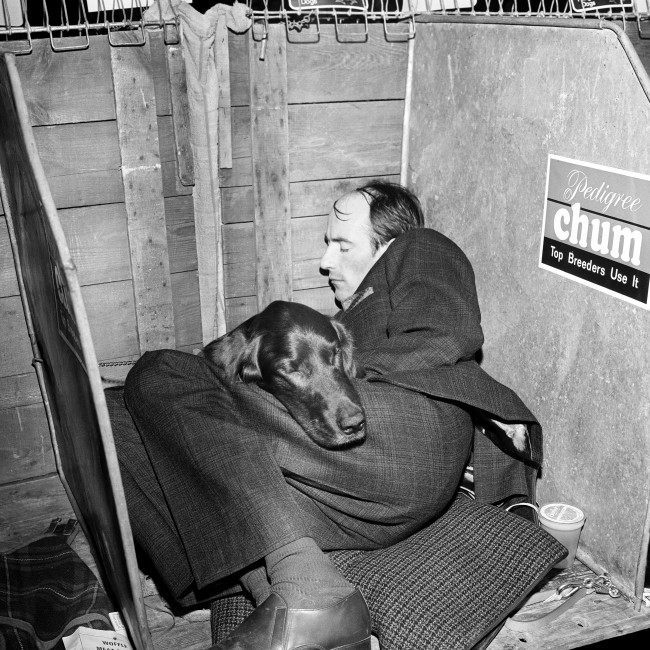 Tired, Glen Frost and his Irish Setter Glenfire Brendower Misty took a nap together while they waitd for the judges ar Cruft's. There was 8000 dogs representing 112 breeds. Date: 07/02/1970
England Protests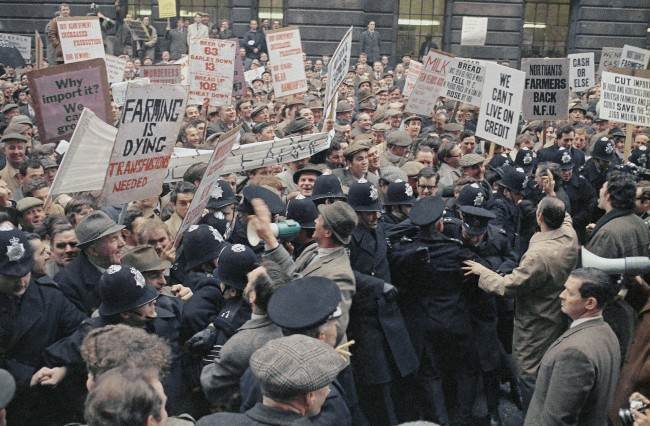 British farm workers jostle with police and angrily protest at prices and farm subsides during their mass rally in London on Feb. 2, 1970, where they lobbied their members of parliament and held demonstration at the London headquarters of the Ministry of Agriculture.
Cliff Richard Book Signing – Mowbrays, London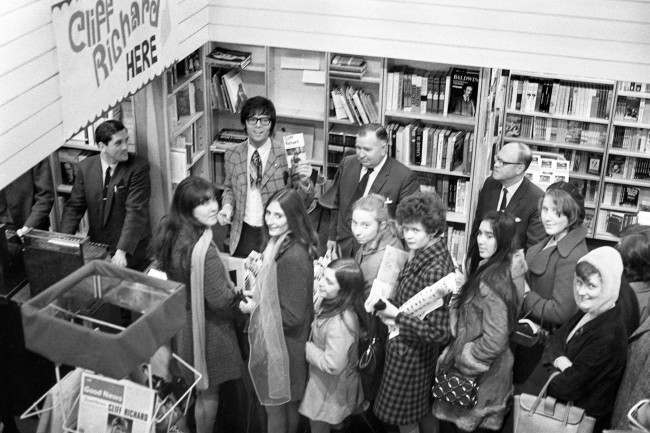 Cliff Richard, noted for his keen interest in religion, and now author of a book on the subject entitled "Questions", with customers for whom he autographed copies at Mowbrays, the booksellers in Margaret Street, London. Date: 16/02/1970
Chicago 7 Trial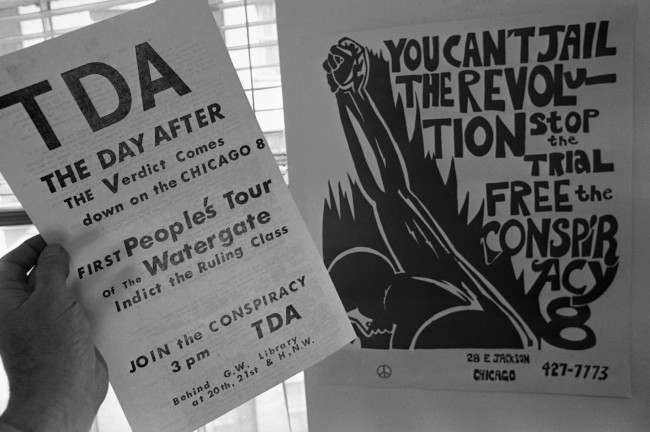 These are two of the flyers which appeared on Washington streets, Feb. 12, 1970. A group called ÂThe Conspiracy" is distributing buttons, flags and placards to demonstrate against the verdict in the Chicago conspiracy trial. Focal point in the capital is the Watergate Apartment where Atty. Gen. John Mitchell and some of the other cabinet members live.
London – Simpsons of Piccadilly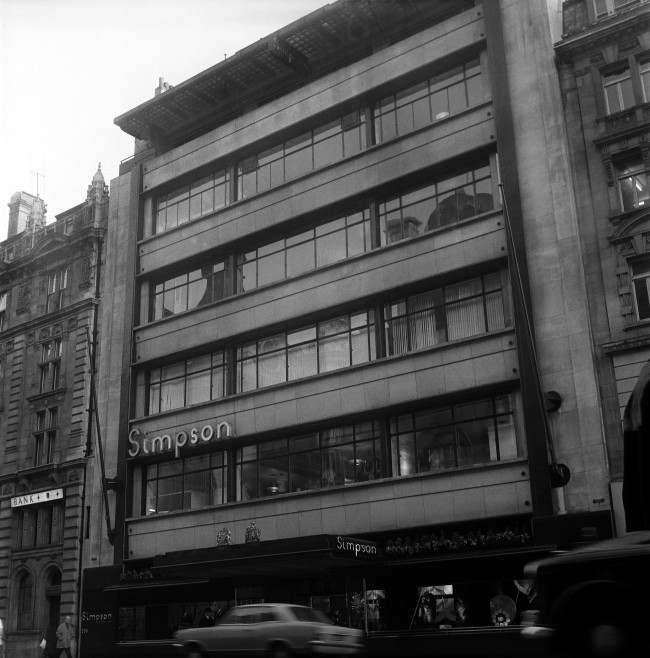 University of Wisconsin demonstration 1970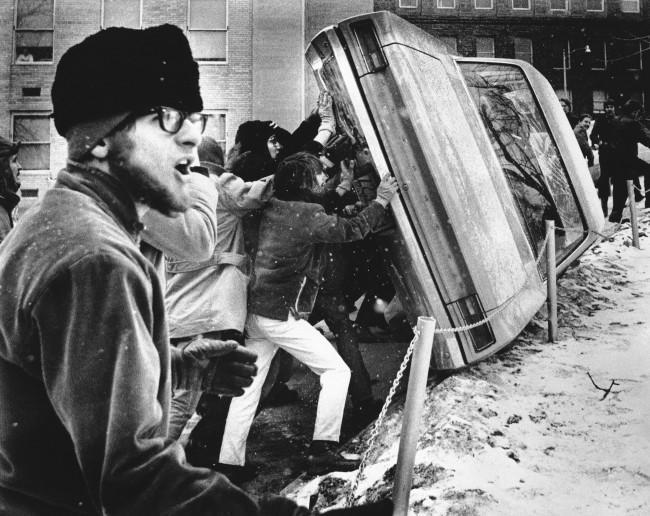 Protestors overturn police car during antiwar protest on the University of Wisconsin's Madison campus on Feb. 12, 1970. UW students and others clashed with police as they demonstrated against recruiting by the General Electric Company.

France Paris Jean Marais Fashion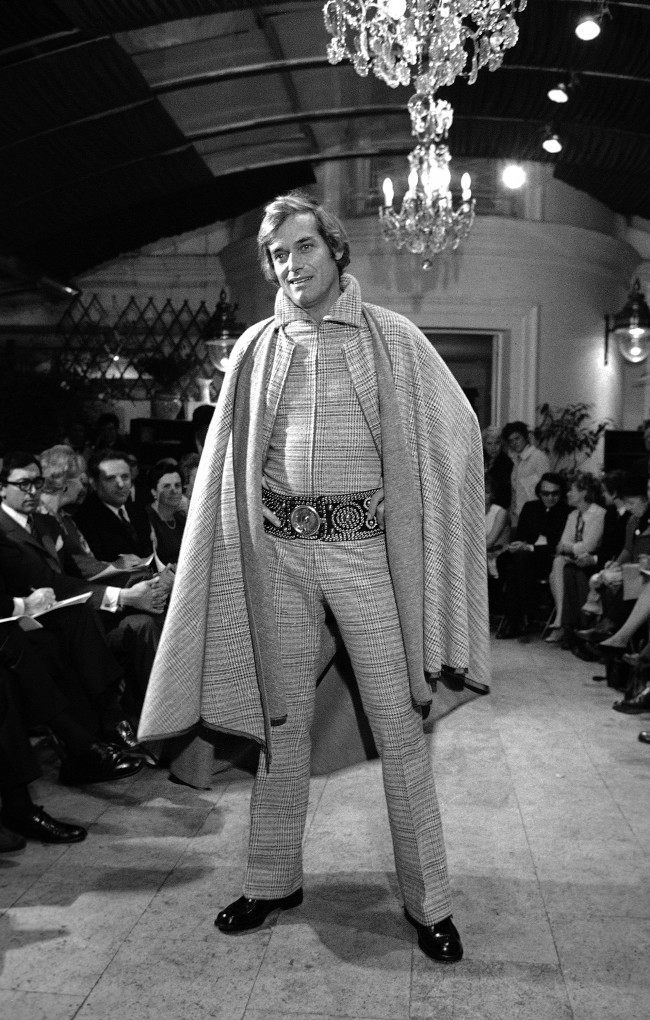 A model presents on February 2, 1970 in Paris, France, the first men's fashion winter collection designed by French actor and director Jean Marais.