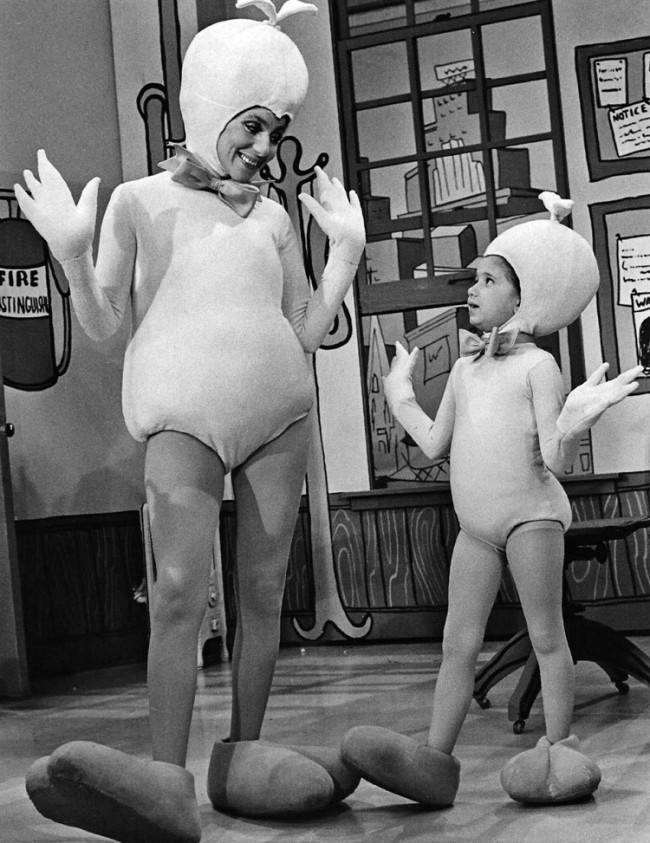 FROM the Sonny & Cher show, here's mom and Chastity (now Chaz). Is it wrong that I still find Cher sexy in a Tweety Bird outfit? Don't answer that.
But do enjoy a handful of great publicity photographs from the 1960s – 1980s. Some are odd, some awesome – all are very interesting.
This Laugh-In publicity photo has John Wayne in a bunny outfit pissing himself, laughing like a lunatic. I'm sure this costume needed a thorough cleaning when the Duke was through with it.
What the-?!? Why are the Brady's posing with the worst looking aliens in the universe? And what have they done with Mr. Brady?
NOTICE FROM THE UNITED STATES CENTRAL INTELLIGENCE AGENCY: MR. BRADY'S ALIEN ABDUCTION CAN NEITHER BE CONFIRMED NOR DENIED.
Those that don't remember, allow me to refresh your memory: Telly Savalas was a stone cold badass back in the Seventies. There was something about this bald Greek that told you this was not an act – he really was this cool. This publicity photo from his special "Telly…Who Loves Ya Baby?" (1976), with chicks grabbing and fawning all over him just perfectly encapsulates the genuine cool sonofabitch that was Telly Savalas.
If you can look past the poor picture quality, I recommend watching the whole special as a lesson in how to be a total old-school badass.
A promotional still from the I Dream of Jeannie episode "The Greatest Entertainer in the World" (1967). If Sammy didn't bring the D to Barbara Eden after the episode was done filming, I will be sorely disappointed.
This promo picture of the Bionic Woman and faceless Fembot is more than a little bit disturbing…. kind of attractive, but still a bit disturbing.
I've seen just about every Bewitched episode, but the one where she gets lines on her face and meets a hideous man-sized penguin eludes me. Perhaps I saw it, but assumed it was just a waking nightmare.
Um, I think the Skipper may want to take it down a notch. I understand he's been marooned on an island, but Miss Redondo Beach shouldn't be such a shock when he's had Ginger and Mary Anne all those years.
Benny Hill – an inspiration to ageing, socially awkward, helplessly perverted men the world over.
This is a promotional photograph from Diana Ross' 1981 TV special called "DIANA". If the idea of Larry Hagman singing with Diana Ross isn't bizarre enough for you, throw in some heavy flirtation between the two. It's like watching a car accident – it's awful, but you just can't look away.
Promo shot from Mork & Mindy (specifically "Mork vs. the Necrotons" two part episode from season 2). It features Raquel Welch as a sexy alien and an immensely hairy and possibly aroused Robin Williams – what's not to love? Watch if you dare…
\
When Legends Gather: Jodie Foster and Rod Serling. I want to say this is from an episode of Ironside, but I might be mistaken. Whatever the source, this is about as awesome as it gets – so let's end on a high note.