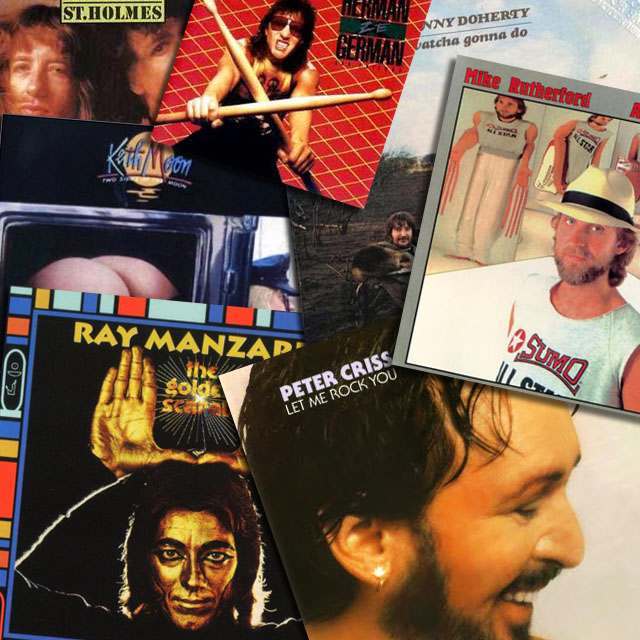 IT'S certainly not unusual for a member of a band to cite "artistic differences" and move on to a solo career. The trouble comes when the lesser known, lesser talented band mates get the same idea. In other words, it was okay for George Michael to go at it alone…. not so much, Andrew Ridgeley.
1. Ray Manzarek
Band: The Doors
Album: The Golden Scarab (1974)
Before anyone protests, I'll be the first to say that many of the artists on this list are genuinely talented in their own right. Although these artists left much to be desired as a solo act, they were critical to the synergy of the group they were in. The Doors were greater than Morrison – he needed Manzarek, Densmore and Krieger to conjure up the magic.
That being said, this is horrible. Instrumentally, I suppose it's not bad, but fast forward about two minutes in where Ray starts singing and it becomes unbearably cringeworthy. He sounds like a lounge singer reading from the lamest self-help book ever written. Awkward.
2. Herman Rarebell
Band: Scorpions
Album: Herman Ze German & Friends (1985)
The album that no one asked for – the solo LP from the drummer of Scorpions. It's an album so forgettable that it will actually induce short term memory loss.
3. Mike Rutherford
Band: Genesis
Album: Acting Very Strange (1984)
Rutherford is a damn good bassist and keyboardist, and an integral part of Genesis. But unlike his former bandmates, Peter Gabriel and Phil Collins, his solo work didn't turn out to well – a fact even he admits. He learned from his mistakes on his follow up venture, Mike + the Mechanics.
4. Brad Whitford
Band: Aerosmith
Album: Whitford/St. Holmes (1981)
So, the rhythm guitarist of Aerosmith, who's arguably a better guitar player than Joe Perry, gets together with some dude from Ted Nugent's band, and really mediocre things happened.
5. Denny Doherty
Band: Mama's and the Papas
Album: Whatcha Gonna Do? (1971)
Make it stop! I give up, Denny. You win. I can take no more ….. (sobbing uncontrollably, rocking back in forth in chair)… I submit….
6. Peter Criss
Band: Kiss
Album: Let Me Rock You (1982)
I'll proudly admit I was a card carrying member of the Kiss Army during the 1970s, and Peter Criss was my favorite. Criss sang "Beth" and "Hard Luck Woman", which appealed to my junior high school sensibilities, and he had a great raspy Rod Stewart-esque voice.
Then came this solo album. The band was gone, so was the makeup, and all that was left was the most milquetoast music ever played outside of an elevator.
7. Dee Dee Ramone
Band: The Ramones
Album: Standing in the Spotlight (1984)
Deciding to rap was a grave miscalculation; then to do it in German was inexcusable. Dee Dee had no business recording a solo album in first place. As he was in rehab for much of it, I'll choose to blame the withdrawal symptoms for this calamity.
8. Keith Moon
Band: The Who
Album: Two Sides of the Moon (1975)
Instead of spotlighting his drum skills, Moon strangely chose to sing a bunch of cover songs. The result sounds like he's mumbling into a toilet with an oldies station on in the background.
9. Gina Schock
Band: The Go-Go's
Album: Middle of Nowhere
Belinda Carlisle had a fairly successful run as a solo artist, but she didn't have Ellen DeGeneres' brother in her backup band. Yes, I'm convinced that young Vance DeGeneres, looking all of 12 years old with giant Eighties hair, is to blame for this tragically bland solo venture by the Go-Go's drummer.
10. Bill Wyman
Band: Rolling Stones
Album: Monkey Grip (1974)
Honestly, I don't know how I feel about this one. On the one hand, it's objectively awful and painfully hard to listen to. On the other, it doesn't give a shit what I think. It exists in its own laid-back, tea-fueled world; in a weird way, this is what rock is supposed to look like.