Comic books weren't always superheroes and horror stories; there was an entire genre of girl comics.  They came in romance, comedy and action varieties – all featuring a female lead character.
So, let's have a look at 10 from the 1940s and 1950s featuring some long forgotten comic book girls…
1. Vicky Comics (1948 – 1949)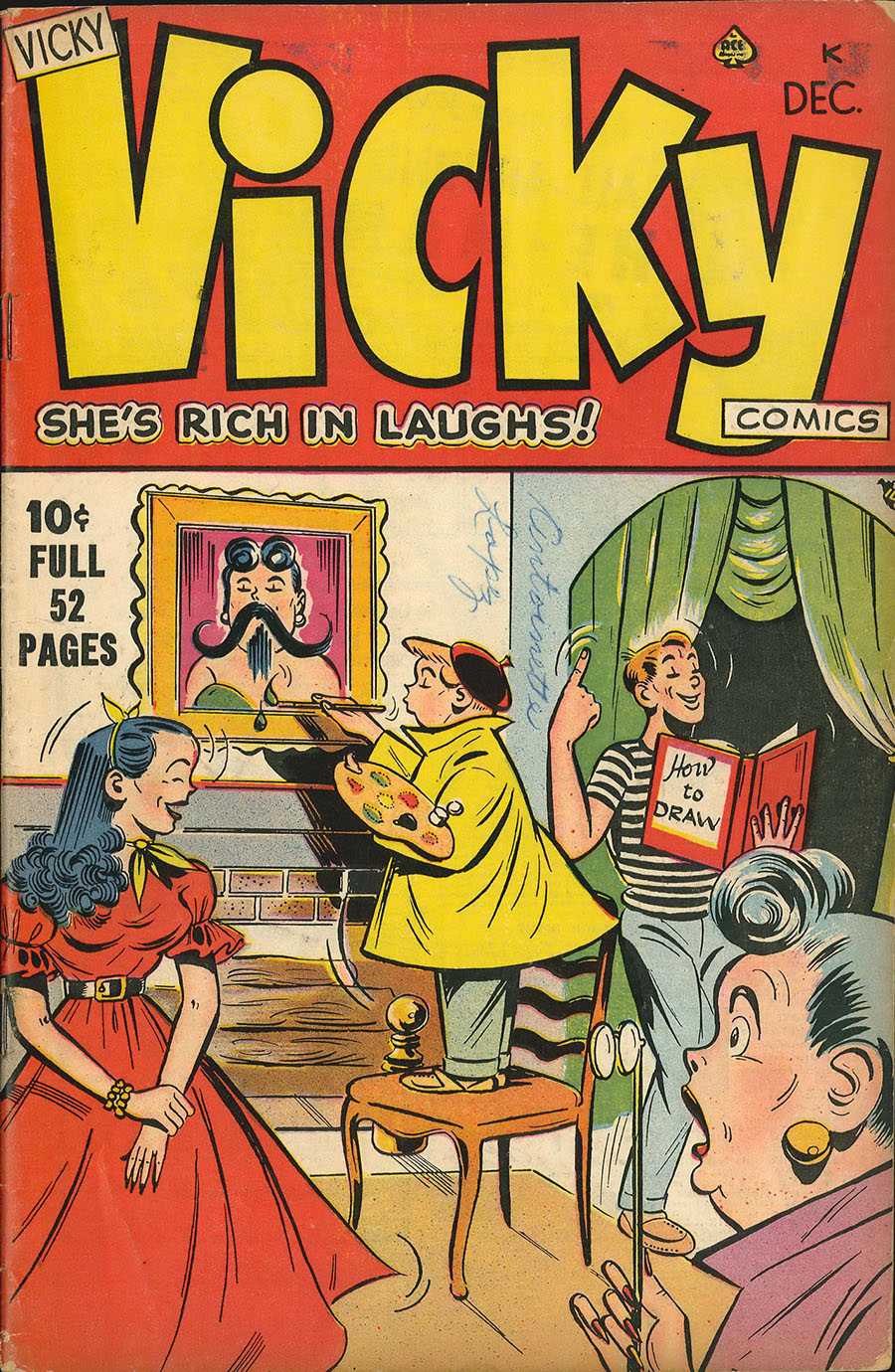 The shtick here is that Vicky is a little rich bitch who's constantly manipulating people.  But Vicky isn't all bad – she's just spoiled.  Most of the "humor" comes from the antics of the idiots around her, rather than from her own selfish behavior.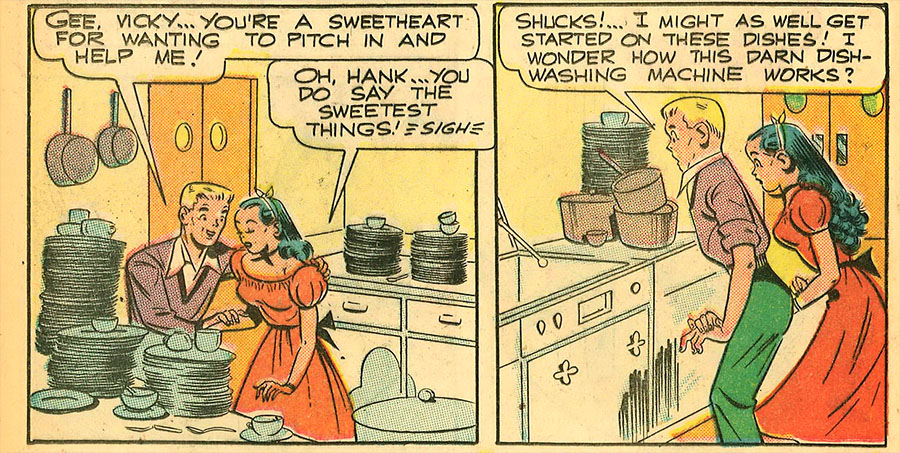 Here, Vicky and her beau, try to figure out this crazy contraption called a "dishwasher".  Let's see if they can figure it out.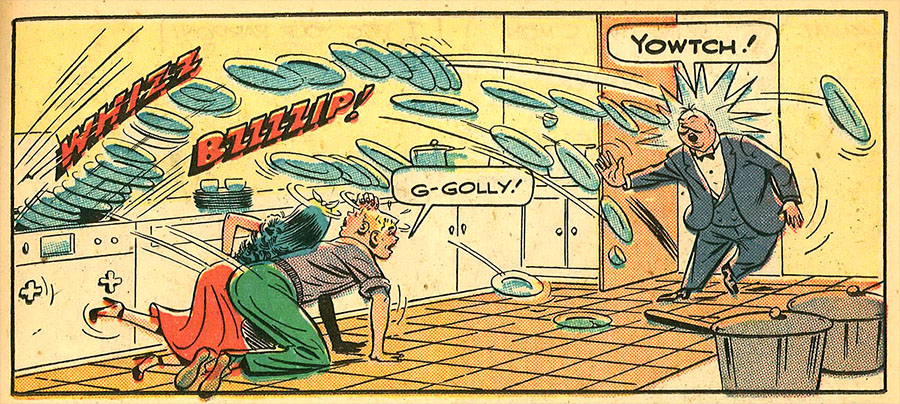 "G-Golly!"  What kind of dishwasher spits out plates across the room?
But the best part of the comic, in my humble opinion, is the next segment featuring Helen, Vicky's ultra-stuck-up sister.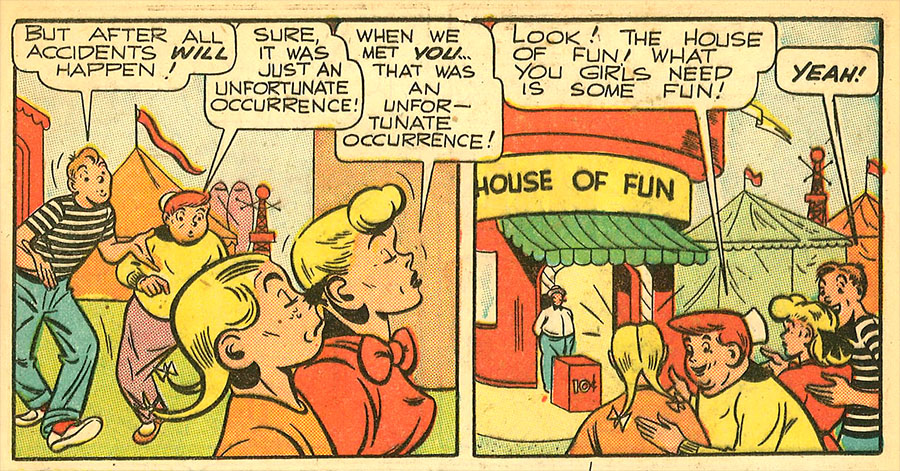 Helen and her friend Gertie are lured into the funhouse by a couple young hooligans.  Don't do it girls!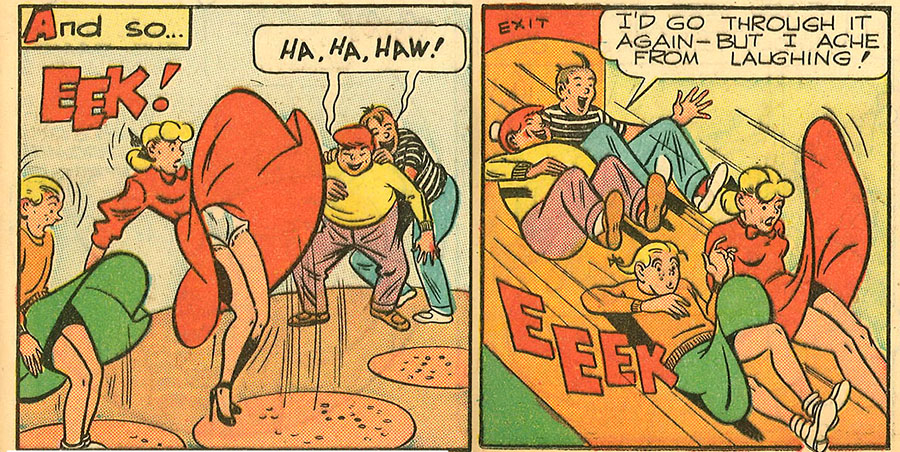 Helen and Gertie apparently spend the whole time flashing these boys as their dresses keep flying upwards.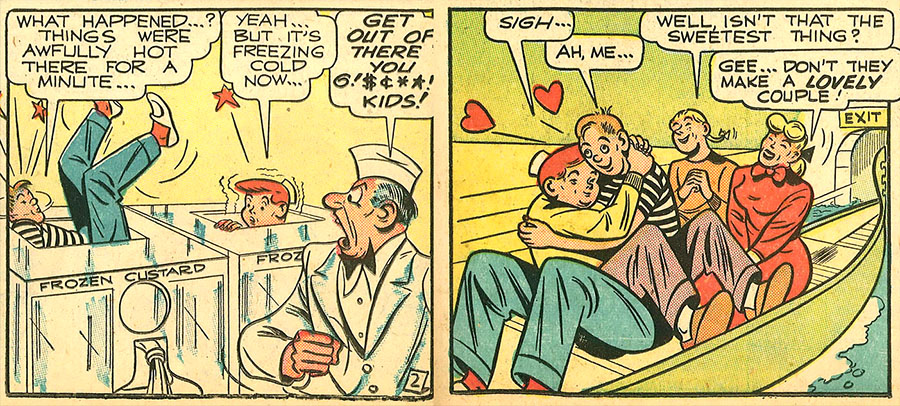 (L) I love this panel because the ice cream guy is clearly saying "Get out of there you fucking kids!"
(R) It ends with the Sea of Love ride, where the two boys start making out with the girls (they think).  Turns out they were kissing on each other… and I guess are now a happy gay couple?
2. Ginger: America's Typical Teen-Age Girl (1951)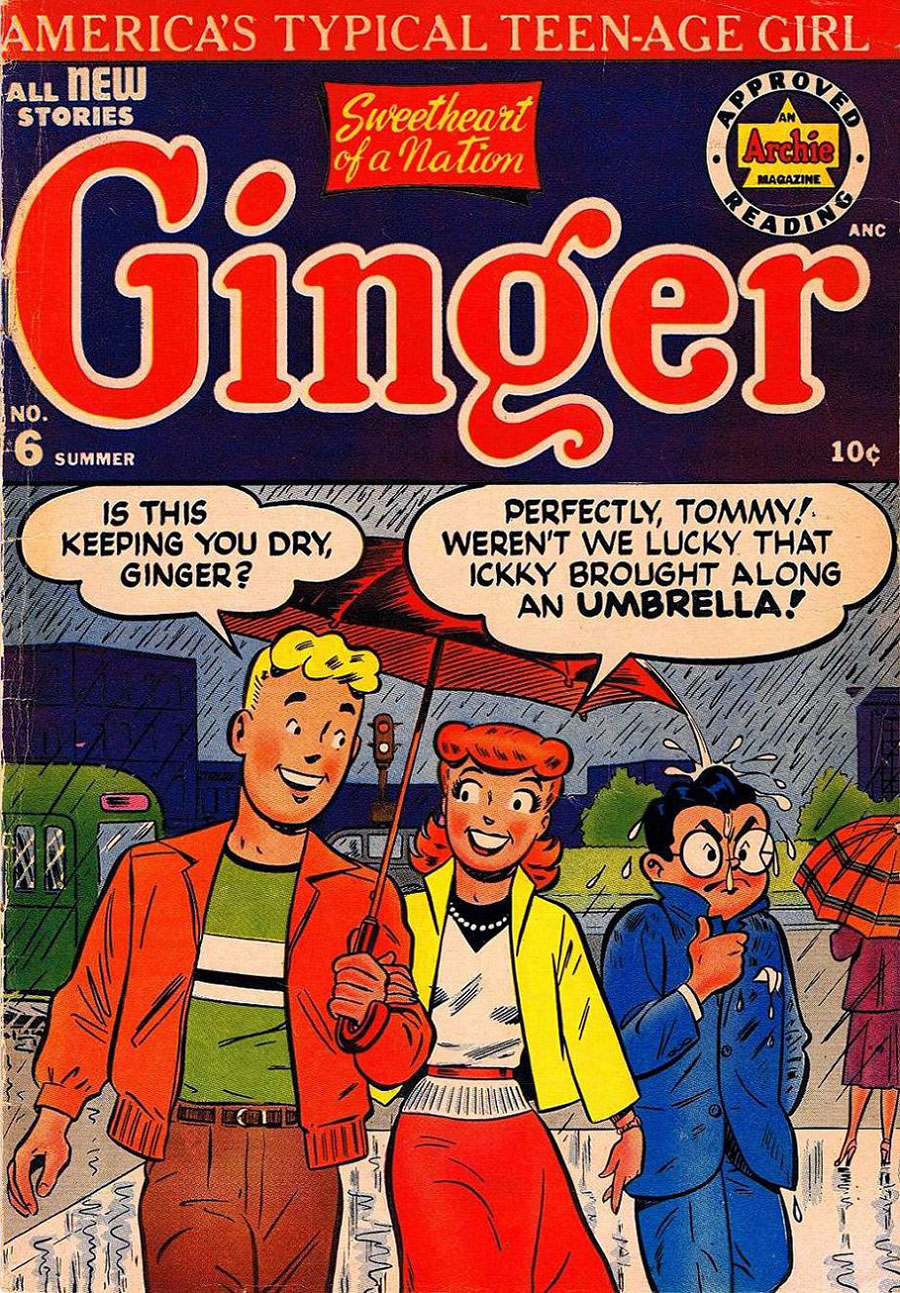 There were a million Archie Comics, and a million more Archie wannabe clones.  Ginger was an actual Archie comic, but it didn't exist in the same universe, with any overlapping characters.  If you've ever read a Betty and Veronica comic, you've read a Ginger comic – with Ginger being the good-girl Betty, and there was, of course, a brunette girl rival (like Veronica).
What makes this one different is the Ickky character.  A creepy, borderline-rapey nerd who's constantly stalking Ginger.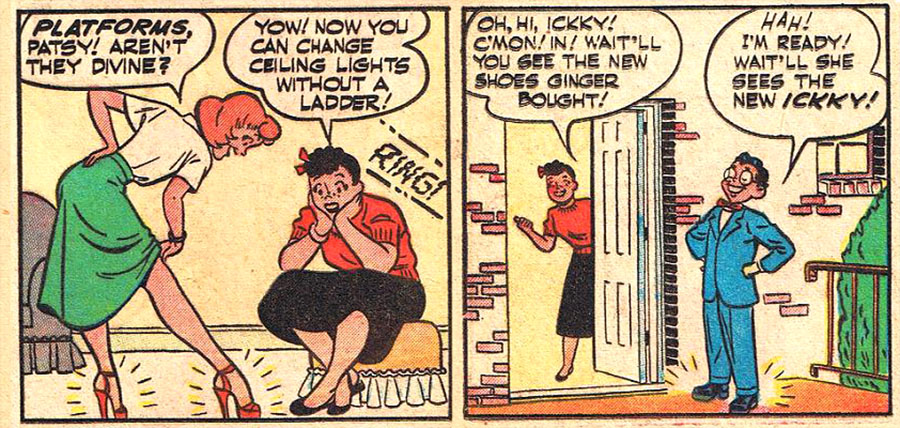 I half expect the comics to end with Ickky, finally unable to control his obsession, and abducting Ginger.  I guess that would be a bit dark for an Archie comic… but I still wouldn't put it past creepy Ickky.
3. Tessie the Typist (1944-1949)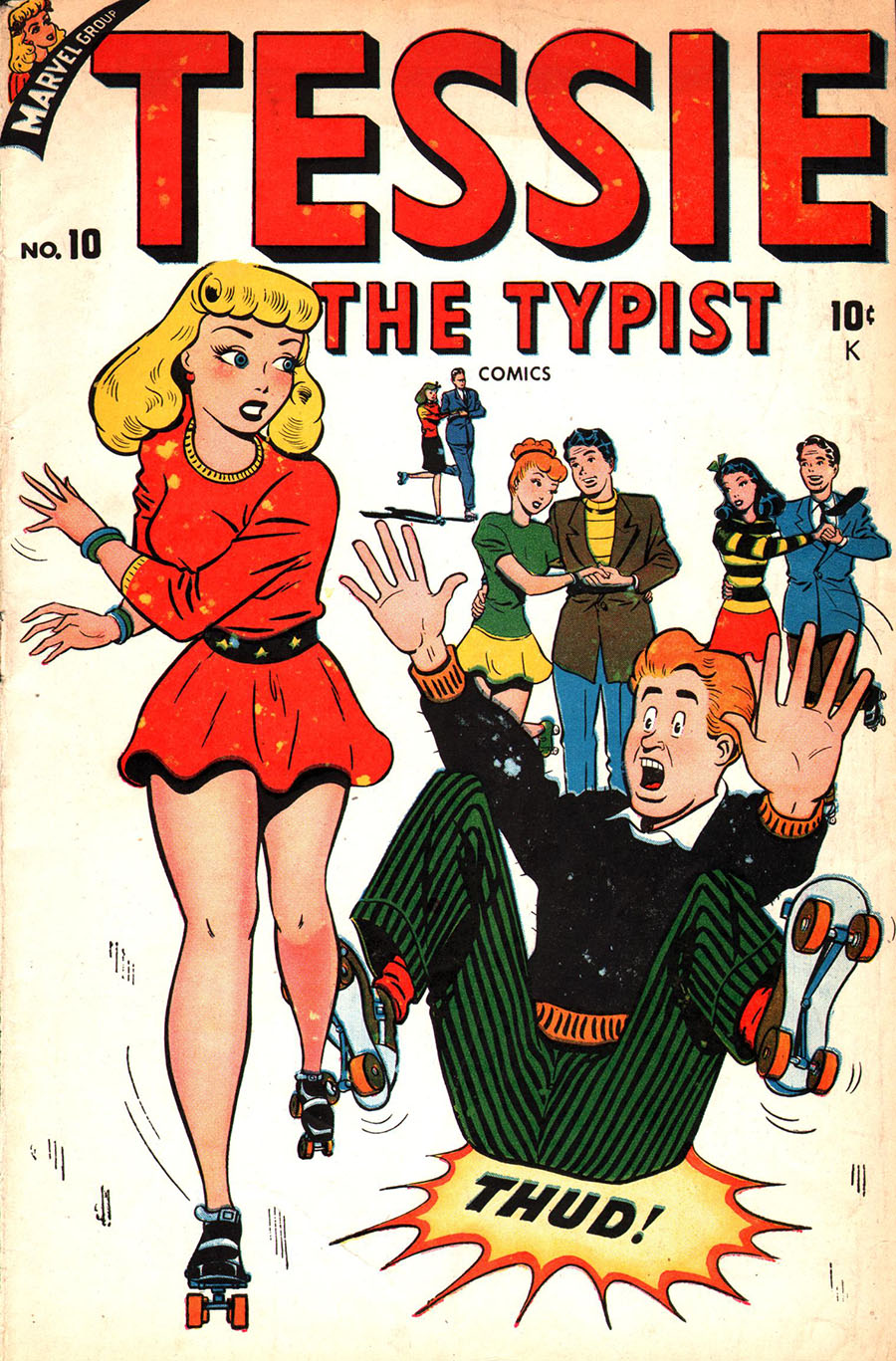 Tessie the Typist was actually published by Marvel comics, with Stan Lee getting credit for a few stories.  It was your standard run-of-the-mill comic, where Tessie gets into all kinds of comedic situations.
One notable trait of the series was a propensity to feature Tessie's calves.  I presume the sight of her stocking seam would get the boys attention.  I kid you not when I say that the following panels all come from only two issues.  They were serious about Tessie's calves!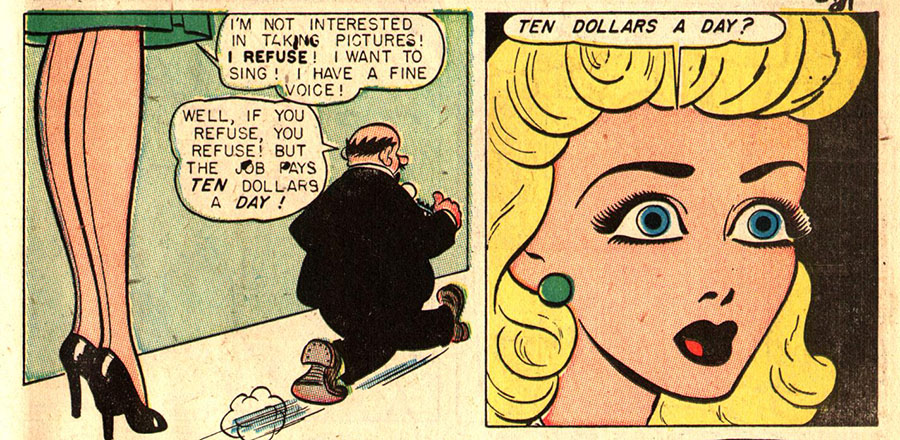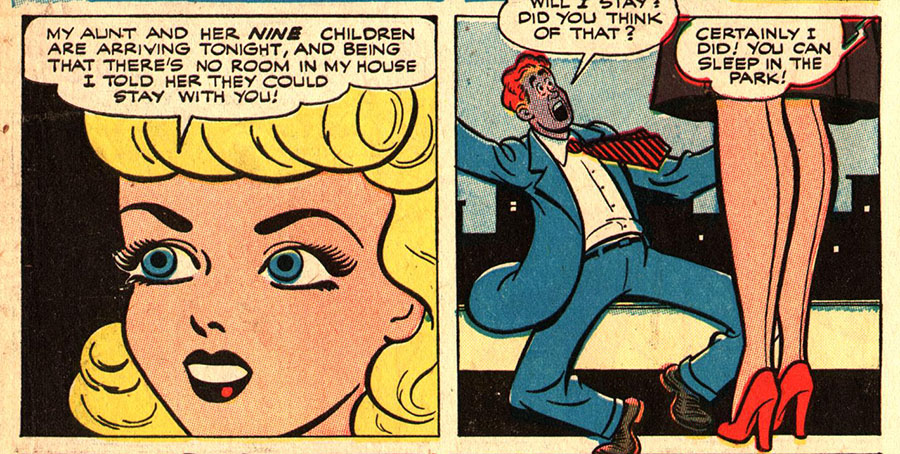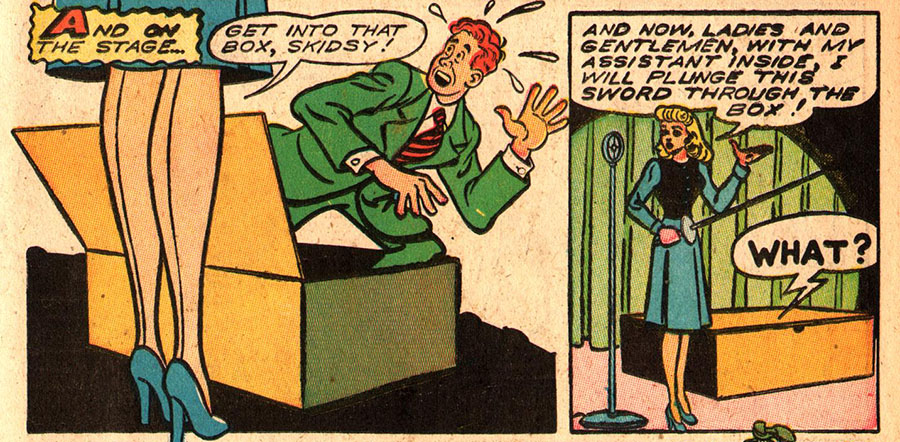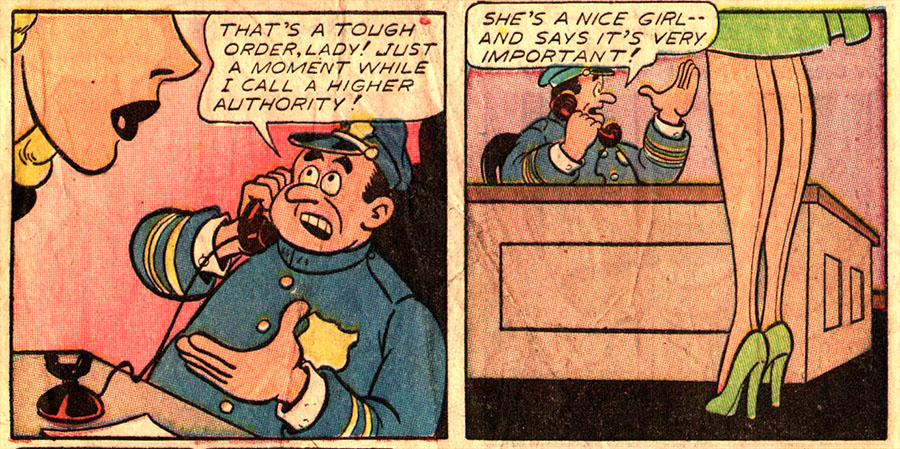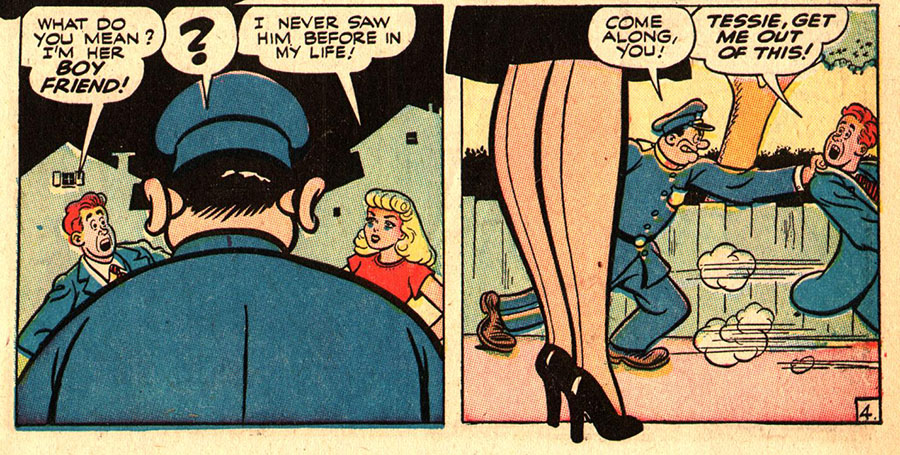 4. Sherry the Showgirl (1957)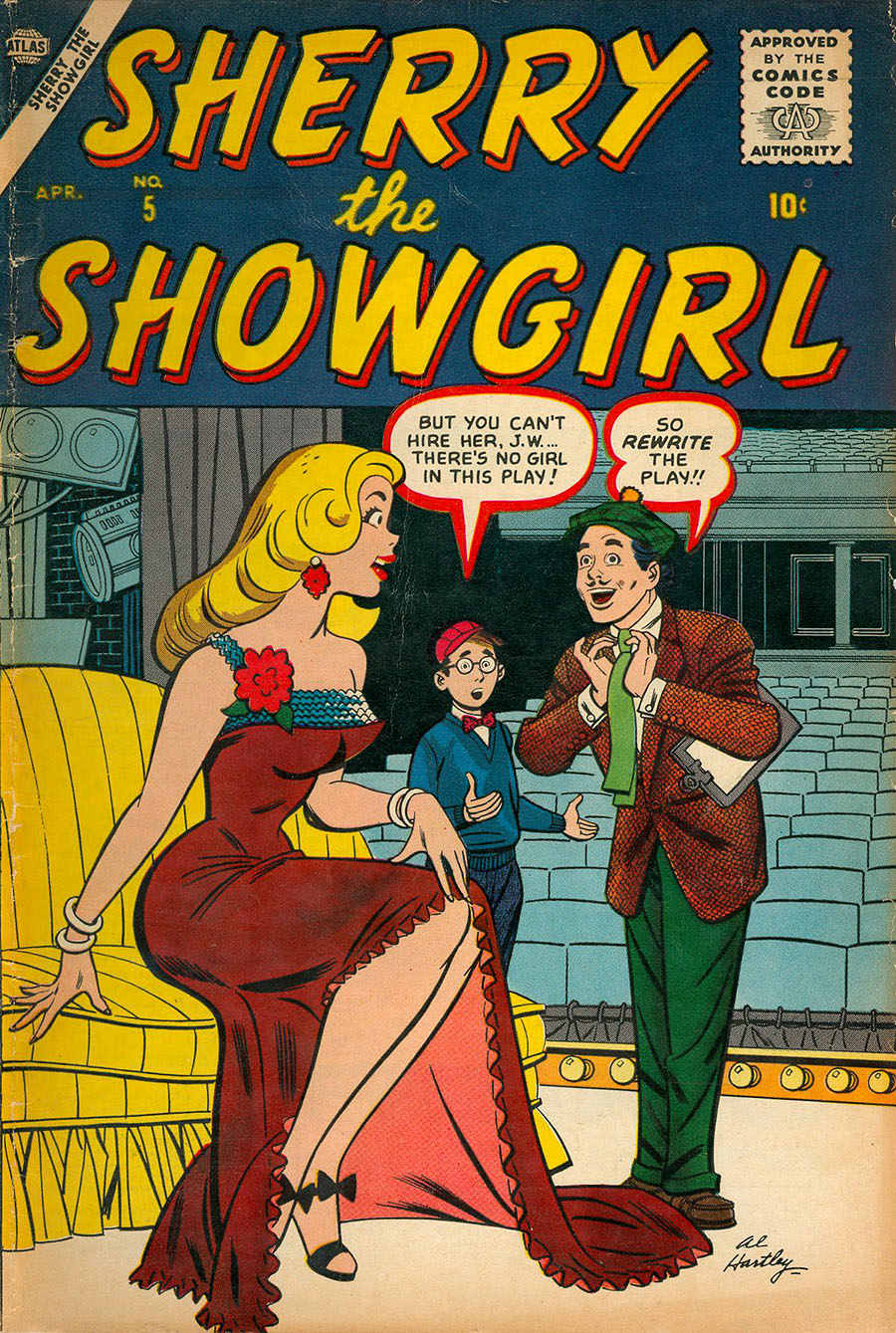 Sherry the Showgirl was another Marvel/Stan Lee series.  After three issues it became simply "Showgirls" and ran for a few more issues.  Nothing particularly exceptional here – beyond the hot ladies, not much to see here.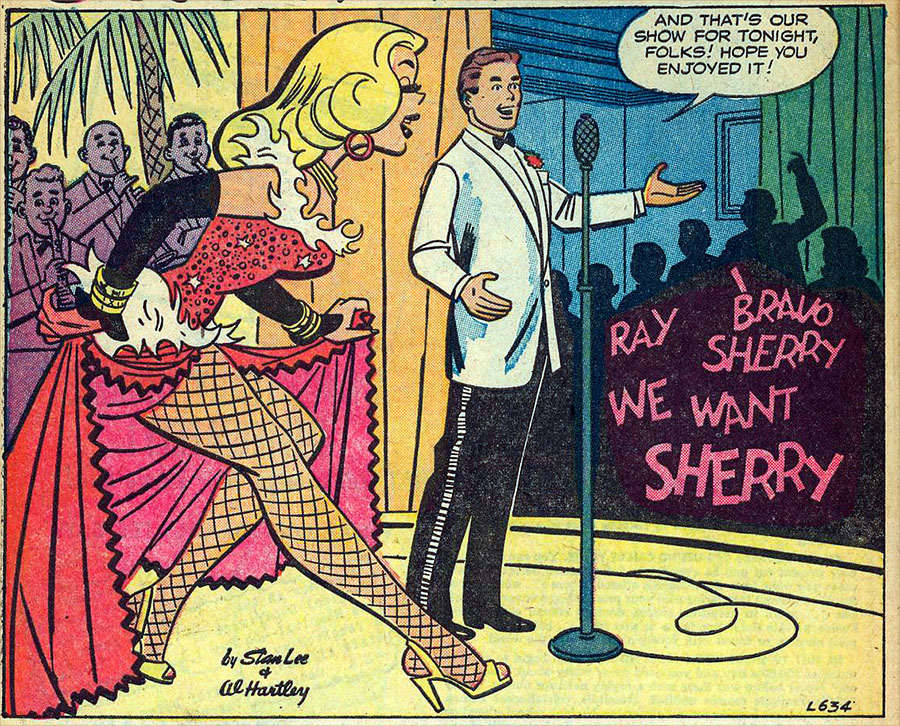 Note the Stan Lee credit (and Al Hartley) at bottom.  It is an interesting fact that there were a number of showgirl/burlesque comics produced around this time, clearly intended for young kids.  Why buy a Superman comic when you can get a showgirl one instead?
5. Teena (1949-1950)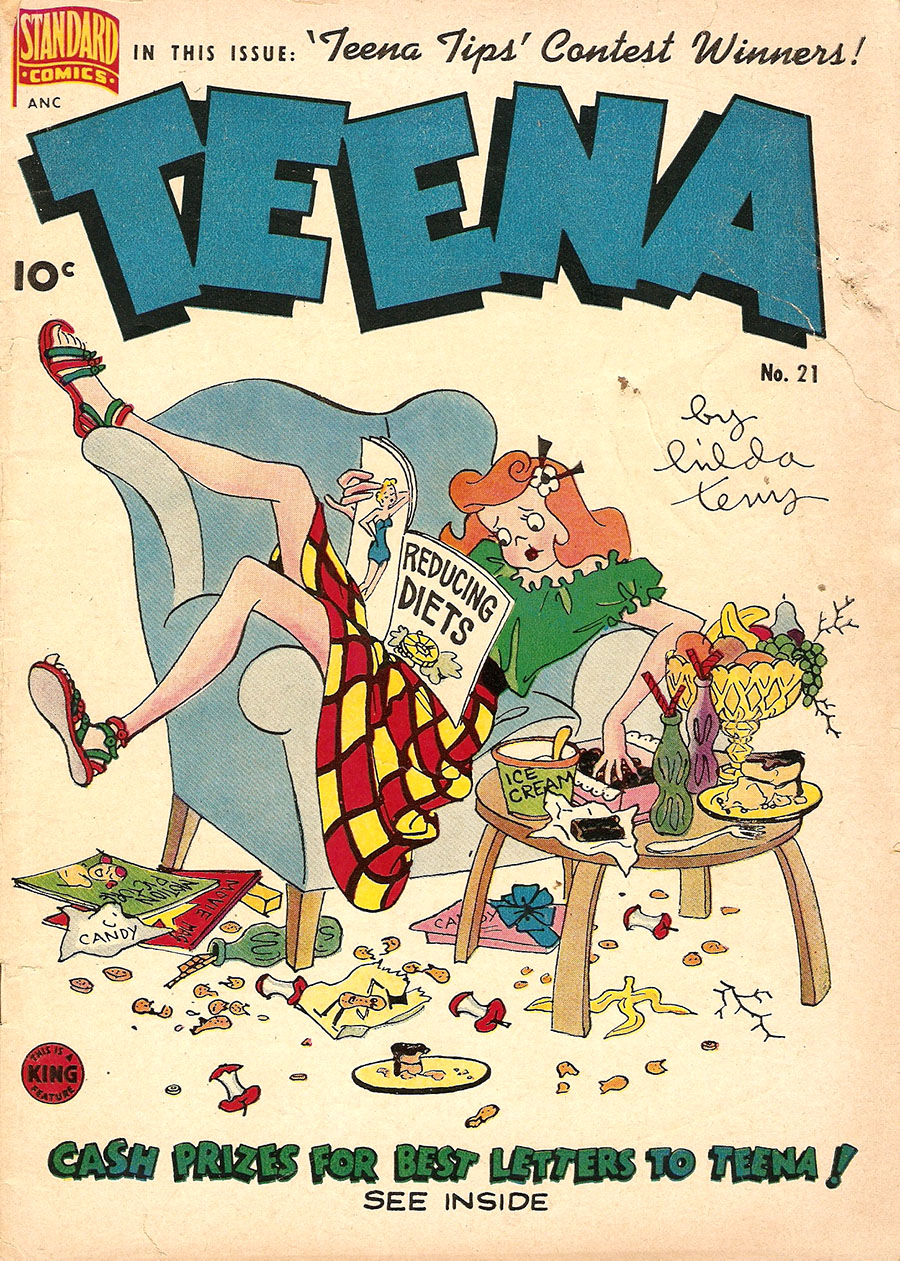 Teena was a mildly amusing look at your standard boy-crazy teenage girl, based on the comic strip.  Here's a typical story in Teena comics:
It begins with Teena disavowing all males, only to have her crush elbow-check her in the hallway.  I'm sorry but that didn't look accidental!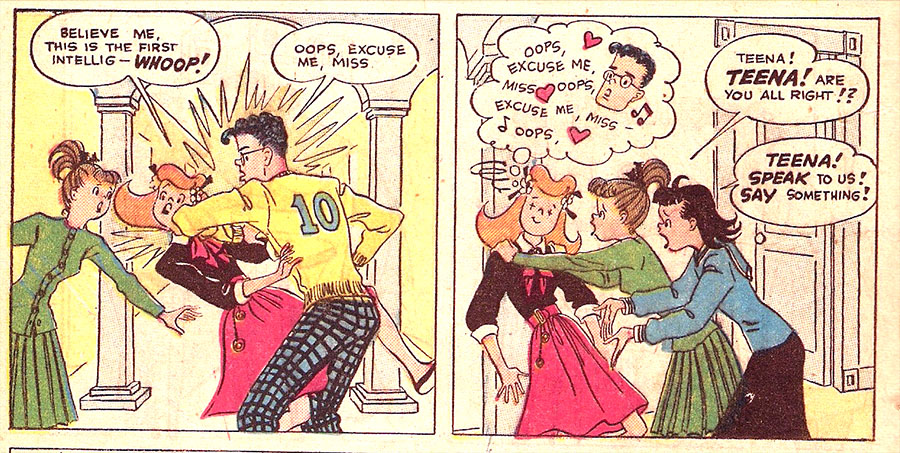 Her brush with the popular boy rekindles her passion for the opposite sex.  So it's on to the girl's bathroom for Teena to get dolled up…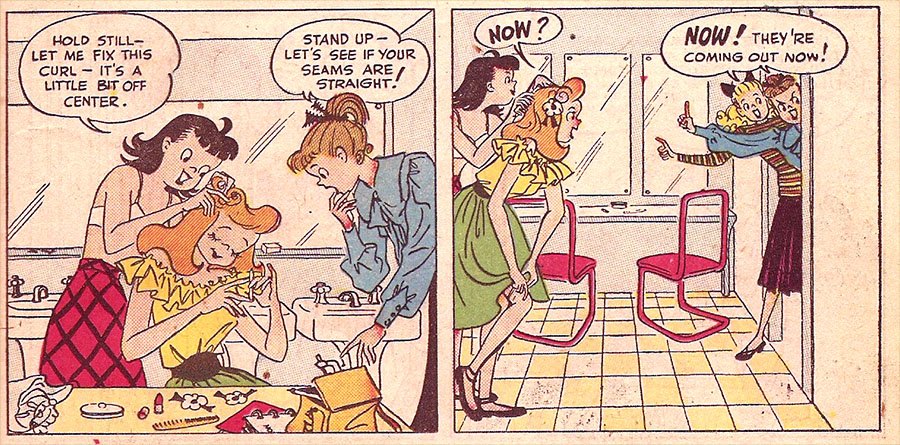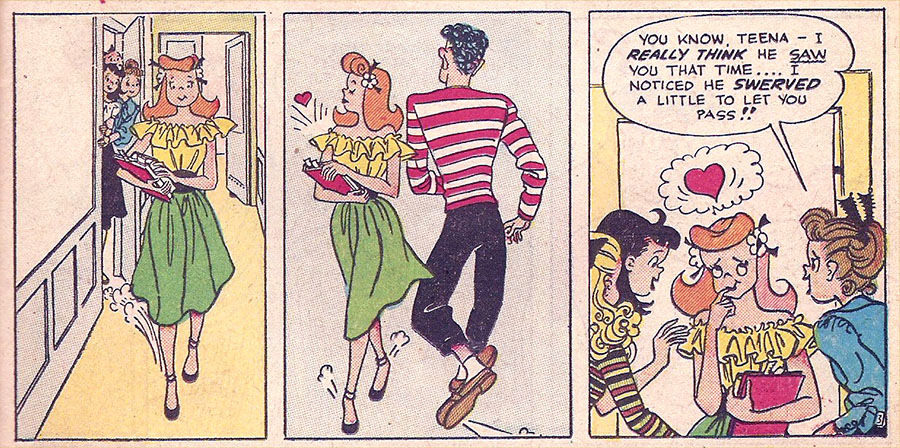 Like I said – it's not laugh-out-loud hilarious, but it's a nice little look into the world of the 1950s teenage girl.
6. Wendy Parker (1953-1954)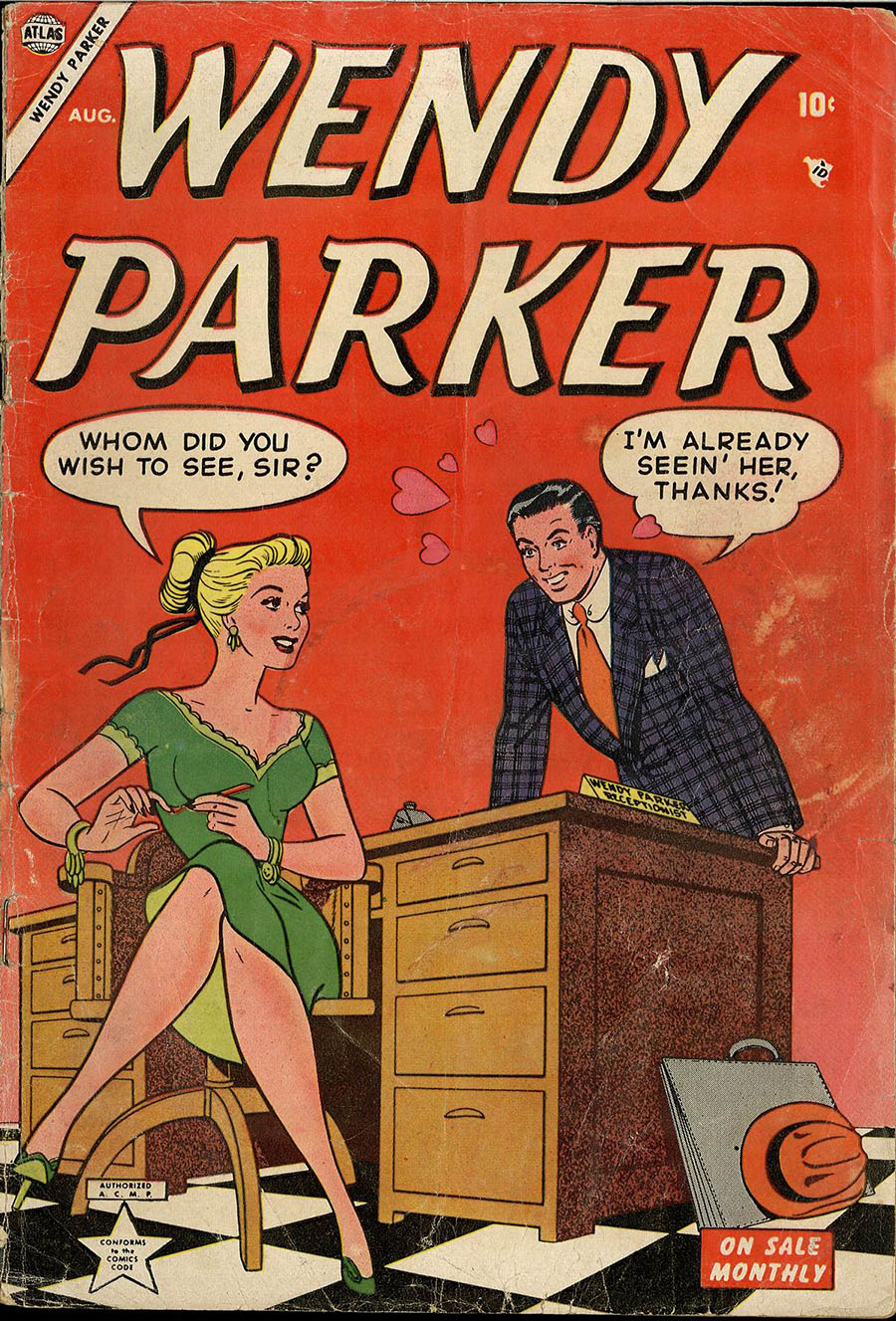 Your standard romance comic – tales of love, then love-lost, then love found again, etc. etc.  Worth it only to see prudish Wendy call some guy a "Big Four Flusher".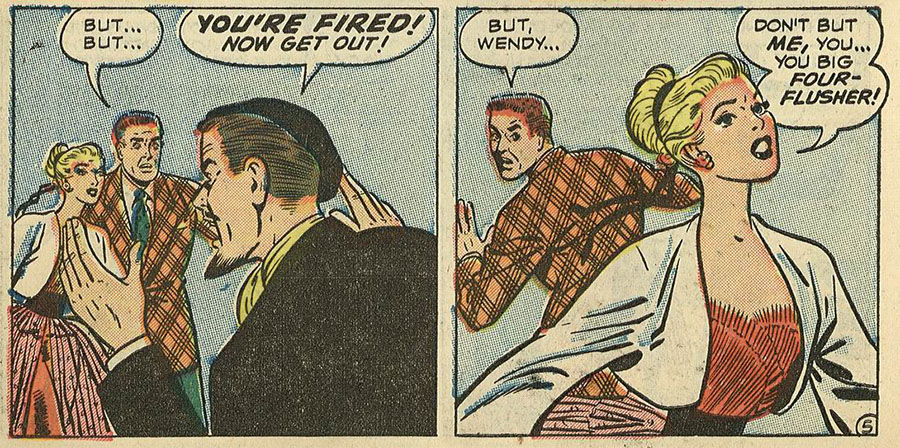 7. Lucy: The Real Gone Gal (1953-1954)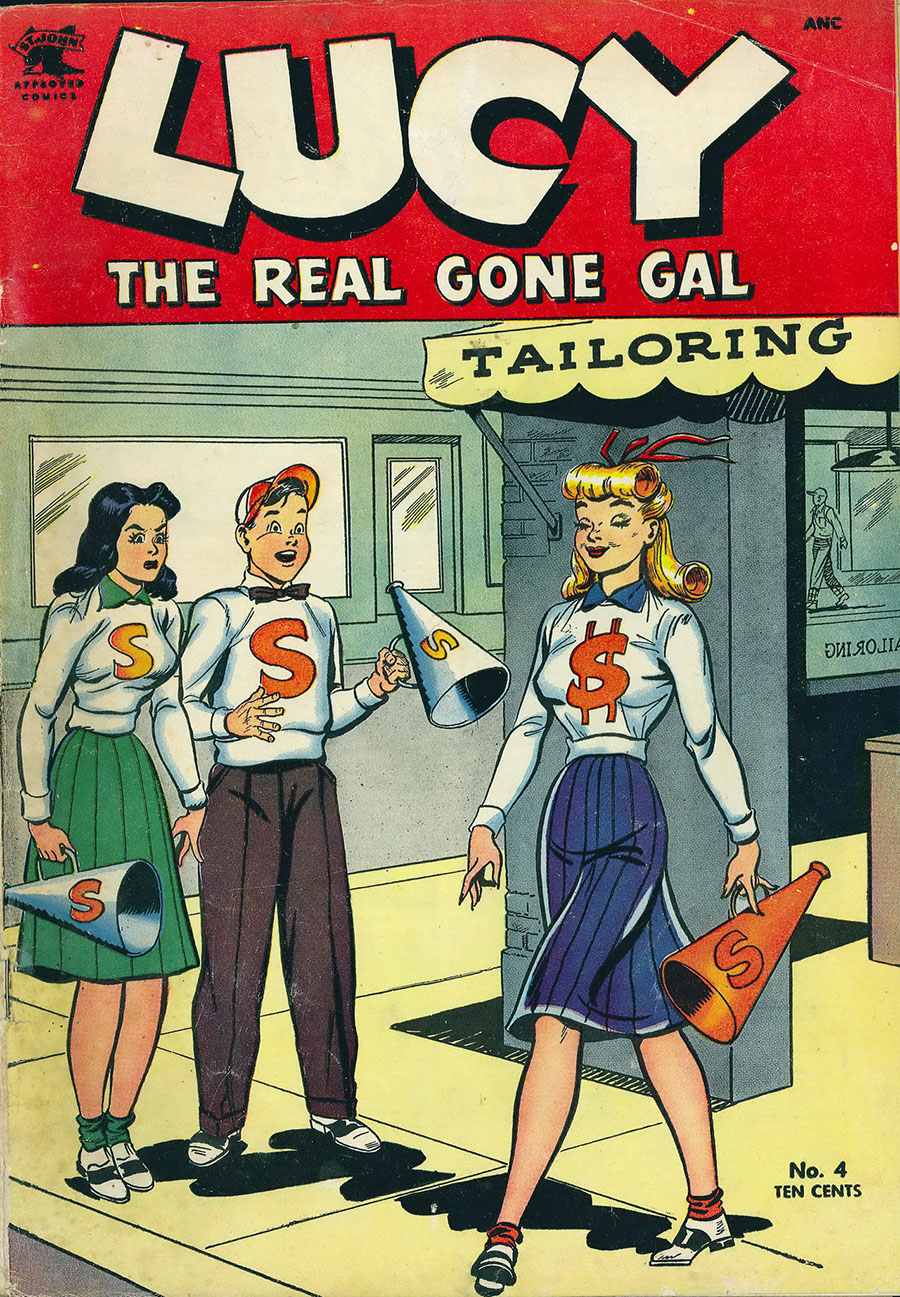 Of all the teen girl shenanigan comics, Lucy may be the biggest troublemaker…In fact, I don't think it's a coincidence that her name is Lucy, because she behaves a lot like I Love Lucy – constantly coming up with batshit stupid schemes.
In the comic below, Lucy sabotages another actress by posing as a maid.  People in the 1950s loved their wacky hi-jinx.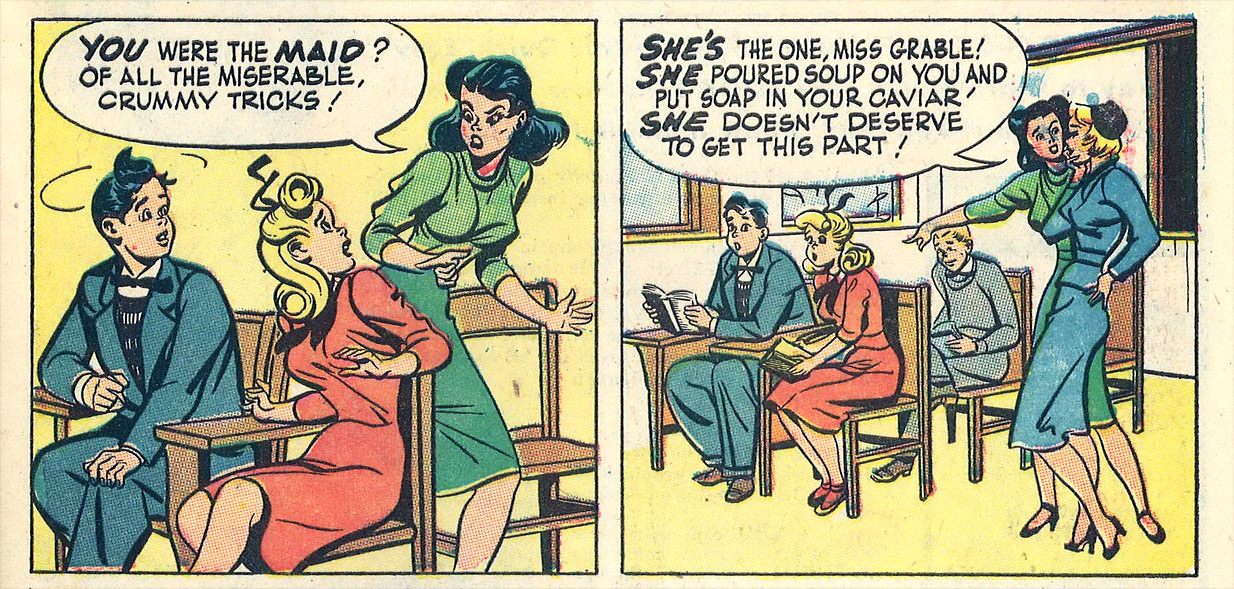 8. Junie (1947)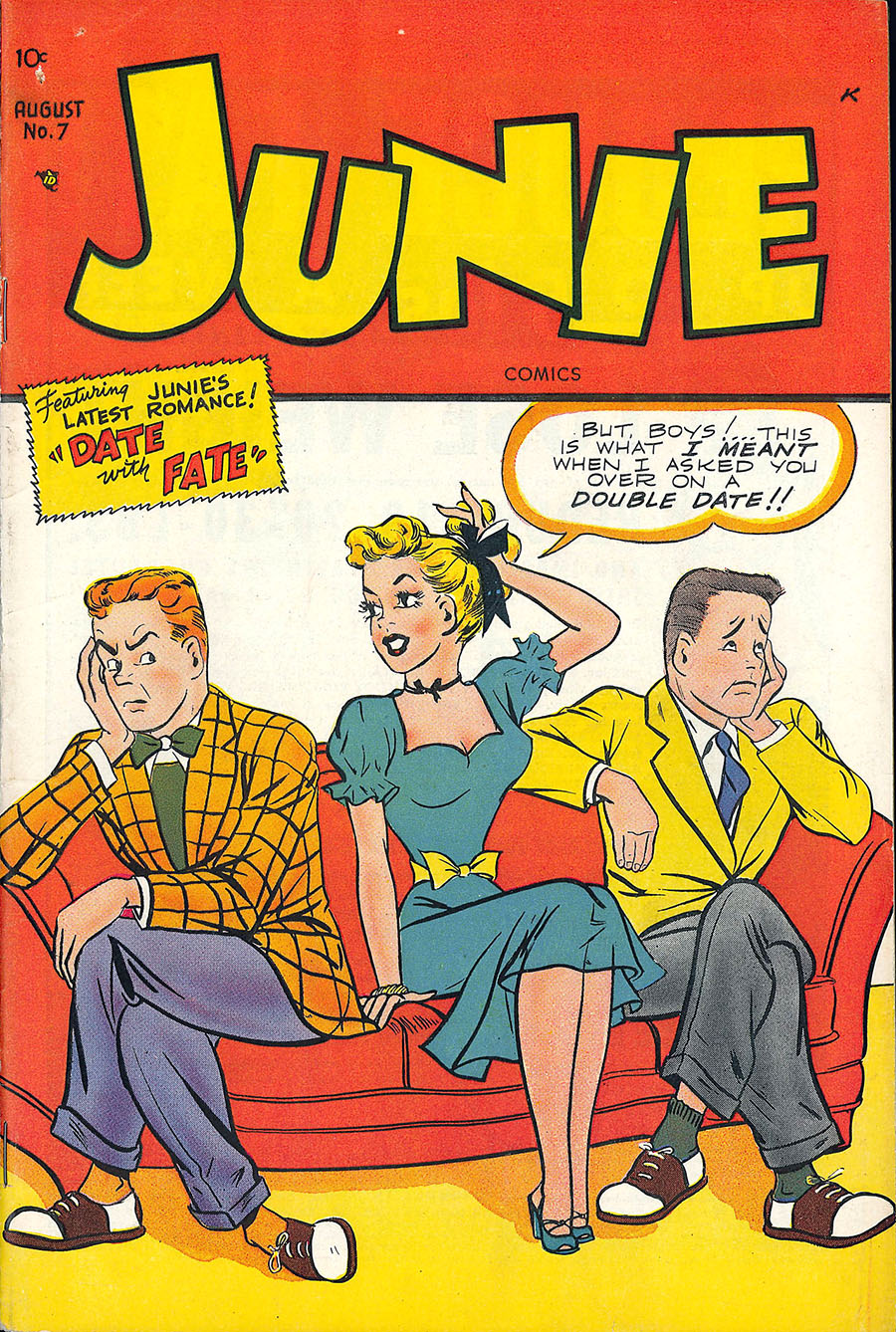 Junie Prom is the school knockout who all the boys like.  She's constantly warring with the other popular girl in school, Lollie, for the boys' affection.  What's interesting about this one is that the artwork is total shit.  Easily the worst of all these girl comics.
Here, Lollie and Junie get into a bit of a cat fight.  Check out the exceptionally bad art…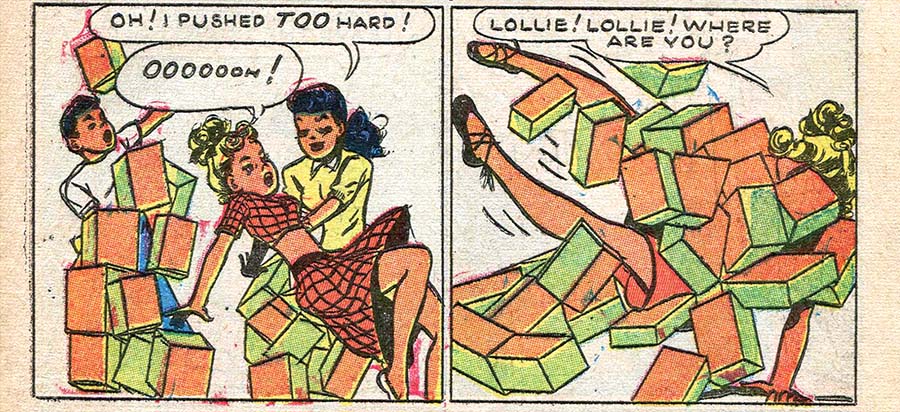 There were actually several artists who contributed to Junie comics, some worse than others, but all of them dreadful.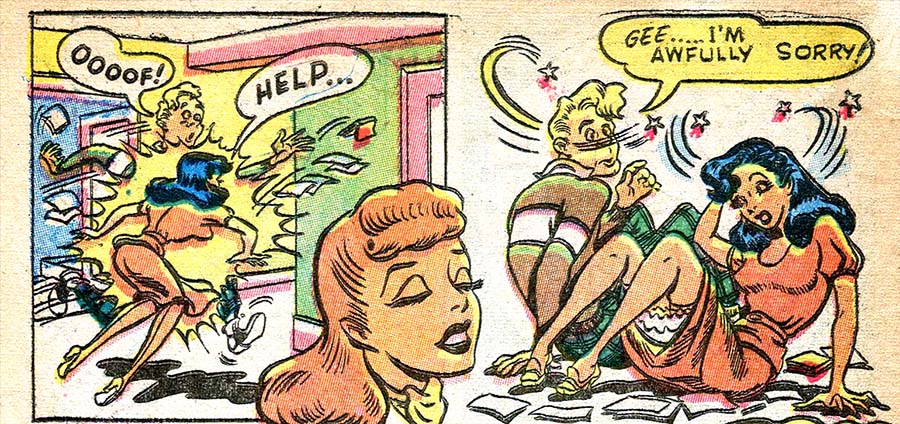 9. Hedy of Hollywood (1950-1952)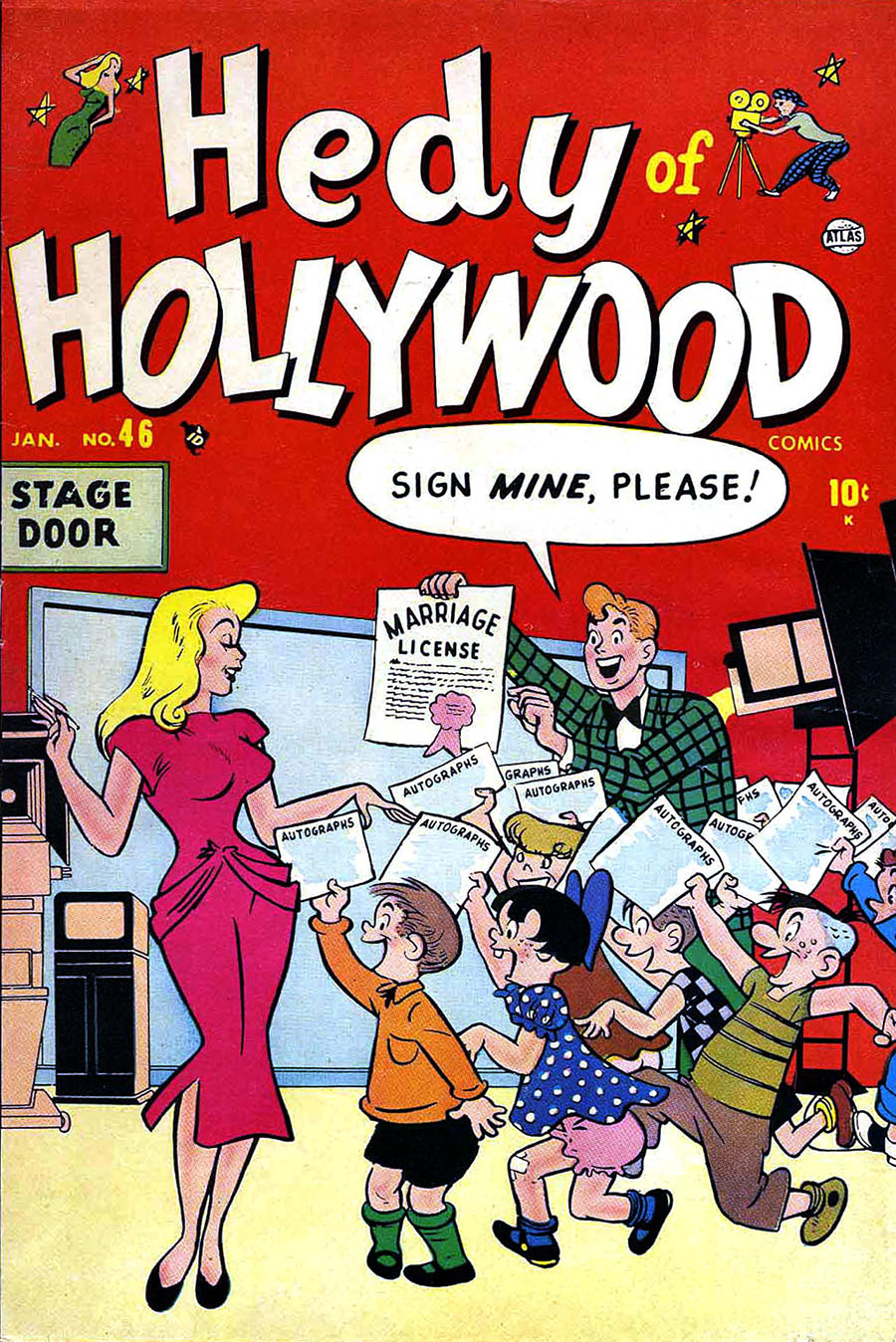 These comics actually began in 1947 under the title Hedy de Vine.  The titular character is a spoiled actress who (you guessed it) has battles against another rival actress.  Hilarity ensues.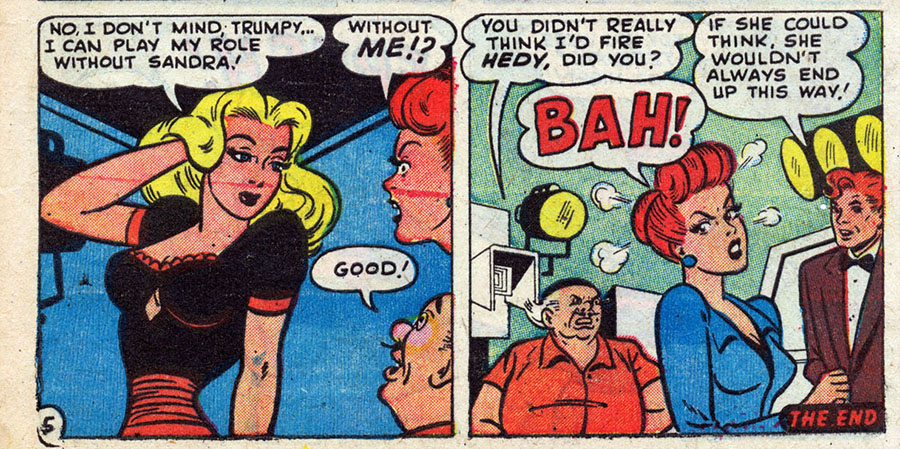 Whether it was Betty and Veronica, or Hedy and Sandra, you always had to give your main girl a rival.  It's just the way these comics worked.
10. Cindy (1947-1950)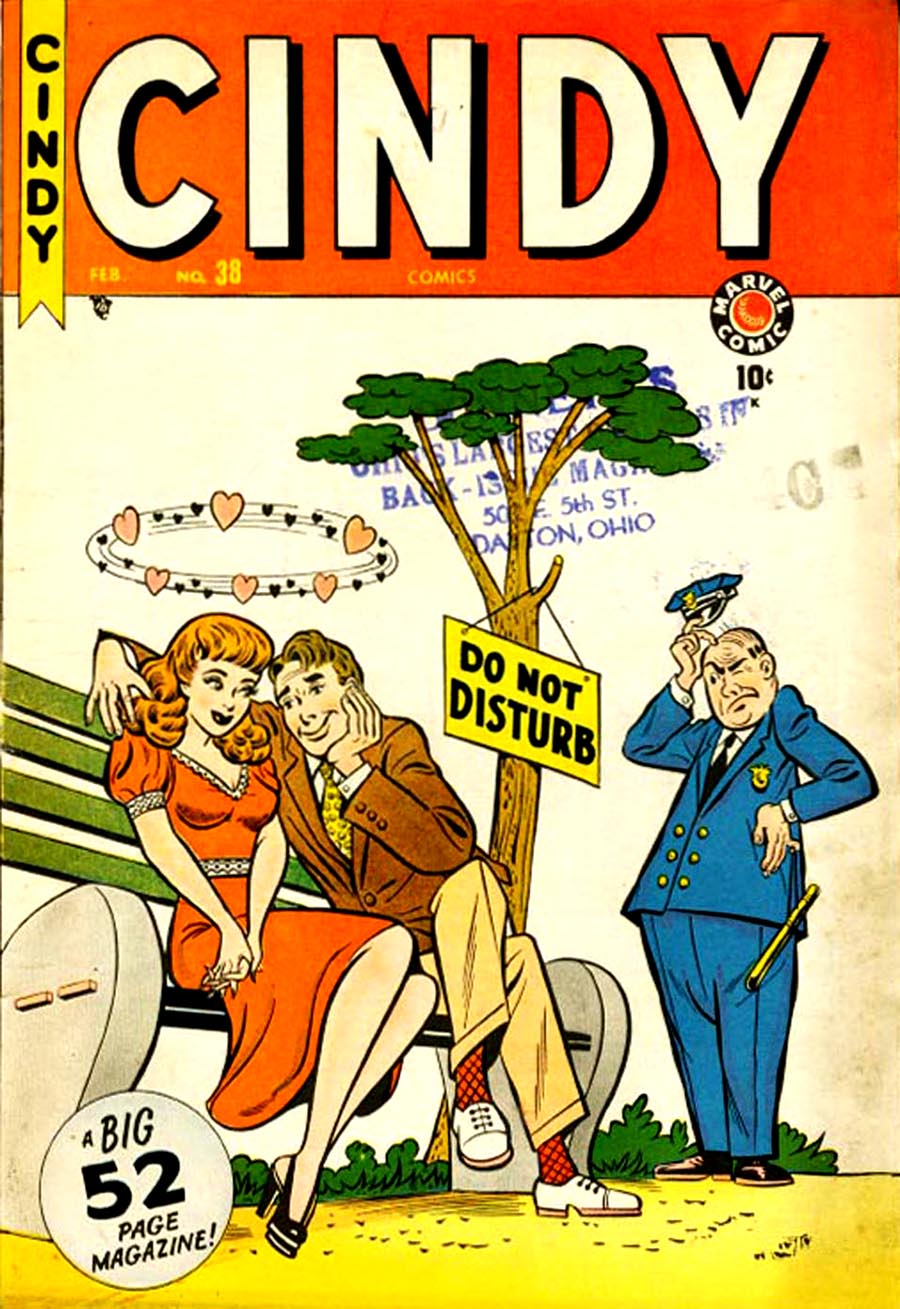 Cindy may look like your typical run-of-the-mill girl comic – and it does contain all the usual tropes: an rival girl (Sandy) and a boy who they constantly war for affection.  But in Cindy comics, the two gals really get into it. Often physically harming each other – with Sandy sometimes nearly winding up dead!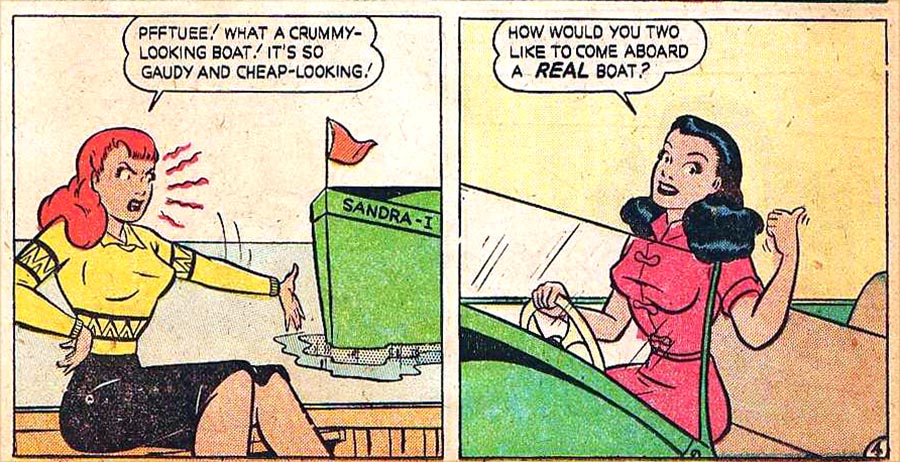 In this story, the two girls, Cindy and Sandy, go fishing with their dreamboat Chuck.  As always, things get deadly…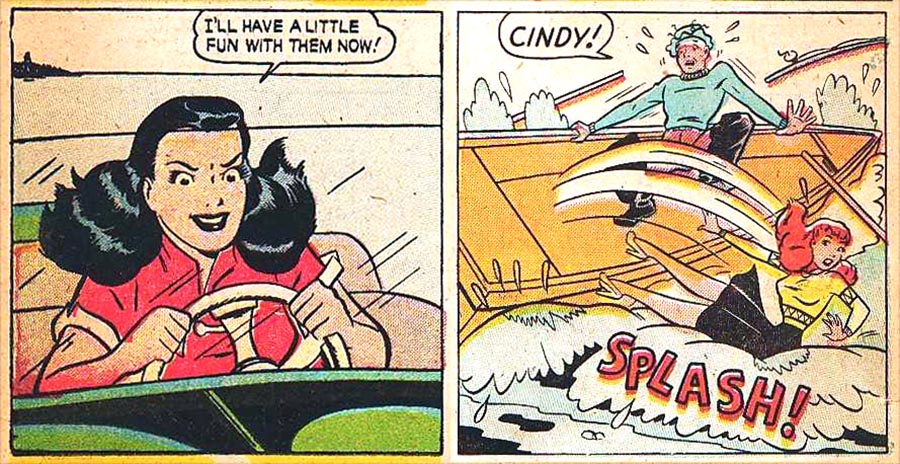 A jealous Sandy rams Cindy and Chuck's boat – I suppose with the intention of murdering them both?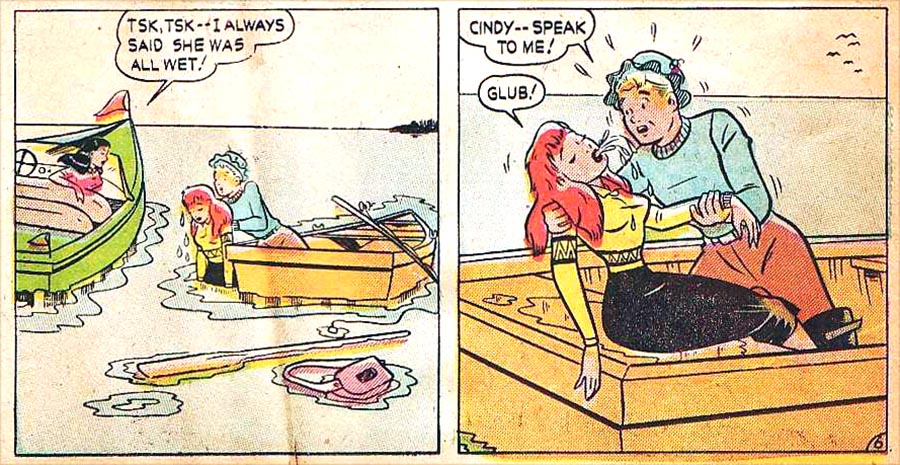 Cindy wins in the end (as always).  Sandra's boat runs out of gas in the middle of the lake, and a massive thunderstorm comes in.  Cindy and Chuck leave her out there… presumably to die?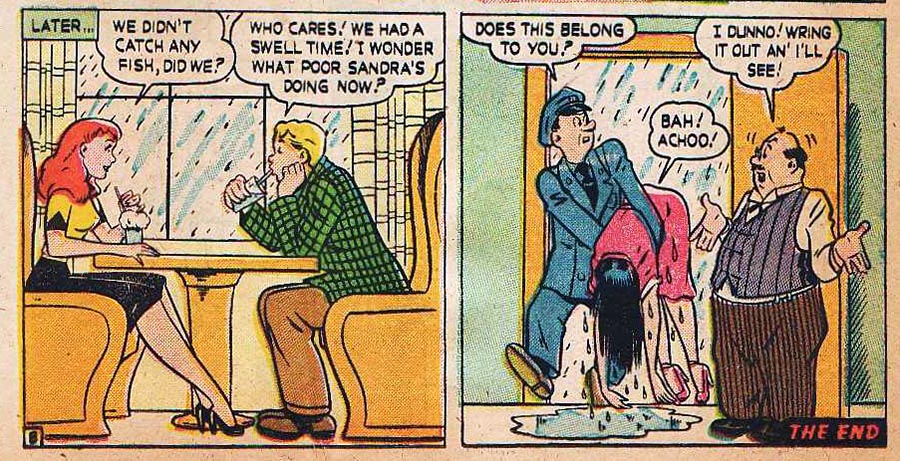 And the physical battles keep coming.  With each showdown over Chuck getting more and more murderous.  It's like a psycho Betty and Veronica, and I love it.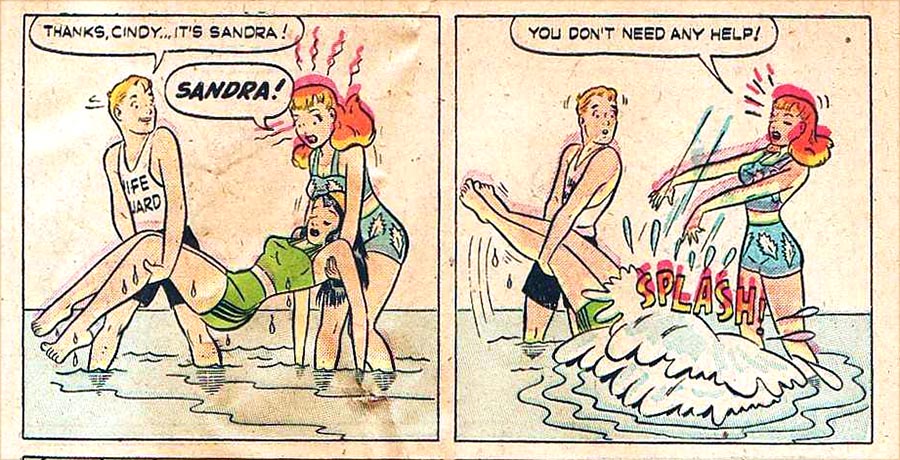 Well, we could look at ten more and only be scratching the surface of mid-century girl comics.  So, we may as well stop here.  Until next time!