There Used To Be A Chelsea Drugstore On The King's Road
THESE days the King's Road looks not unlike many other high-streets across the country, albeit a bit posher. If you stroll down the road you'll see, just like anywhere else, Boots, WH Smiths and the ubiquitous coffee-shop chains. In fact, always a trend-setter, the King's Road was where Starbucks chose to open its first ever UK coffee-shop just fifteen or so years ago in 1998. Of course it has a McDonald's like anywhere else but the King's Road McDonalds is a bit different to most – it used to be the Chelsea Drugstore.
The infamous drugstore was on the corner of Kings Road and Royal Avenue – a wide leafy boulevard laid out in the 1690s as part of a proposed carriageway that was meant to link the Royal Hospital with Kensington Palace. James Bond was meant to have lived in a small flat on Royal Avenue with an elderly Scottish housekeeper called May. He had a book-lined sitting room with an Empire desk and a small master bedroom with white and gold Cole wall paper, red curtains and a dark blue counterpane on the bed. On a bedside table was a telephone that had a direct line to the SIS.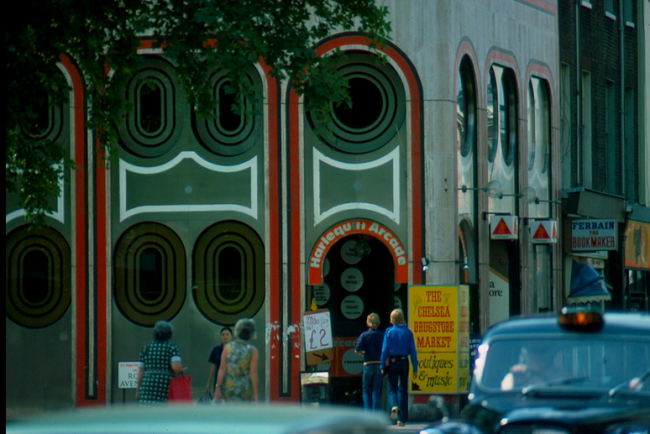 If he hadn't been a fictional character he might have been one of the local residents that complained about the drugstore that opened in 1968. To many of the locals the striking modern glass and aluminium facade – based on Le Drugstore on Boulevard St Germain in Paris – was seen as an eyesore to the existing buildings in the surrounding area. The White Hart pub that it had replaced was deemed much more suitable. Opposite the drug store was an empty shop called Thomas Crapper. The famous sanitary plumbing engineer with the coincidental name had opened the shop in the mid-nineteenth century but it had only just closed down the year before in 1967.
It wasn't just how the Drugstore looked that attracted the complaints, the store's opening hours were 16 hours a day – extremely rare in the 1960s – an era where most shops still had half day closing on Wednesdays and Saturdays. At one stage the shop, in reality more a mini-mall than a drugstore, had a "flying squad" which featured young women on motorcycles dressed in a tight-fitting purple catsuits that hand delivered purchased goods. Presumably they didn't deliver prescriptions because Mick Jagger, in You Can't Always Get What You Want (originally the b-side of Honky Tonk Women) sings about going to the drugstore in 1969 to get his prescription filled, or probably and far more likely, Marianne Faithfull's prescription. While at the Drugstore he decides to have a Cherry Red soda, his favourite flavour, in the chrome and neon soda fountain which was on the first floor. Whether it was on purpose or not the song seems to reflect the burning out of the heady days of the Swinging Sixties of which the King's Road, of course, was at its centre.
I went down to the Chelsea drugstore
To get your prescription filled
I was standing in line with Mr. Jimmy
And man, did he look pretty ill
We decided that we would have a soda
My favorite flavour, cherry red
The Chelsea Drugstore's other claim to fame is that it features for a couple of minutes in Stanley Kubrick's A Clockwork Orange. It's a relatively unpleasant scene where Alex picks up two girls for a tiny bit of high-speed "in and out", while simultaneously ordering a disc from the record shop part of the drugstore. The scene is almost the only way to see what the Chelsea Drugstore's original interior looked like.
The format of its shopping experience was ahead of its time but James Bond and his real-life neighbours managed to get the drugstore closed in May 1971. A watered down imitation opened briefly that September but only lasted a few years until it closed for good in 1979. It was a wine bar for a while but eventually it was taken over by the McDonald's franchise which still occupies the ground floor today.