On November 9, 1985, US President Ronald Reagan hosted a gala dinner at the White House. Among the guests were Hollywood stars John Travolta, Tom Selleck and Clint Eastwood. But at the very top table were Prince Charles and his younger wife and cuckquean Princess Diana. Charles was dressed in a penguin suit, as was the fashion. Diana wore an off-the-shoulder midnight blue velvet evening gown  designed by London-born Victor Edelstein. In the lobby, the strains of the hit movie Saturday Night Fever struck up out. Travolta heard the cue and asked Diana to dance. She obliged.
The night could not have gone better as the Windsor's brood mare was partnered with Travolta, before Eastwood and Selleck took their turns.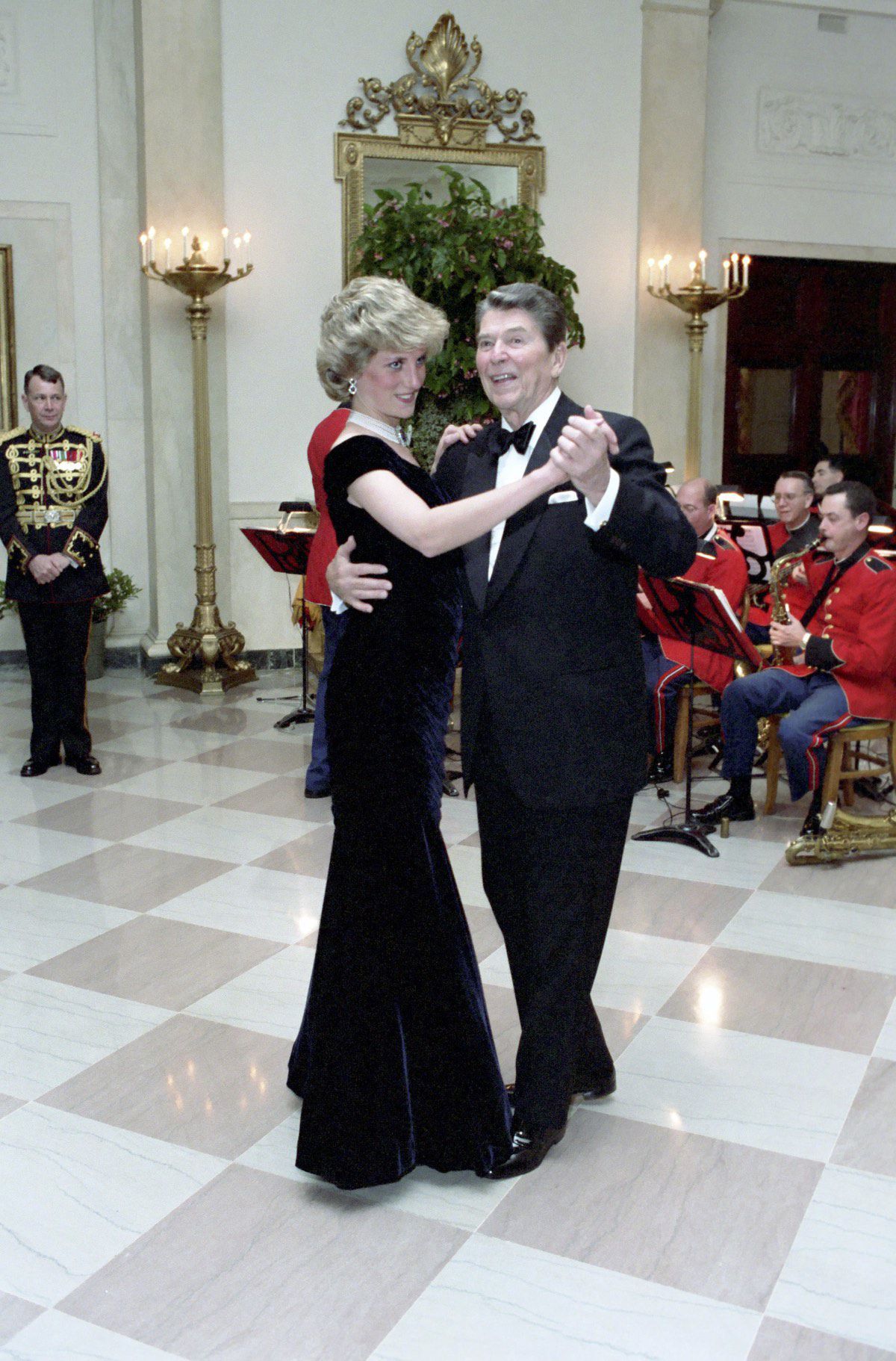 'I didn't know or expect to dance with Princess Diana, and it was the president's wife, Nancy Reagan, that said, "It is her wish." At midnight, I had to tap her on her shoulder, and I had to say, "Would you care to dance." She turned around and dipped her head in that Lady Diana way and we were off for 15 minutes dancing. I'll never forget it. I'm so honored that I was able to experience it, and I know for a fact that it was a highlight of being in the United States; it was her favorite moment. So I feel I made her life better; she made my life better; and I'm very sorry that she's not here.'
– John Travolta in 2007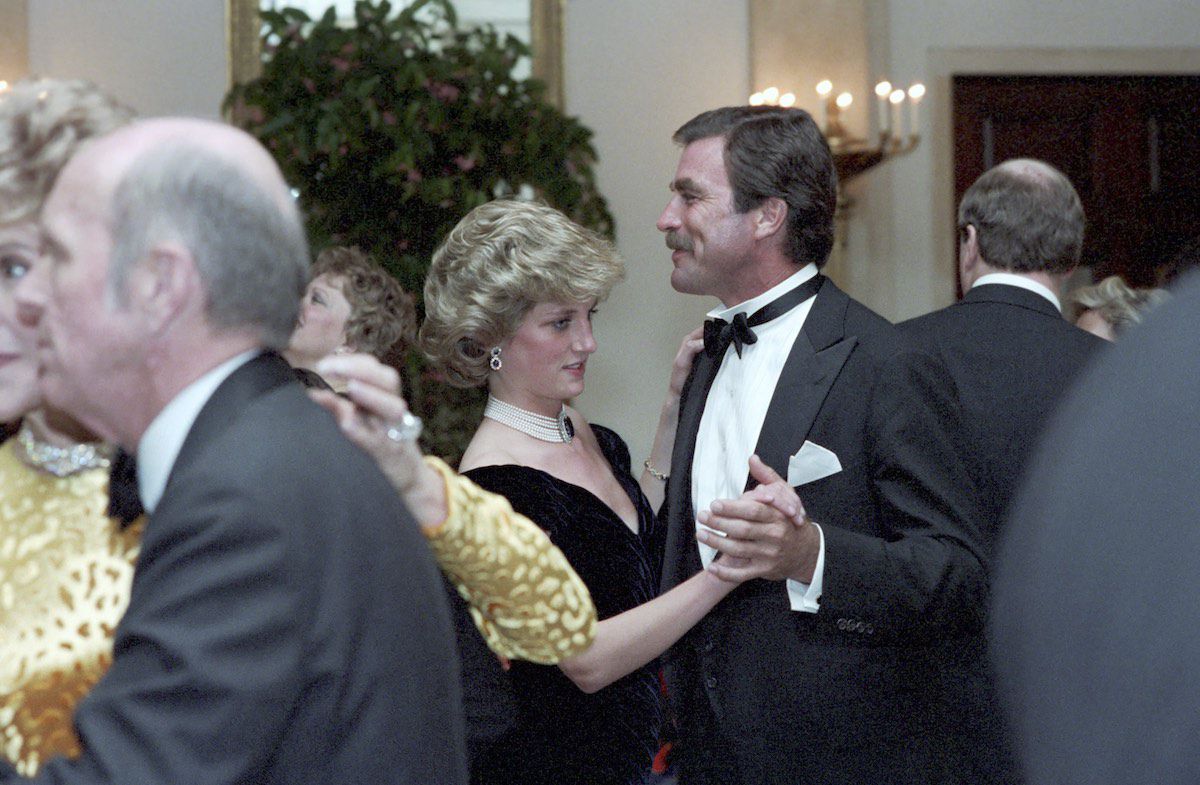 "There were three of us in this marriage so it was a bit crowded," Diana would later recall of her ordeal as Charles and his mistress Camilla made her their fool.  She'd recover and shine, of course, famously calling the Queen Mother '"chief leper of the leper colony". She'd embrace her celebrity and the opportunity to have fun with it.
Barely a year after the dance, in 1986 the News of the World reported that Diana had bombarded one Oliver Hoare (fnar) with lusty calls from her Kensington Palace rooms and the phone box outside the palace. In 1993, a year after their divorce, the "Camillagate" tapes surfaced, voice recordings of phone conversations between Charles and his mistress, in which he expresses his wish to be her tampon.
"One day I will tell you the whole story," Charles wrote in a letter to Nancy Reagan, dated June 21, 1992. "It is a kind of Greek tragedy and would certainly make a very good play! It is so awful. Very few people would believe it."
But in 1985, Charles and Di were an item on a mission to sell their quintessential British romance to an expectant America. The US and UK were at the apogee of that so-called special relationship built on the shared ambitions of Reagan and British Prime Minister Margaret Thatcher. Cue another old stager to serve up the night's sole misstep. After the official dinner, President Reagan offered "our congratulations to Prince Charles on his birthday just five days away and express also our great happiness that… er… Princess David – Princess Diane – here on her first trip to the United States."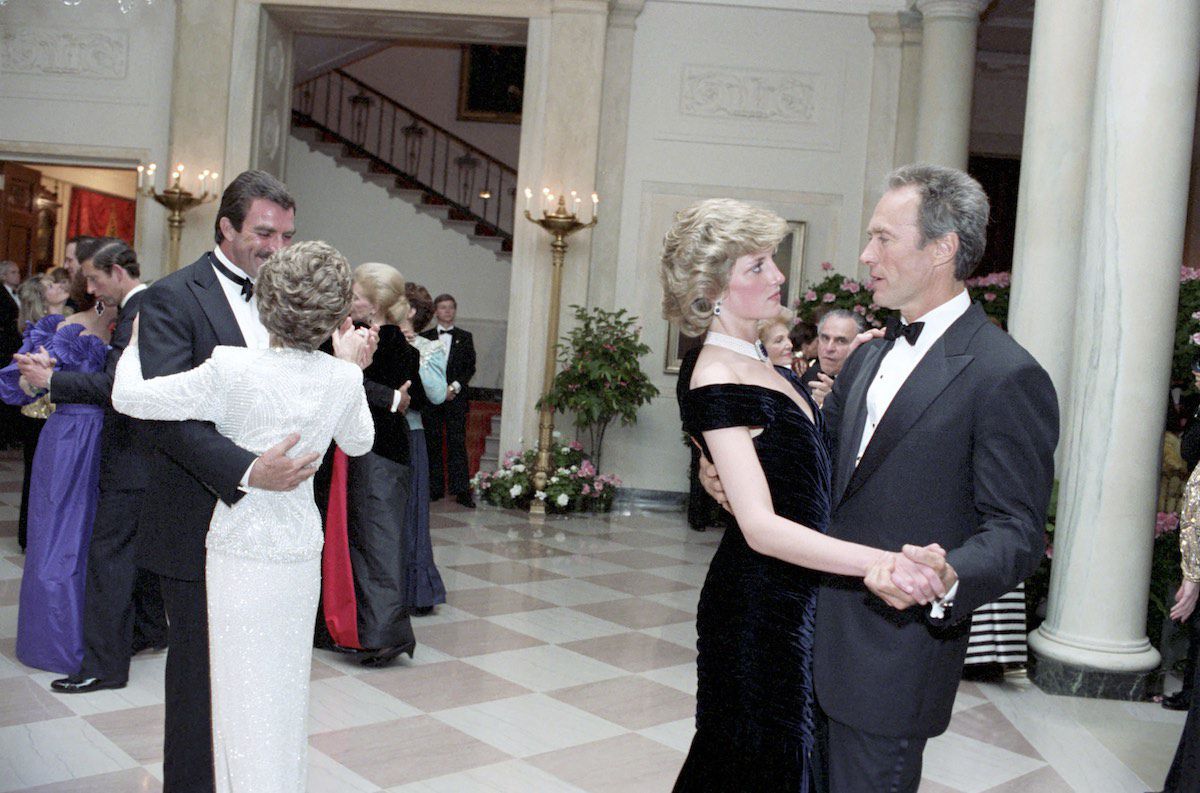 'I'd seen her dance with [Prince] Charles beforehand so I knew that she was strong. But she looked like she was leading [him] and because I knew that the world was watching I thought that I really needed to give her certainty that I knew what to do. I put my hand in the middle of her back, brought her hand down so that it wouldn't be so high and gave her the confidence that we would do just fine.'
– John Travolta, 2014
Princess Diana died on Aug. 31, 1997. She was just 36.