Pete Flanagan, owner of the long-gone Zippo Records in Clapham, south London, has sent me this photograph of the shop interior.
It sums up everything that was wonderful about this unique space, where Pete established a hub for like-minded souls. With staff including Edwin Pouncey (aka Savage Pencil), Pete also released otherwise hard-to-find records via his own independent imprints. These included Heartland, 5 Hours Back and MoFoCo for Julian Cope's towering LP Droolian.
I bought a lot of music and also an example of every one of the short-run t-shirts Zippo sold, including my favourite, this MC5 number (other owners, and there can't be many because they were printed in very limited numbers, include Bobby Gillespie).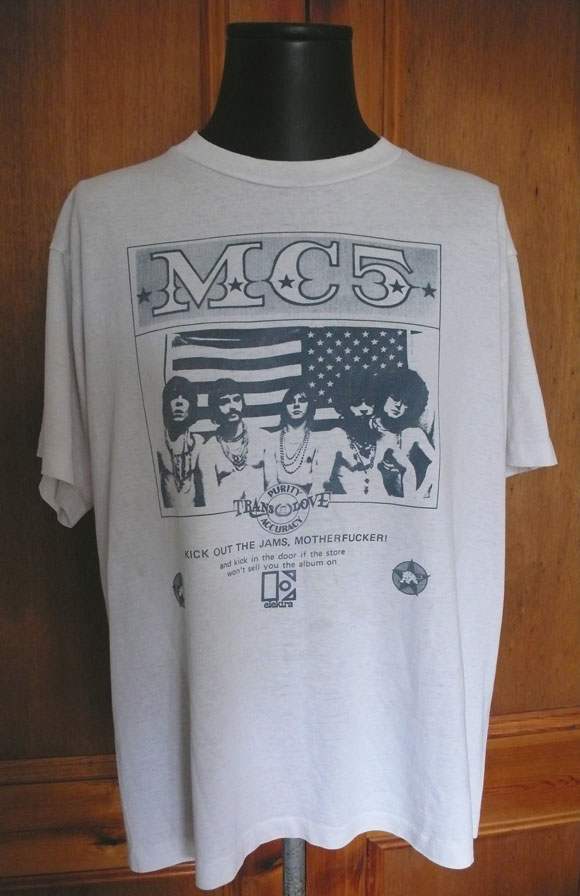 As a local I was a Zippo regular with our Battersea hound Tom. Pete christened him "The Conqueroo Dog" after the four-legged friend on the cover of his reissue of the Austin band's 1968 release From The Vulcan Gas Company.
When Zippo closed I bought a whole load of stock and had a few happy years trading in vinyl as a sideline, until my back gave out.
Pete's still at it, running Soho Music which is now on eBay – see here.
I bumped into Edwin P a couple of years back; he was in the company of another great person who was also a former Zippo staffer. Can't for the life of me recall his name but hopefully he'll see this and get in touch.