"Though fiery trials had threatened, oceans of longing had kept them apart. Now, a new icicle of terror stabbed at the embroidery of their existence"
– Snoopy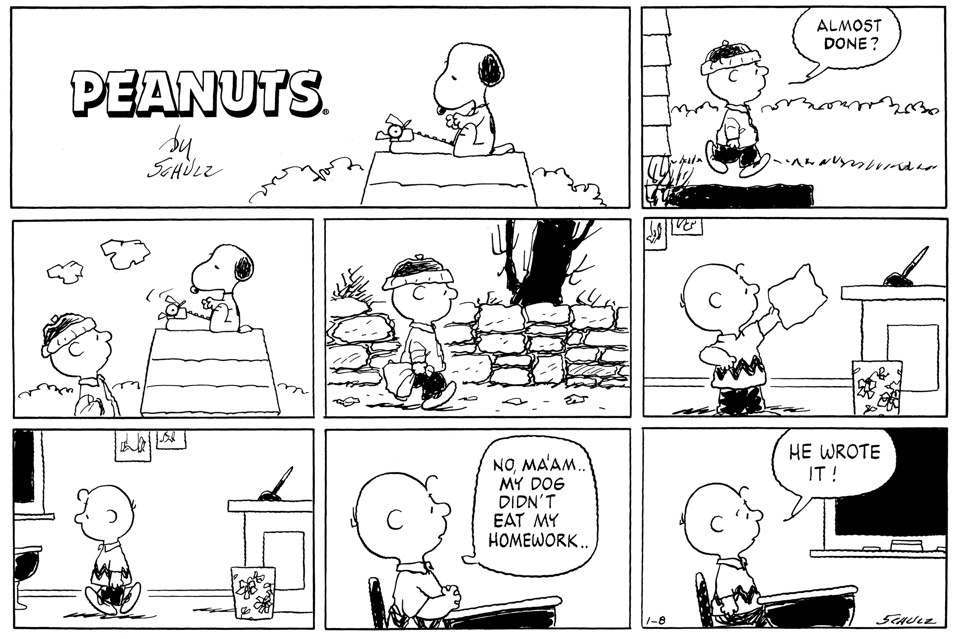 Charles Schultz's Snoopy, star of the Peanuts comic strip, wants to be a published writer. But 'Joe Metaphor' keeps getting rejected. But many of the character's fans enjoyed literary success.
Jeff Kinney, author of the Diary of a Wimpy Kid
inspired
 by the world's most read comic strip, writing in 2015:
I recently had the chance to speak at a charity event with three other cartoonists who have had success in various literary formats. As the speeches unfolded, we discovered that each one of us had been inspired to become cartoonists by Charles Schulz… There's Peanuts, and there's everything that came after it. Virtually every successful comic strip feature that has followed Peanuts owes a huge debt of gratitude to Schulz for getting to the essence of what makes comics a powerful medium. Schulz understood how to make every line count. Nothing extraneous, no waste. Only what's necessary.
And what goes for comic strips, can go too for novels.
In Snoopy's Guide to the Writing Life
(2002), thirty famous writers and entertainers produce 500-word essays alongside a favourite strip of quick-change-artist Snoopy at the typewriter. Charles Schulz's son, Monte, writes in the introduction:
"Snoopy perched in front of a typewriter on his famous doghouse is one of the enduring images of Peanuts. His flights of literary imagination take hold of every writer and remind us (as if we needed reminding) that once we admit to ourselves we require and adore the written word and the writer's life, we are bound to chase that ever elusive perfect sentence, paragraph, story, novel, poem. Rejections, blocks, false starts, and dead ends distract us; they cannot lead us away from this holy destiny we know is ours. Without a doubt, my father used Snoopy the author to express his own love and frustration with the creative process, to illuminate the writer's life by poking fun at the often incomprehensible divide between author and publisher while showing the amazing resilience of the everyday writer struggling for acceptance and acknowledgment."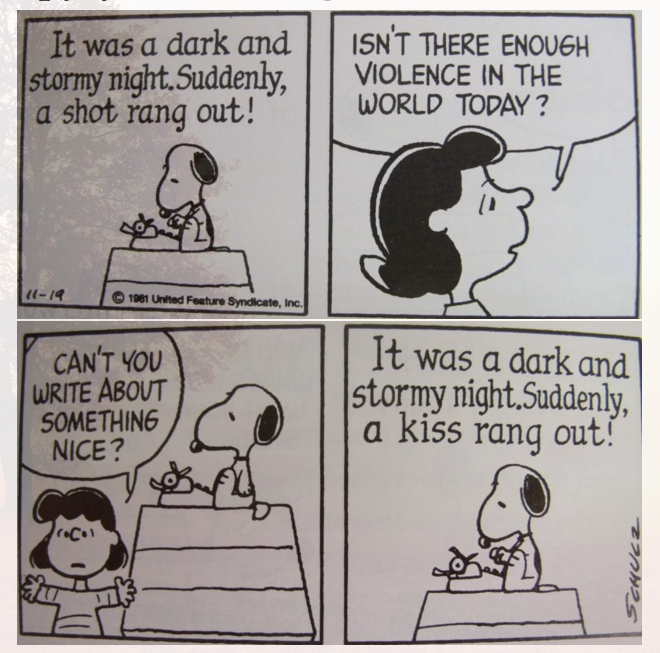 Barnaby Conrad asked Schulz if he thought of himself as a frustrated writer? "No," he replied. "I've just always wanted to be a cartoonist, and I'm happy to be just that. Cartooning is a fairly sort of a proposition. You have to be fairly intelligent – if you were really intelligent you'd be doing something else; you have to draw fairly well – if you drew really well you'd be a painter; you have to write fairly well – if you wrote really well you'd be writing books. It's great for a fairly person like me."
Schulz would expand on his work:
"A cartoon is really a picture demonstrating one thought in the guise of another. If somebody reads my strip every day, they'll know me for sure – they'll know exactly what I am."
Adding later:
"A cartoonist is someone who has to draw the same thing every day without repeating himself."
Isn't that also what a writer does?
In a strip from May 1, 1969, Snoppy is dancing. He's thinking aloud, as he must:
"This is my 'First Day of May' dance. It differs only slightly from my 'First Day of Fall' dance, which differs also only slightly from my 'First Day of Spring' dance."
"Writers aren't people exactly," F. Scott Fitzgerald opined. "Or, if they're any good, they're a whole lot of people trying so hard to be one person."
Schulz subverted that thinking by playing around with Snoopy, the dog who could be Joe Cool, the Red Baron's sworn enemy, a helicopter, the world famous golf pro / attorney / surgeon / hired hand / grocery clerk, a creature from the sea, The April Fool and many more imaginative alter egos.
Snoopy's Guide to the Writing Life
 includes essays by such notables as  William F. Buckley, Jr., Julia Child, Elizabeth George, Sue Grafton, Evan Hunter, Elmore Leonard, Danielle Steel and Ray Bradbury, who could have been talking of Charlie Brown and not Jules Verne when he told the Paris Review: "He believes the human being is in a strange situation in a very strange world, and he believes that we can triumph by behaving morally."
Bradbury writes on Snoopy (via):
The amazing [Harry] Blackstone [September 27, 1885 – November 16, 1965] came to town when I was seven, and I saw how he came alive onstage and thought, God, I want to grow up to be like that! And I ran up to help him vanish an elephant. To this day I don't know where the elephant went. One moment it was there, the next — abracadabra — with a wave of the wand it was gone!

In 1929 Buck Rogers came into the world, and on that day in October a single panel of Buck Rogers comic strip hurled me into the future. I never came back.

It was only natural when I was twelve that I decided to become a writer and laid out a huge roll of butcher paper to begin scribbling an endless tale that scrolled right on up to Now, never guessing that the butcher paper would run forever.

Snoopy has written me on many occasions from his miniature typewriter, asking me to explain what happened to me in the great blizzard of rejection slips of 1935. Then there was the snowstorm of rejection slips in '37 and '38 and an even worse winter snowstorm of rejections when I was twenty-one and twenty-two. That almost tells it, doesn't it, that starting when I was fifteen I began to send short stories to magazines like , and they, very promptly, sent them back two days before they got them! I have several walls in several rooms of my house covered with the snowstorm of rejections, but they didn't realize what a strong person I was; I persevered and wrote a thousand more dreadful short stories, which were rejected in turn. Then, during the late forties, I actually began to sell short stories and accomplished some sort of deliverance from snowstorms in my fourth decade. But even today, my latest books of short stories contain at least seven stories that were rejected by every magazine in the United States and also in Sweden! So, dear Snoopy, take heart from this. The blizzard doesn't last forever; it just seems so.

 

Snoopy gets a lot of rejection slips, this being one of the cruellest:
"Dear Son, Thank you for considering us with your letter. We regret, however, that it does not suit our present needs. Sincerely, Mother." Snoopy sits on a rock, thinking, "Even my letters home get rejected."
Do children reading of disappointment become upset by it? Can children handle that much emotional honesty, dry wit, sardony, put-down and the anxiety of Charlie Brown's day-to-day existence in that weave of character relationships? Adults can. In 1959 Charlie Brown became the spokesman for the Ford Falcon car. Children get it, too. The Peanuts gang were, as Al Capp, the creator of Li'l Abner, observed, "good mean little bastards eager to hurt each other." Children love the dark stuff.
In Schulz and Peanuts: A Biography, David Michaelis looks closer at how no good children's writer writes for children:
The American assumption was that children were happy, and childhood was a golden time; it was adults who had problems with which they wrestled and pains that they sought to smooth. Schulz reversed the natural order…by showing that a child's pain is more intensely felt than an adult's, a child's defeats the more acutely experienced and remembered. Charlie Brown takes repeated insults from Violet and Patty about the size of his head, which they compare with a beach ball, a globe, a pie tin, the moon, a balloon; and though Charlie Brown may feel sorry for himself, he gets over it fast. But he does not get visibly angry.
Like the famous World War 2 poster commands, Charlie Brown keeps calm and carries on.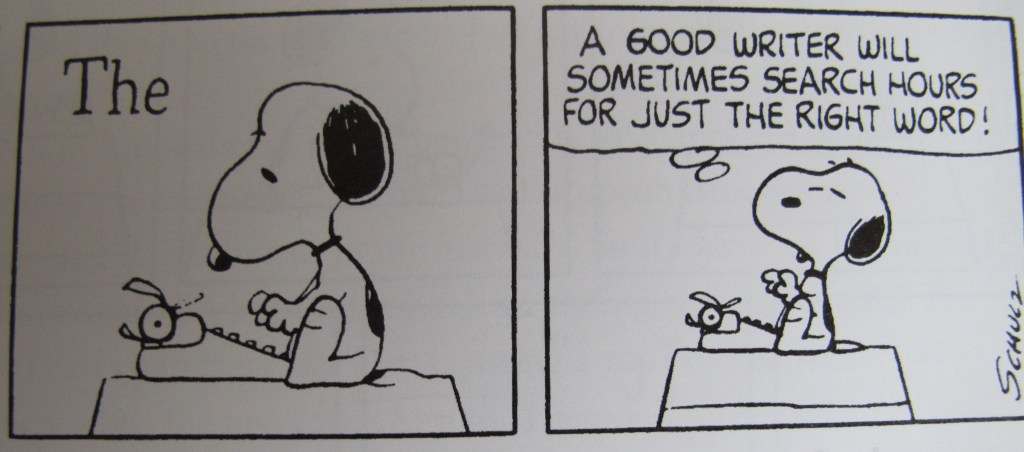 And Snoopy never stops trying:
"Those years in Paris were to be among the finest of her life. Looking back, she once remarked, 'Those years in Paris were among the finest of my life.' That was what she said when she looked back upon those years in Paris where she spent some of the finest years of her life." Snoopy stares at the typewriter. "I think this is going to need a little editing…"
Ends.