The final piece in Tate Modern's Yayoi Kusama show – her dramatic Infinity Mirror Room – brought to my vinyl-fixated mind one of the greatest record sleeves of all time: the gatefold for (No Pussyfooting), the album released in 1973 by Brian Eno and Robert Fripp.
All of a piece with the music it packages – prismatic, playful, calm, cerebral, oblique – the four-part composition was photographed and designed at Eno's behest by photographer/filmmaker Willie Christie.
Of course Kusama's work in this area dates from much earlier (her Infinity Mirror Room – Phalli's Field was first exhibited  in 1965 – see here for a panoramic view) as does the piece the (No Pussyfooting) sleeve is most commonly seen as reprising, Lucas Samaras' 1966 installation Room No 2 (popularly known as The Mirrored Room and in the collection of the Buffalo NY gallery Albright Knox).
I spoke to Christie about the creation of the design for (No Pussyfooting); please note the brackets – by the mid-70s David Bowie was such a fan, apparently, he paid tribute by insisting on the double-quotes around his "Heroes" album title.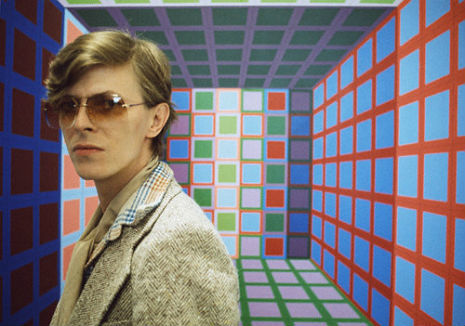 At the time of the shoot – 1972 – Christie was an established fashion photographer and husband of the Vogue creative editor Grace Coddington. In fact, Christie had the three sides of the 'room' constructed at a photography studio in Maida Vale, west London, by a builder concurrently working on the house he shared with Coddington.
"We hired the mirror from Chelsea Glassware and the zinc 'floor' came from a session I'd just done for (fashion publication) Over 21," says Christie, who won an award from industry magazine Music Week for the design. "I've always felt badly for Brian that he didn't share the credit, since it was his idea and we worked on it together."
Eno sourced most of the artefacts, though Christie remembers contributing the guitar-shaped mirror (a gift from Coddington). This rang a bell with me; then I saw it on a page-proof of my next book; here it is among the objets for sale at Mr Freedom's Kensington outlet the year before the shoot took place:
Visit Christie's site here.
Room No 2 photographs from asseenonthewall's flickr photostream.