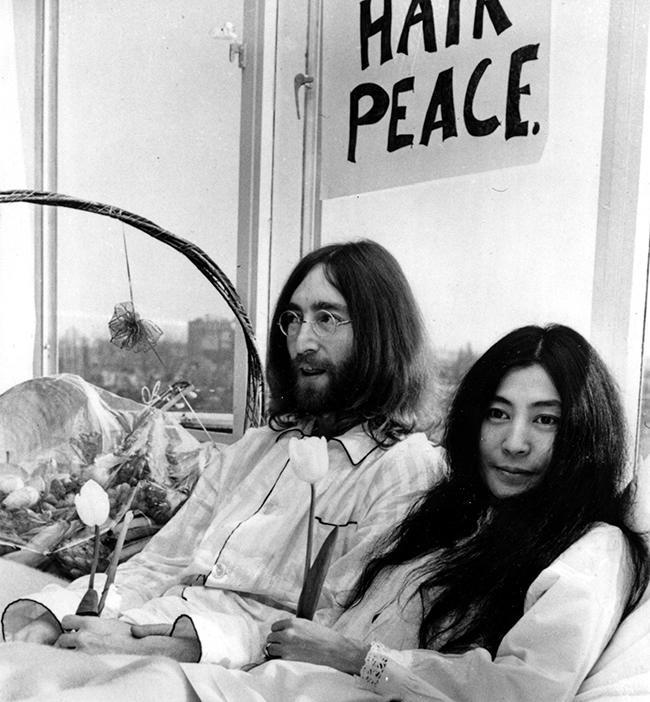 WHAT did John Lennon see in Yoko Ono? In The Beatles, Football And Me, Hunter Davies wrote about Lennon's relationship with Brian Epstein, the band's manager. They went to Spain together. Writes Davies:
"John wasn't a homosexual, but he was daft enough to try anything once."
Lennon's childhood friend Pete Shotton says Epstein "toss [Lennon] off".
Paul McCartney added:
John was a smart cookie. Brian was gay, and John saw his opportunity to impress upon Mr. Epstein who was the boss of the group. I think that's why he went on holiday with Brian. … He was that kind of guy; he wanted Brian to know whom he should listen to. That was the relationship. John was very much the leader in that way, although it was never actually said.
So. Was Lennon gay? Yoko Ono says Lennon told her:
"Do you know why I like you? Because you look like a bloke in drag. You're like a mate."
Photo: John Lennon and his wife, Yoko Ono, hold a bed-in for peace in room 902, the presidential suite at the Hilton Hotel in Amsterdam on March 25, 1969. The newlyweds, holding solitary tulips, begin a seven-day Love-In to protest against war. Date: 25/03/1969.
Spotter: Slate