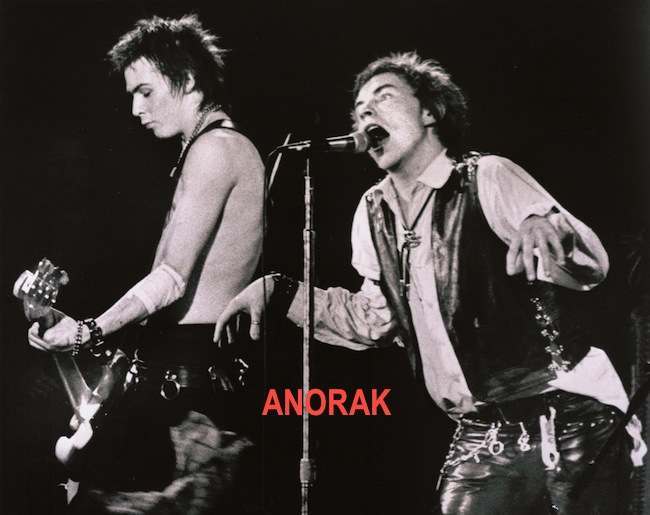 IN 1978, the Sex Pistols went to the USA. Tony Schwartz, of Newsweek, saw the opening show at the  Great Southeast Music Hall. It left an impression:
"Johnny Rotten's stare was demonic, his expression sneering, and his shoulders ominously hunched. Sid Vicious, pasty-skinned and anemic-looking, seemed more catatonic than cantankerous, rousing himself only to blow his nose stage right. Guitarist Steve Jones and drummer Paul Cook looked clean-cut enough to have played in the '50s style band that opened the show."
NBC did the PR:

The Sex Pistols hit Cain's Ballroom in Tulsa, Oklahoma. This was a mostly Country crowd.
Photographer Bob Gruen told us:
"We had a long drive from Dallas to Tulsa through five inches of snow and ice. Sometime in the night we pulled into a gas station where there was a restaurant. I went in with Sid and sat at the counter. Before I knew it Sid had started a conversation with a cowboy and his family. They invited him to sit with them and Sid carried his eggs to their table.  After the cowboy heard that Sid's name was Vicious he started to challenge him. He crushed his cigarette out in his own hand, then he asked Sid what could he do. Sid just took his knife, cut his own hand and kept on eating as blood flowed on his eggs like ketchup. The cowboy grabbed his family and ran out."
It cost the fans $3,50 see the band and the rest of the line up. It would have been $2.50 but John 'Rotten' Lyndon and the lads had been burning though money. The price went up.
What followed? The local paper called them "not a trendsetting act". The Christians hated them. "LIFE IS ROTTEN WITHOUT GOD'S ONLY BEGOTTEN – JESUES," punned one sign. Baptist pastor protested the show, saying, "There is a Johnny Rotten inside each of us, and he doesn't need to be liberated, he needs to be crucified."
What the onlookers do not know was that the Cain's Ballroom show would be the last time the Pistols got it right. Their next show at the Winterland Ballroom, San Francisco, California (see picture), would be their last, Rotten offering the final hurrah: "Ah-ha-ha. Ever get the feeling you've been cheated? Good night."
This Land Press and Lee Roy Chapman have produced a cool film about that Cain's show, and what it meant to be on the bill with the band who wanted to be ugly:
The show:
Spotter: DM