MAX Clifford has been found guilty of eight charges of indecent assault.
Ron Greenslade recalls his dealings with the great story fixer. He focuses on the story of Mandy Allwood. Britain's own Octomum, gave birth to two girls and six boys in September 1996. They were premature.
Within hours of being born, all of the children had died.
Mandy and the babies – Kypros, Adam, Martyn, Cassius, Nelson, Donald, Kitali and Layne – were big news, as they had been ever since she had hired a publicist. He was, of course, Max Clifford.
He sold the story. The News of the World had agreed to pay Allwood a reported £1m if all eight babies were born. The more babies born, the more money she'd get. We had witnessed the birth of the celebrity foetus.
"The biggest part of my game is not promotion, it's protection," Clifford told The Observer in 2006. But it wasn't always so.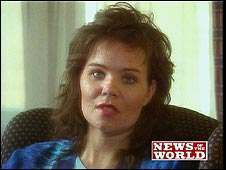 The BBC had more to say about the newspaper deal:
The contract allegedly stipulated she must not abort any of the embryos, despite concerns for her health and that of her babies.

The NoW was edited by Phil Hall. Under his editorship the paper had been the market leader, selling around 4.2 million copies a week. He bought it. And so did we. In 2000, Hall was replaced by the deputy editor of The Sun, Rebekah Wade, later Rebekah Brooks.
We now break for short aside. The NoW began to buy kiss 'n 'tells under the editorship of Stafford Somerfield (seen below in the dickie-bow).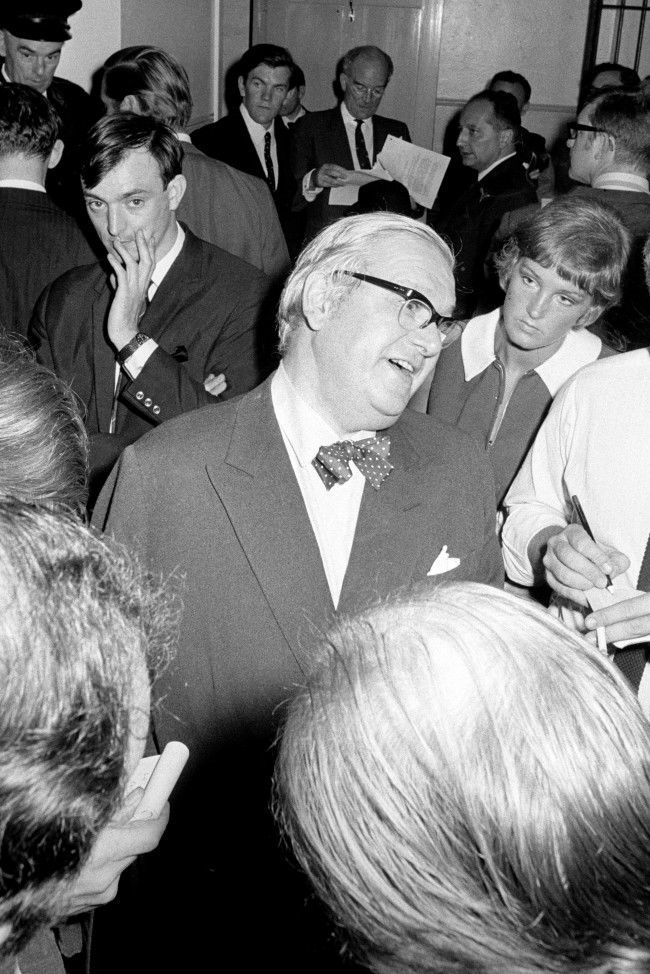 As Adam Curtis notes:
On his first day as editor, Somerfield called his staff together and – as he described it – "pushed the boat out". "What the hell are we going to do about the circulation? It's going down the drain. We want a series of articles that will make their hair curl." In a brilliant book about the British Press, the writer Roy Greenslade describes what Somerfield introduced – "two new forms of provocative content: kiss-and-tell memoirs and saucy investigations."
First up was The British Marilyn Monroe, Diana Dors, who earned £35,000 for her story, serialised over 12 weeks.
In the articles Dors described how Hamilton [her husband] and her had sex parties, how Hamilton used the two way mirror to watch couples having sex – taped them and then played the tape back to the entire household over breakfast the next day. She also described the violence in their marriage, and Hamilton's financial scams.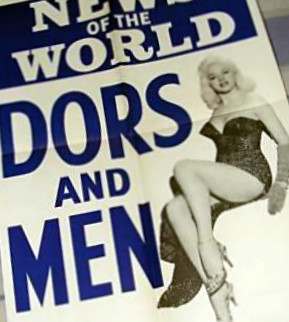 Sales soared. But something went. Hugh Cudlipp would observe in 1988:
"It was the age when investigative journalism in the public interest shed its integrity and became intrusive journalism for the prurient, when nothing, however personal, was any longer secret or sacred and the basic human right to privacy was banished in the interest of publishing profit…."
And you know who had been at those sex parties for the rich, powerful and budding? Yep, Max Clifford. At his trial, he talked about the get togethers. The Telegraph added:
The veteran celebrity agent said he had also earned extra money when he was a teenager working as a reporter on a local paper, by putting on "blue movie nights" above a local pub with films he said he got from the police, the jury was told.
Police. Power. Money. Tabloids. The story resonates as the hacking trial continues.
Now back to Mandy Allwood.
Mandy had been taking fertility drugs. And she'd ignored doctor's advice to abort some of the babies to give the rest a better chance of survival:
Ms Allwood's gynaecologist advised her to undergo embryo reduction treatment to enable two or three foetuses to have a greater chance of survival. There were also calls for restrictions on National Health Service fertility treatment after it emerged that Ms Allwood already had a son by her former husband, Simon Pugh.
The story was huge. Mandy pulled on "something tight" and went on the magic box:
In August 1996, Rebecca Fowler wrote a piece for the Independent:
Mandy, her lover, the publicist and the doctor: it has all the tragedy and farce of a Mike Leigh film

They called it a "miracle" as Mandy Allwood, 31, proudly clutched her swelling belly. She has already chosen names for the precious bundle of eight babies she is carrying, conceived with the aid of fertility drugs. They include Cutie, Chas, Devlin and Buster.

But as she glowed with maternal pride, the octuplets have emerged as one of the greatest ethical tests of man-made science over nature. If doctors are going to play God, whom do they decide to bestow their scientific miracles upon?

The spotlight has fallen on Ms Allwood, from Solihull in the West Midlands; her partner, Paul Hudson, on £47 in benefits a week since his lettings business collapsed; his mistress and her two sons whom he fathered; Ms Allwood's ex-husband, by whom she has a five-year- old son, Charles; and a trail of other complex domestic arrangements.

In the midst of it all, Ms Allwood, the latest client of the PR guru Max Clifford who is negotiating deals with the media for her and Mr Hudson worth up to pounds 1m over two years, declared: "I am the happiest woman in the world."
Life at home was complicated:
Ms Allwood says she has never resented Mr Hudson's decision to continue spending two nights a week with Maria Edwards, 28, his former girlfriend who lives in a council house in Hinckley, Leicestershire, with his two sons Zack and Kane, and her daughter.

Ms Edwards went on a holiday to Blackpool with Mr Hudson and their children two weeks ago, shortly after he discovered Ms Allwood was pregnant. Mr Hudson explained that he was a "free spirit" and Ms Allwood explained that she accepted the arrangement.

"Maria is not going to go away and I'm not going to stop Paul from seeing her, so I may as well accept it," she said. "We're both fiercely independent and that is one of the things that attracted me to Paul in the first place."

Mr Hudson said: "I'll never desert Maria or Mandy. But I couldn't live with either of them. I'm too in love with life to do anything else. I don't believe that makes me a bad dad. My kids are my life, my number one priority … I'm determined to support them, no matter how many babies survive – I'll be there for them."
The conception of octuplets was a shock for Mr Hudson. He had not been aware that Ms Allwood had taken two doses of a fertility drug or that she had reportedly ignored doctors' advice not to have sex at a critical time in the treatment. He asked her to consider an abortion before they discovered she was carrying eight babies.
And then we heard from Mr Clifford:
"They were totally aware of what was going to happen in the media, ex-boyfriends, ex-girlfriends – they're not shocked. They have been very open about the whole thing. We sat down and talked it all through in Wimbledon village. Mandy is totally aware of Paul's lifestyle and Paul is totally aware of Mandy's lifestyle. Mandy just wants to do what is best for the babies now. But if she can have eight healthy children, that's what she wants to do. The most important thing is the health of the babies and the health of Mandy. It's not a question of having eight babies at all costs, it's a question of if she can have eight healthy children she will."
Nick Samuels was the corporate communications manager at King's College Healthcare trust when Allwood was rushed to King's College Hospital. He recalled:
"I first heard about the story a few weeks before while lying on a beach in the Mediterranean. I picked up a paper and as I read about Mandy Allwood I thought: 'Poor sod who has to deal with that.' Then I saw she was coming to King's."
HSJ notes:
More than 150 journalists, producers and camera crews followed Ms Allwood to King's. As well as national and local media, there were television crews from the US, Japan and Peru.

At any one time up to 50 journalists were on the site…In the event, the boardroom was given over to the media once it had been established that there were enough power points. Press conferences had to be carefully scheduled to ensure that all the television crews got footage and interviews in time for their programmes. The trust also had to agree beforehand with Ms Allwood and her agent, Max Clifford, on how information about the progress of the pregnancy would be handled.

Twenty minutes after Ms Allwood arrived at King's in an ambulance, a television crew had arrived. King's discovered later that news agencies had reporters outside the hospital watching for the arrival. But by then, the trust was prepared. "It was one of the most exciting times of my career," says Mr Samuels.
In PR terms, the story had been a huge success.
But ethically, many hated it. The Observer wrote that the British public had followed the pregnancy with "fascinated distaste".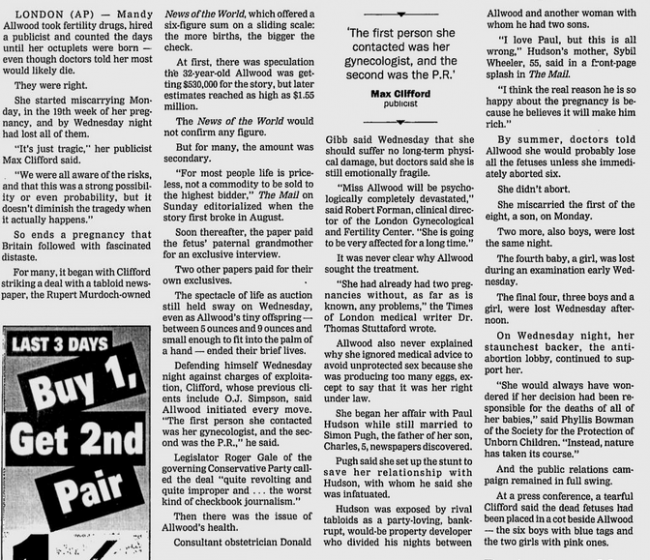 But it had been tabloid gold.
As Greenslade recalls:
When I left The Sun in 1986, I thought I'd seen the last of Max. But I bumped into him on various talk shows and then, in 1996, he represented a woman, Mandy Allwood, who was pregnant with octuplets and miscarried all eight.

I found myself calling Max once again to ask how and why he had become involved because Allwood claimed she had been trying to avoid publicity. As always, getting at the truth – or even an approximation of the truth – proved impossible.

Max and Allwood fell out, especially over the press coverage of the babies' funeral. She later told The Guardian: "We told Max Clifford not to let any of it out, but surprise, surprise, the Press Association got to know… We came out of the church and there was this mob of photographers."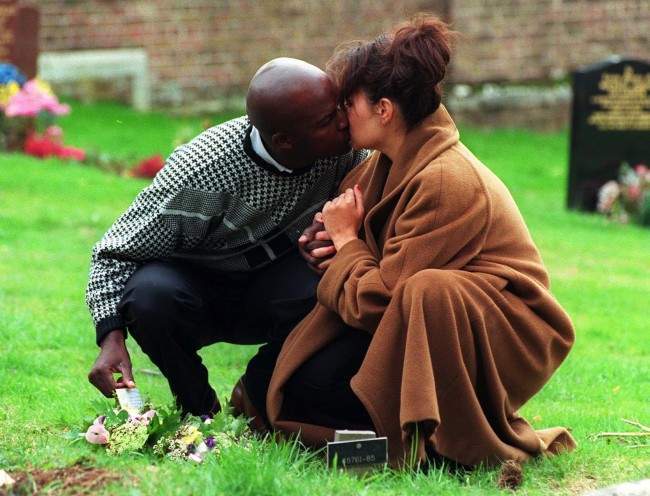 I wasn't certain then that Max was at fault and I haven't changed my mind. The pair later ended up suing each other in a case the high court judge called "petty". Max was ordered to pay £15,200 to her and she was ordered to pay £4,970 to him.
It clearly wasn't all Max's fault. As the Telegraph noted:
Mr Justice Park, who described the High Court case as petty, also upheld a counter-claim for £4,970 brought by Mr Clifford over unpaid commissions while he worked as her media adviser. However, the judge defended Mr Clifford's "reputation and honesty" against allegations that he had cheated her, stressing that he had ruled against him on technical grounds.
The judge, who said the case was motivated by personal animosity on both sides, ruled that they should pay their own costs.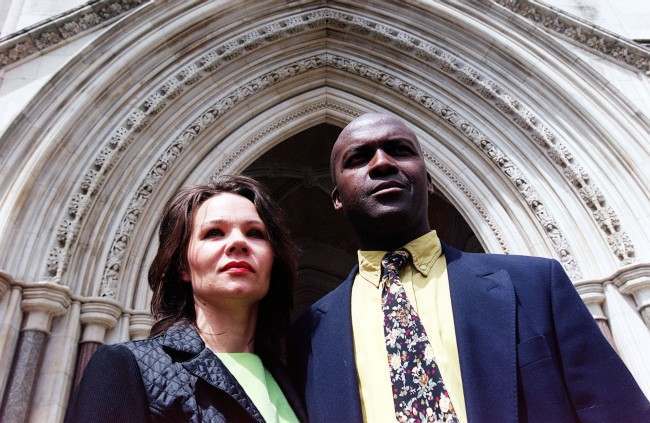 Indeed, as the Herald reported in 1998, Allwood would go on to have more children, and another publicist:
Mandy Allwood was expected to give birth within 24 hours to her second child since octuplets she was carrying died, her publicist said yesterday. Ms Allwood, 33, was admitted to hospital yesterday while celebrating the first birthday of her baby daughter, Color.

Her partner Paul Hudson, 39, drove her 120 miles from their home in Solihull, West Midlands, to London's King's College Hospital, according to publicist Kizzi Nkwocha. They had been at home with their daughter and friends when the contractions started, he said. Mr Nkwocha said the couple did not know the sex of their unborn baby. They decided to have the baby at King's College Hospital because they built up a close relationship with staff there after losing all eight babies two years ago. Mr Nkwocha said: "She knows the hospital staff and they know her needs. They are the best in the business."
But Allwood was bitter, telling the Guardian in 2002.
"We told Max Clifford not to let any of it out, but surprise, surprise, the Press Association got to know, and basically the funeral of my eight babies was like that scene from Notting Hill where the Welsh guy comes out with no clothes on. By this stage it was sort of anything goes with me. We came out of the church and there was this mob of photographers. And we had a fairly long walk to the grave. There were cameras in my face all the way, everyone shouting, 'Here, Mandy', 'Over here, Mandy', as if they knew me or something. There were mobile phones going off all over. They were trampling across fresh graves.

"The worst thing was that when we got there I'd put these little posies of flowers on each of the eight small coffins, and to each one I'd attached a little note. They were my little private messages. And I had to watch these people, these journalists, reaching into the graves and taking these notes out, and reading what I'd written. I could not believe it was happening. I just stood there. And all I could think was I wished I had a camera I could turn on them so I could show the public what was happening to me."
And now you can.