My posts about the Mr Freedom designs in the V&A collection sparked some memories from graphic artist Ian Harris, who sends this 1972 photograph of himself in a Mr Freedom hamburger print shirt: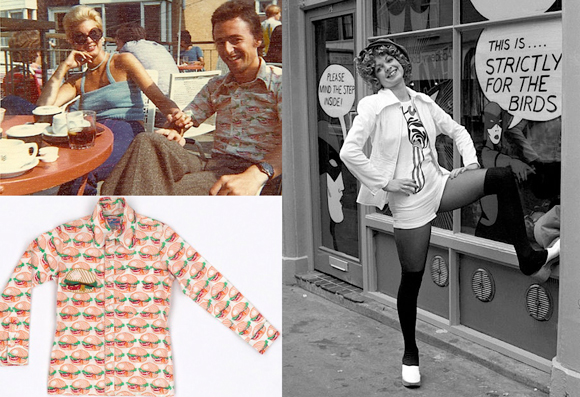 In the 1972 photo, the shirt's hamburger appliqué is obscured; Harris had worked for Mr Freedom partner Tommy Roberts at his 60s boutique Kleptomania, and gave the late Roberts a number of items relating to his career a few years back. Included was the appliqué which Harris had kept for many years.
As Harris points out, his wife Maggie, a model, is sporting an Angie Bowie-influenced look in the photo above. Here she is in another early 70s shot, taken outside John and Lyris Mann's Kensington boutique Strictly For The Birds:
The Manns, who had supplied Kleptomania with designs, drafted in Harris to decorate the store, which was at 4 Holland Street, just around the corner from the second Mr Freedom in Kensington Church Street.
"I painted the graphic 'Bat Woman' and decorated the shop interior with pop art murals which were deemed so outrageous at the time that we made a full page in the Evening Standard, an interview on (ITV broadcaster) Eamon Andrews' 6 o'clock news show and complaints by local residents that it was bringing down the tone of the area," says Harris.
"While I was painting the outside an elderly female resident shook her umbrella at me and said: "Don't you know this is the Royal Borough of Kensington & Chelsea?!" I carried on painting. The local MP became involved and there was a public inquiry at Kensington Town Hall. It seems amazing now but I guess the old guard were trying to preserve the look of the area."
"The photo of Maggie was taken on the day the shop opened," says Harris. "I also designed the toothpaste t-shirt she is wearing. The hot pants and zipper jacket were part of a collection produced for Strictly For The Birds by Ann Green, who also designed clothes for Twiggy and Jean Shrimpton."
This was the second manifestation of the boutique; the Manns launched Strictly For The Birds in the 60s in Eltham High Street, south-east London, mixing new women's wear – notably long black velvet coats – with reconstructed and repaired clothes from the past.
Their Kensington outlet was in situ for a couple of years. Guitarist superstar Jimmy Page subsequently took the lease of 4 Holland Street, from where he operated his occult bookshop Equinox until 1979. These days it is the gallery of celebrity photographer Richard Young.