"It was my bad luck that she caught me looking at my watch. I heard her voice say, 'I'm sorry. I came by bus and the traffic was bad.' I said, 'The tube's quicker.' 'I know, but I didn't want to be quick."
— Graham Greene, one of many London bus passengers in The End of the Affair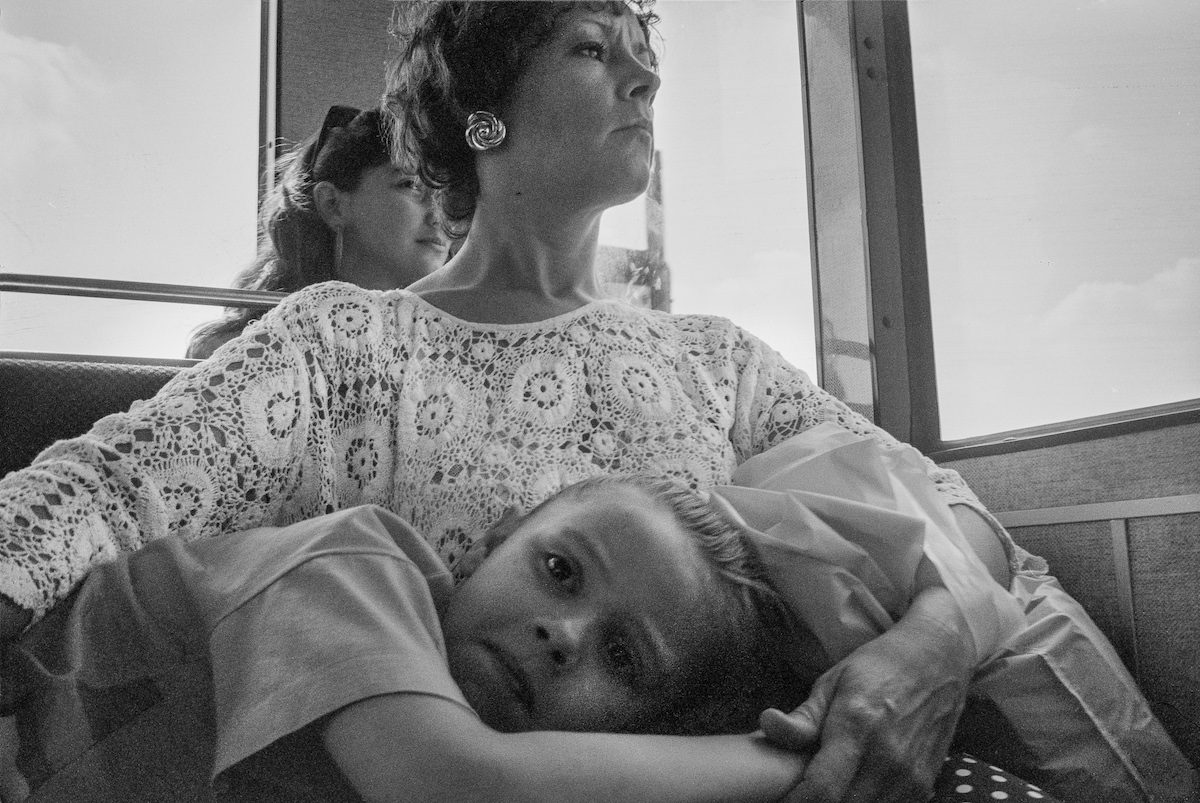 The above photograph of the woman and child on the bus in London's Charing Cross was taken by Peter Marshall in 1991. He took the rest of the pictures you see here and many others as he strolled around London in the 80s and 90s. We don't know any of the names of the people he snapped. We do know that in an age where cameras were a much rarer sight, a few fellow passengers, like the girl above, noticed him. Most didn't, preferring to rest their eyes, talk to friends and family, and just gaze out the window at the passing life.
There are many pictures in this series, and if you like, we will compile more into another post. For now, as ever, if you know anyone in these photographs, we'd love to hear from you. In the meantime, enjoy the pictures and imagine the stories between…
London in 1991 – a few highs and lows:
Adamski with Seal performed the hit Killer at the Brit music awards held at the Dominion Theatre; Arsenal football club won the title, despite their captain, Tony Adams, taking an enforced mid-season break at Her Majesty's pleasure; the Provisional Irish Republican Army (IRA) launched three homemade mortar shells at 10 Downing Street in a bid to kill British Prime Minister John Major and his War Cabinet; Thelma and Louise was named film of the year at the London Film Critics Circle Awards 1991; two more IRA bombs went off, one at Paddington station and the other at Victoria station, killing commuter David Corner, 36, married with a 16-month old baby, and injuring 51 others; Luciano Pavarotti starred in Pavarotti in the Park, the opera star performing before 150,000 fans; and Freddie Mercury died from AIDS at the age of 45 at his home in Kensington.
That you in the photographs? Maybe it's someone you know or knew then?