None of the Above: Floating Voter considers famous fringe candidates from elections past
No 3: Commander Bill Boaks
Bill Boaks remains joint-holder of the record for the fewest votes won by a candidate in a British by-election: a meagre five, at the famous Glasgow Hillhead by-election of 1982.
His career as a serial deposit-loser began in 1951, when he stood for 'Admiral' (Association of Democratic Monarchists Representing All Women) in his native Walthamstow.
The plan was to oppose Clement Attlee, the incumbent Prime Minister. Unfortunately Boaks registered to stand in Walthamstow East, while Atlee's seat was Walthamstow West. In 1956 he stood again – this time in the correct seat. He went on to stand a total of 40 times around the country, using the legend: Public Safety Democratic Monarchist White Resident.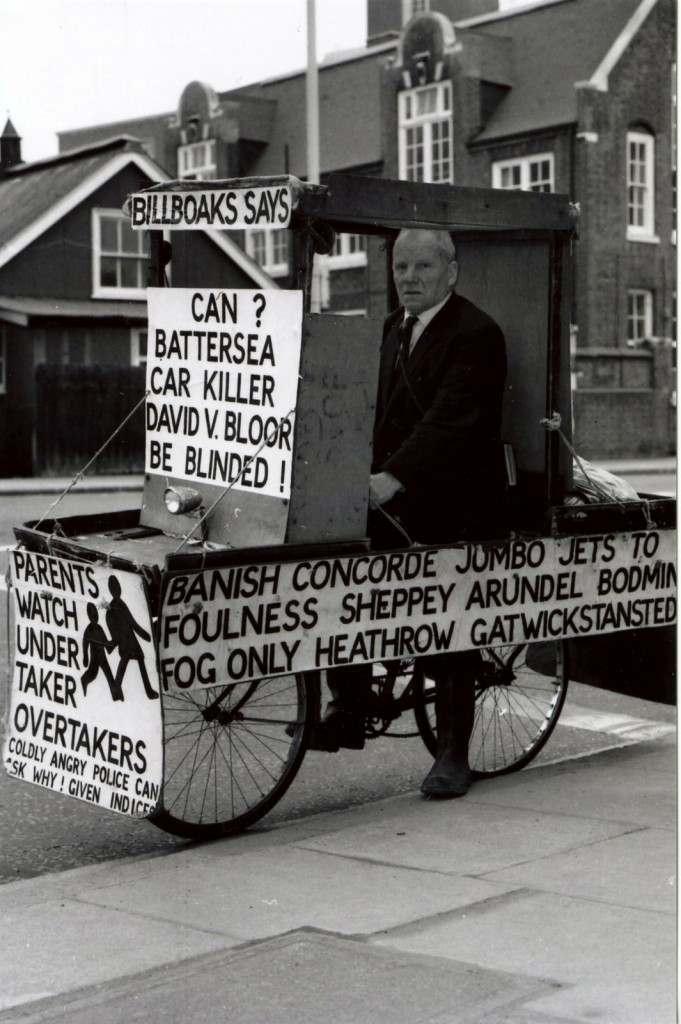 This was a necessarily shortened version of his full platform, because only a maximum of six words were allowed for the official description. The longer version would be displayed on boards attached to his customised campaign bicycle (which had a camera on the front to catch bad drivers).
In 1959, Boaks got as far as the River Thames when he attempted to roller skate from London to Paris:
In 1974, Boaks earned a mention on the BBC election news. The segment featuring Boaks and SLAGS begins at 7 minutes 8 seconds. And before we get to Boaks, stay tuned for the face at 8mins 36s:
Another of his familiar stunts was to push a pram full of bricks onto road crossings, to demonstrate the potential danger of cars.
He claimed that he didn't care about his low votes, or about losing his many deposits. His aim, he said, was simply to give the electorate a proper choice.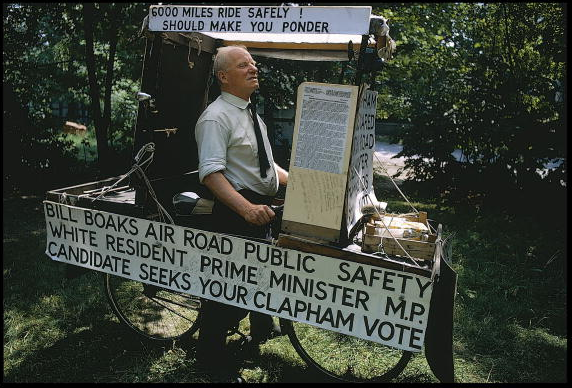 The 'white resident' element was equally mysterious, and it has been argued that he used it to attract attention for his main interest (road safety) and also as a way of undermining the far-right parties whose views jarred with his own brand of conservatism. 'Why White Resident?' he asked rhetorically. 'Because that's what I am! Here's a pound. Now find 149 more of those and stand as a "Black Immigrant" candidate for what you believe in. If you don't, who will?'
When not campaigning, he pursued numerous private prosecutions of prominent dangerous drivers, with Clement Attlee's wife receiving particular attention.
Boaks died, in a cruel irony, from injuries sustained in a road accident.
By 'Floating Voter'