VINTAGE sexist advert presents Balls.
Who says women don't have balls?
Women do?
INTRODUCING BALLS – the candy to give you courage
Women do!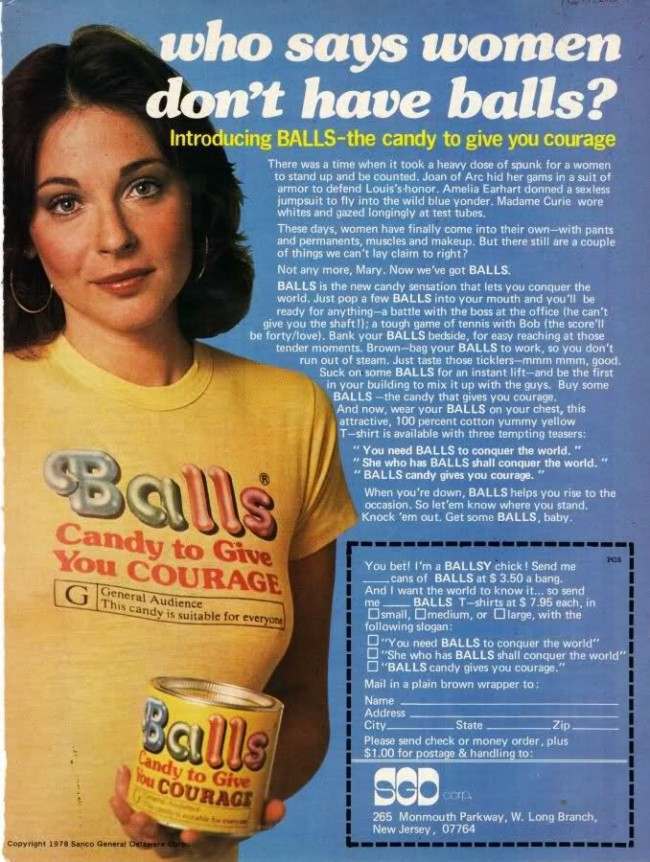 In 1978, women has BALLS by the barrel load.
There was a time when it took a heavy dose of spunk for a woman stand up and be counter. Joan of Arc hid her gams in a suit of armour to defend Louis's honour. Amelia Earhart donned a sexless jumpsuit to fly into the wild blue yonder. Madame Curie wore whites and gazed longingly at test-tubes.

These days, women have finally come into their own – with pants and permanents, muscles and makeup. But there still are a couple of things we can't lay claim to right?
This was written by a women? WE!
Not any more, Mary. Now we've got BALLS.

BALLS is the new candy sensation that lets you conquer the world. Just pop a few balls into your mouth and you'll be ready for anything – a battle with the boss at the office (he can't give you the shaft!); a tough game of tennis with Bob (the score'll be forty/love). Bank your BALLS bedside for easy reaching at those tender moments. Suck on some BALLS for an instant lift – and be the first in your building to mix it up with the guys. Buy some BALLS – the candy that gives you courage.

Brown – Bags your BALLS to work, so you don't run out of steam.

Just taste those ticklers, mmm, mmm, good.

Suck on some BALLS for an instant lift – and be the first in your building to mix it up with the guys. Buy some BALLS – the candy that gives you courage. And now wear your BALLS on your chest. This attractive, 100% cotton, yummy yellow Y-shirt is available with 3 tempting teasers.

"You Need BALLS To Conquer The World"

"She Who Has BALLS Will Conquer The World"

"BALLS candy gives you courage"
It's total BALLS!
Spotter: Boing Boing