"If 'technology' is that which is invented after we are born, and 'stuff' is that which has always been around, for those born now, computers, the internet and mobile phones are just stuff – in fact, it would be impossible for recent generations to imagine a world without these things. This was the world that the typewriter lived in" – Barrie Tullett
The first commercial machine, the Hansen Writing Ball, was made available to the public in 1870; however, it was not until 1874 that the first truly successful machine appeared. Based on a design by Christopher Latham Sholes and Carlos Glidden, it was produced by the American firearms and sewing-machine manufacturer Remington and sat on the same base as their lock-stitch sewing machine.

The typewriter quickly became a fundamental part of our cultural, social, commercial and industrial world. It was instrumental to the emancipation of women, opening up a whole new field for female employment; it placed the means of communication in the hands of the people, uncensored by political doctrine or regime; it allowed writers to write as quickly as they thought. These machines created a clean, universal format, allowing for the immediate, and modern, presentation and dissemination of thought in a way that handwriting never could.

It was a revolution
So writes Barrie Tullett in the introduction to his excellent book Typewriter Art: A Modern Anthology that traces the history of how the writing machine was used to create images.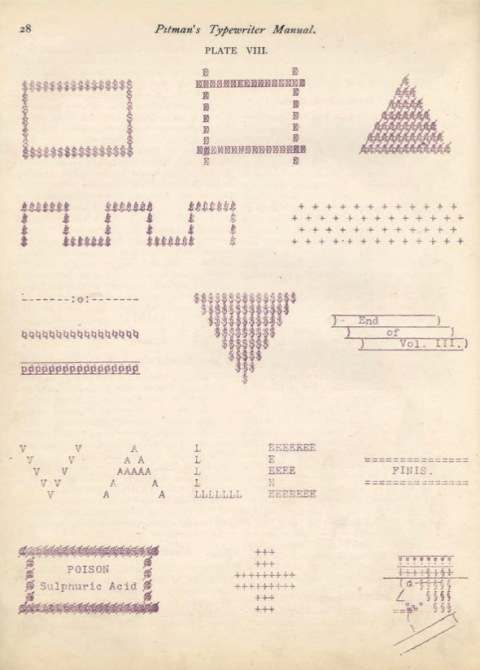 Pitman's Typewriter Manual from 1893 has a page of 'decorative ornaments' that the typist can use to embellish their texts. At the bottom right of this page is a small 'drawing' of a man in a hat smoking a cigarette. No special mention is made of this character's appearance, so we can assume such things were quite common.
Tullett explains:
For some artists, it is an object to draw — from the machine itself, to the ephemera associated with it (typewriter oils, ribbon cases and so on) — or an object to make art from, whether that be the music of the Boston Typewriter Orchestra, or sculptural pieces and explorations… For others, however, the typewriter is a tool to draw with; a means of making art.
'Whisper Piece' by Bob Cobbing (1969)
Originally a painter, Cobbing was famous for his sound, visual, concrete and performance poetry, as well as his role as a publisher for his Writers Forum press. In 1968 he founded the Westminster Group of experimental poets (WOUP). He created a link between the silent poetry of text on the page and the audioscapes of sound poetry. Cobbing's work became more and more experimental as his career developed; almost any mark that could be made and any sound that could be heard were viable ingredients for his prolific creative output.
Politically active as a law student in Serbia, Todorovic participated in the student uprisings of May 1968; he founded the avant-garde artistic and literary movement Signalism a year later. During his career he worked as a journalist, teacher and magazine editor, and also worked for the Ministry of Culture. He retired in the early 1980s to devote himself to his literary and artistic work, including collages, drawings, visual poetry, mail art and conceptual art. His work has featured in a number of national and international exhibitions.
Although born in Australia, Riddell was bought up in Scotland and went on to live in Greece, Spain, France and Australia. Originally a traditional poet, he was introduced to concrete poetry by Ian Hamilton Finlay in 1963. A major figure in the promotion of typewriter art, Riddell organized two major shows of work in Edinburgh and London, as well as editing the book Typewriter Art (London Magazine Editions, 1975). For almost fifty years it was the only major publication on the subject. His opus, The Seasons Suite, remained uncompleted at the time of his death.
Leslie Nichols:
Trained as a traditional painter, Nichols now combines texts with images to create mixed-media landscapes and portraits. Her typewriter text portraits are driven by a desire to understand different facets of women's rights and identity as well as her place, and sense of womanhood, in her own community. Nichols creates large-scale text pieces with hand-stamped oil-based inks and stenciled graphite; smaller, more intimate pieces are produced entirely with a manual typewriter.
"The computer user does their thinking on the screen, and the non-computer user is compelled, because he or she has to retype a whole text, to do a lot more thinking in the head" Will Self, author
Alongside these creative uses of the typewriter as a medium to explore the graphic space of the page, by the early 1940s there were already publications with articles on 'keyboard art', showing how one might create more traditional images.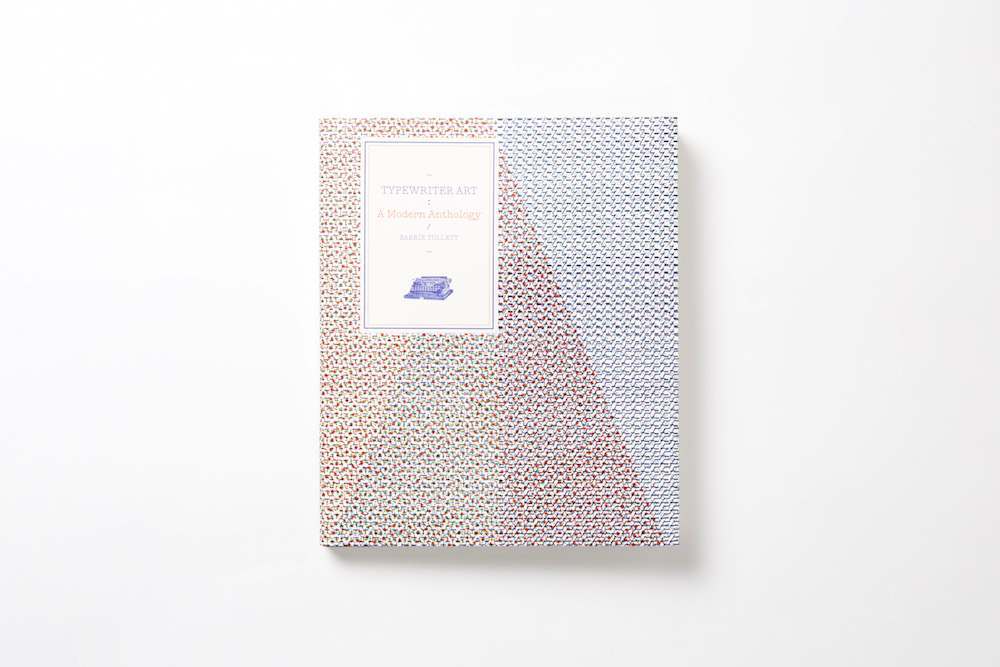 You can buy Typewriter Art: A Modern Anthology published by Laurence King here