Last year we had a look at Christmas specials of the past via some old issues of TV Guide.  This time let's take a more in-depth look at the holiday lineups in selected issues, and really get a feel for what Christmastime programming looked like back in the day in the US.  Enjoy.
TV Guide December 8-14, 1979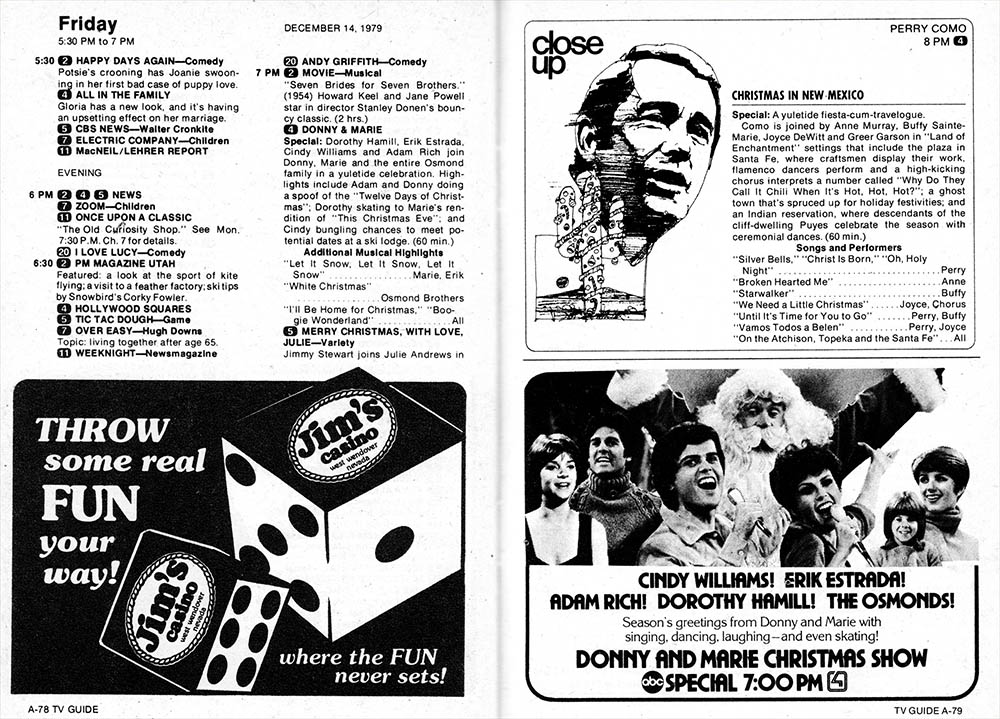 The Donny and Marie special features Adam Rich (Eight is Enough), Cindy Williams (Laverne & Shirley), Erik Estrada (CHiPs) – a very common practice was to just throw in a bunch of random celebs from a particular network and call it a special.

"Shirley" was a short lived sitcom starring the mom from The Partridge Family (and a young Rosanna Arquette).  Later, enjoy The Ropers from "Three's Company" on the Pat Boone Christmas special.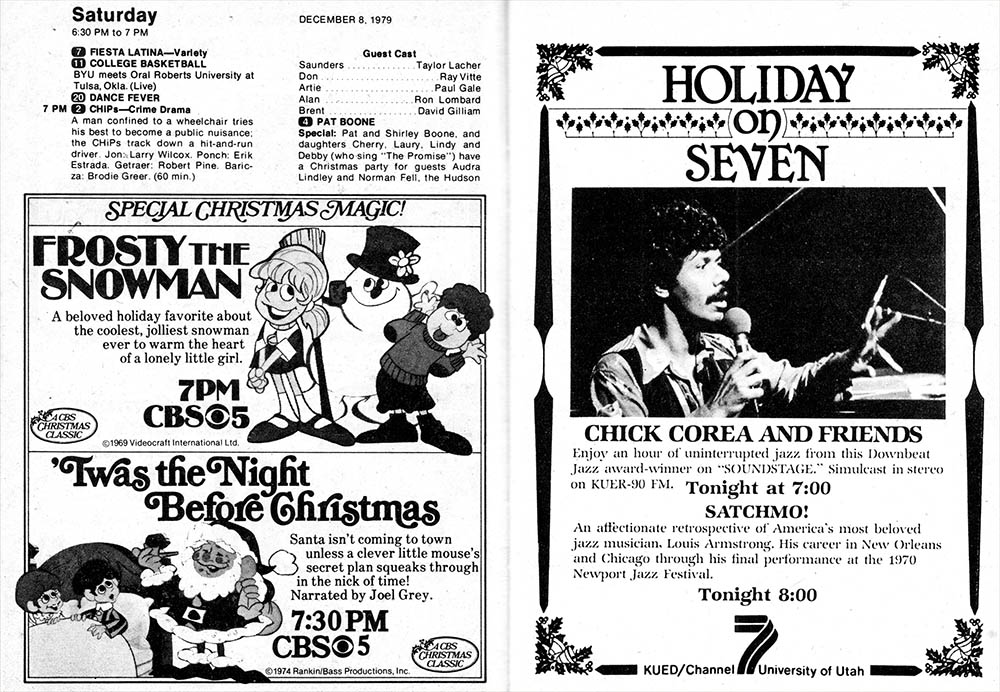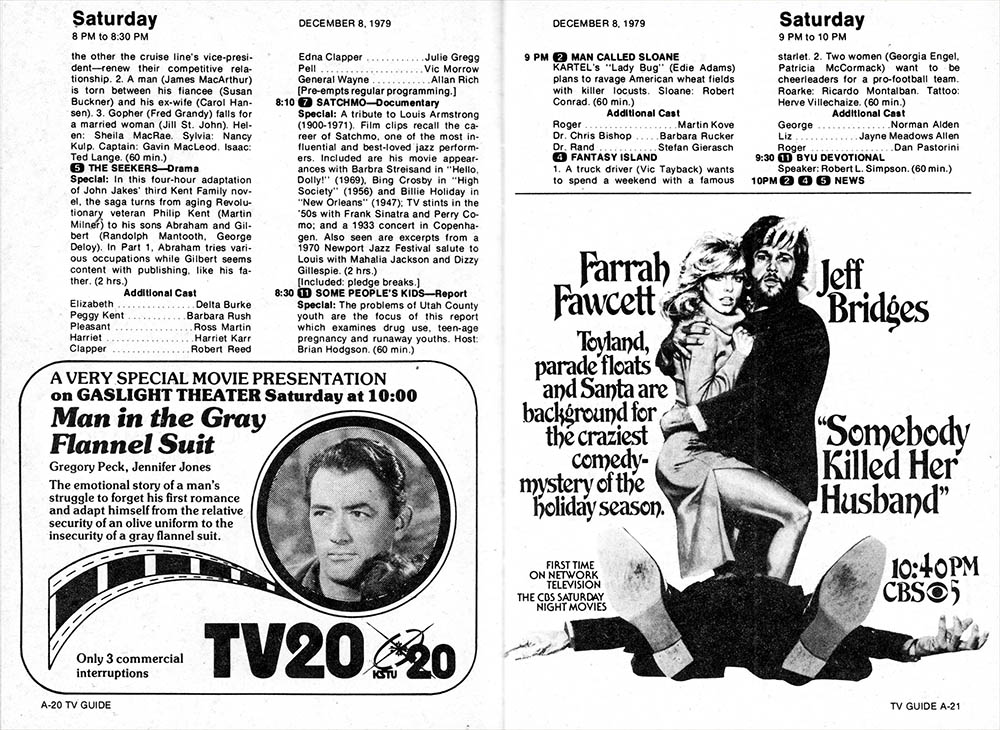 I don't remember this Farrah Fawcett Christmas special… probably because this wasn't one.  It was a theatrically released film that had nothing really to do with Christmas (the film's climax takes place at the Macy's Thanksgiving Day Parade).   It was released in 1978 and wasn't a bomb, but didn't do well either (especially considering it had Farrah at her celebrity zenith)… but made money by repackaging as a Christmas movie for television.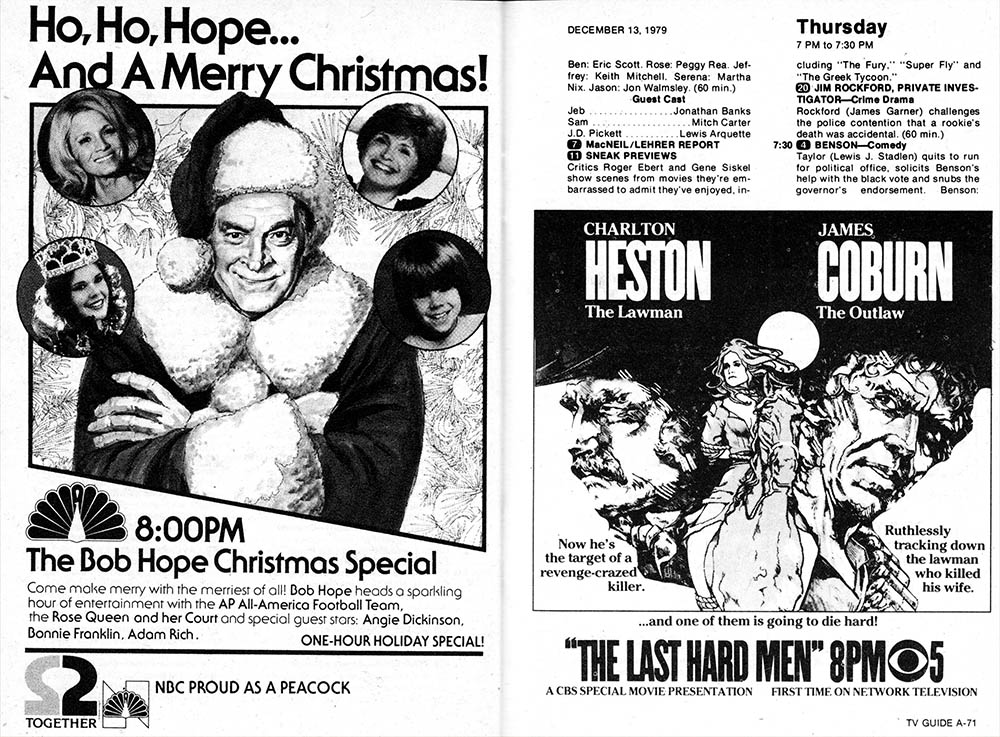 TV Guide December 4-10, 1976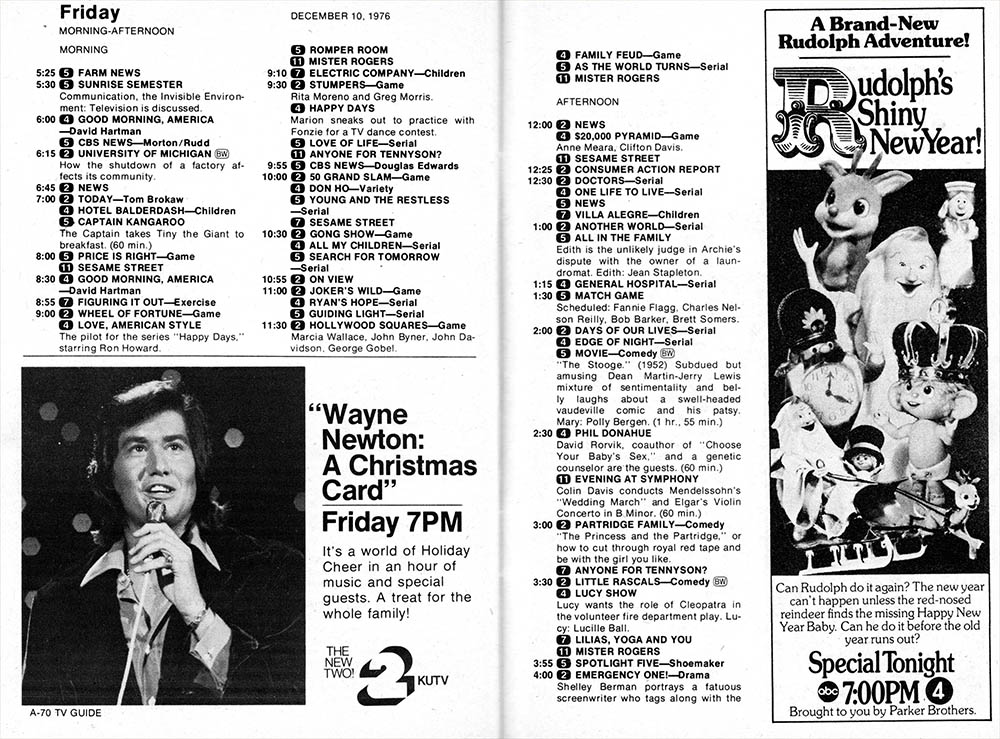 After a long day of daytime programming, featuring the "Love American Style" that spawned "Happy Days" and a Phil Donahue talking about choosing your baby's sex (seems a bit premature in '76, but okay)… time to settle down and enjoy Wayne Newton ushering in the holiday season.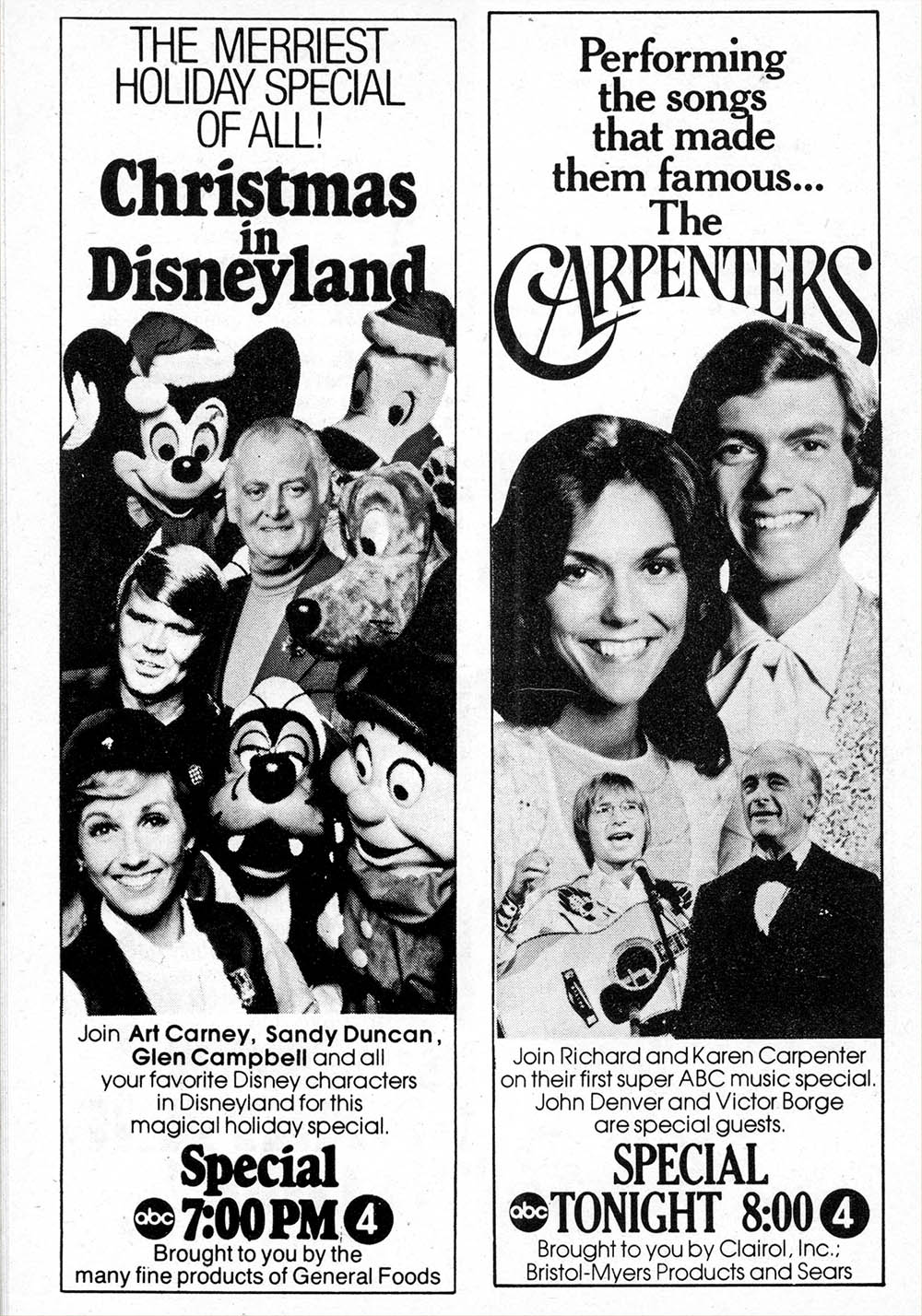 TV Guide December 18-24, 1982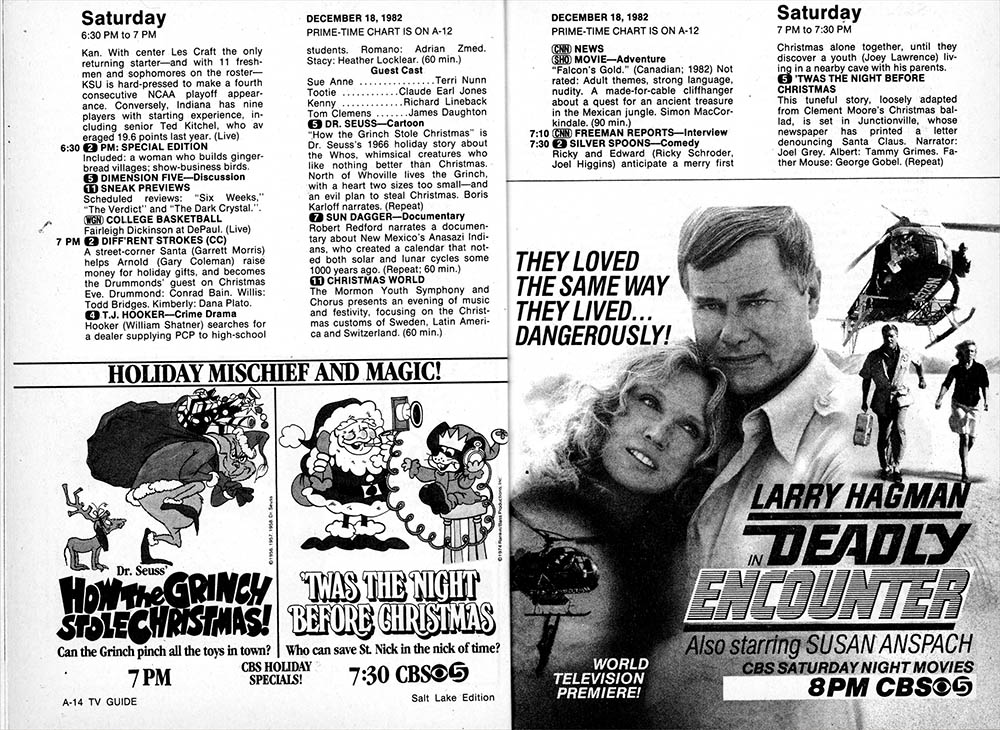 I love how at 7:00 we have either a charming Diff'rent Strokes Christmas special… or TJ Hooker on the hunt for a PCP dealer.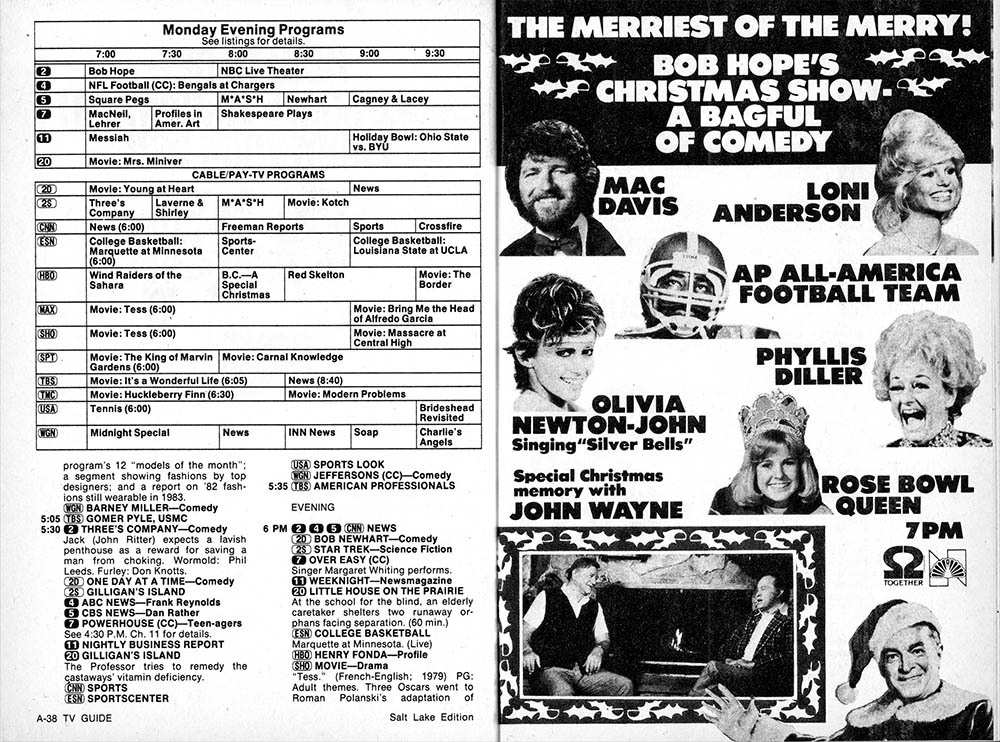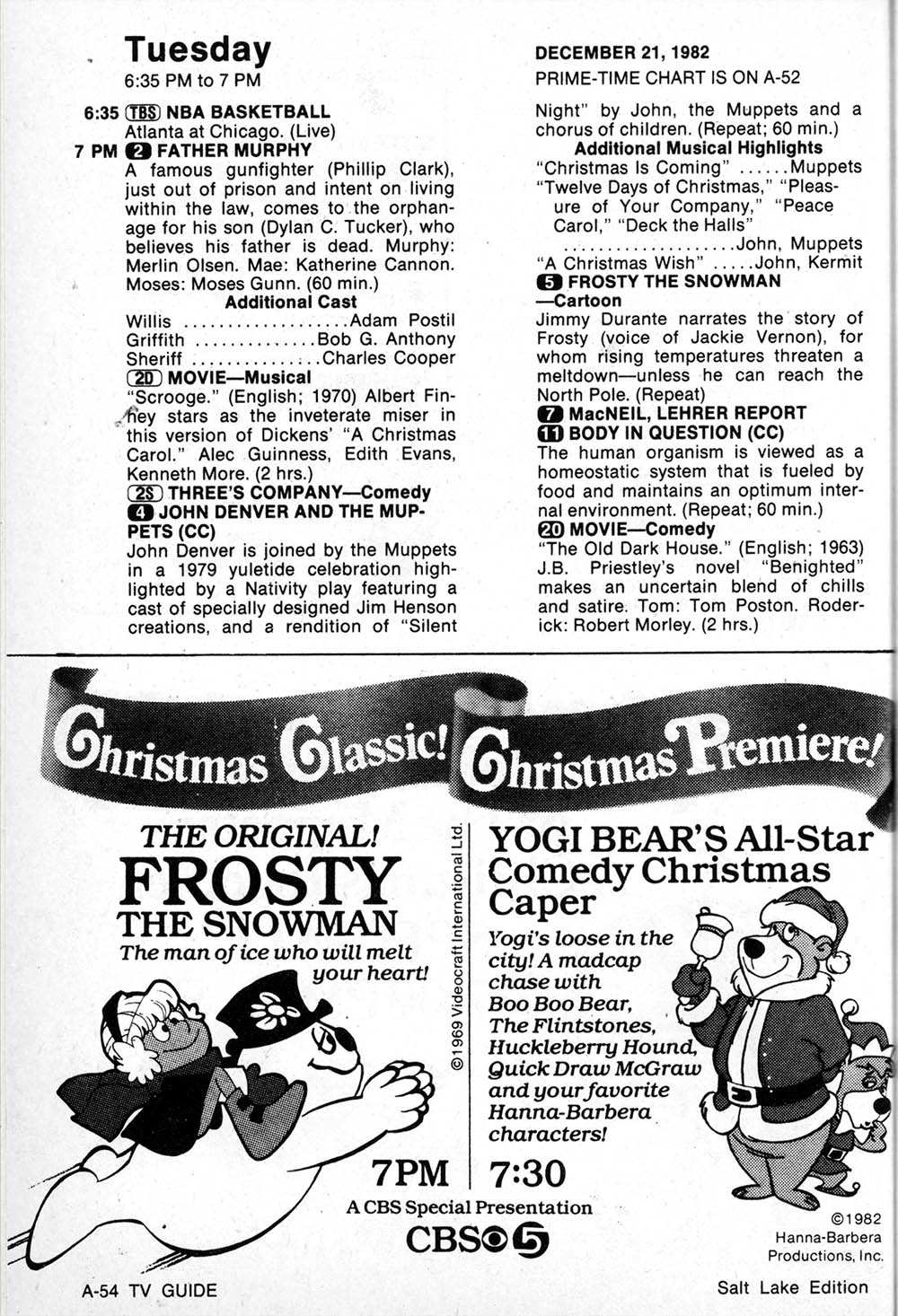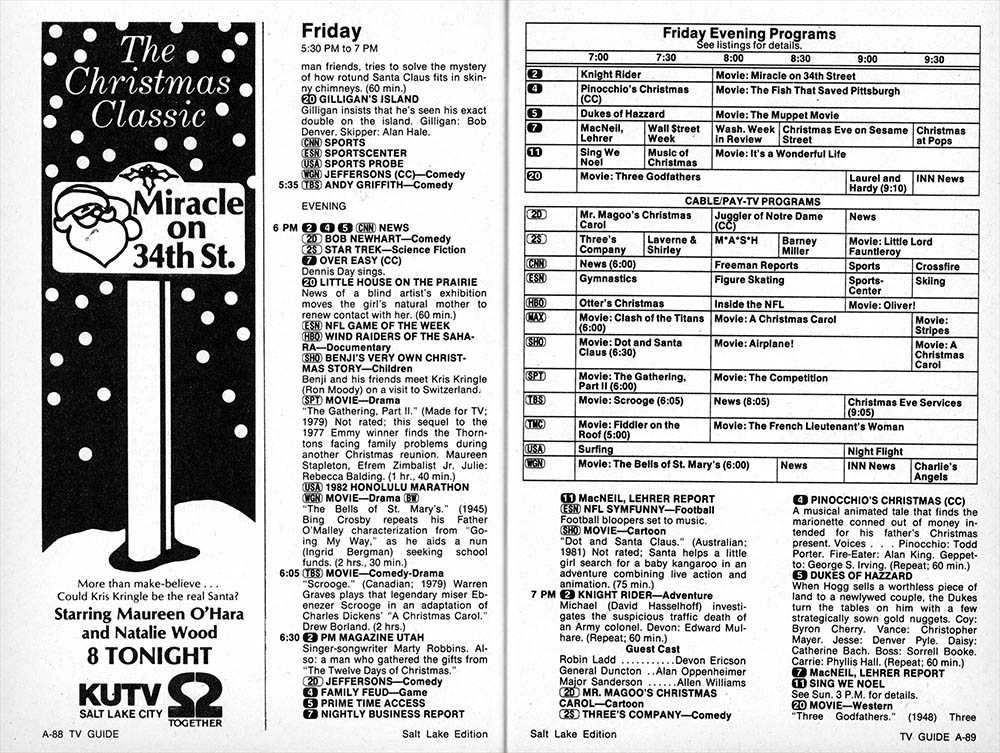 I don't remember "Pinocchio's Christmas"… probably because I was watching Dukes of Hazzard or Knight Rider.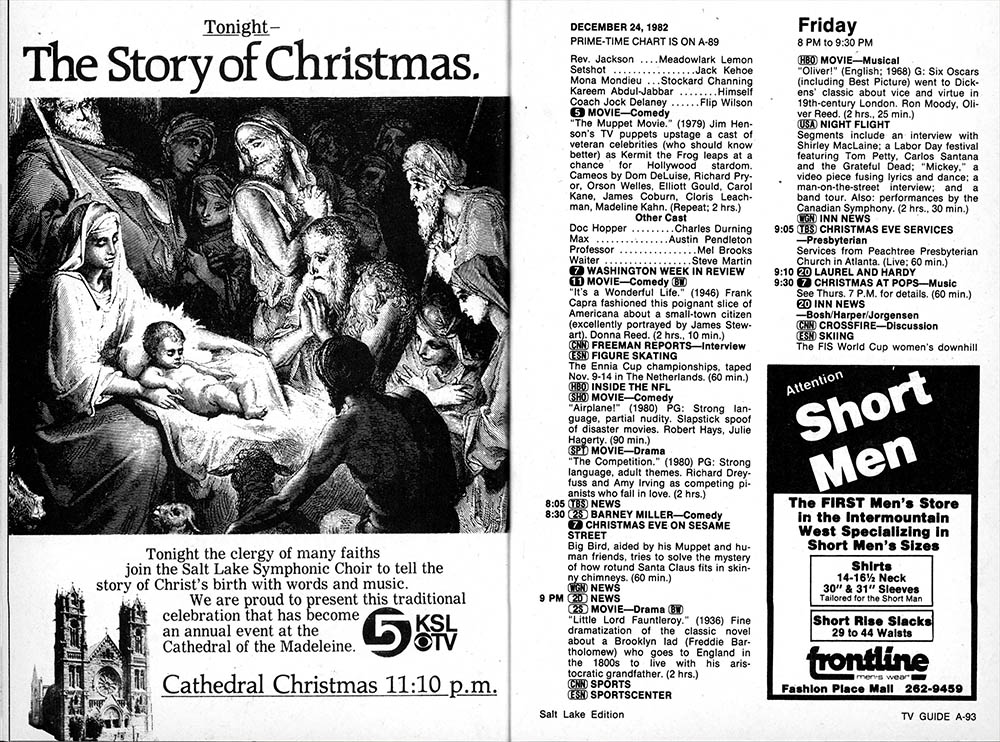 Man, TV was just plain better then, even though we had a limited number of channels.  We could go highbrow and enjoy "Little Lord Fauntleroy" or bring things down a notch with "Airplane!".  Also on tonight: "It's a Wonderful Life" and a show that I've mentioned many times before, the great "Night Flight".
TV Guide Dec 3-9, 1977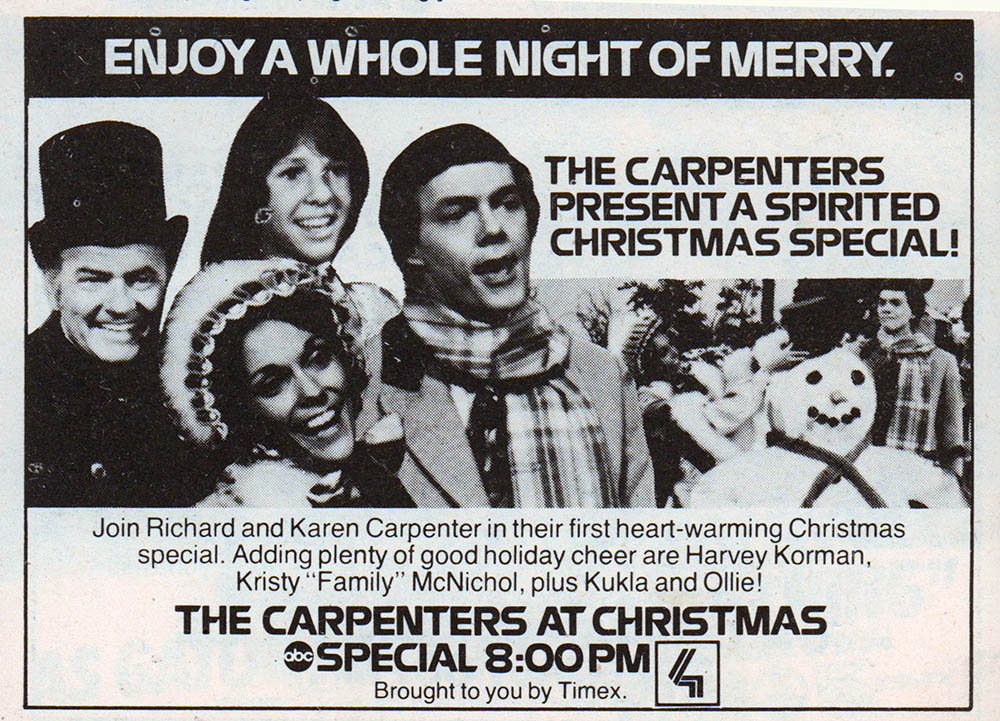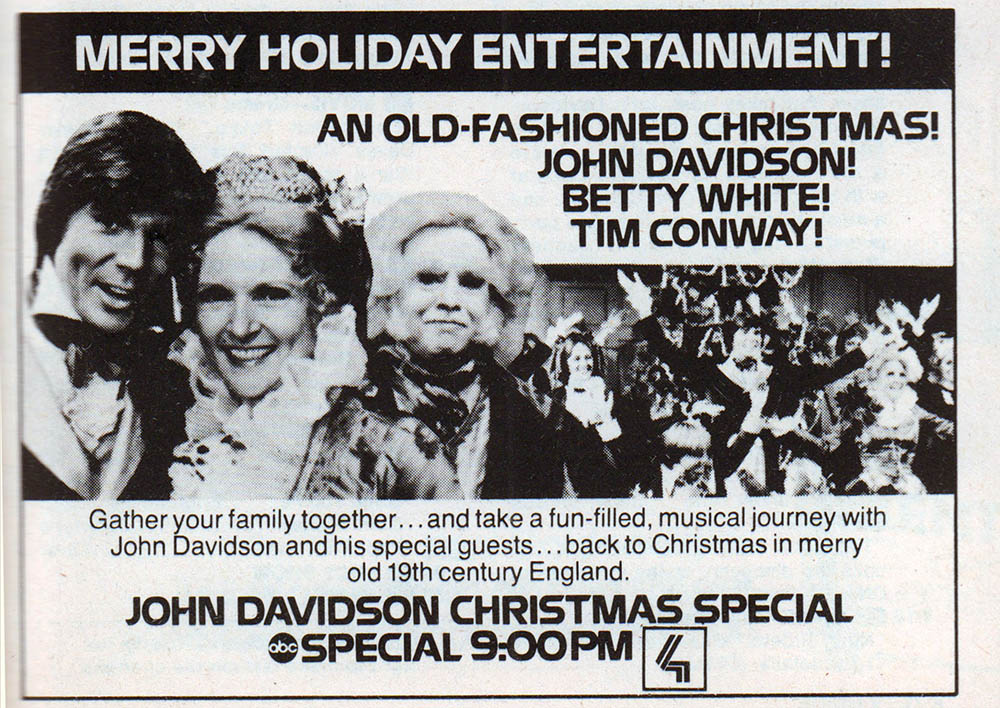 The Paul Lynde Christmas Special…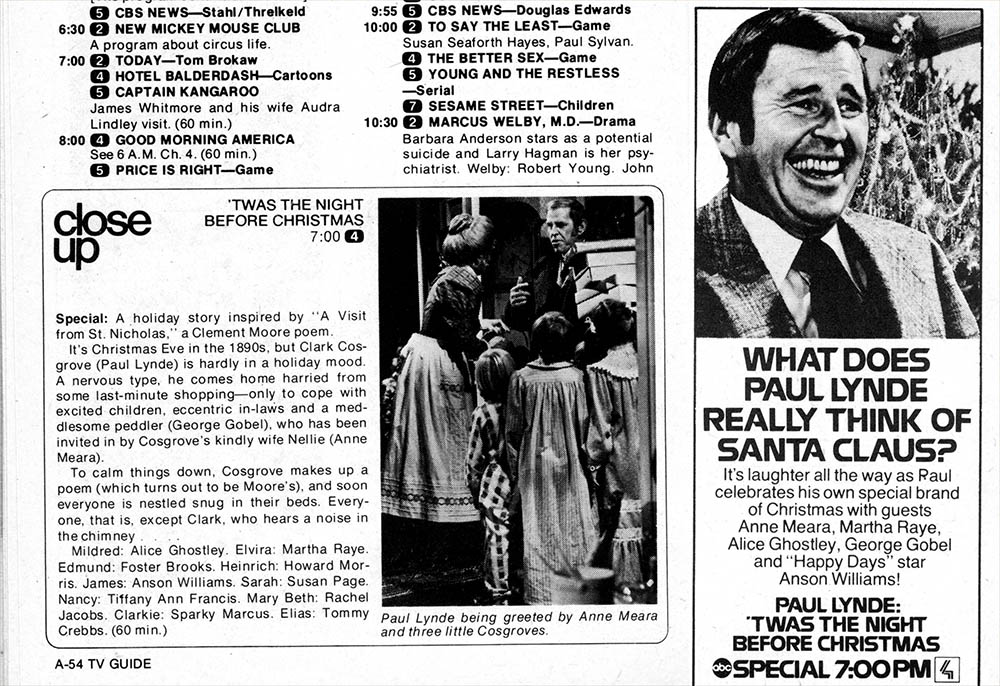 Paul Lynde's Christmas special wasn't quite as memorable as his infamous Halloween special (which featured a performance from Kiss).  The best guest this special could muster was Anson Willioms – Potsy from Happy Days.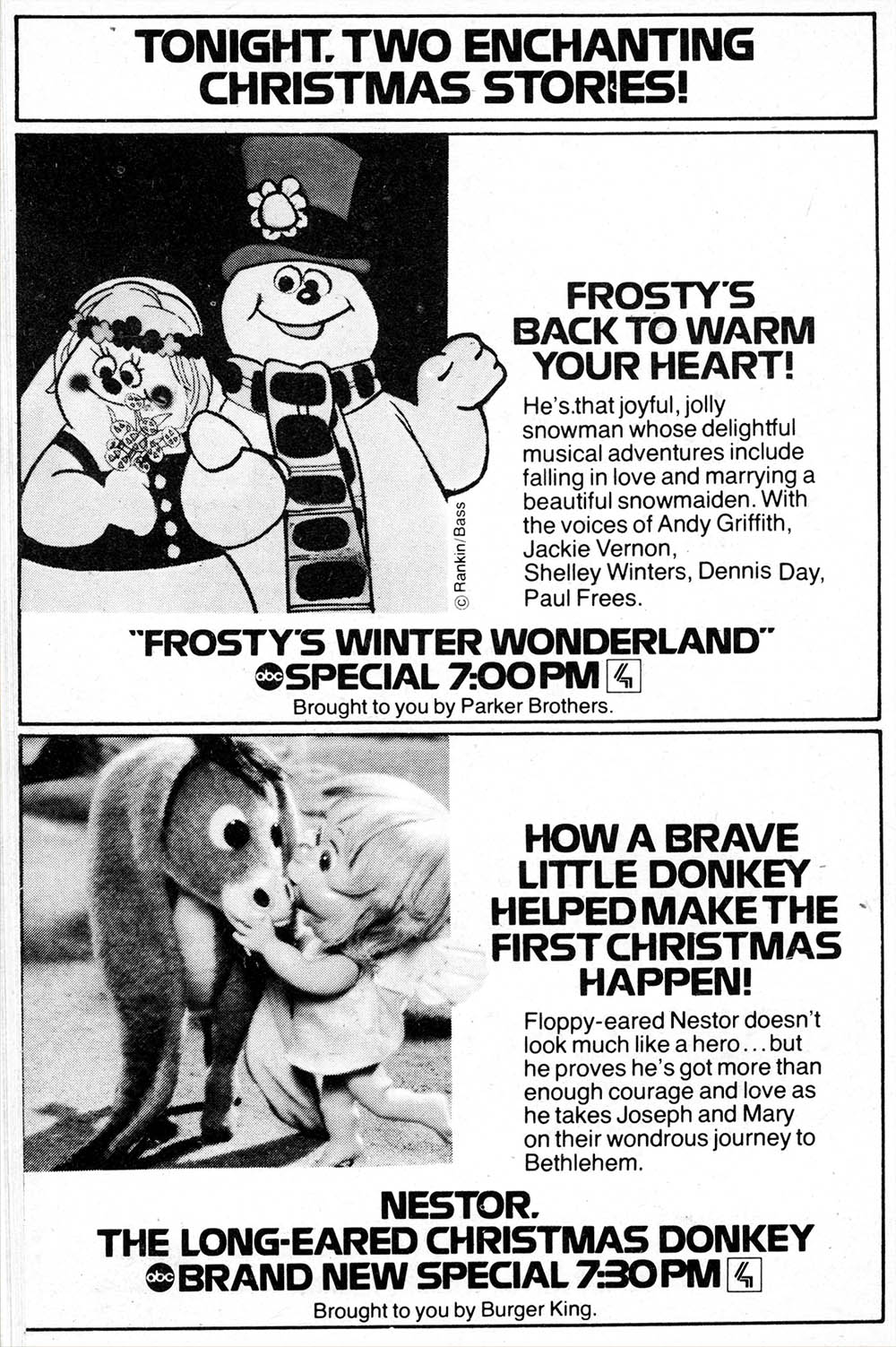 TV Guide Dec 11-17, 1982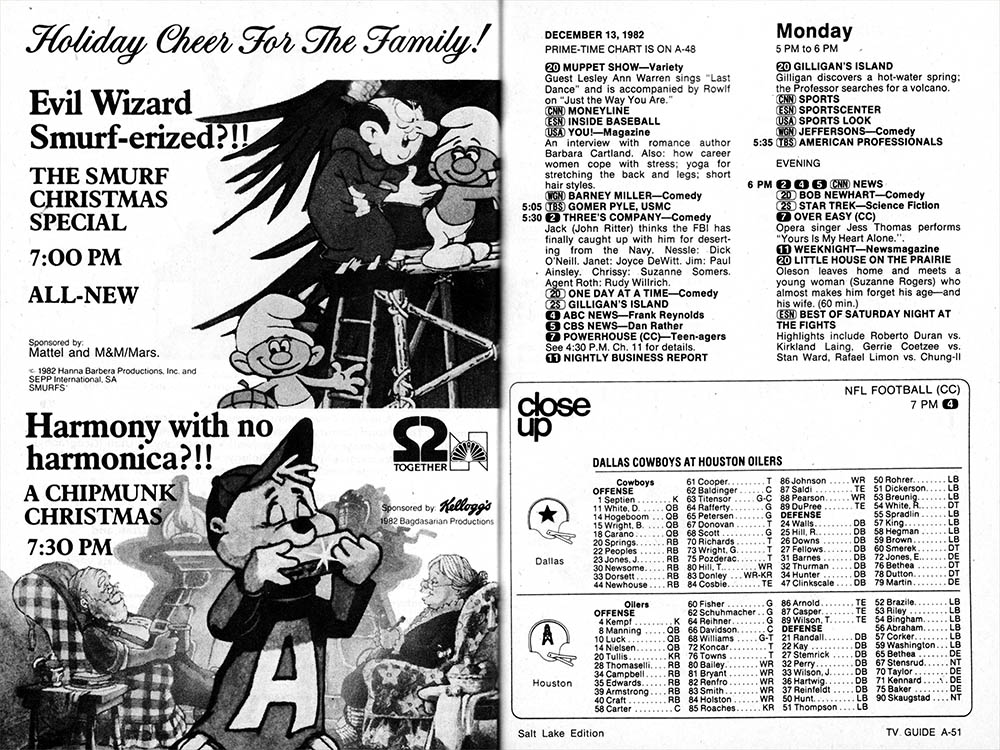 TV Guide Nov 30-Dec 6, 1974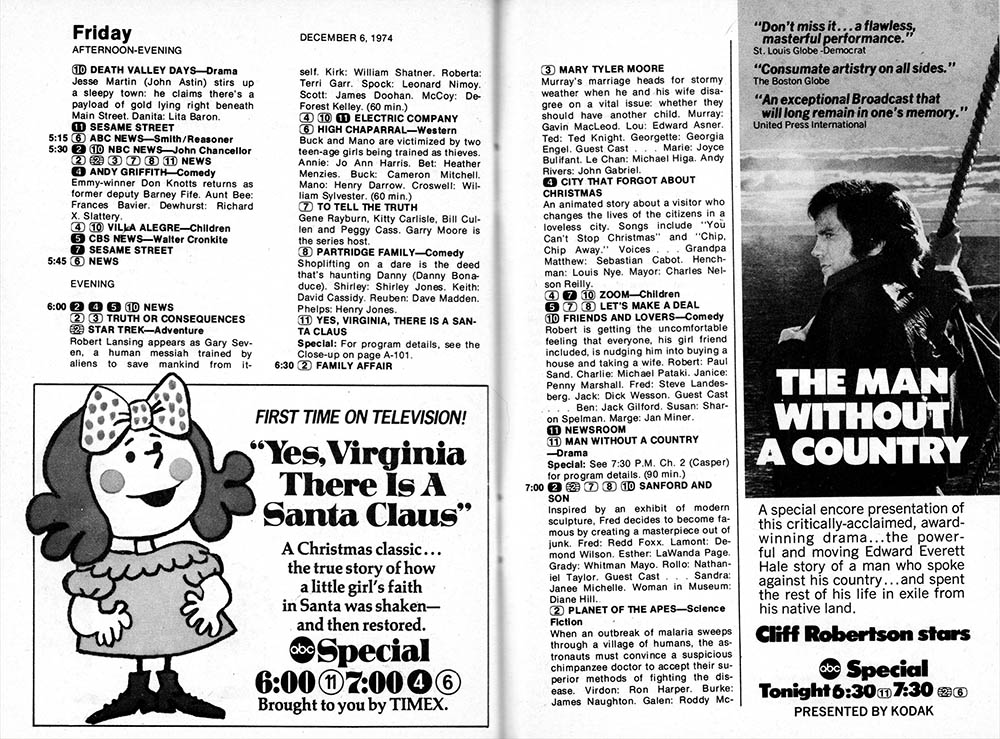 At 6:00 we have the choice of an animated "Yes, Virginia There Is A Santa Claus" or Sebastion Cabot in "City That Forgot About Christmas"…. but I think I'll take Star Trek instead.
TV Guide Dec 23-29, 1972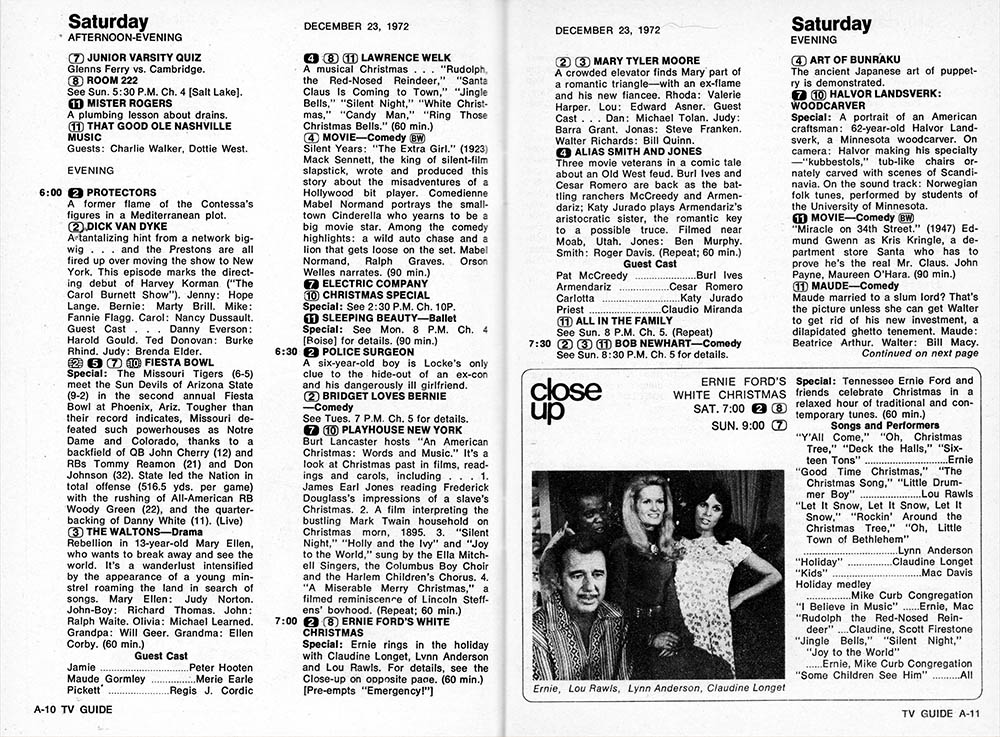 At 7:30 you can watch "Miracle on 34th Street" or find out if Maude is married to a slum lord.  At 7:00 we have Tennessee Ernie Ford singing the Christmas classics: "Y'All Come", "Sixteen Tons"; plus future murderer Claudine Longet singing "Rudolph the Red Nosed Reindeer"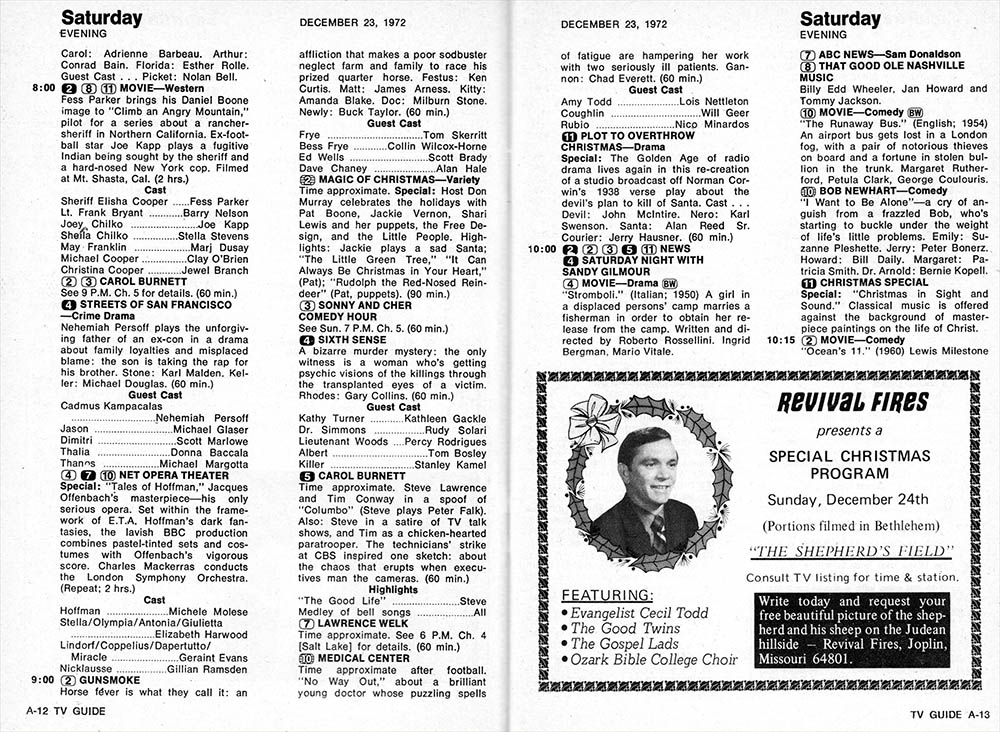 At 9:00, it's time to enjoy "Plot to Overthrow Christmas" about the devil's plan to straight-up murder Santa Claus.  Fun for the whole family to enjoy!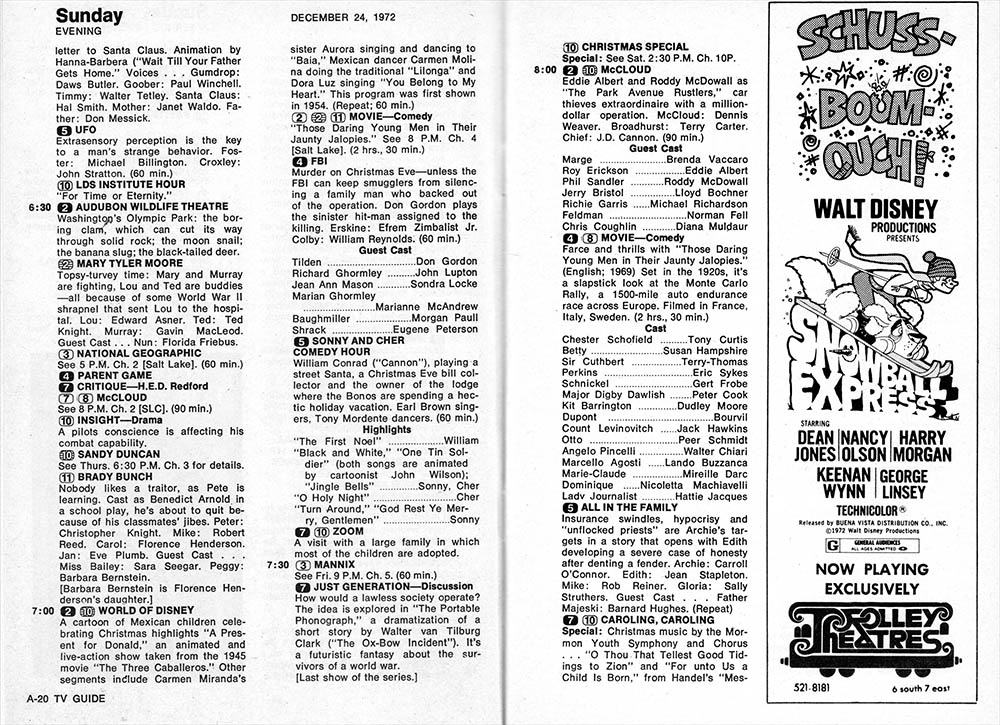 It's Christmas Eve 1972, and the family settles down to watch TV.  Tonight we have a genuinely enjoyable "World of Disney" or "FBI: Murder on Christmas Eve" (What the -?) and Sony & Cher singing holiday tunes.  Otherwise, not a very festive lineup.
TV Guide Dec 8-14, 1984
"The Night They Saved Christmas" starring a Charlie's Angel and Paul Williams, a guy who was  ubiquitous in the late seventies, early eighties.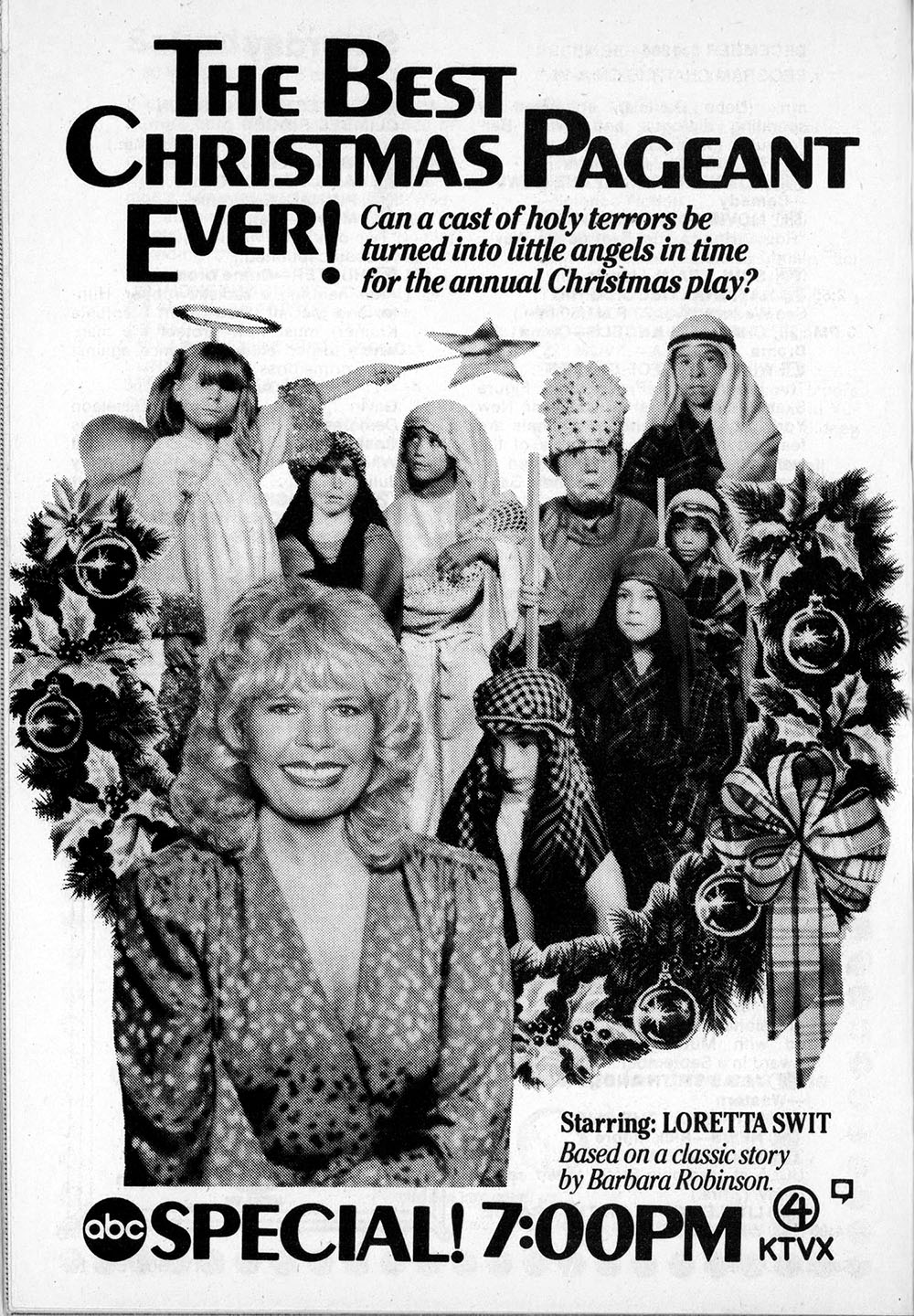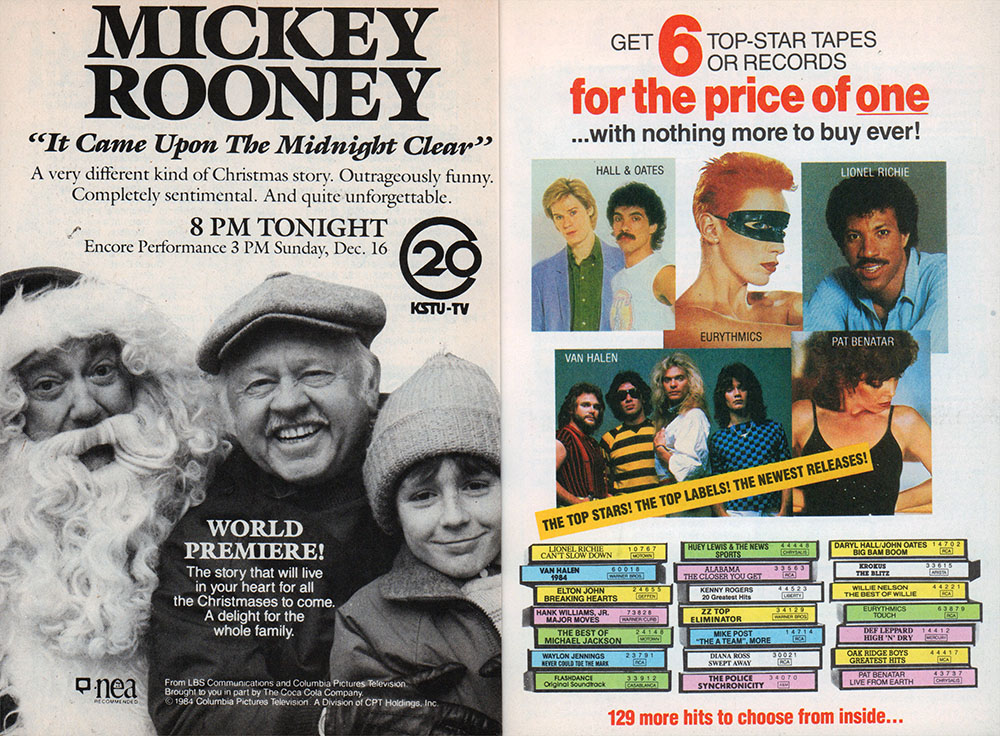 Sure, this Mickey Rooney Christmas special is sappy garbage, but at least you can have six cassette tapes for the price of one!  Now you can look forward to "The A-Team" soundtrack and Krokus under your tree this Christmas.  Happy Holidays!