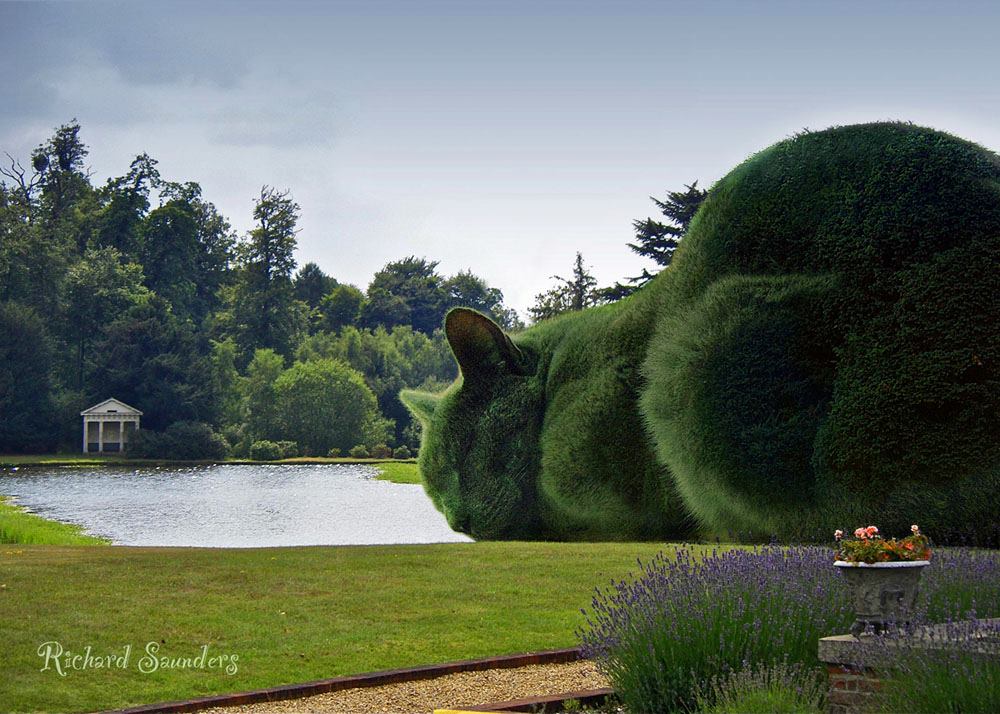 We're popping out to see The Topiary Cat, a creation by surrealist artist Richard Saunders. The Topiary Cat was inspired by Tolly, Richard's beloved cat, a Russian Blue, who died in February 2016.
Cats die too soon.
The Topiary Cat was born as "a magical creature with superior powers who is more wise than the mere mortals who behold him," says the artist.
It all began when Richard photographed a huge abstract topiary in the grounds of Hall Barn, Beaconsfield, a stately home in England. Looking at the picture, Richard thought is look very much like a resting animal. The idea came to him that if Tolly could be photographed in a certain position and in the right lighting, he could be dropped into the photograph to make a surrealistic image.
Richard made a few more images of Tolly in reposeful aspect and other situations, and posted the results on Flickr. And then what with the web being what it is, someone took the images, posted them online and claimed the magical topiary could be seen in a real place. Others agreed it was real, and a personal art project became an internet hit.
The Topiary Cat is sometimes accompanied by Georgi, anotherRussian Blue, 'GK' (Georgi Kitten).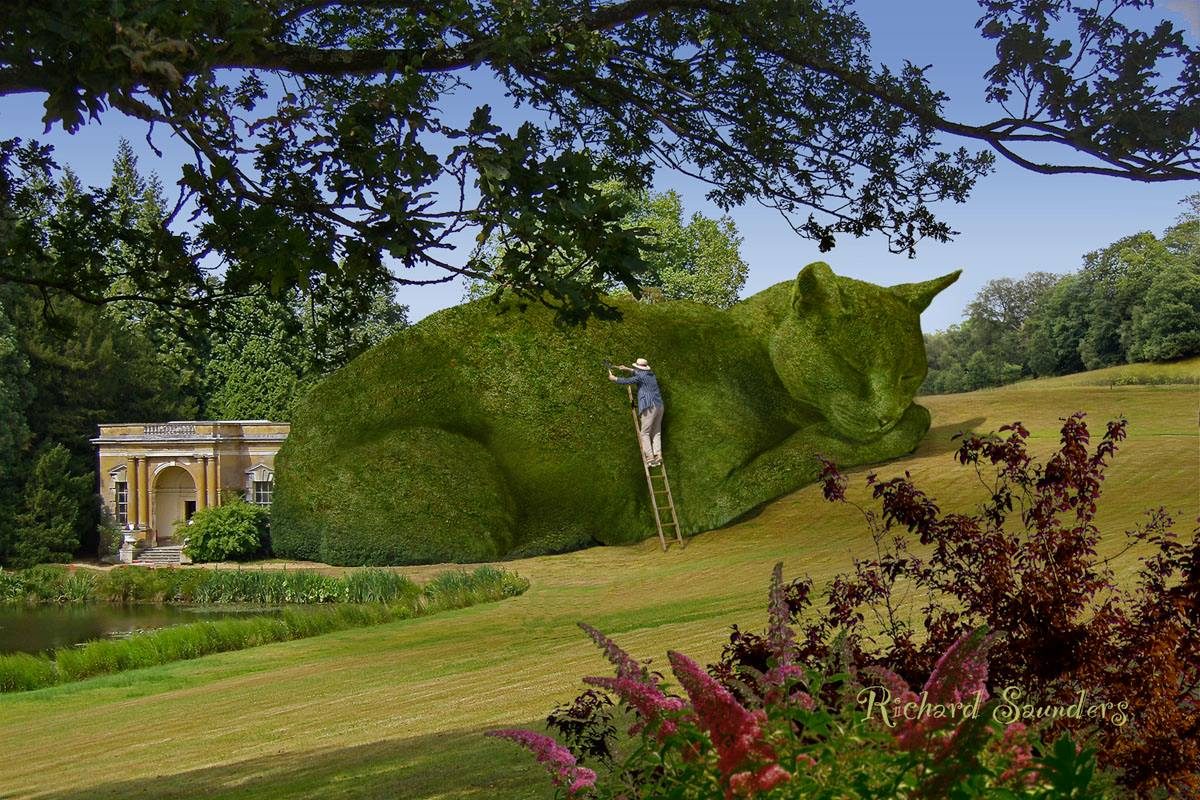 A cat bunched up and sleepy is like a cumulous cloud. Stretched out on its side, flat along the ground, it is like a stratus cloud. Clouds piled up high are like a great council of cats in silent meditation.

– A Cat, by Leonard Michaels (January 2, 1933–May 10, 2003)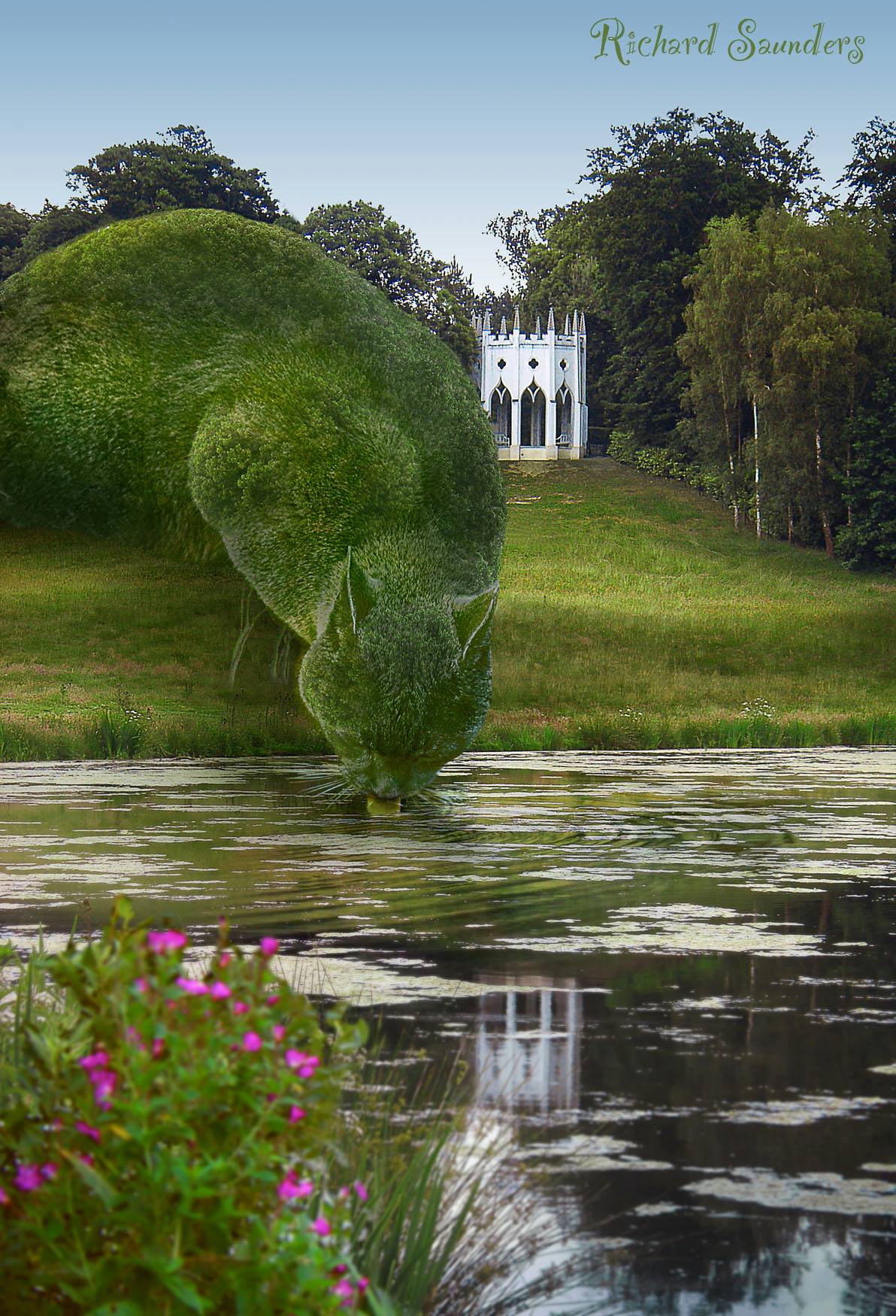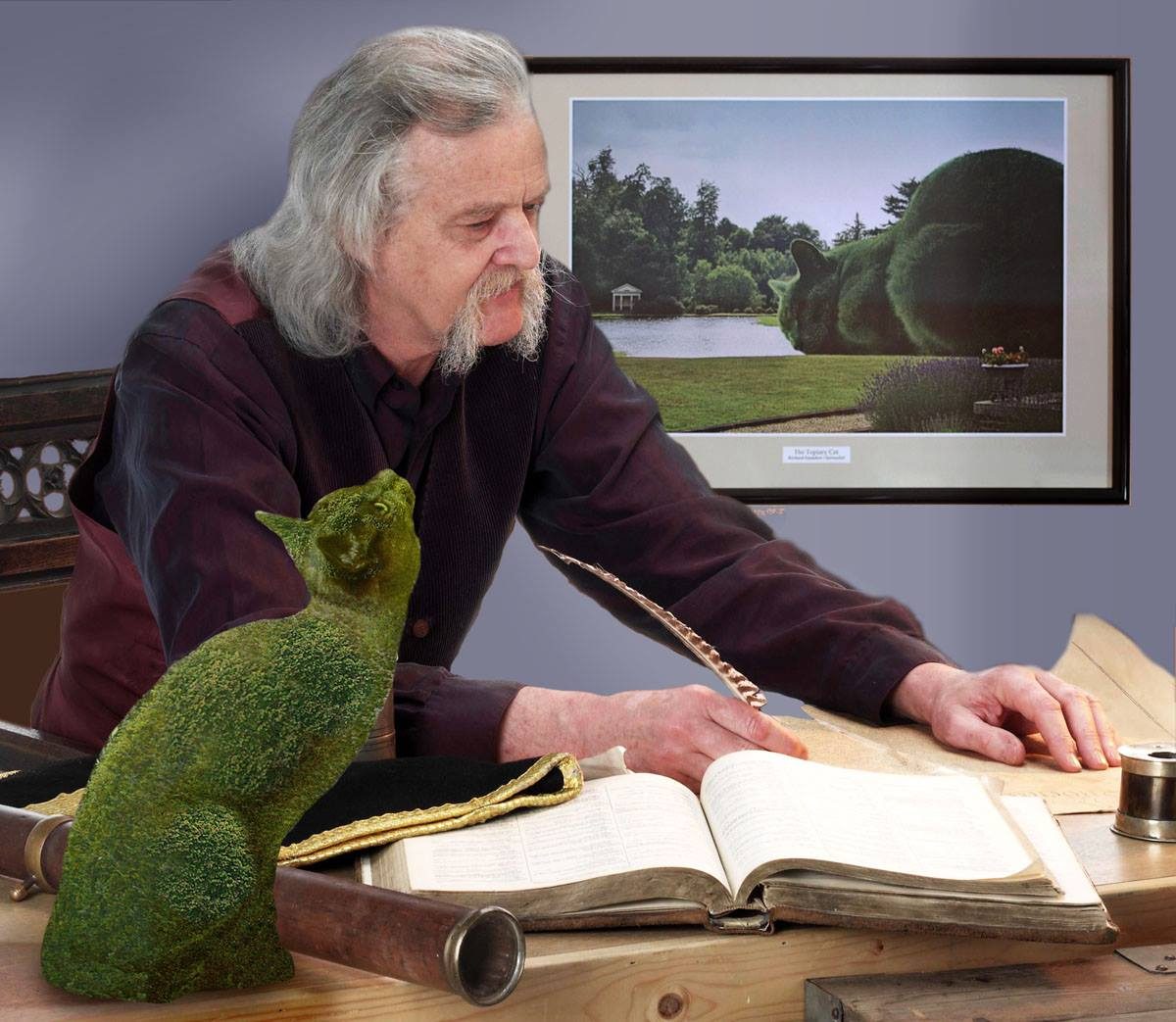 If you want to concentrate deeply on some problem, and especially some piece of writing or paper-work, you should acquire a cat. Alone with the cat in the room where you work … the cat will invariably get up on your desk and settle placidly under the desk lamp. The light from a desk lamp … gives a cat great satisfaction. The cat will settle down and be serene, with a serenity that passes all understanding. And the tranquility of the cat will gradually come to affect you, sitting there at your desk, so that all the excitable qualities that impede your concentration compose themselves and give your mind back the self-command it has lost. You need not watch the cat all the time. Its presence alone is enough. The effect of a cat on your concentration is remarkable, very mysterious.

– Muriel Spark, A Far Cry from Kensington (1988)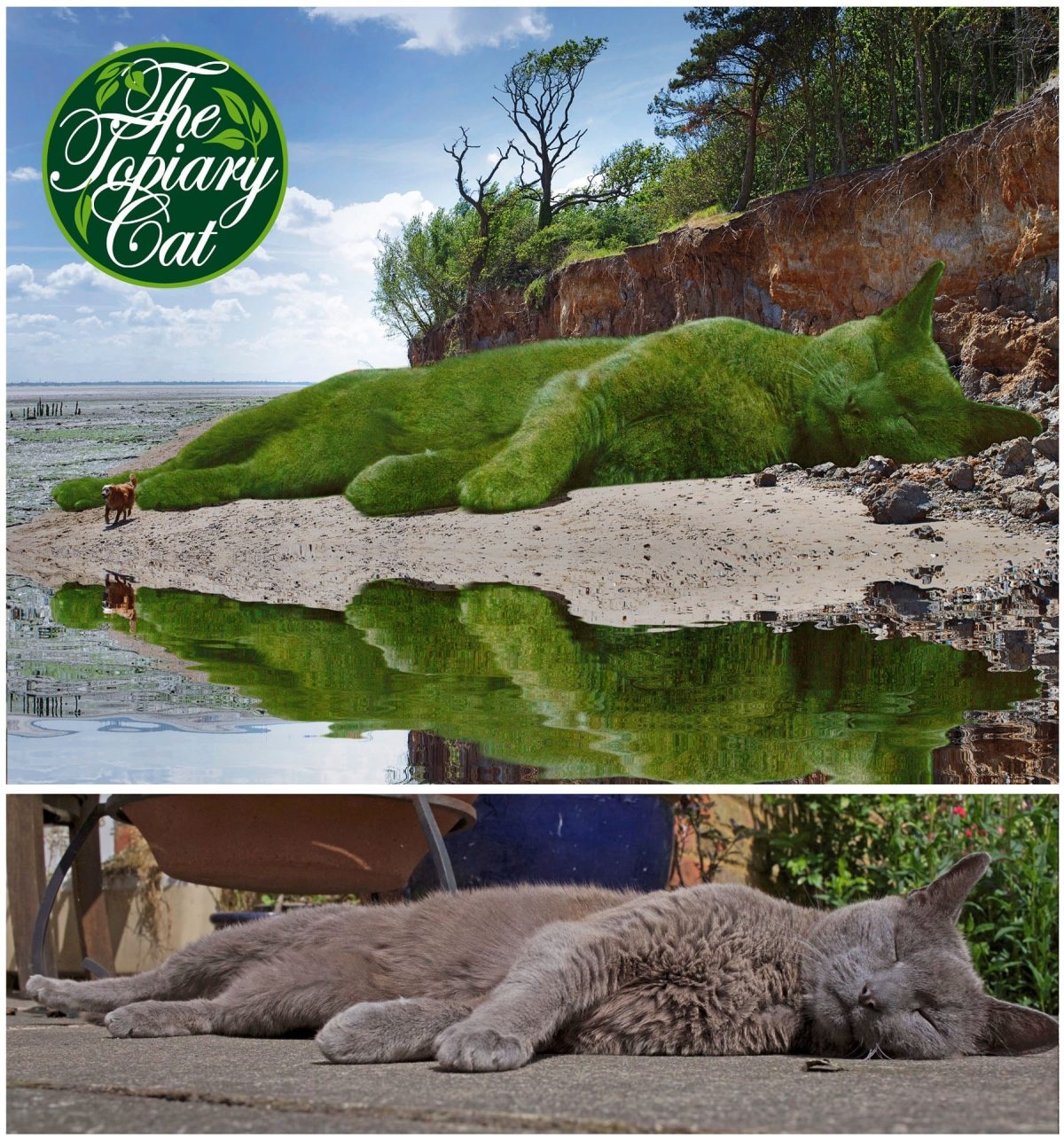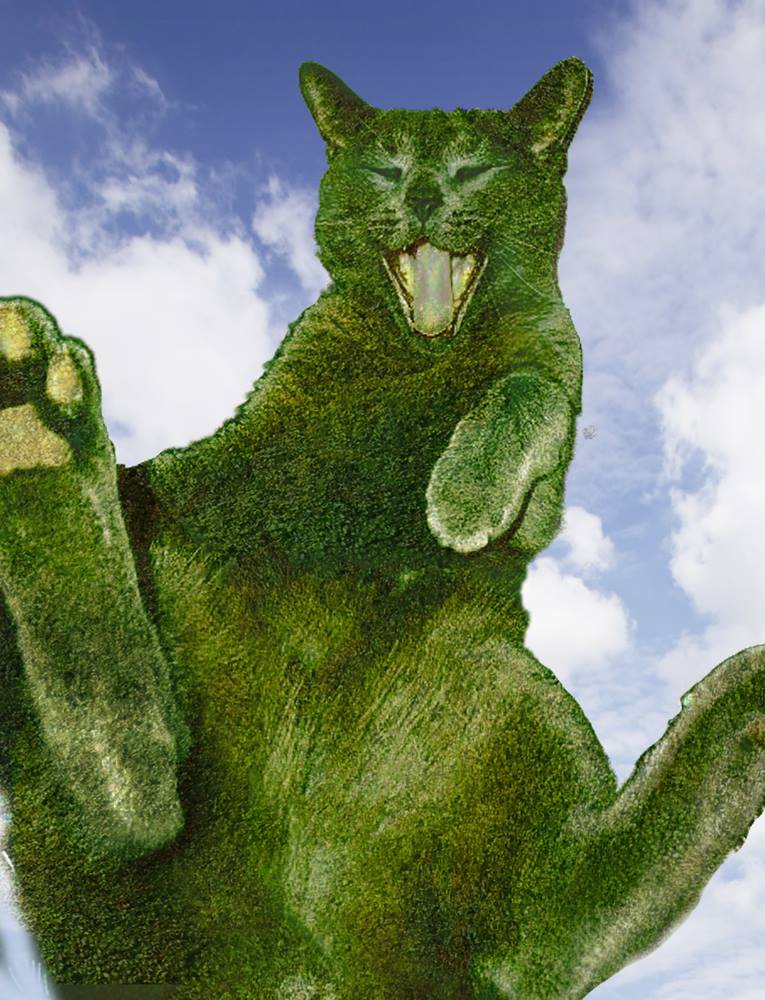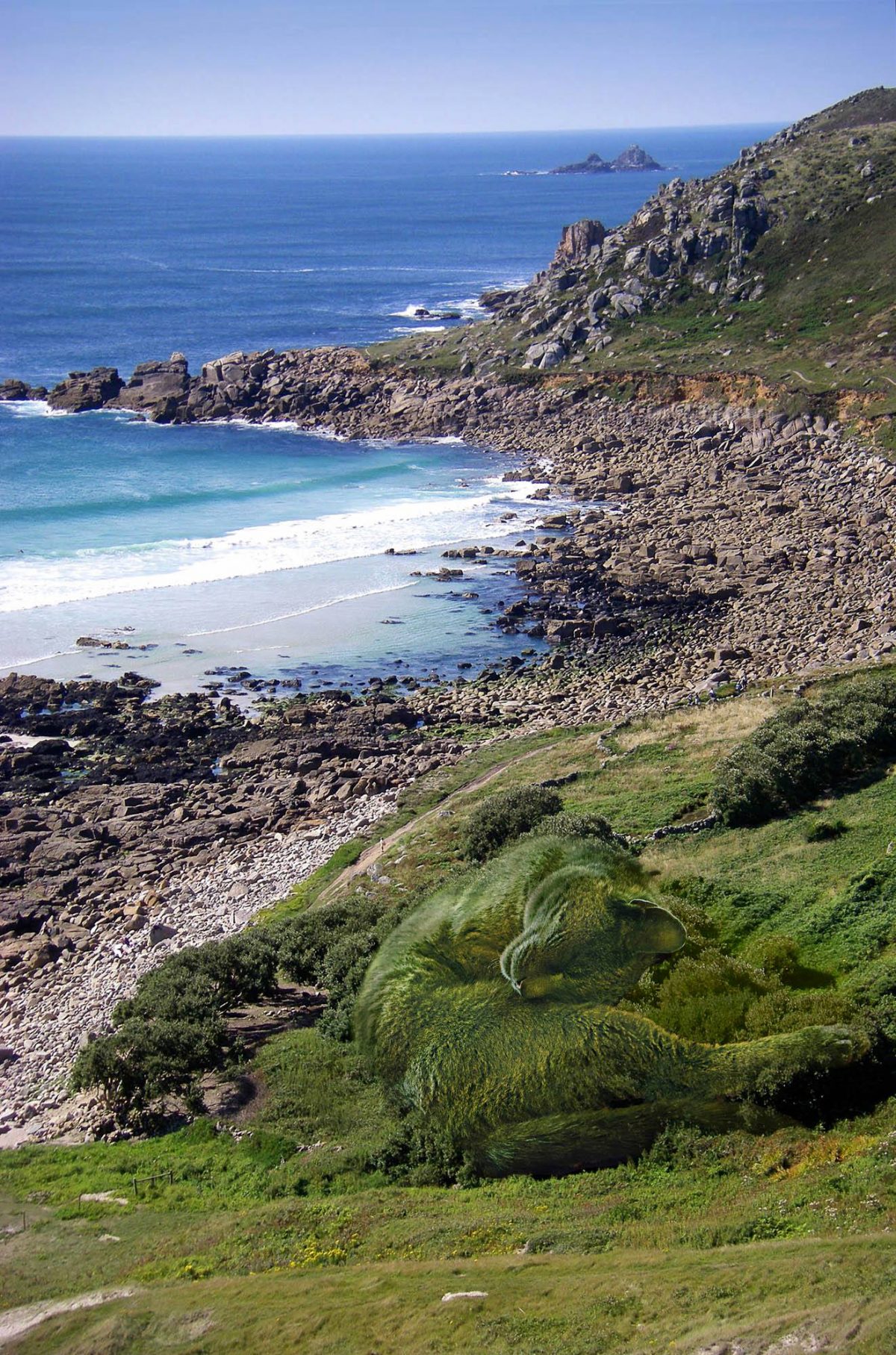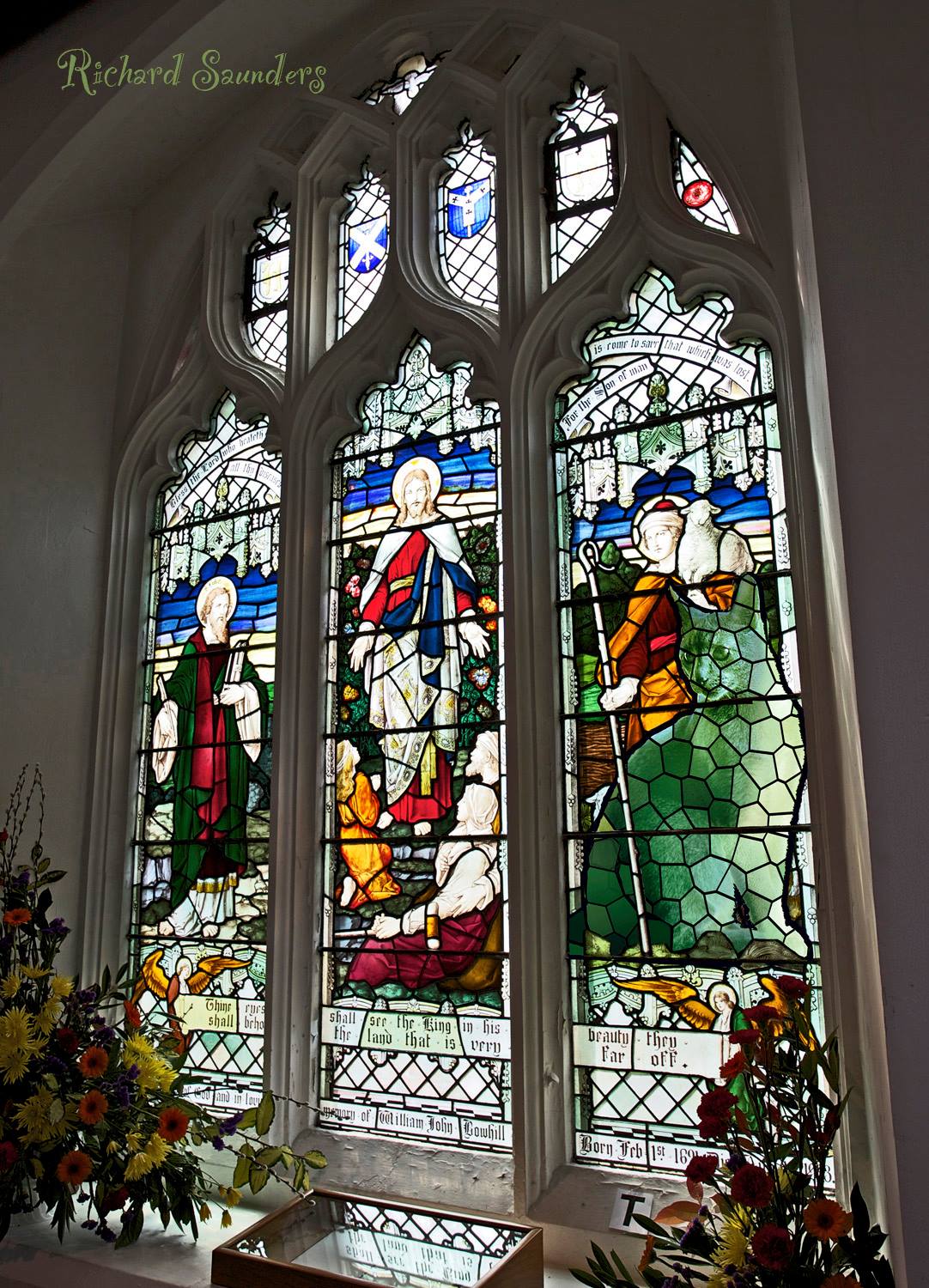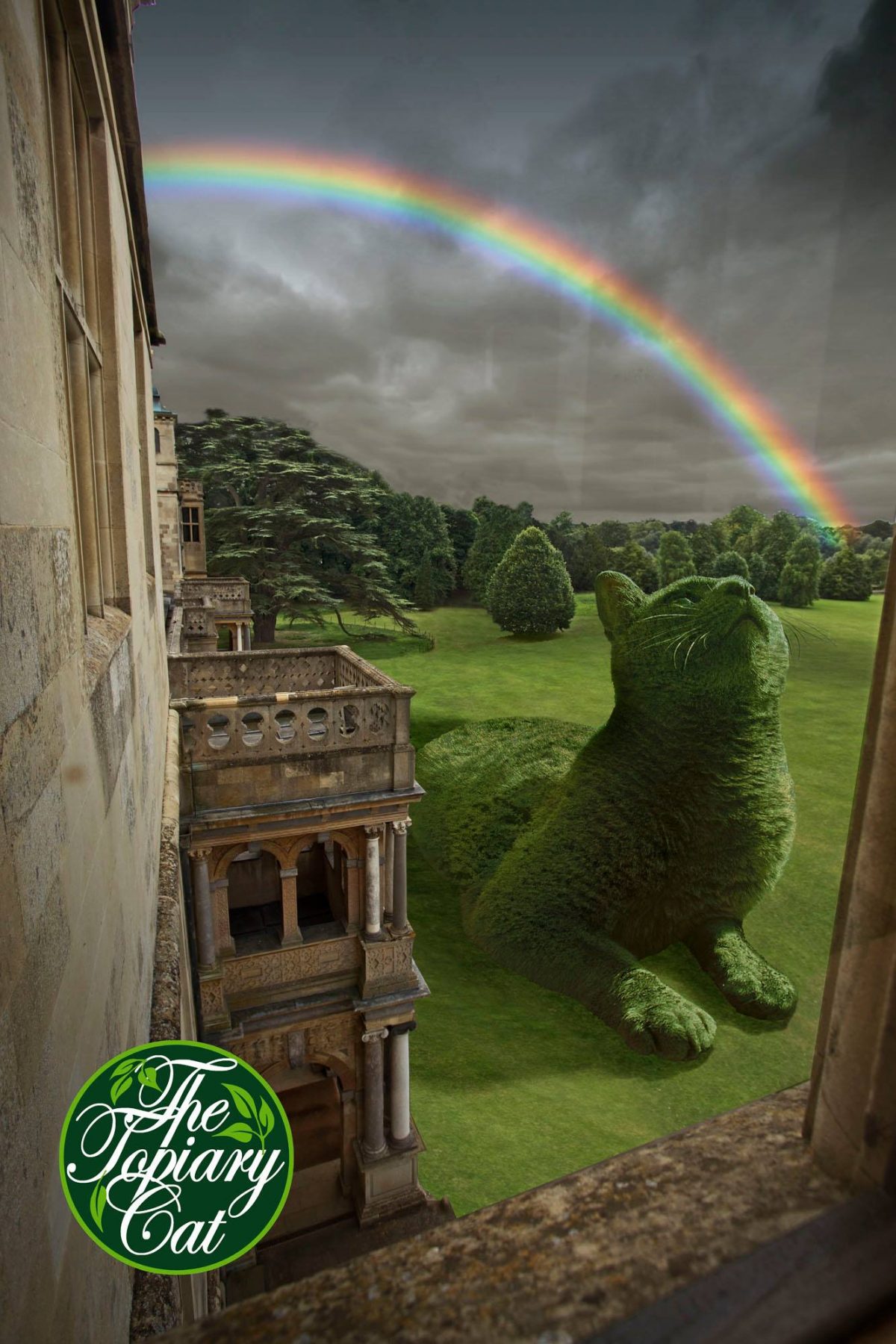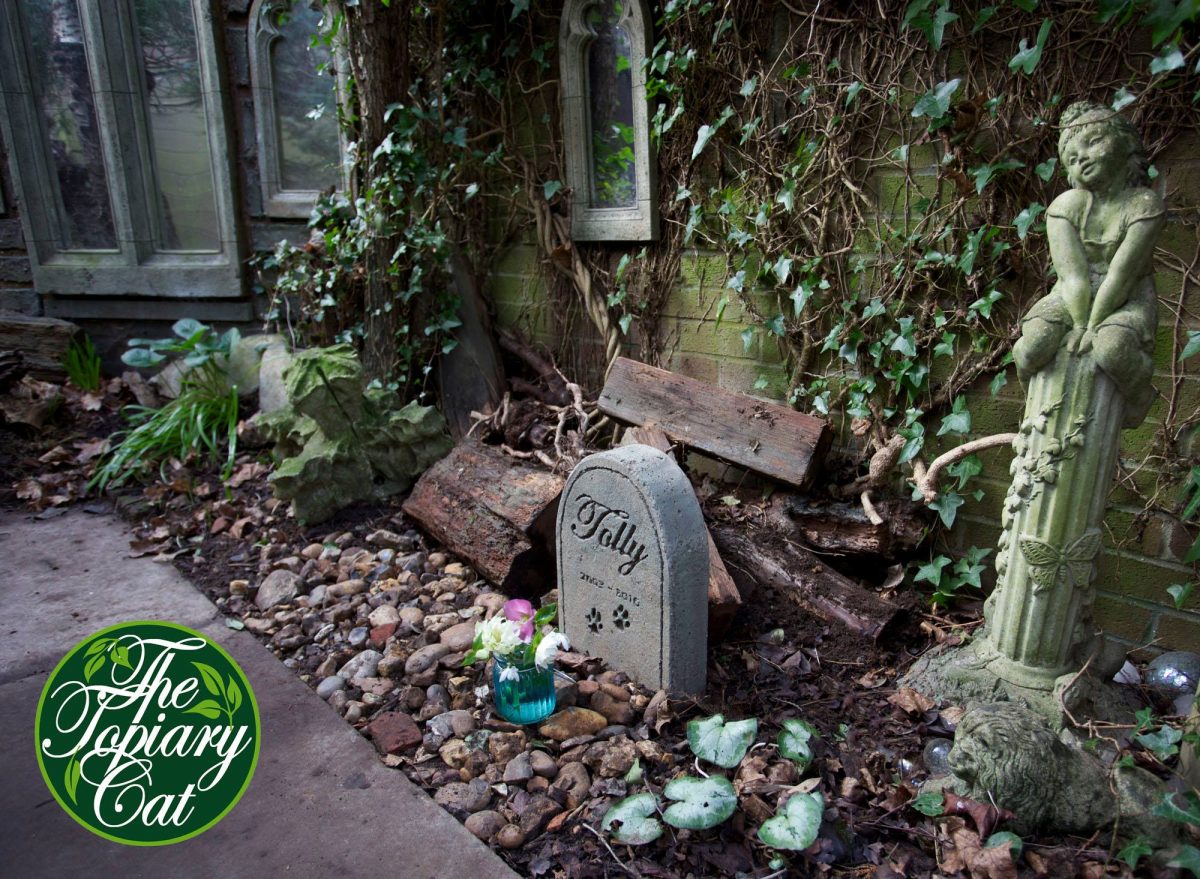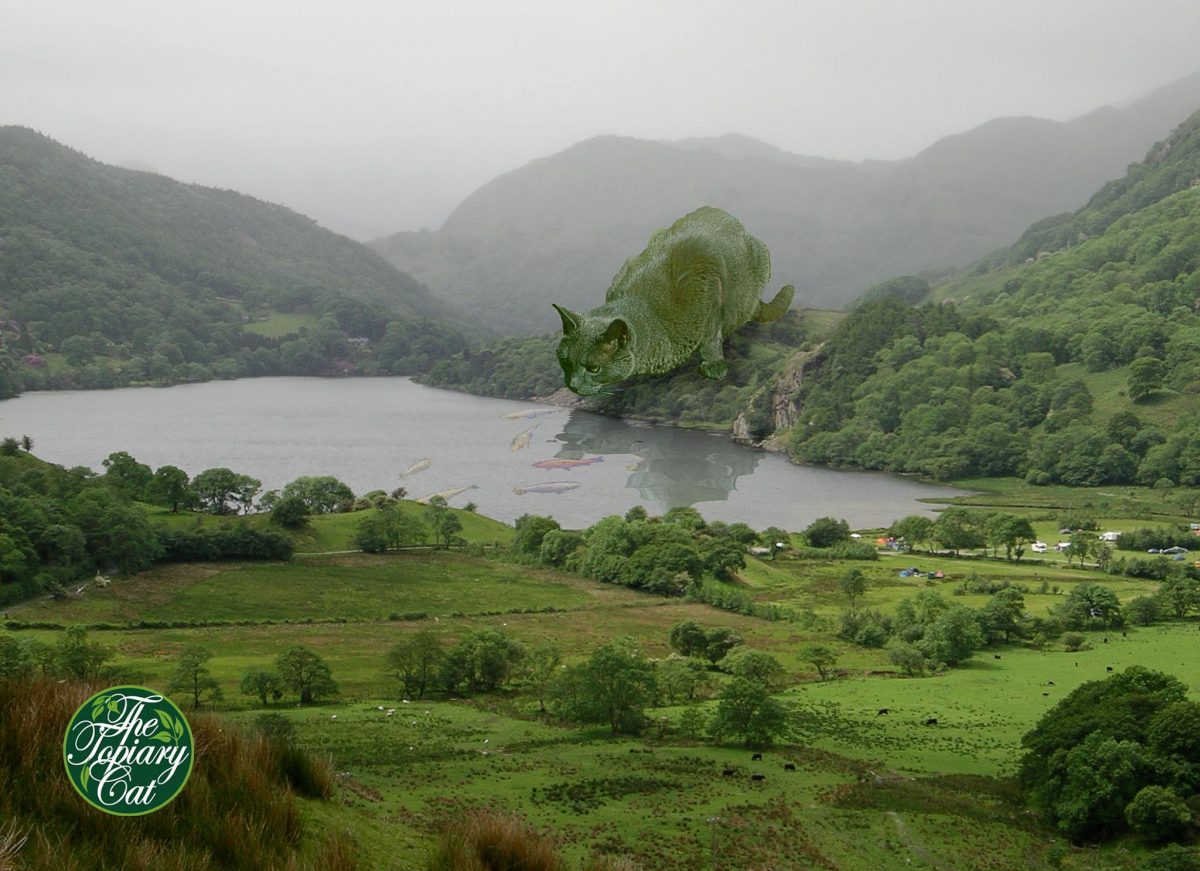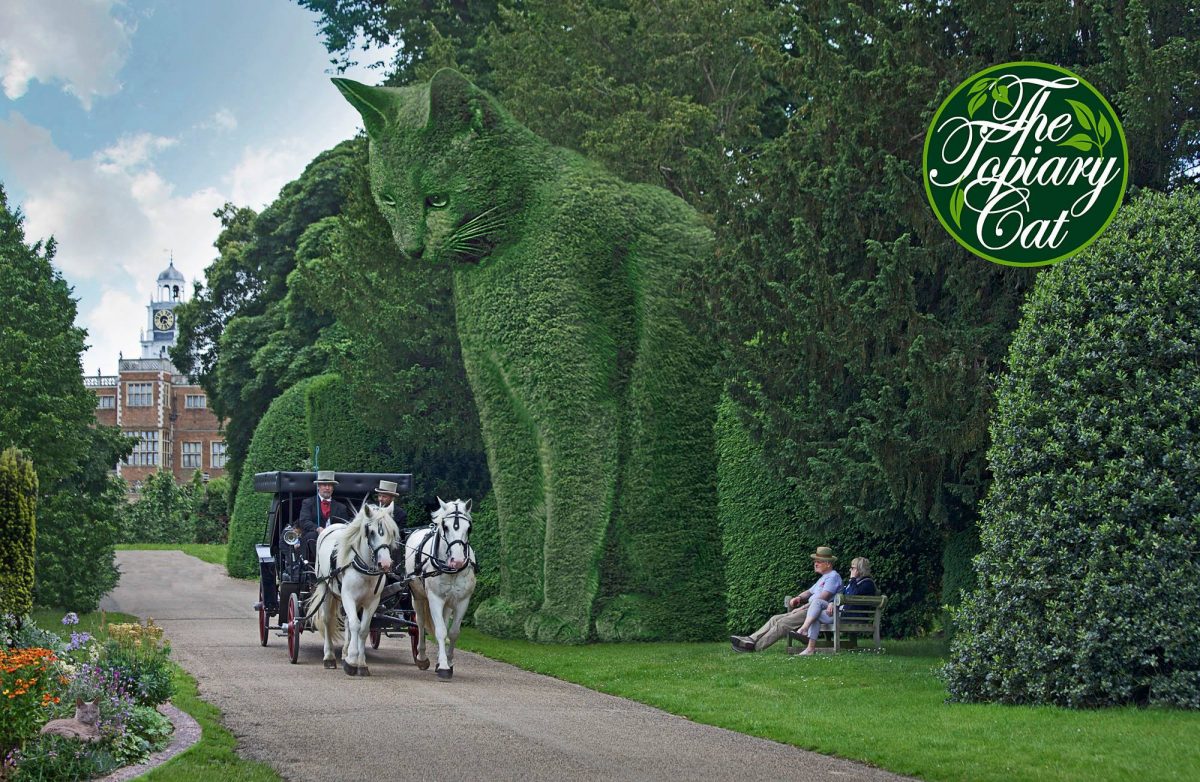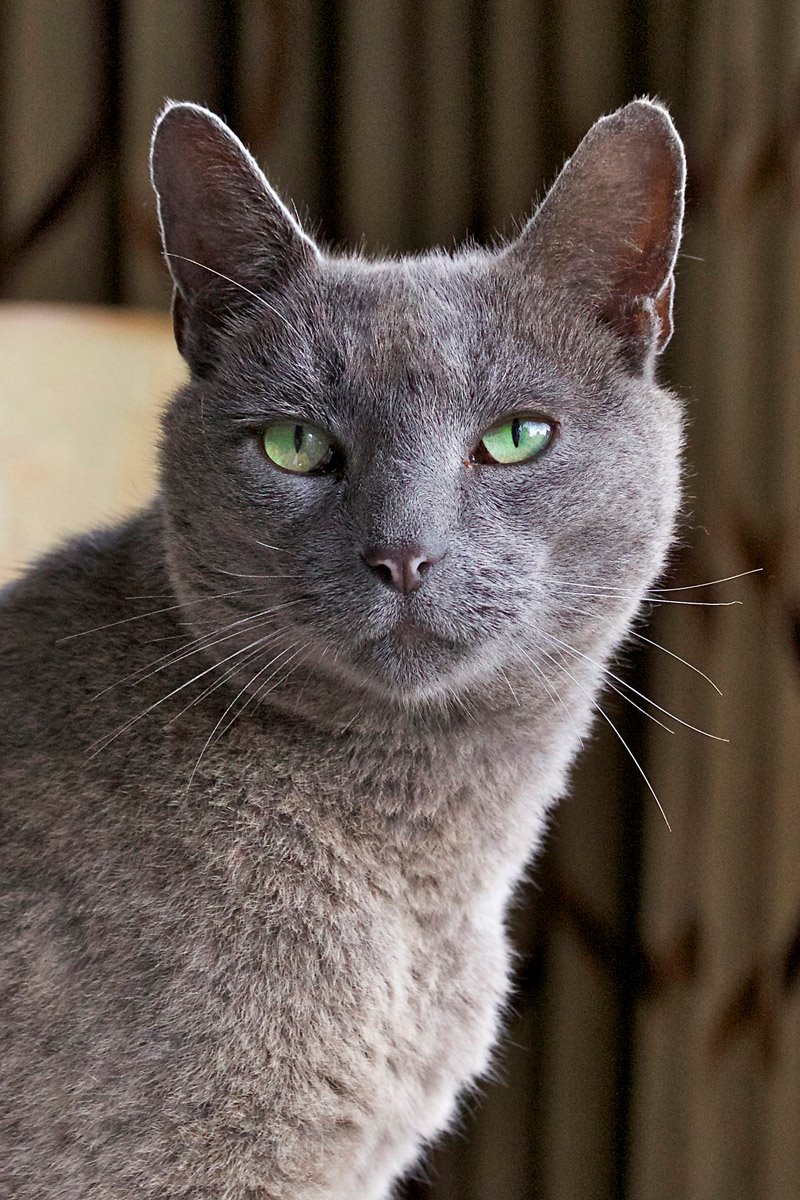 Follow the wise Topiary Cat on Facebook. And you can buy cards in Richard's surreal pictures.