TOM Mix – January 6, 1880 – October 12, 1940 – was an American silent film actor who starred in hundreds of films.
*  In all, he made 336 feature films, produced 88, wrote 71 and directed 117. Tom made only 9 sound feature films and the 15-chapter serial "Miracle Rider."
He did all his own stunts.
The Tom Mix Museum has lots of information on the actor.
Tom enlisted in the Army on April 26, 1898, giving his occupation as laborer and his birthplace as Driftwood, Pennsylvania, a small village about 5 miles from Mix Run. He gave his name as Thomas E. Mix and his height as 5'8″. Tom never liked the name Hezekiah and used Edwin, his father's first name, as his middle name throughout his life. He enlisted for three years and was discharged on April 25, 1901. He reinlisted for another three years and in 1902 while on furlough from the Army married Grace Allin. He never returned to the Army and on November 6th, 1902 was listed as AWOL but was never court-martialed.
* His first marriage was annulled and a second marriage to Jewell "Kitty" Perrine of Oklahoma City also was short lived. In 1908 he married Oklahoma "cowgirl" Olive Stokes, and they toured the Wild West show circuit together. His daughter, Ruth, was born in 1912 at Olive's family ranch near Dewey, Oklahoma. While Mix was staying with his in-laws, the mayor of Dewey, a family friend, appointed him "night marshal."
He wrote for Variety, Photoplay and Life magazines. In Photoplay he wrote a series of articles about "Making A Million". This was a play on his first film The Cowboy Millionaire.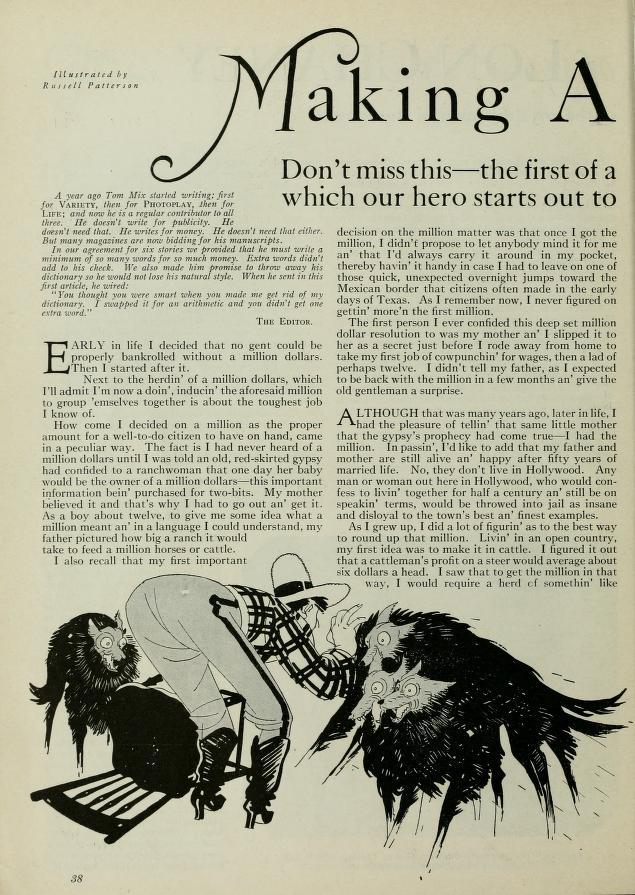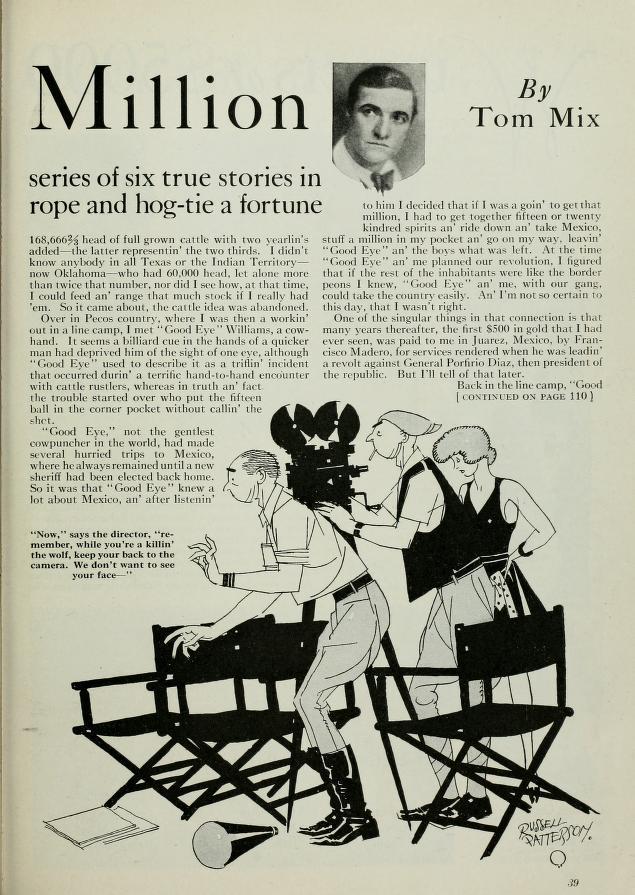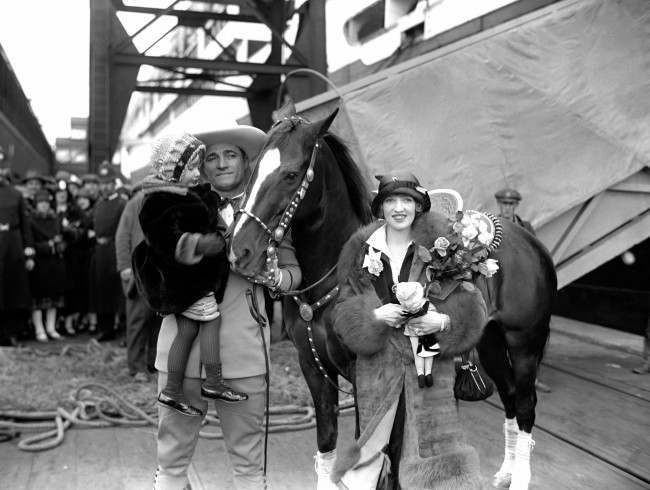 On October 12 1940, Tom Mix died. He lost control of his  Cord Phaeton convertible. It trolled into the dry wash (now called the Tom Mix Wash) near Florence, Arizona.
The car's been restored: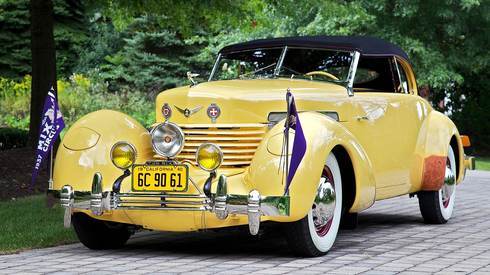 Tom Mix, king of the silent-film cowboys, has been dead for 74 years, but his tricked-up car with a revolver holstered under the dash keeps his legend alive.

Retired Scottsdale businessman Bob White completed an exhaustive restoration in 2011 of Mix's 1937 Cord 812 Phaeton, a canary-yellow classic that the aging cowboy drove wildly into a wash and to his death near Florence in 1940.

"It drives fast," White said of the 100-mph Cord. "It wasn't the first car Mix crashed, but it was the last."
THE New London Evening Day newspaper reported his death thus: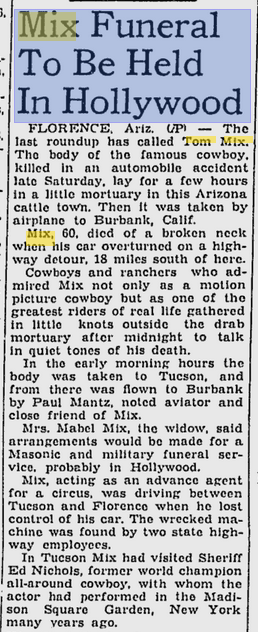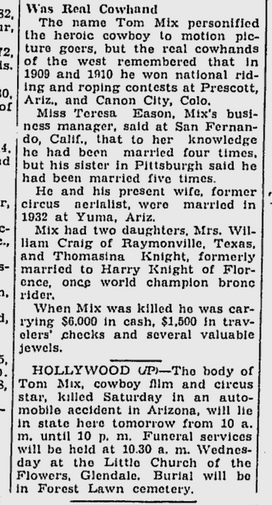 They came to see:
They erected a monument to Mix. You can drive by Tony the Riderless Horse.
The plaque reads:
"In memory of Tom Mix whose spirit left his body on this spot and whose characterization and portrayals in life served to better fix memories of the Old West in the minds of living men."
His fame endured. In 1967, Mix was featured with many other 20th century celebrities on the cover of The Beatles' Sergeant Pepper's Lonely Hearts Club Band.
Can you find him? Clue: look for the big hat.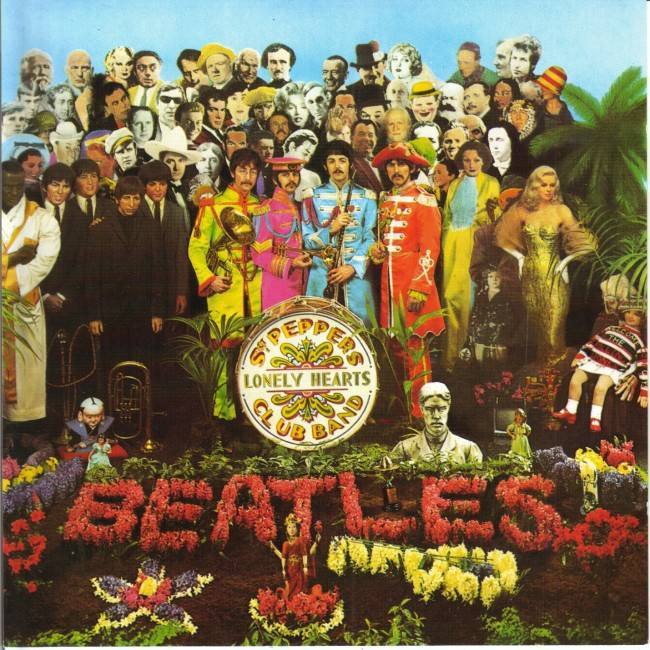 Here's Tom Mix in the 1917 hit The Heart of Texas Ryan: