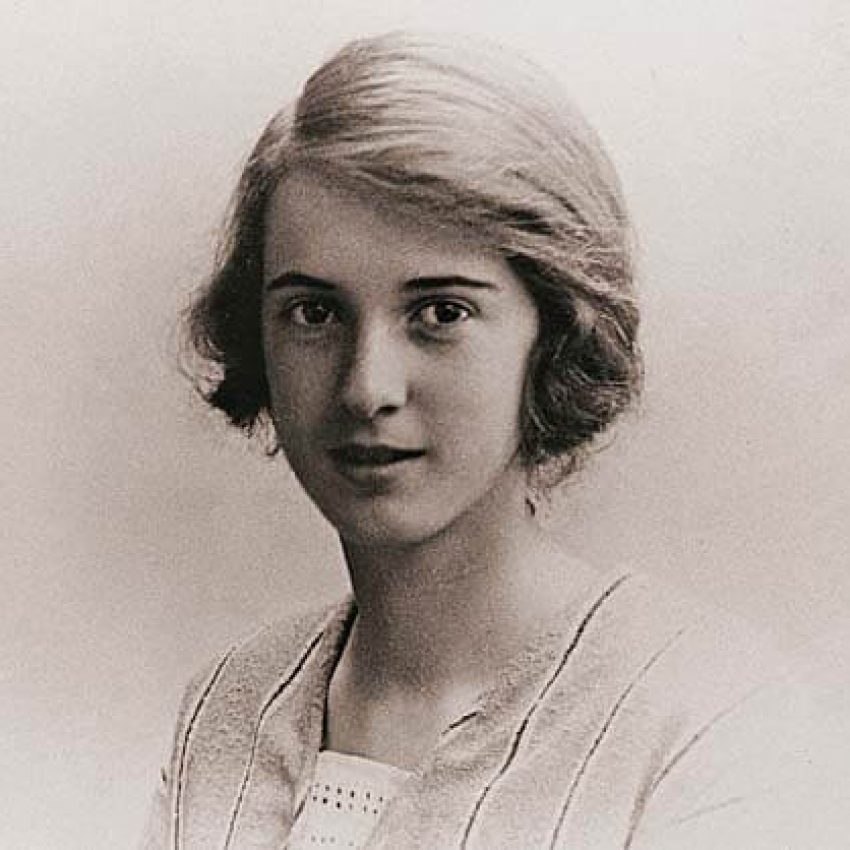 Tirzah Garwood was an exceptional artist but had the disadvantage of plying her trade at a time when female artists struggled for recognition, writes Graham Bennison. Having married Eric Ravilious in 1930 she followed the conventions of the time, giving up her wood engraving to be a wife, later a mother, and to support the career of her husband. Often overlooked in the history of English art and design this essay seeks to showcase her undoubted talent as a wood engraver, painter and designer to a wider audience.
Tirzah was born as Eileen Lucy Garwood in Gillingham, the third child of Lt. Colonel Frederick Scott Garwood and Ella Corry. As the third child, simply called Tertia, the name was misheard by her granny and stuck as Tirzah ! Her family moved around and spent time living in Glasgow, Lyndhurst, Croydon and Littlehampton. Her mother, tired of moving around, decided to move the family to Eastbourne and the family settled at Arundel Road in April 1918, Tirzah's tenth birthday.
Initially schooled at West Hill Eastbourne, at the age of seventeen Tirzah persuaded her parents to let her attend the Eastbourne School of Art to learn drawing and painting – 1920. For the last two years of her Eastbourne course she concentrated on wood-engraving taught by a young man called Eric Ravilious. Ravilious was employed part-time at Eastbourne as he was still in his final year of the Diploma Course at the Royal College of Art.
Tirzah's first two wood-engravings, in 1926 were 'Spring' and 'March' part of the 'Four Seasons Series'. These were exhibited at the 8th Annual Exhibition of the Society of Wood-Engravers at the Redfern Gallery, Mayfair in 1927. More wood-engravings followed and received praise in The Times in 1927.
Quirky and sometimes surreal, Tirzah's wood engravings are a complete contrast to the more rural subject matter of Eric Ravilious. Tirzah had few superiors, displaying great technical skill, her wood-engravings equal to anything produced by Ravilious.
Tirzah's parents thought her subject matter hideous. She stated in her autobiography; 'They thought Mr Ravilious was perverting a nice girl who used to draw fairies and flowers into a stranger who rounded on them and did drawings that were only too clearly caricatures of themselves'. Mr and Mrs Garwood also regretted the decision to let Tirzah study at the Central School of Art moving to Kensington in 1928 the year of her first commissioned work for the BBC to produce three engravings for 'The Pilgrim's Progress'. As a well-heeled family they were also less pleased in 1930 when Tirzah announced she was marrying Eric Ravilious – a match they thought well beneath her.
A wood-engraving entitled 'Cat Into Wife' 1928 could well picture Ravilious. The married couple worked together on projects but these dwindled when they moved to Great Bardfield, Essex, initially sharing a house with Edward and Charlotte Bawden. This move marked the end of her wood-engraving but helped by Charlotte Bawden, Tirzah started designing and making marbled papers.
The most famous 'joint project' in the spring of 1933 was a commission from the architect, Oliver Hill, to paint a mural on the tearoom walls of the Midland Hotel, Morecambe. The couple found lodgings in nearby Heysham. Tirzah wrote in her autobiography of how the '…new hotel resembled a big white concrete ship facing out across the shining sands, mudflats and treacherous waters of Morecambe Bay'.
Hill and his financiers were eager to hurry completion of the mural prior to the opening of the new art deco hotel but as Eric and Tirzah worked they became increasingly aware that their mural had no hope of lasting.
Tirzah wrote: 'Decorating the tea room was disheartening work because the plaster was too recently put onto the wall and as well as not being dry, it exuded little heaps of yellowish sand or lime or whatever it is that plaster is made with. When we were drawing out the design, if we used an India rubber or disturbed it in any way the white paint peeled off…'
What is not widely known is that it was Tirzah that put most effort into the work – Eric departing on seven occasions (two days at a time) to return to work teaching at the RCA. The grand opening of the hotel took place in July 1933. The following year in March the couple returned to carry out extensive repairs but the mural soon deteriorated again.
In the 1980s theatrical decor artists from Thames Television had the notion of reproducing the mural, in its original location, for an episode of Hercule Poirot entitled 'Double Sin' that was to be filmed in the hotel. With only the black and white photographs as a visual source, the set designers were obliged to make their own judgements concerning the colours they used. A further restoration of the hotel in 2013 saw the mural re-painted by artist Jonquil Cook.
The summer of 1934 was spent at Peggy Angus' cottage Furlongs nestled in the South Downs. By this time Eric had already had an affair with Diana Low while that summer another partner Helen Binyon made her first visit to Furlongs. Tirzah herself fell in love with artist John Aldridge a newcomer to Great Bardfield.
Later that year Tirzah and Eric decided that they wanted a house of their own and moved to Bank House, Castle Hedingham near Great Bardfield. Their first child John Ravilious was born in 1935 followed by James in 1939 and Anne in 1941. After Anne was born in the April of 1941, they moved out of the often cold, and sometimes flooded Bank House to Ironbridge Farm near Shalford, Essex. It was from this last home that in 1942 Eric, now a war artist, departed to his post in Iceland vanishing without trace in an air rescue mission, aged only thirty-nine. Shortly after this tragedy Tirzah had a mastectomy for primary cancer.
Tirzah started writing her autobiography in March 1942 from her hospital bed. By February 1943 most of her manuscript had been typed up. The remaining eight years of Tirzah's life were in some ways the most productive of them all. She returned to her art, her first oil paintings were produced in 1942-44. A major interest became the making of collage models of the domestic architecture of her neighbourhood – models of cottages, schools, chapels, etc.
Close friend Olive Cook wrote of her collage models:' These compositions recapture in all freshness the relationship of an imaginative child with its dolls, trains, toy soldiers and farm animals and conjure up a magical child's world of closely seen plants. A doll steps forward with her little muff from a thicket of bright tulips; toy trains run round a toy stable and toy horses in a landscape of spear shaped leaves and scarlet tulips; a toy soldier lies in the path of a toy steam engine watched by a maid from an upper window in a doll's house set against a sombre river scene'.
Kiran Ravilious, wife of Tirzah's grandson Ben wrote: 'There is a painting by my husband's grandmother Tirzah Garwood that went missing. My mother-in-law didn't know where it was, someone else said she had it etc, etc. My sister-in-law finally found it. It's a painting of Peggy Angus sitting on a bed. The funny thing is, Peggy didn't like how Tirzah painted her face so she touched it and her hair up! It seems that's exactly the sort of strong-minded person Peggy was. I love a painting with a story behind it!'
It was left to Tirzah's daughter Anne to later finish Tirzah's autobiography writing: 'During the last year of Tirzah's life, sometimes in bed and often in pain,, relived by deep ray therapy and testosterone, Tirzah completed no less than twenty small oil paintings.' Friend Olive Cook recalled how she amazed her friends by her determination, courage and unquenchable gaiety in what she declared was 'The happiest year of her life'.
Tirzah died suddenly and without pain on Easter Monday 27th March 1951 two weeks short of her forty-third birthday. She is buried in the Churchyard at Copford, Essex. The headstone is inscribed:
TIRZAH SWANZY 1908 – 1951, ERIC RAVILIOUS Lost in the Atlantic.

Blessed are the eyes which see the things that ye see.
Buy Tizrah Garwood prints and more in the shop.
Graham Bennison. https://www.facebook.com/BennisonArtist