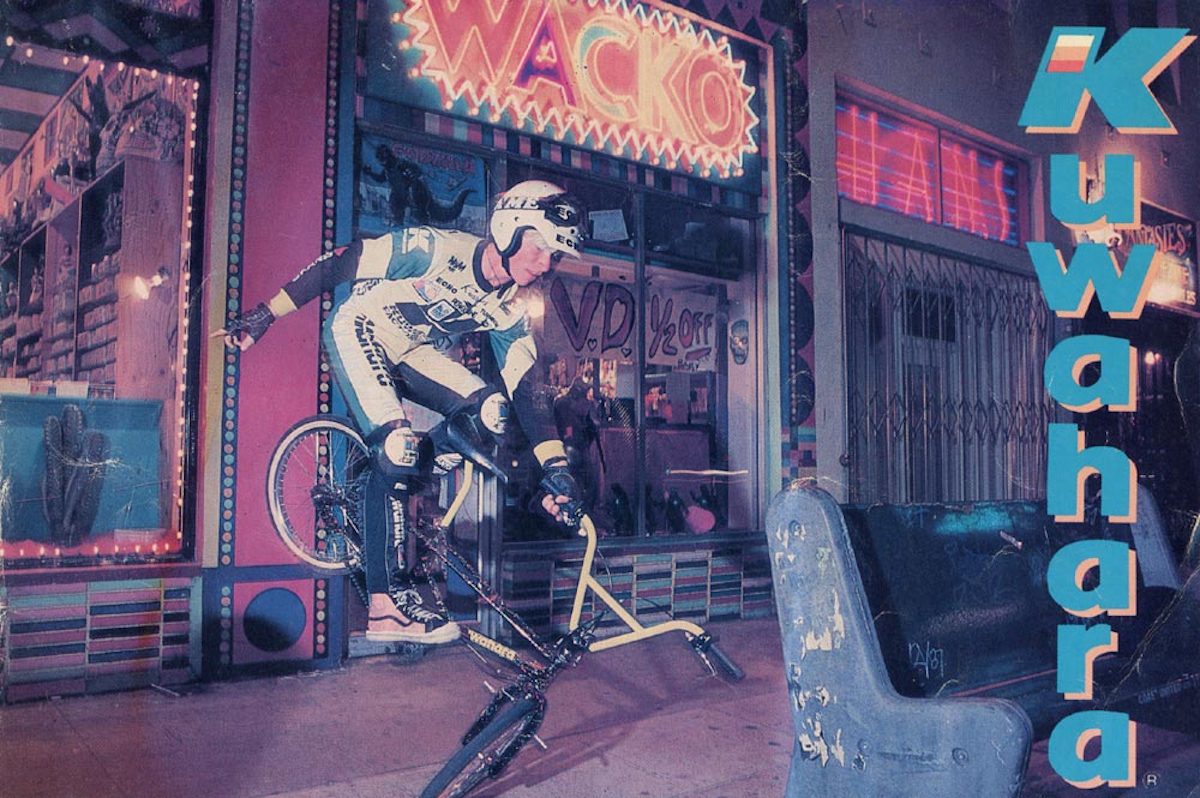 The odd little bikes don't look ridable by anyone over twelve years old – and they are, in point of fact, designed for children. But no one who rides a BMX (and no, it's not "BMX bike," since the "B" in BMX stands for "bicycle") ever sits down on one unless they're posing for a photo. The bikes are made for stunting and soaring – tiny platforms for airborne maneuvers in imitation of moto-cross moves, without the motor. "Born out of the '70s motorcycle race scene in southern California as kids tried to emulate the adults on their own dirt bikes," notes Style magazine, "BMX was a 'sport created by kids, for kids,' explained John David COO of USA BMX."
It didn't stay that way. BMX soon became a serious sport for grown-ups and, in 2003, an Olympic event. Bike motor-cross is back, in a big way, though you might not know it if you aren't part of a bike subculture. But if you lived in the early 1980s, there was no getting around the extreme popularity of BMX. The bikes were everywhere: in stores, in magazines, on television, in iconic scenes in movies like E.T., The Goonies, and, of course, the BMX-ploitation movies Rad and BMX Bandits (starring a 15-year-old Nicole Kidman!), released in 1986 and 1983, respectively.
Just as later '80s films like Gleaming the Cube exploited skateboarding culture for mass entertainment, the BMX craze cannot be viewed without a corresponding focus on its "historical mediatization," according BMX scholar Wade Nelson, a longtime practitioner of BMX freestyle and one of its few academics. "The history of BMX," Nelson writes, "is inseparable from the history of the activity's mediation. Indeed, the historic rise and fall of the sport with regard to industrial success can be correlated with the appearance and disappearance of disseminating institutions such as particular special-interest magazines."
The "complex, co-dependent" relationship between profitable mass media, consumer products, and trends like BMX results in fads that far outstrip the intentions of their creators in the selling of pre-packaged identities to consumers. What were the advertisers of BMX selling, besides bikes and t-shirts and BMX parts and accessories? We get a good idea from the selection of vintage advertisements here from the period of BMX's cultural heyday. Ideas of playful seriousness abound—promising a way to grow up that doesn't involve losing the awesome radness of BMX. ("Make way for the BMX that grew up!" one Murray ad trumpets.)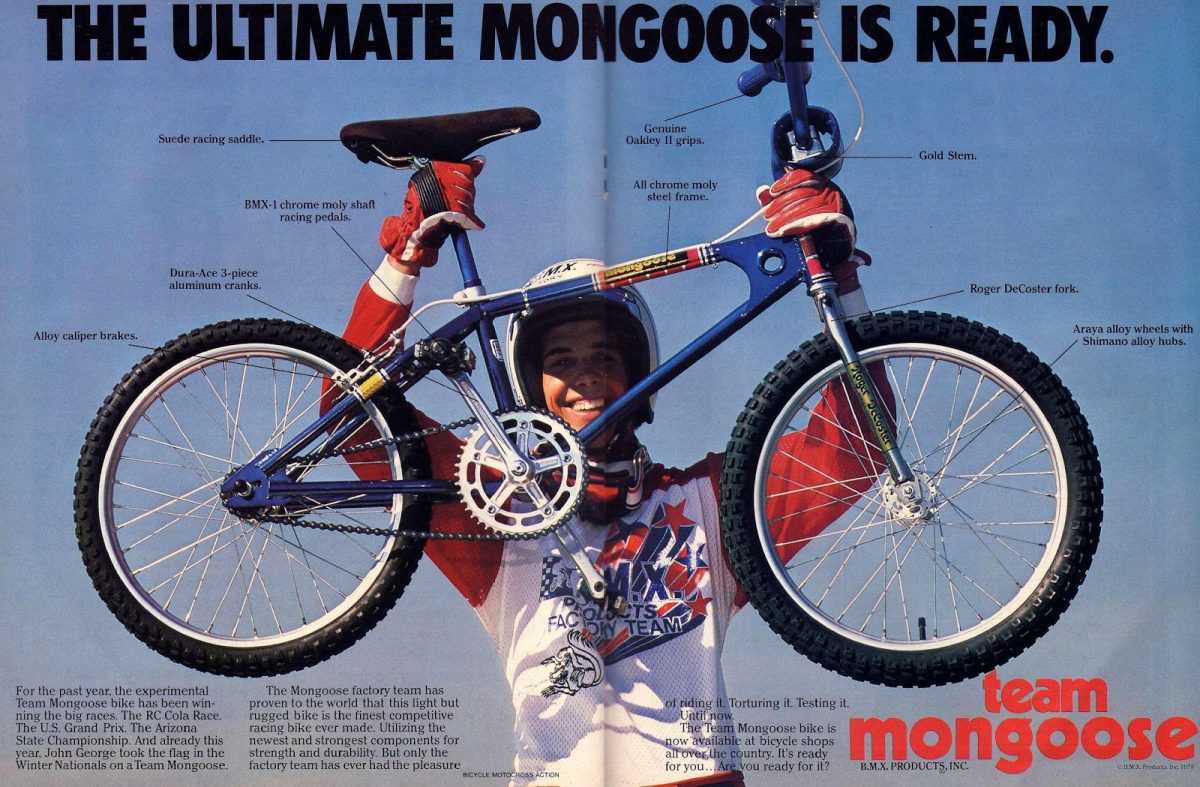 We have images of all-male bonding – through competition and team-building – and images of toughness and style. The "anodized equipment" of Japanese maker Kuwahara's KE-1 "will blow your mind and blind your competition" in 1980. Skyway's Street Beat bike, built for freestyle BMX with its flashy mag wheels and two-color schemes, promises to make its riders "street wise." The "Mongoose image" appeals to those with ambitions of "winning a race or cruising a campground in style." The niche advertising of BMX corresponded with a major commercial turn toward youth subcultures in the later 20th century that went global and determined the experiences of generations raised on MTV and extreme, or "lifestyle," sports merchandising.
Of course, lifestyle branding and mass media weren't new in the early 80s – the BMX phenomenon was itself partly inspired by a film, On Any Sunday, a popular 1972 moto-cross documentary. But they became entangled with sports and leisure in inseparable ways, as Nelson suggests. Once the bubble burst, profits declined, and pop culture moved on to the next big thing in the late 80s/early 90s, the sport effectively died. (A 1992 video, Ride On, features "a mock funeral of a BMX bicycle" and begins with a prologue detailing the decline of corporate sponsorship, monthly magazines, and dedicated riders.) It has returned in a very different 21st century media landscape, one more niche than niche and much less likely to inspire the kind of worldwide cultural phenomena as the 1980's BMX craze.