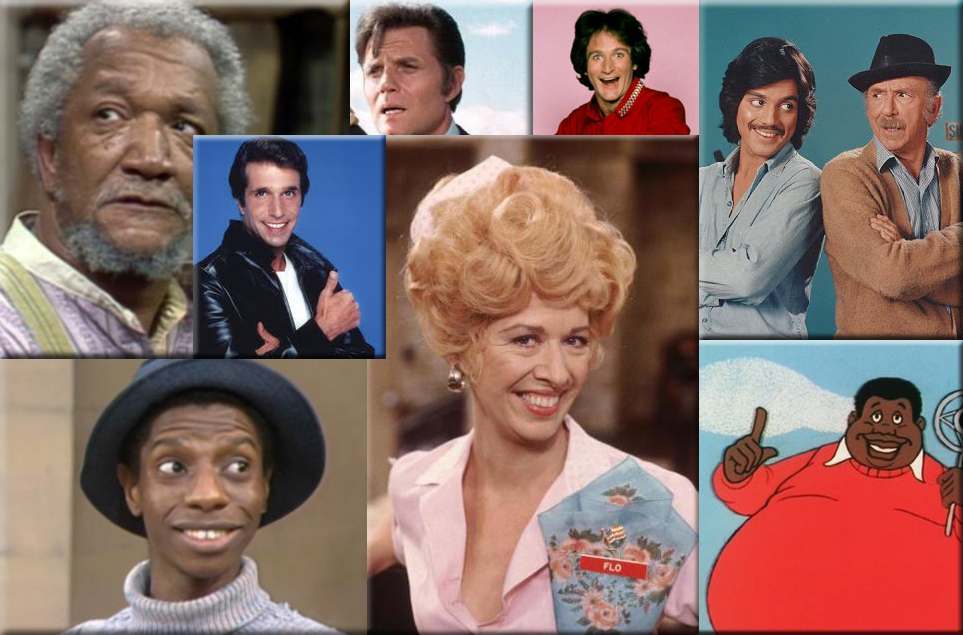 Television is great nowadays.  With quality programming like Breaking Bad, Game of Thrones and Mad Men, you might say we're living in a golden age.   But there's one thing we're lacking that the 1970s had in spades – catch phrases.
It wasn't just the sheer exhilaration of joining in the mass hysteria every time Flo uttered "Kiss my Grits!" on Alice; it was that a saying had made its way into the American lexicon, and now it was free to use at home, school and work on a day-to-day basis.  No playground or office cooler was safe from the sad and painful imitations of Fonzi and Mork.  Looking back, it's perhaps a bit cheesy and embarrassing… but back in the day it was, well,  Dy-No-Mite!
1.  Dy-No-Mite! (Good Times)
The undisputed Grand Poobah of all catch phrases.  Bask in its canned laughter glory.
2. Ayyyyyy (Happy Days)
3. Whachu-talkin'-bout, Willis? (Diff'rent Strokes)
4.  Hey, hey, hey (What's Happening?)
5.  Nanu, Nanu (Mork & Mindy)
6.  Sit on it! (Happy Days)
7.   Up your nose with a rubber hose (Welcome Back, Kotter)
8.  You big dummy (Sanford & Son)

9.  Book 'em Danno (Hawaii 5-0)
10. De plane! De plane! (Fantasy Island)
11. Stifle! (All in the Family)
12. Shazbot! (Mork & Mindy)
13. Good night, John Boy (The Waltons)
14. Jane, you ignorant slut (Saturday Night Live)
15. Who loves you, baby (Kojak)
16. Kiss my grits! (Alice)

17. Lookin' good (Chico and the Man)
This promo for Chico and the Man reruns on TV Land does a good job of showing the evolution of a catch phrase
18. Hello… how are ya? (Welcome Back, Kotter)
19. Elizabeth, I'm comin' to join you (Sanford & Son)
20. Don't make me angry. You wouldn't like me when I'm angry (The Incredible Hulk)
21. We are two wild and crazy guys! (Saturday Night Live)
22.  Hey, hey, hey (Fat Albert)
Not to be confused with What's Happening's "Hey, hey hey" (#4).  Two very different catch phrases indeed.
23. Just one more thing. (Columbo)
24. Wah, wah, wah (Happy Days)
Chachi's saying may rank 24 on this list, but would rank number one on the list of most annoying catch phrases of all time.
25. The thrill of victory, the agony of defeat (Wide World of Sports)
We would be doing a disservice to not provide you with a clip from A Mighty Wind which playfully mocks the 70s catch phrase craze. "Hey, wha' happen?"
Robin Williams, you will be missed.