THE Klu Klux Klan was once powerful. The Far Right, anti-immigration, anti-Catholic, anti-black, anti-Jew, anti-anything not white and Protestant and lately pro-Nazi group  has been a fixture of the US political lanscape ever since it was founded in 1865.
This is a history of its members and those who opposed its racism in photos. The captions are of their time: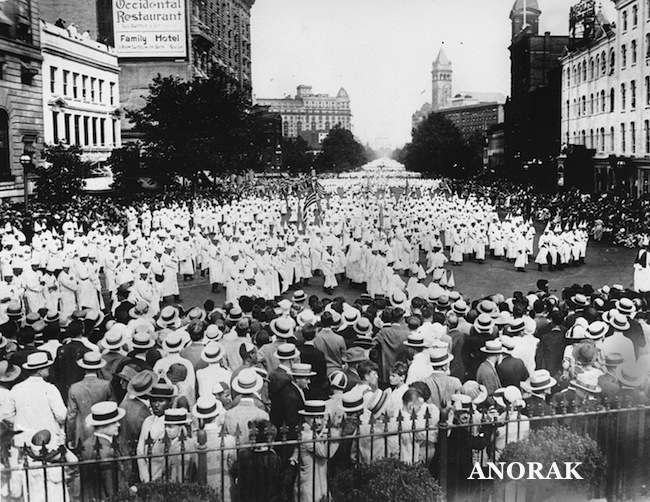 Ku Klux Klan members parade past the U.S. Treasury building in Washington, D.C. in 1925. (AP Photo)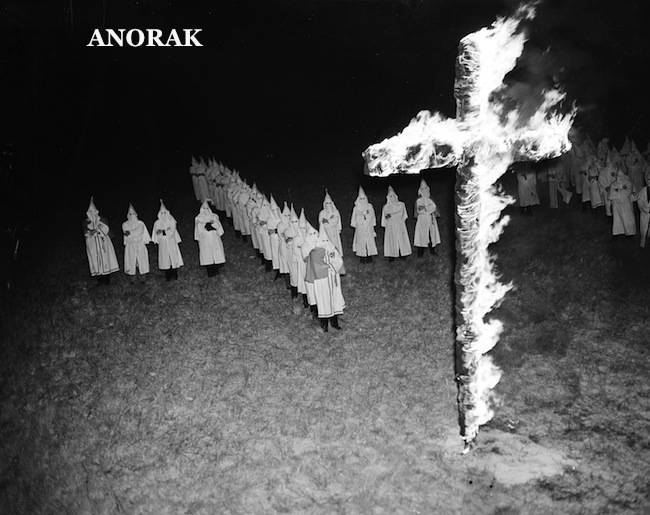 Members of the Ku Klux Klan, wearing traditional white hoods and robes, stand back and watch with their arms crossed after burning a 15-foot cross at Tampa, Fla., Jan. 30, 1939. (AP Photo)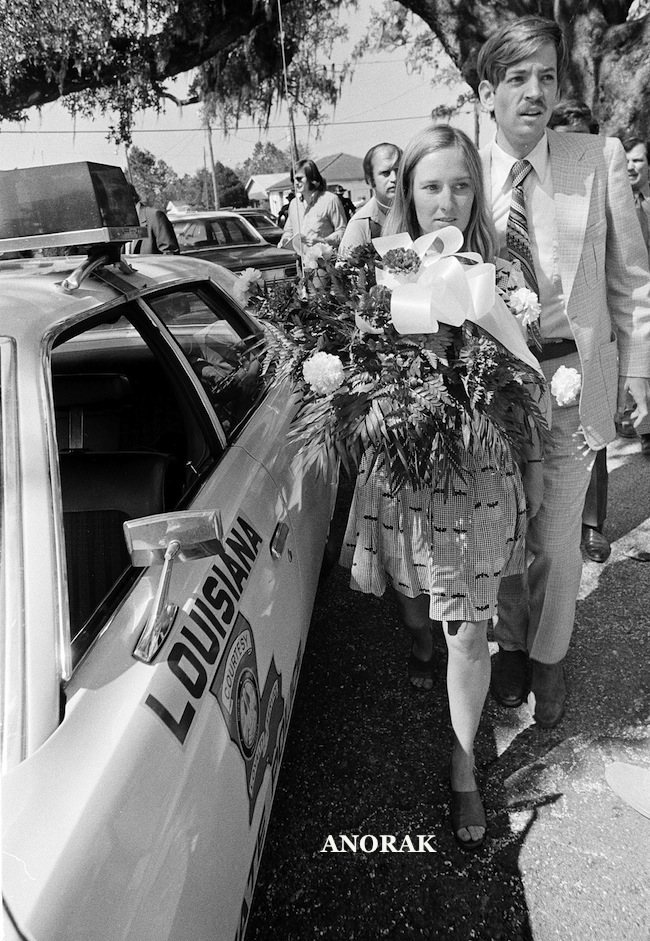 Louisiana Ku Klux Klan leader David Duke and his wife Chloe arrive at the Destrehan, La., High School where they placed flowers near the flag pole, Oct. 9, 1974. A 13-year-old boy died following racial unrest and a shooting at the school on Monday. (AP Photo)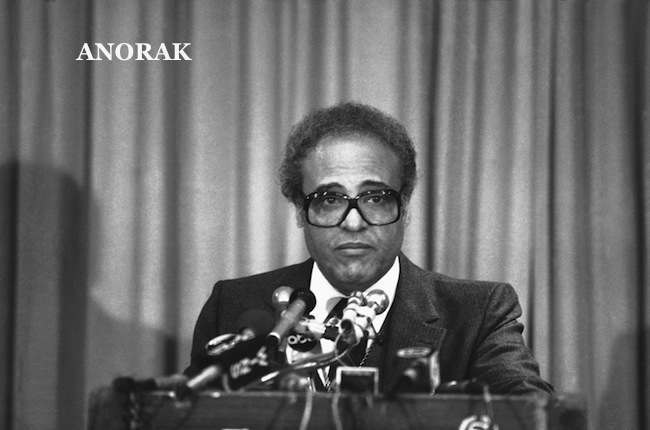 Benjamin L. Hooks, executive director of the National Association for the Advancement of Colored People, talks to reporters at a press conference in New York, Jan. 12, 1981. Hooks said the NAACP would establish a national "Klan Watch" to monitor, catalogue and report all incidents involving the Ku Klux Klan. (AP Photo/Suzanne Vlamis)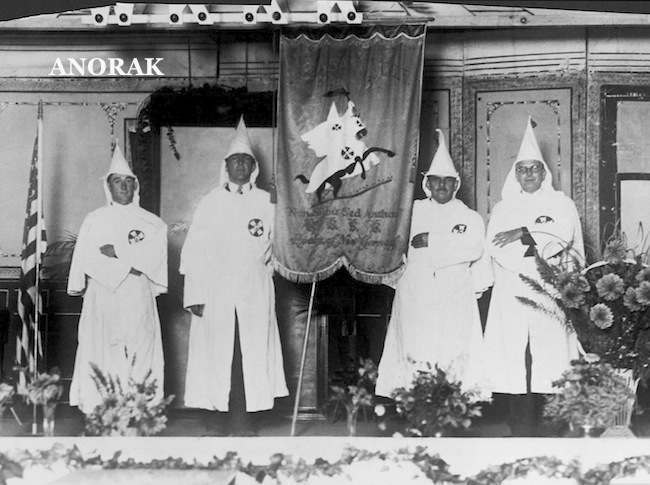 Unit of the Ku Klux Klan, as they appeared on the auditorium stage of the Bargaintown, New Jersey, Klavern to welcome 6,000 South Jersey Klansmen to the annual Fall rally held September 21, 1929. U.S. Senator J.Thomas Heflin of Alabama was the principal speaker.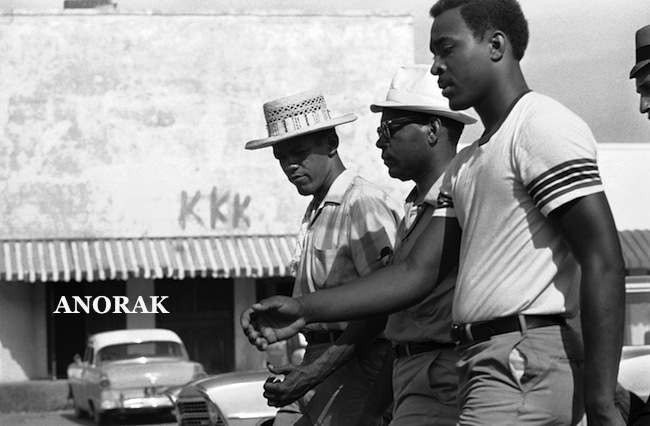 James Meredith, center, marches through rural Oakland, Miss.,, June 27, 1967 seemingly unaware of a fading Ku Klux Klan sign painted on a store front during the fourth day of his walk through Mississippi. Newsmen recalled that the sign was freshly painted during a march last summer when Meredith was gunned down but noted this year that the letters are now fading with time. (AP Photo)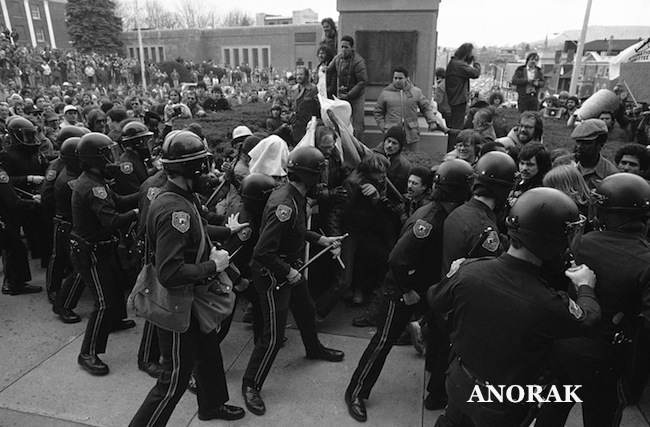 Demonstrators scuffled with Meriden police at the base of the steps of City Hall in Meriden, Connecticut on March 23, 1981 as they sought to confront members of the Ku Klux Klan who were holding a rally there. (AP Photo/Bob Child)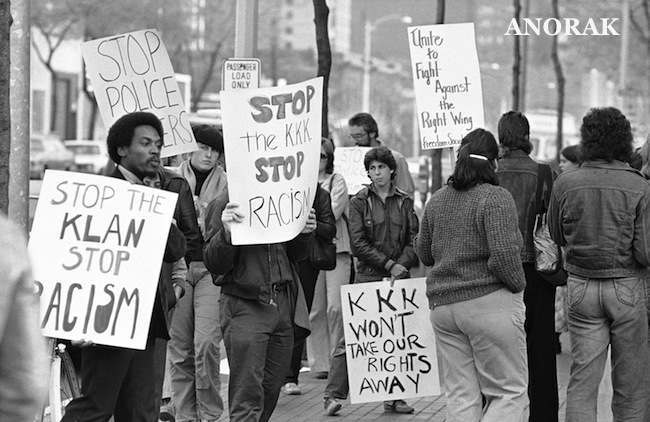 About 25 people gathered outside of KIRO radio's downtown Seattle offices on Oct. 30, 1980, to protest the station's interview with David Duke, former Grand Imperial Wizard of the Ku Klux Klan. (AP Photo)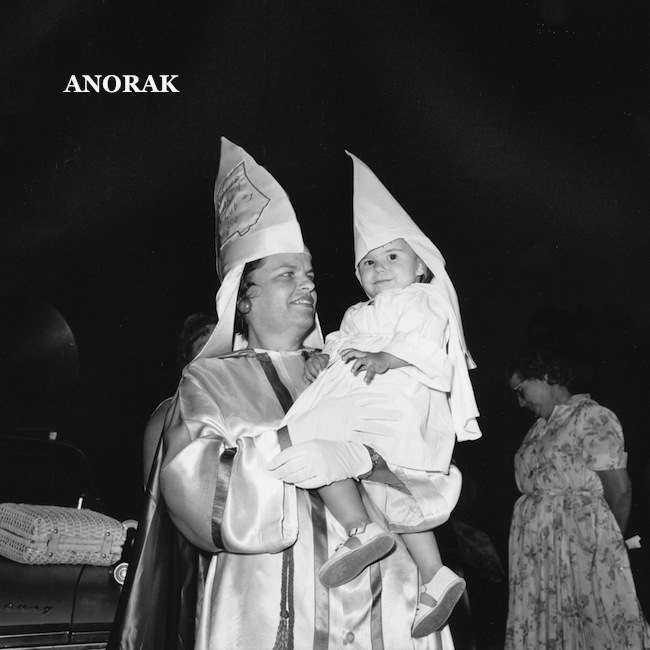 A member of the Ladies' Auxiliary of the United Klans of America, Inc., holds her young daughter, also robed in a Klan suit, at a Ku Klux Klan rally in Atlanta, Ga. on June 5, 1965. Some 600 persons attended the rally. The woman did not want to be indentified. (AP Photo)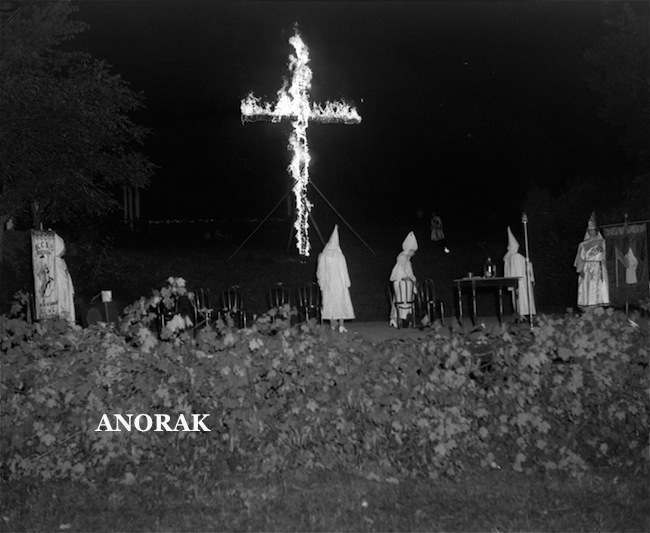 The scene at the German-American Bund camp, Camp Nordland, at Andover, N.J., August 9, 1940, as the New Jersey Realm of the Ku Klux Klan burned a large cross during rally staged in the interest of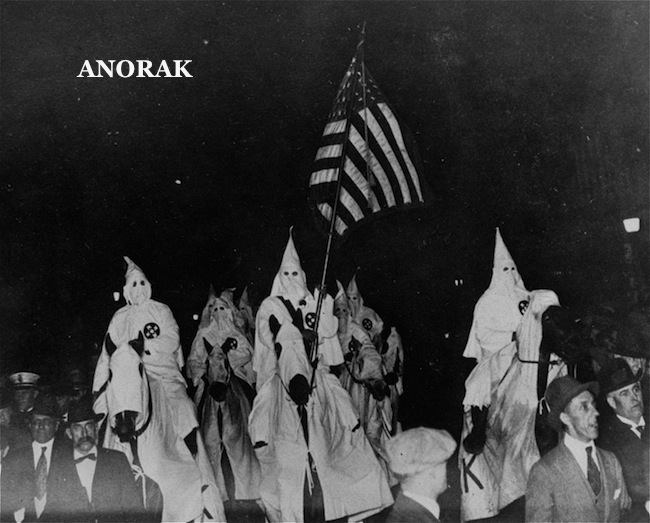 An unusual photo depicting the Ku Klux Klan in their regalia parading through the streets of Tulsa, Oklahoma, September 21, 1923, while the former Sheriff Bill McCullough, whose efforts to stop the parade were fruitless, can be seen to the left of the hooded horse, note the uniformed police marching alongside the Klansmen. (AP Photo)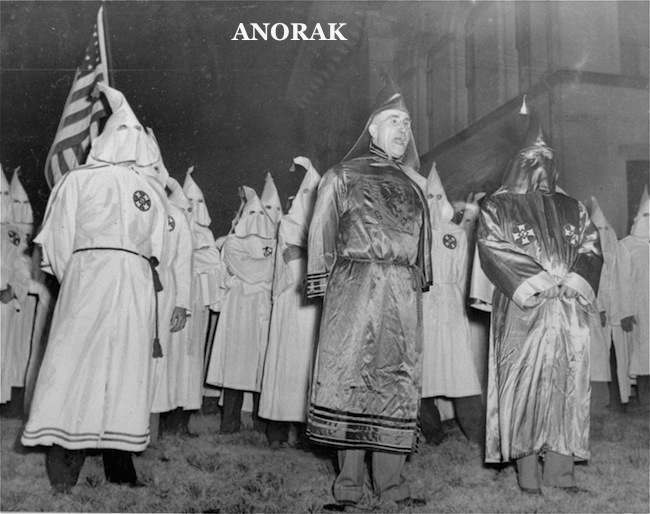 Dr. Samuel Green, center, Georgia Grand Dragon of the Ku Klux Klan, in opposing President Truman's Civil Rights Program, speaks at a Klan demonstration in Wrightsville, Ga., March 2, 1948. In his speech, Dr. Green said,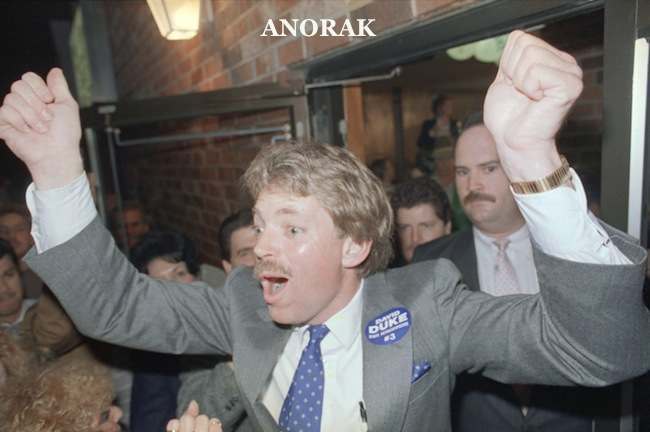 David Duke shouts to his supporters "we won" as he arrives at his Metairie, Louisiana campaign headquarters, Feb. 18, 1989. Duke, a former Ku Klux Klan Grand Wizard running as a Republican, squeezed out a 224-vote victory over David Treen, for a seat in the Louisiana Legislature. (AP Photo/Bill Haber)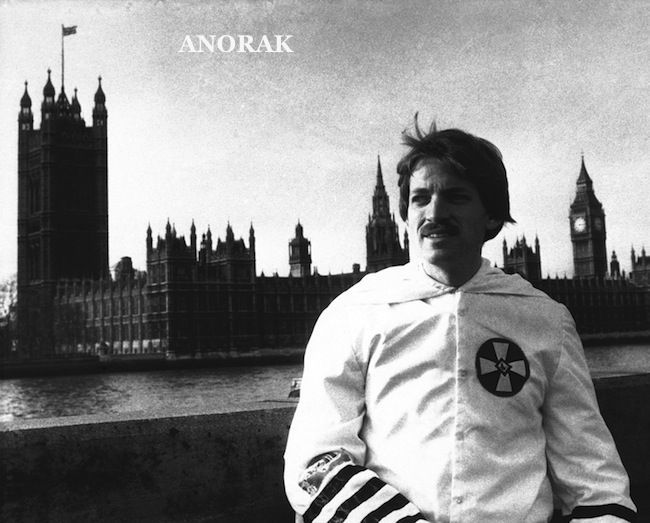 Ku Klux Klan leader David Duke, attired in his Klan robes, poses in front of the House of Parliament in London, March 7, 1978. Although banned, Duke, a 27-year-old American, entered Britain last week by way of a Skytrain flight from New York. (AP Photo)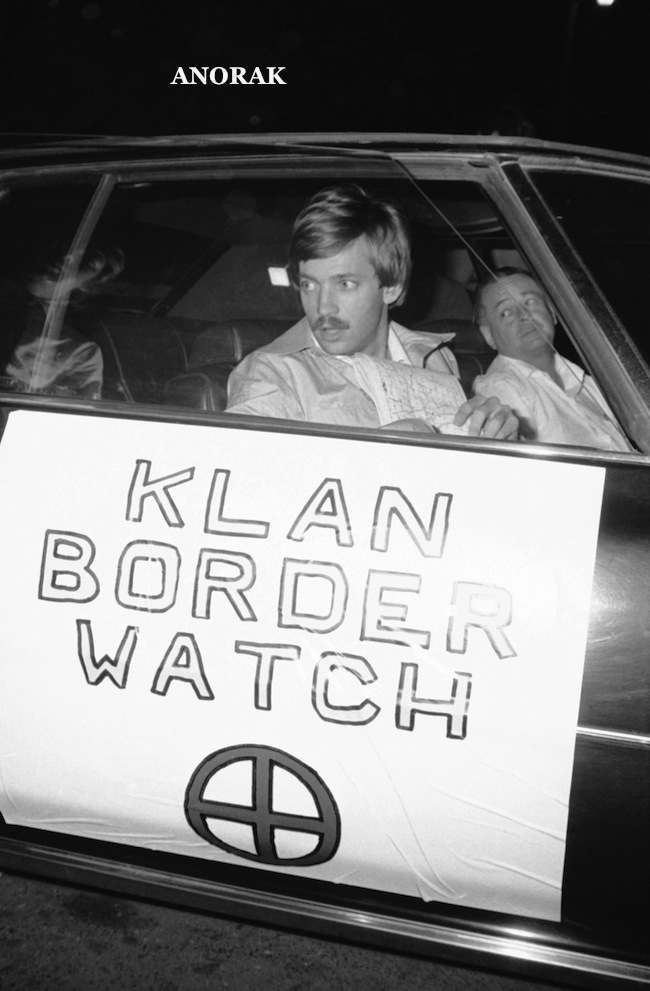 Ku Klux Klan leader David Duke, of Metairie, La., arrives at a roadside rendezvous with newsmen in Dulzura, Calif. to detail how Klansmen are dispersed along the border looking for illegal aliens entering the country, Oct. 26, 1977. (AP Photo/Harold Valentine)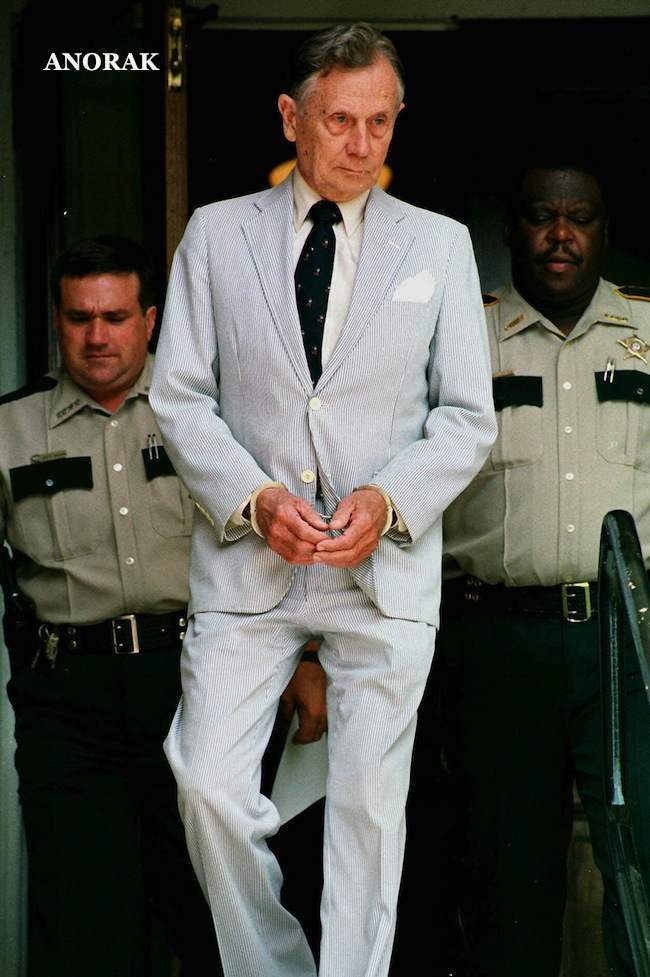 Former Imperial Wizard of the Ku Klux Klan Samuel H. Bowers of Laurel, Miss., is escorted by lawmen from the Forrest County Courthouse, in Hattiesburg, Miss., in this Friday, Aug. 21,1998 file photo following his conviction on murder and arson charges stemming from the 1966 firebombing death of black Hattiesburg businessman Vernon Dahmer Sr. Bowers, who was serving a life sentence for the 1966 bombing death of the civil rights leader, died Sunday, Nov. 5, 2006 in a state penitentiary, officials said. He was 82.(AP Photo/Rogelio Solis, File)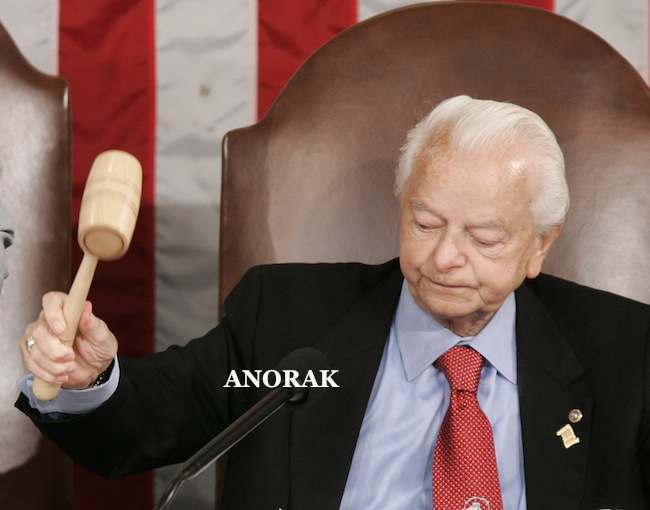 In this April 30, 2008, file photo Senate President Pro Tem Sen. Robert Byrd., D-W.Va., bangs the gavel on Capitol Hill in Washington prior to a joint meeting of Congress. Byrd, a former member of the Ku Klux Klan and a one-time opponent of civil rights legislation, is endorsing Barack Obama for the Democratic presidential nomination and says Obama has the qualities to end the Iraq war. In a written statement, Byrd called Obama "a shining young statesman, who possesses the personal temperament and courage necessary to extricate our country from this costly misadventure in Iraq." (AP Photo/Susan Walsh, File)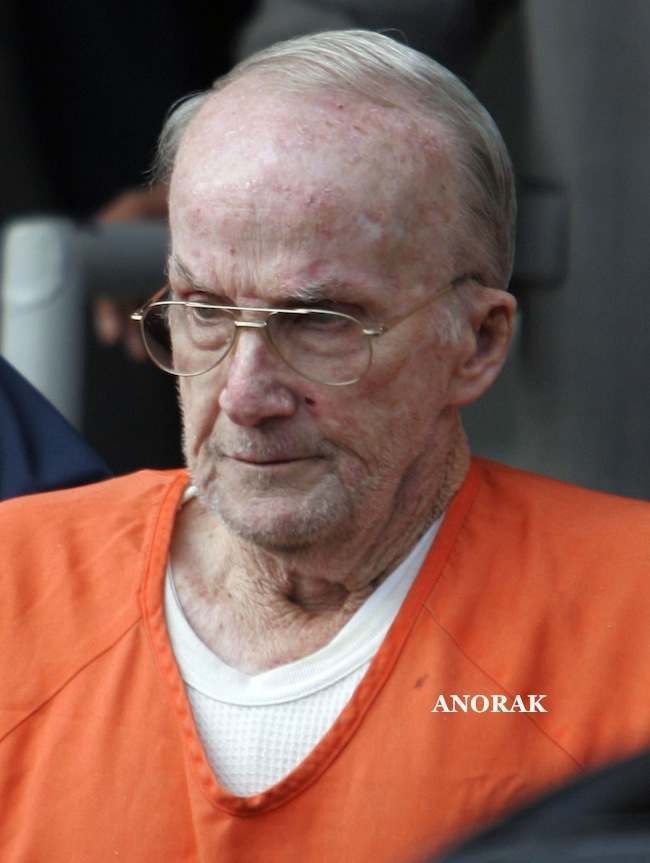 In this Jan. 29, 2007 picture, James Ford Seale is escorted to a waiting prison van at the federal courthouse in Jackson, Miss. A federal appeals court on Tuesday, Sept. 9, 2008 overturned the conviction of the reputed Ku Klux Klan member serving three life sentences for his role in the 1964 abduction and killing of two black teenagers, Charles Eddie Moore and Henry Hezekiah Dee, both 19. (AP Photo/Rogelio V. Solis, File)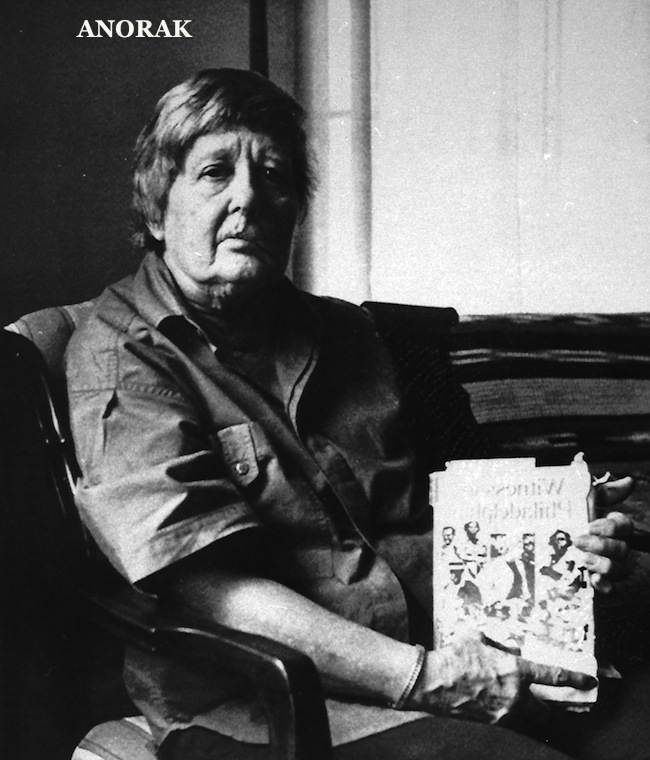 Florence Mars poses with her book "Witness in Philadelphia" in this Jan. 6, 1989 file photo in Philadelphia, Miss. Mars, whose work on a book about the 1964 slayings of three civil rights workers won praise from many but made her the target of the Ku Klux Klan, has died. She was 84. Mars suffered from Bell's palsy and other ailments and died Sunday, her Godson, Mark Howell, said. (AP Photo/FILE)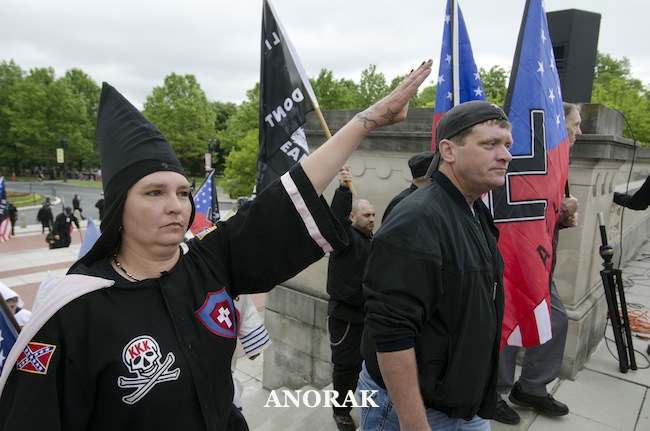 Members of the National Socialists Movement and the White Knights of the Klu Klux Klan march Saturday April 21, 2012, at the Capitol in Frankfort, Ky. At least 70 law enforcement officers were present to control a crowd of 150 to 200 demonstrators when a group of neo-Nazis and Ku Klux Klan members rallied against illegal immigration on the steps of the Kentucky Capitol. (AP Photo/John Flavell)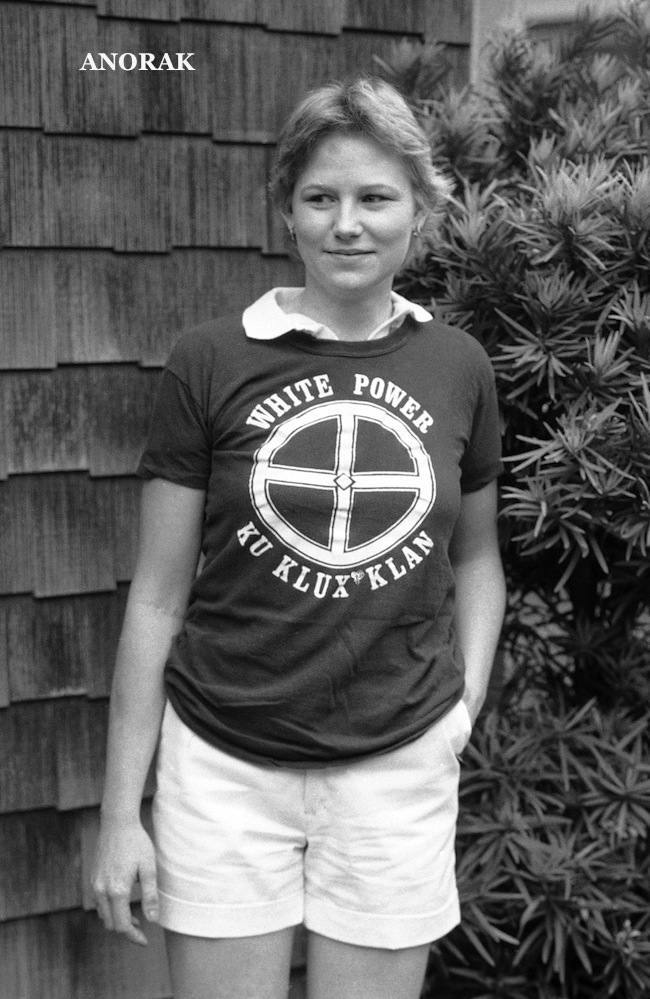 Donna Smalley, 24, a divorced mother with two children, lives outside of New Orleans, La., shown July 22, 1982. She says she became an active member of the Ku Klux Klan for the positive feedback she gets from other women. When you ask most of these Klansladies why they don robes and burn crosses, most will say it's for their children. They feel horror at society'­s decaying morals. (AP Photo)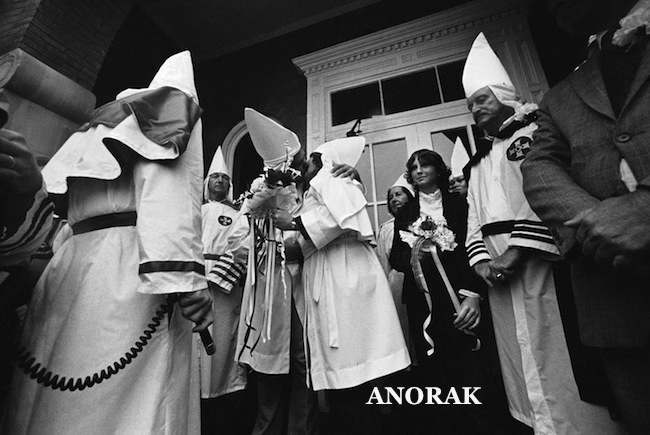 An unidentified couple wearing robes of the Ku Klux Klan kiss after wedding ceremony at the Paulding County Courthouse in Dallas, Georgia on Dec. 11, 1982 after a Klan march through the town. The couple refused to give their names. The march was held after the Klan was denied use of the high school gymnasium for a rally. (AP Photo/Ben Baxter)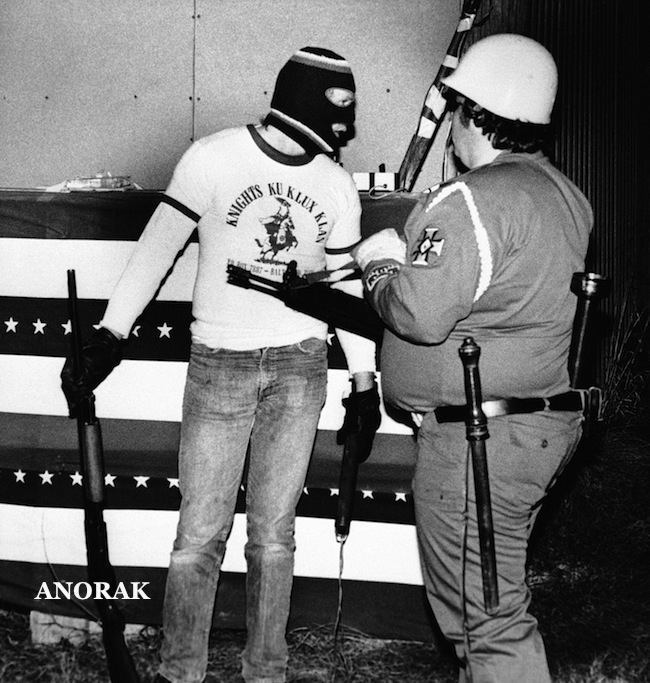 Unidentified Ku Klux Klan security guards armed with rifles stand near the speaker platform during a rally in Preston, Maryland on Nov. 8, 1981. (AP Photo/Tom Keating)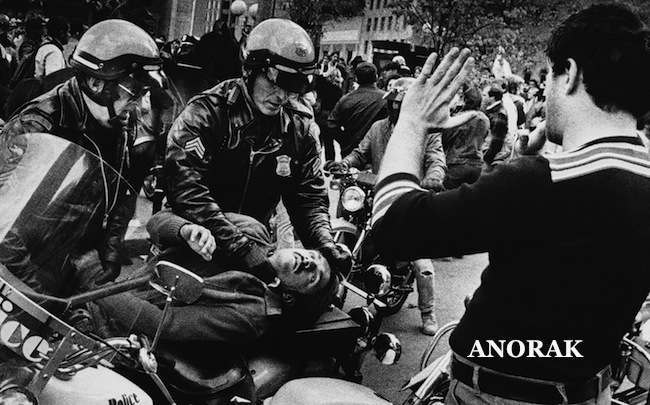 Helmeted Boston police officers work to restrain an unidentified man at Boston's City Hall Plaza on Oct. 16, 1982 as an onlooker holds up his hands after demonstrators clashed with police during a Ku Klux Klan rally. (AP Photo/Bill Polo)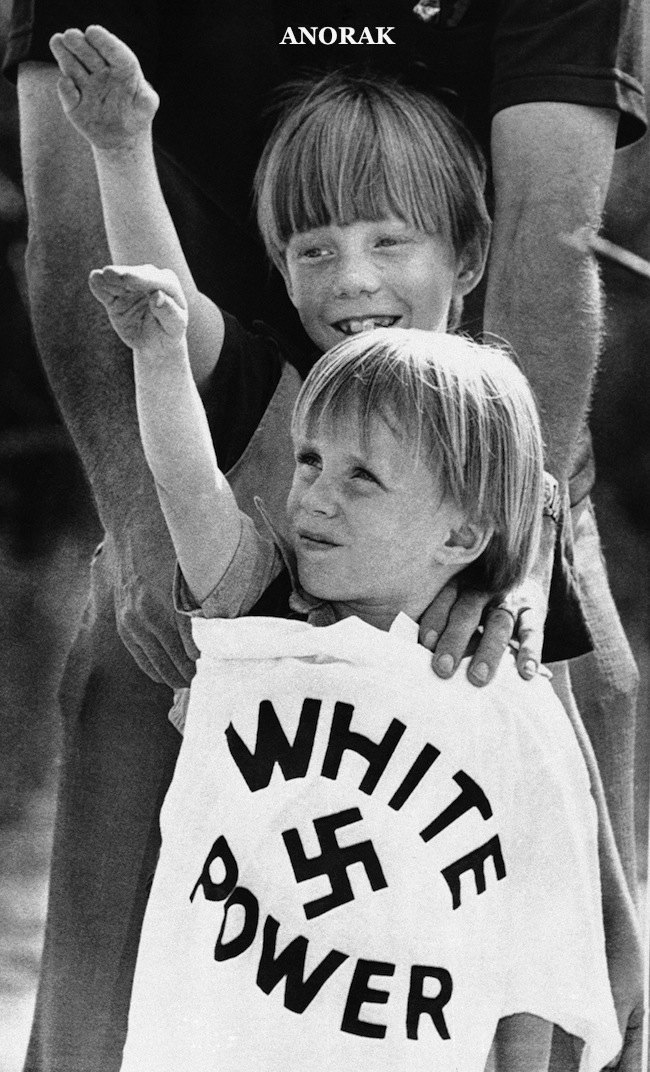 These two young boys raise their arms as a white power T-shirt is held in front of them during a rally held near Benson, North Carolina on April 20, 1980. About 50 Nazis, Ku Klux Klansmen and right-wing sympathizers attended the rally. (AP Photo/Bob Jordan)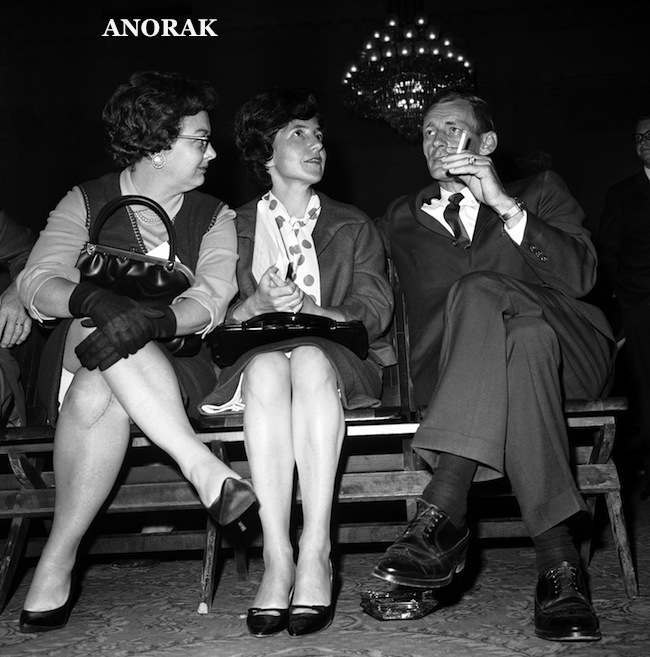 Robert Shelton, Ku Klux Klan grand dragon his wife, Betty, center, and Mrs. Carol Long sit in the hearing room of the House Un-American Activities Committee in Washington on Oct. 19, 1965 after refusing to answer committee question about the Klan. Mrs. Long is alleged to be a secretary employed by the Klan at Tuscaloosa, Alabama. (AP Photo/CPG)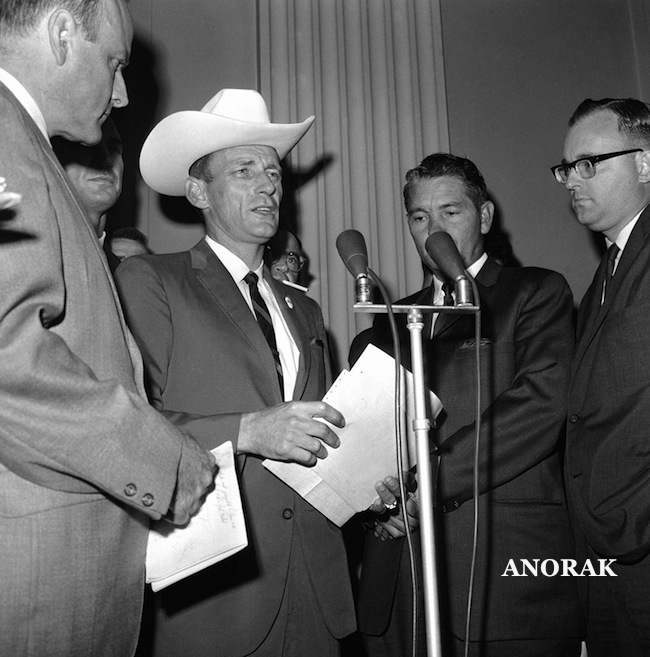 Ku Klux Klan Imperial Wizard Robert M. Shelton, wearing a white sombrero, denounces as an inquisition the current probe of the KKK by the House Committee on Un-American Activities at the end of the session in Washington on Oct. 21, 1965. Shelton and Klan leaders from both North Carolina and Virginia have refused to answer committee questions on constitution al grounds. Shelton said the hat was a gift from former friends of LBJ in Texas because he once called President Johnson a liar. (AP Photo/CPC)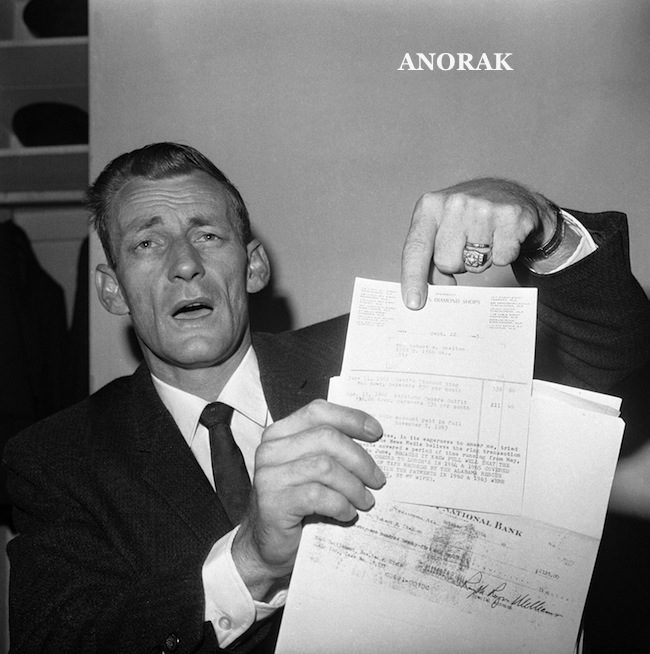 Robert M. Shelton, Ku Klux Klan Imperial Wizard, displayed records, which he said, disproved implications that Klan funds bought him a diamond ring. In his hotel room Shelton talked with newsmen while the House Committee on Un-American Activities continued investigation of Klan leaders Oct. 25, 1965. Shelton said the ring, on left hand, was a present from his wife. He accused congressional investigators of a devilish conspiracy to smear him. (AP Photo/Charles Gorry)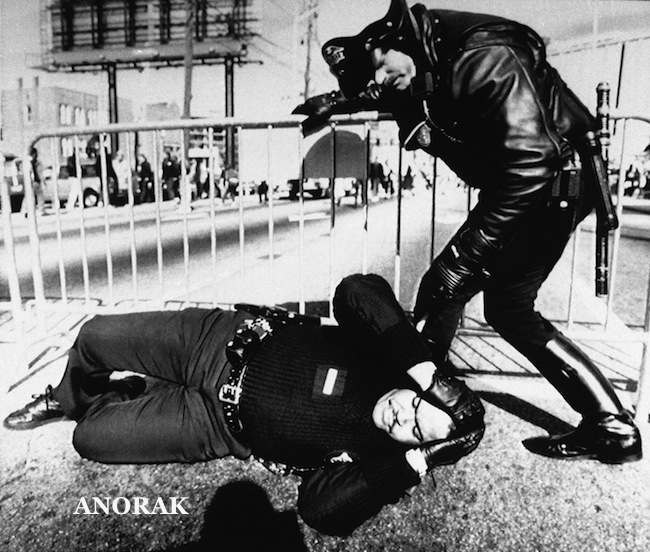 An Atlanta policeman grabs his head after he was hit by a rock thrown by counter-demonstrators at a Ku Klux Klan parade protesting observance of the birthday of the Rev. Martin Luther King, Jr., in Atlanta Saturday, Jan. 21, 1989. About 2,000 officers and National Guardsmen protected six Klan marchers from rocks, sticks and bottles from about 1,000 counter-protesters. (AP Photo/Curtis Compton)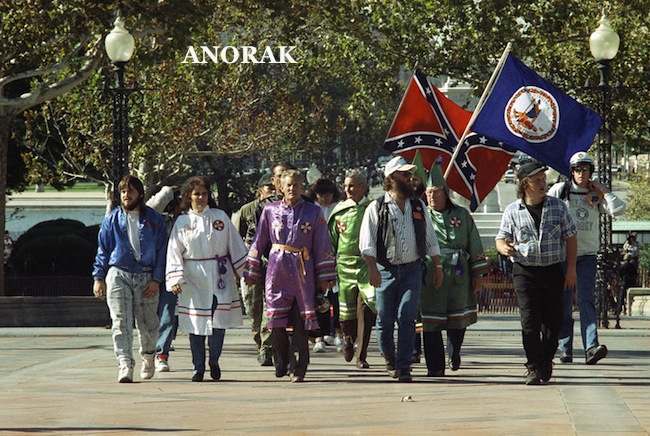 About 30 Ku Klux Klan members march towards the U.S. Capitol in Washington Sunday, Oct. 29, 1990 after walking from the Washington Monument. Forty anti-Klan demonstrators were arrested by District of Columbia police for disorderly conduct and other infractions. (AP Photo/Bill Kalis)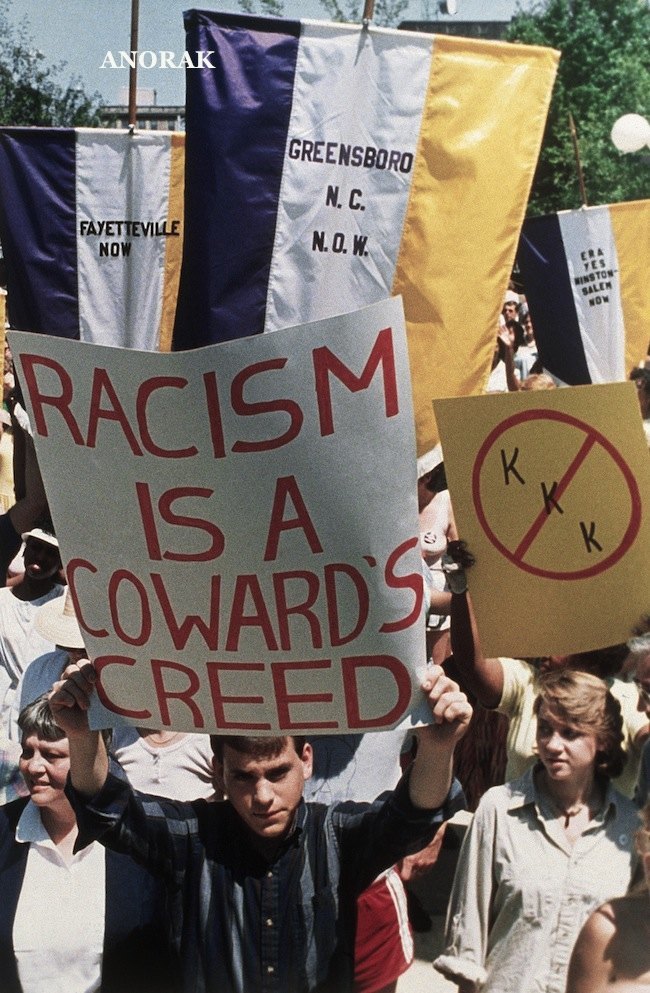 Members of the Greensboro Coalition for Unity and Justice show their banners during an anti Ku Klux Klan rally in downtown Greensboro, North Carolina Saturday, June 6, 1987. (AP Photo/Bob Jordan)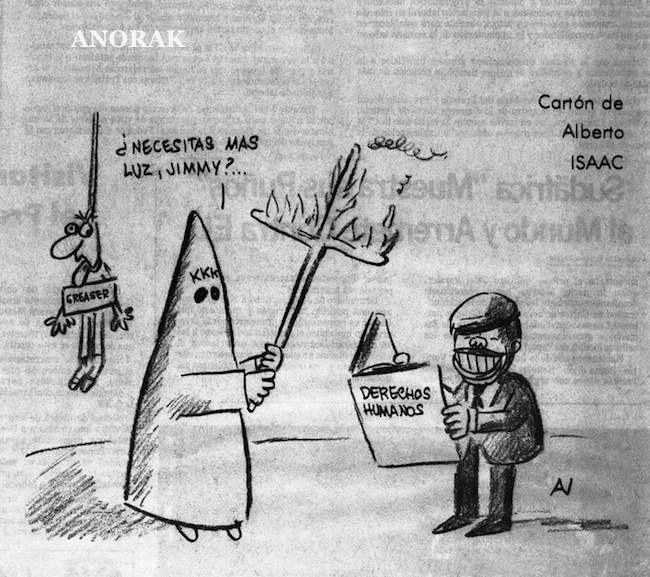 This cartoon, published by the Mexico City newspaper El Sol, illustrates a Mexican's view of announcements that the Ku Klux Klan would start trying to detain illegal aliens along the U.S. border in Mexico City, Sunday, Oct. 25, 1977. The Klansman is asking President Carter, holding human rights book, Do you Need More Light? (AP Photo)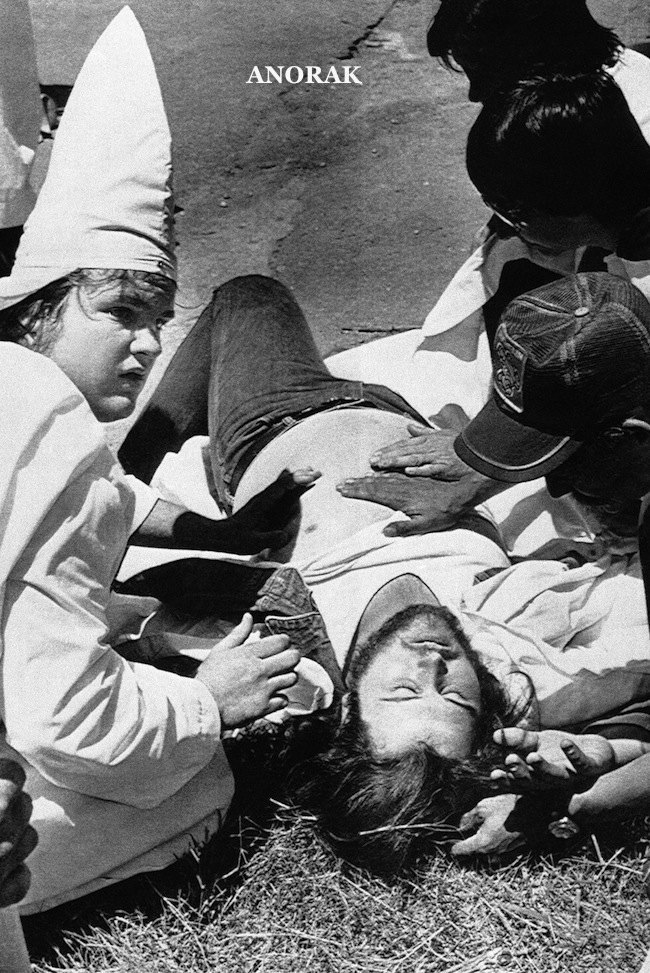 Fellow KKK members comforts 24-year-old, David Kelso, who was shot during a racial confrontation with blacks marching to support Tommy Lee Hines, 27, who was convicted earlier this year for raping a white woman in Decatur, Alabama, May 26, 1979. Approximately 100 robbed KKK 100 SCLC Marchers Lashed in Decatur. According to reports the gunfire and club swinging melee left two KKK and a Black woman wounded. (AP Photo)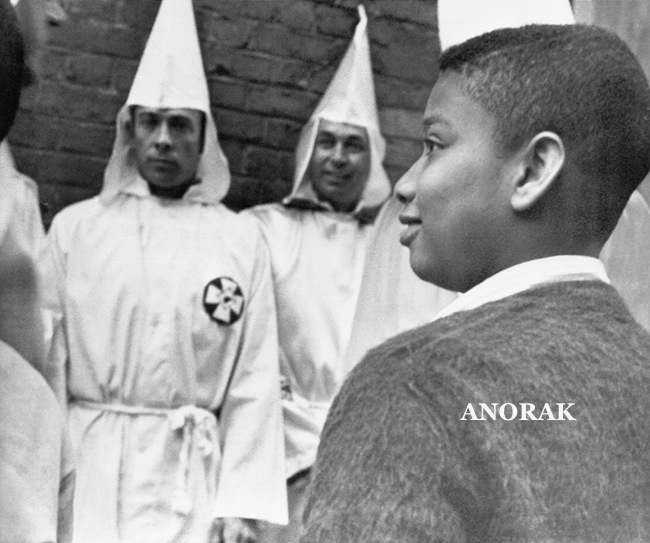 A young Negro boy smiles tolerantly at hooded Ku Klux Klansmen as they staged a march in downtown Durham, North Carolina, Saturday, April 24, 1965 preliminary to a mass rally. (AP Photo)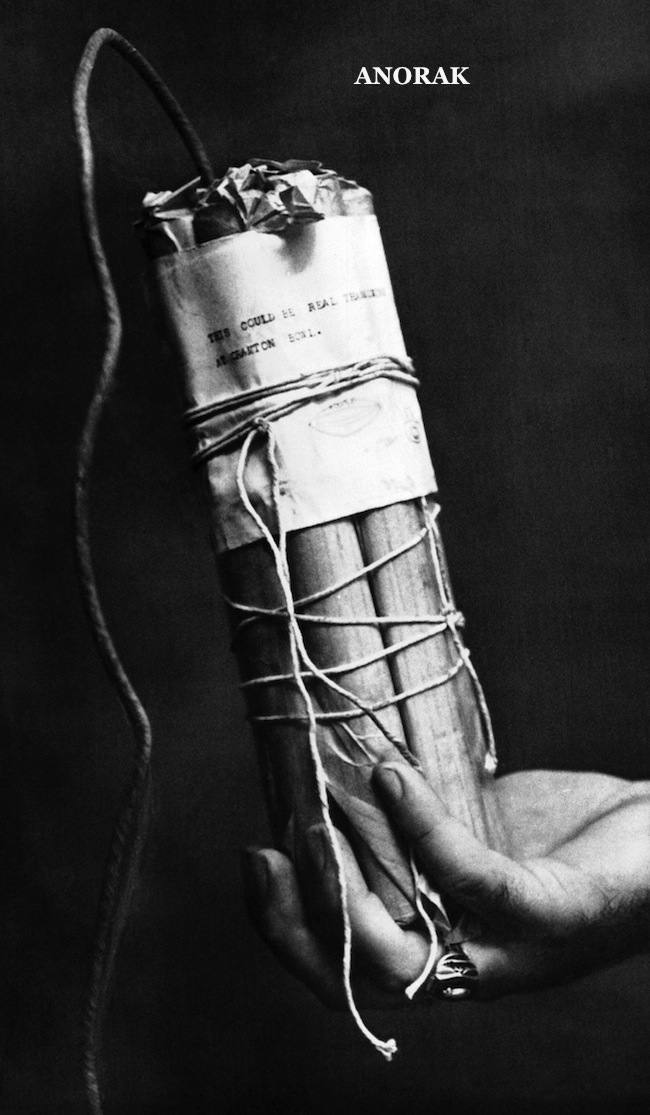 This fake bomb, pieces of wood wrapped brown paper, was found in Montgomery, Nov. 23, 1960, at the entrance of a stadium where a controversial Negro college football game is scheduled. A Ku Klux Klan was beside it. A grim note tied to the fake bomb said:This could be thanksgiving day at Cramton Bowl. A number of race-baiting signs were found around the city. (AP Photo)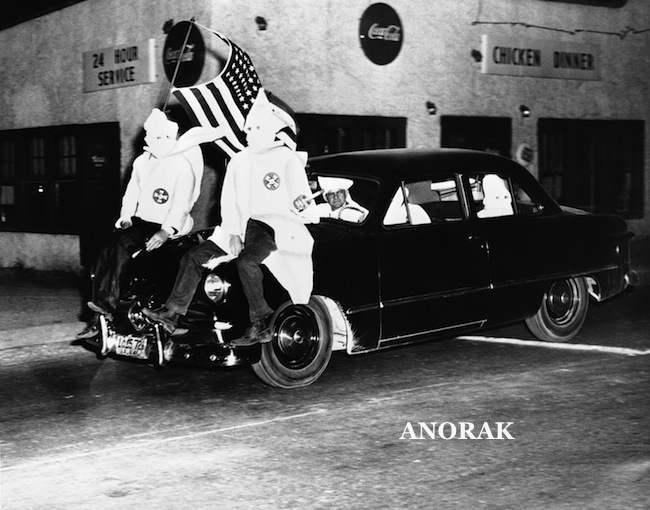 A car bearing several robed and hooded figures races through the streets of Gadsden, Ala., March 5, 1949, during an 18-car parade staged by the Ku Klux Klan. Observers said all license tags were uncovered in accordance with Gov. James E. Folsom's order. One of the cars broke the line of march to chase the car of the photographer who made the picture, but gave up the chase upon reaching a downtown intersection. No other disturbances were reported. (AP Photo)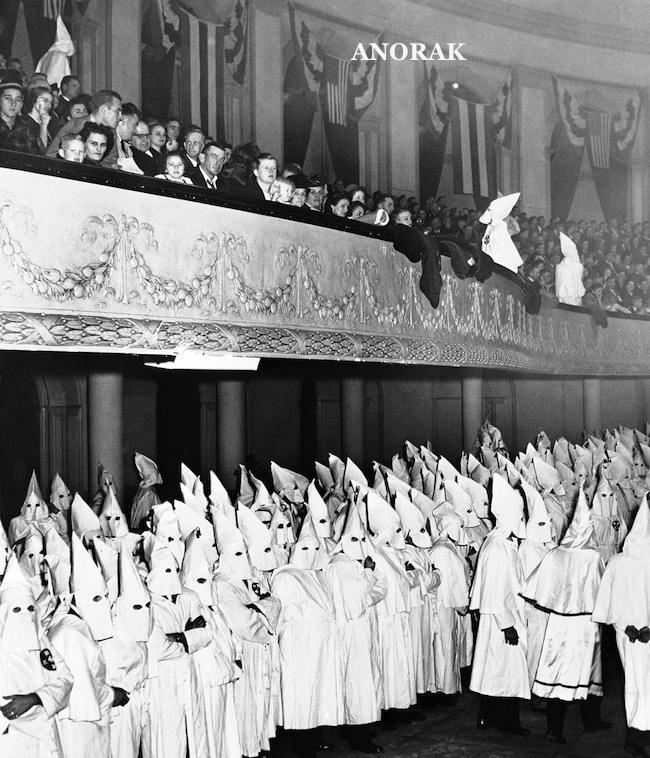 This is part of a crowd of 2,500 masked and robed Klansmen who turned out in the Macon, Ga., city auditorium, Dec. 10, 1948, for a public initiation of 300 new members of the hooded order, Ku Klux Klan guards mingle with the spectators packing the balcony. (AP Photo)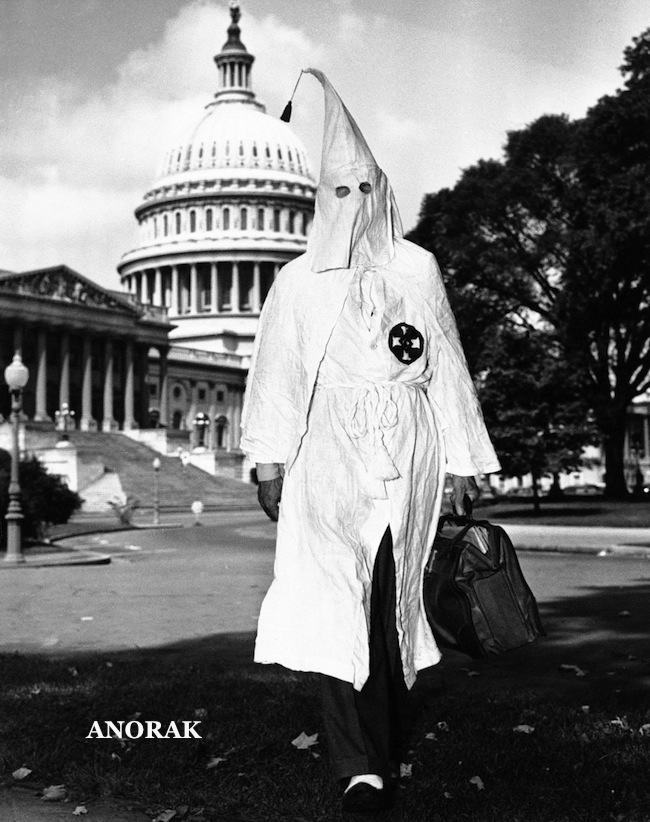 A man attired in white robes leaves the Capitol grounds in Washington, D.C., Sept. 10, 1947, after being ordered away by police who escorted him from infront of the Un-American Activities Committee room. Lt. Marlan Wilson of Capitol Police said the man identified himself as Stetson Kennedy, 30, of Jacksonville, Fla. (AP Photo)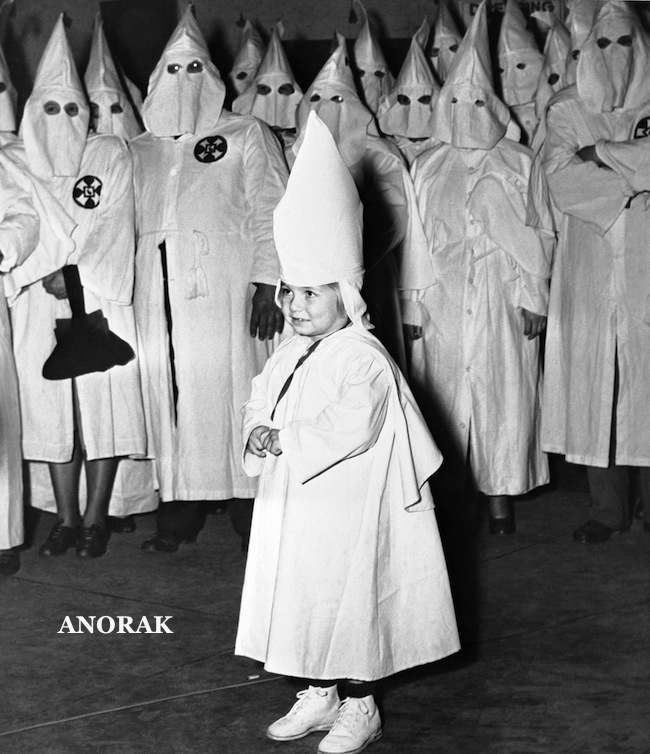 A small girl, wearing the traditional Ku Klux Klan regalia, makes her appearance at the city auditorium in Macon, Ga., Dec. 10, 1948, during a mass initiation of 300 candidates into the hooded order. About 150 women were among the masked group. (AP Photo)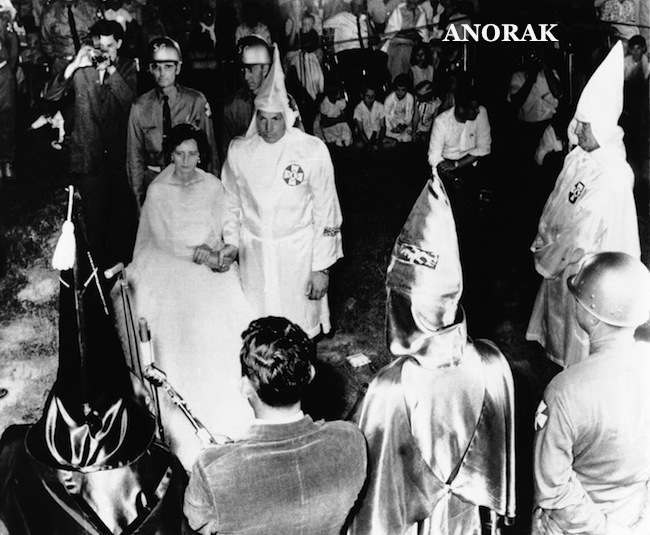 James Earl Taylor and Bebbie Irene Tyson were married in Farmville, North Carolina, Saturday, May 22, 1965, in the first public Ku Klux Klan wedding in North Carolina since 1926. About 5,000 people attended the rally in the heart of North Carolina's tobacco country. Bride wore a light blue full length, old southern style party dress. (AP Photo)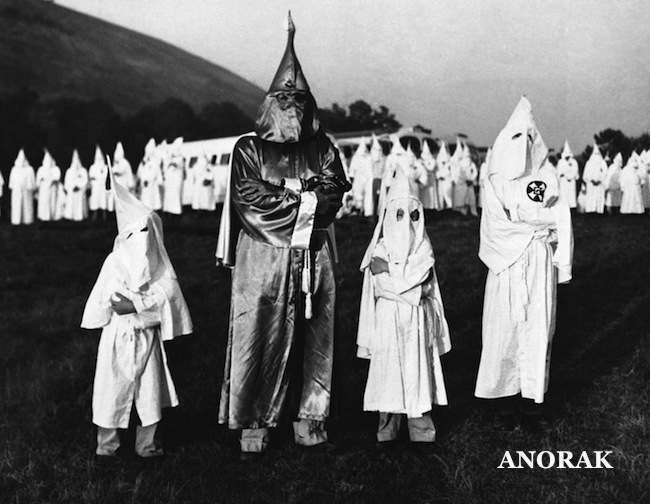 Two little mascots, equipped with their own robes and hoods, flank Dr. Samuel Green, Ku Klux Klan Grand Dragon, at initiation ceremonies in Atlanta, Ga., July 23, 1948, in which 700 were admitted to the hooded order and a huge cross burned. (AP Photo)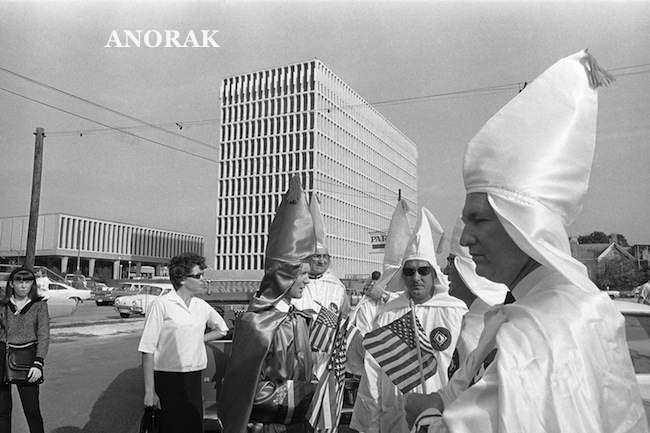 Royce McPhail, left, spokesman for the Ku Klux Klan in Texas, gives instructions to fellow Klansman before a five block march on the Texas Capitol in Austin, Sunday, Nov. 7, 1965. About thirty hooded, but unmarked Klansmen staged the march which they said was a demonstration supporting U.S., policy in Viet Nam. Building in background is Austin's federal building, where President Lyndon Johnson has an office. (AP Photo/Ted Powers)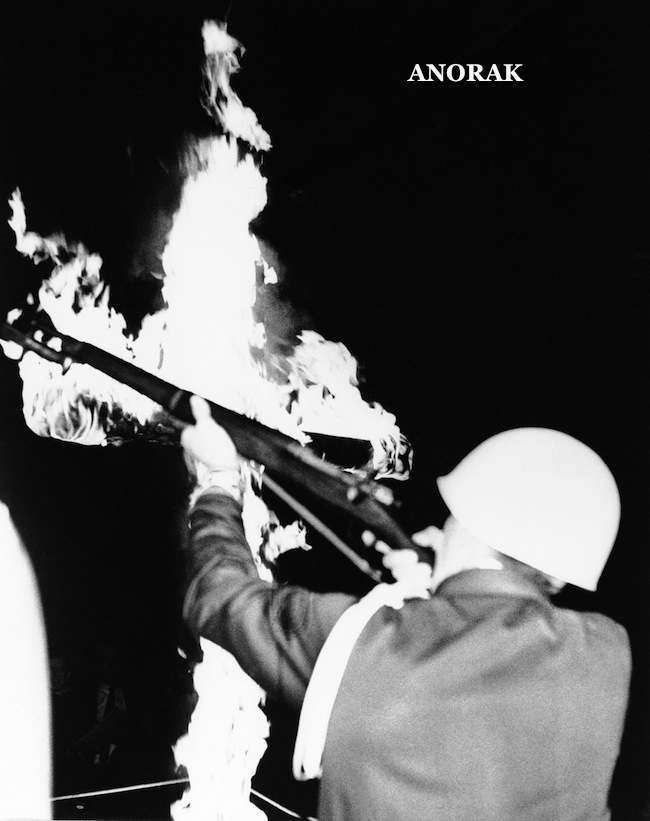 A helmeted Ku Klux Klan guard, fires a salute in front of a burning cross at a Klan rally near Rising Sun, Md., Nov. 6, 1965, as part of a ritual honoring two deceased Klan leaders. The salute was to honor Dan Burros, New York, Grand Dragon of the Klan two-apparently committed suicide in Reading, Pa., and Matt Murphy, a New York attorney who was killed in an auto accident. An estimated 3,000 persons attend the rally. (AP Photo)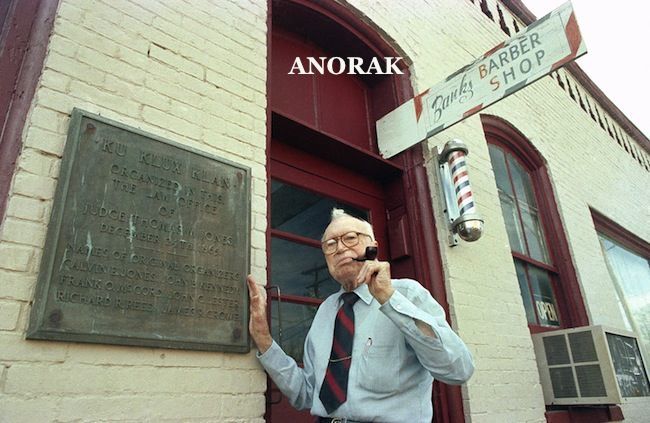 Barber shop in Pulaski, Tennessee, Jan. 14, 1986, in the building where the Ku Klux Klan was organized in 1865. (AP Photo/Mark Humphrey)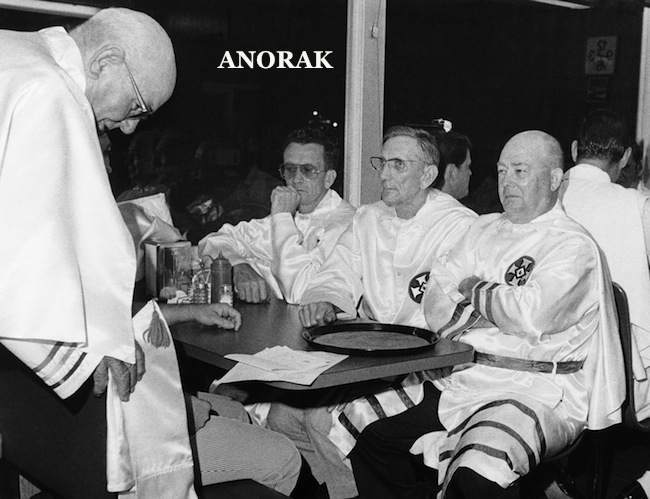 The Florida Grand Dragon, John Paul Rogers, center, chats with fellow members of United Klans of America at a restaurant in Lake Wales, Florida, Feb. 20, 1975, in effort to bring the Klan members closer to the public and encourage new membership. The Klansmen have been surprising local dinners in area restaurants when they show up for coffee breaks in their Klan outfits and talk to anyone who is interested. (AP Photo)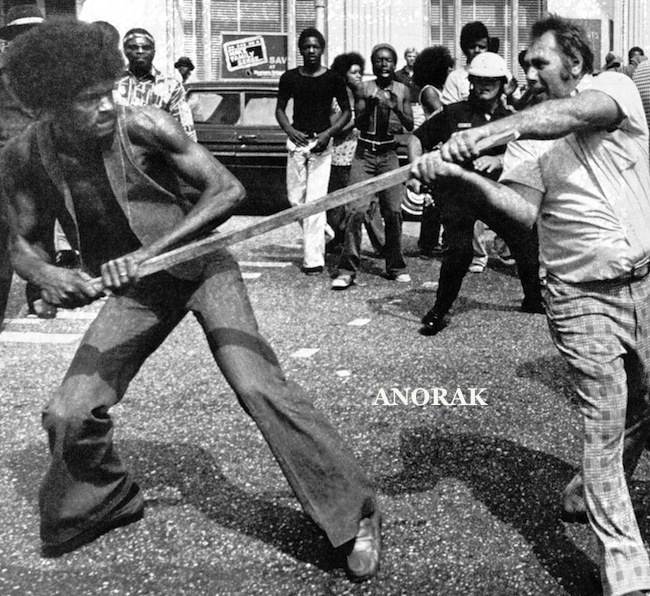 A member of the Ku Klux Klan and black man struggle over possession of a stick during an encounter in downtown Mobile, Alabama, Saturday, Sept. 24, 1977. A large group of blacks disrupted the Klan's march, resulting in at least two encounters between the two groups. (AP Photo)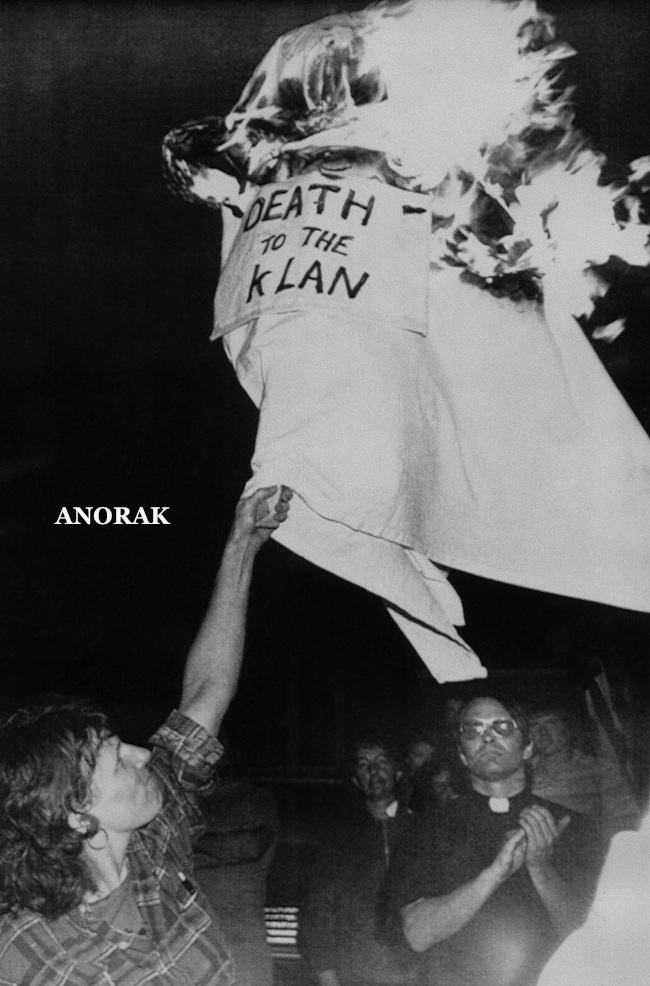 An anti-Klan rally protestor holds aloft a burning Ku Klux Klan effigy at a Klan demonstration in Barnegat, New Jersey, Saturday, August 12, 1979. Several arrests were made during the demonstration as more than 100 anti-Klan demonstrators confronted 19 white-robed Klansmen. (AP Photo)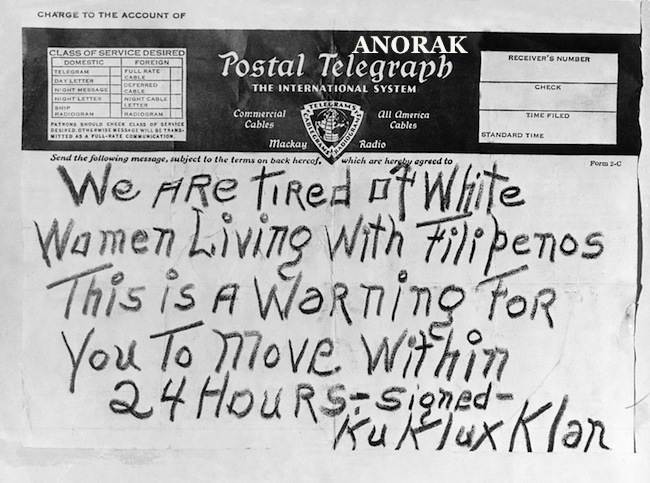 An eight-man delegation handed the above note shown May 7, 1938, to Mrs. Francaskio Rubia of Miami, Fla., wife of a Filipino cook aboard the United States Coast Guard cutter Pandora. Mrs. Rubia's sister, Mrs. Pedro Acoba, is the wife of a Filipino messman aboard the same cutter. The Pandora bases at Miami. (AP Photo)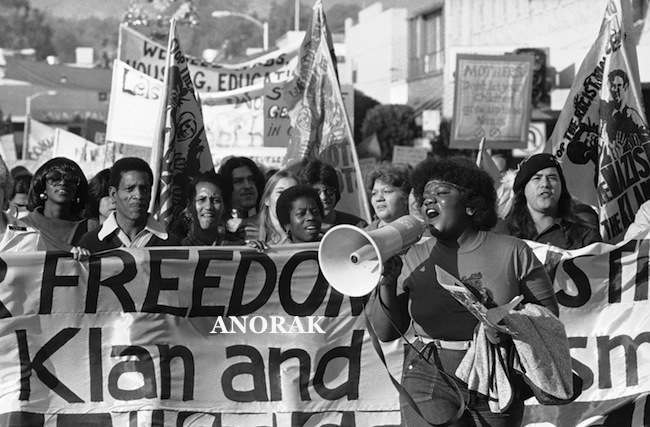 Civil rights groups parade through the streets of Oroville, California, Saturday, Dec. 11, 1982, where they were protesting Nazi and KKK activities in the Northern California town. (AP Photo/Gary Reyes)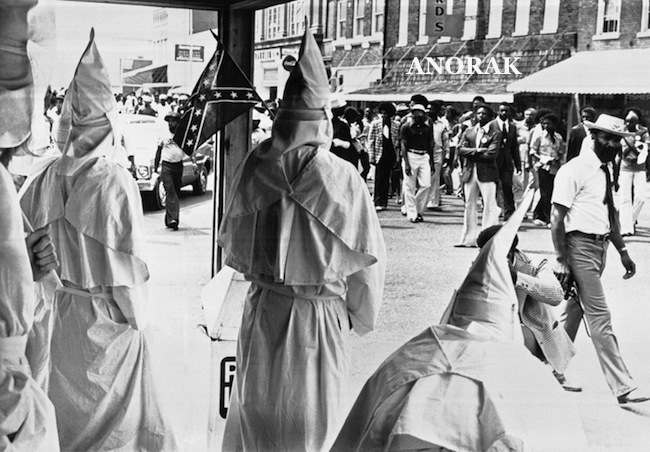 Robed Ku Klux Klansmen watch from sidewalk, as black demonstrators march through Okolona, Miss., Saturday, August 26, 1978, to demand increased minority hiring. There were no major incidents reported between the 36 Klansmen and some 300 black demonstrators. The marchers said they intend to continue a boycott of area stores, which has been in progress over the past week. (AP Photo/JM)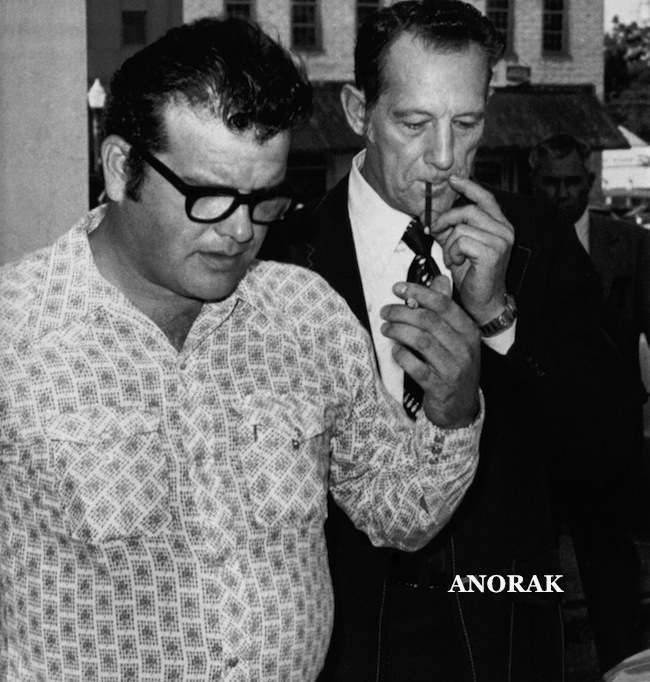 Two Ku Klux Klansmen, Collie Leroy Wilkins Jr., left, and Eugene Thomas, stand outside the courthouse at Hayneville, Ala., Sept. 18, 1978 where they were subpoenaed to testify in a new grand jury investigation of the 1965 slaying of a civil rights worker, Viola Liuzzo of Detroit, Mich. Wilkins and Thomas, who were sentenced to prison for violating Mrs. Liuzzo's civil rights, have said their accuser, onetime FBI informer Gary Thomas Rowe, was the one who killed the Detroit woman. (AP Photo)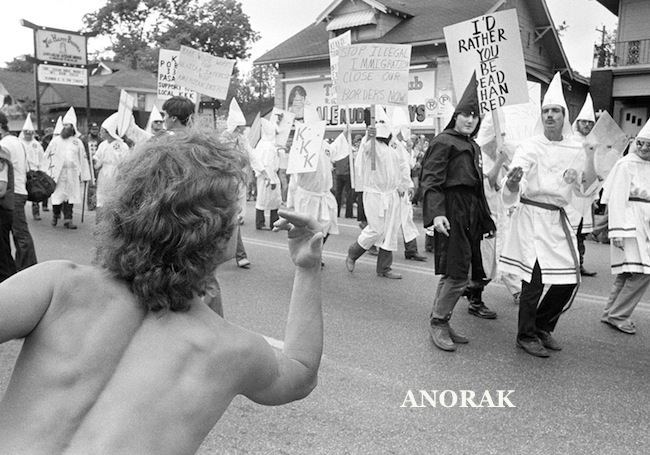 A spectator gestures to the Ku Klux Klan marchers as the KKK paraded through the heart of Houston's gay community Saturday, June 9, 1984. About 55 members of the Klan marched under the protection of hundreds of policemen. There was a lot of shouting between the opponents, but no clashes. (AP Photo/RC)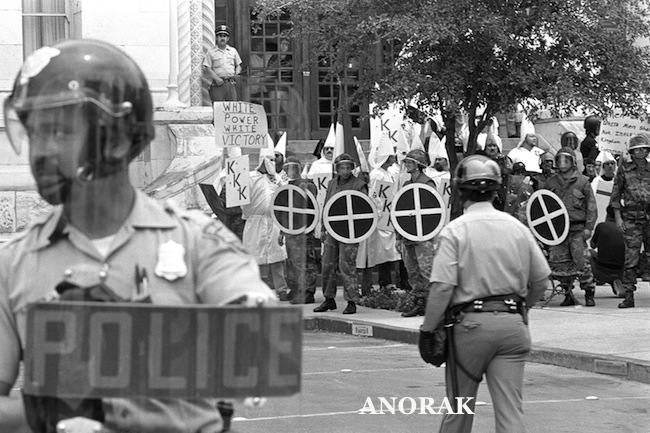 Members of the Ku Klux Klan gather at the San Antonio City Hall Sunday, May 2, 1983 after their 3-block march through downtown. Police escorted the Klan on their march, keeping spectators some distance from the marchers. No injuries or arrests were reported. (AP Photo/David Breslauer)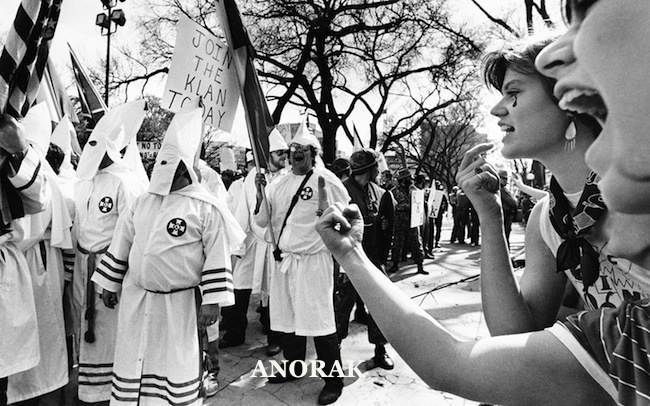 Anti-Klan demonstrators, right, express their feelings toward Ku Klux Klan members, left, who rallied on the Capitol grounds and were shouted down by as many as 1,500 hecklers in Austin, Texas, Saturday, Feb. 21, 1983. The parade turned into a rock-throwing riot as Klansmen left the Capitol. Twelve demonstrators and police were injured. (AP Photo/Daemmrich)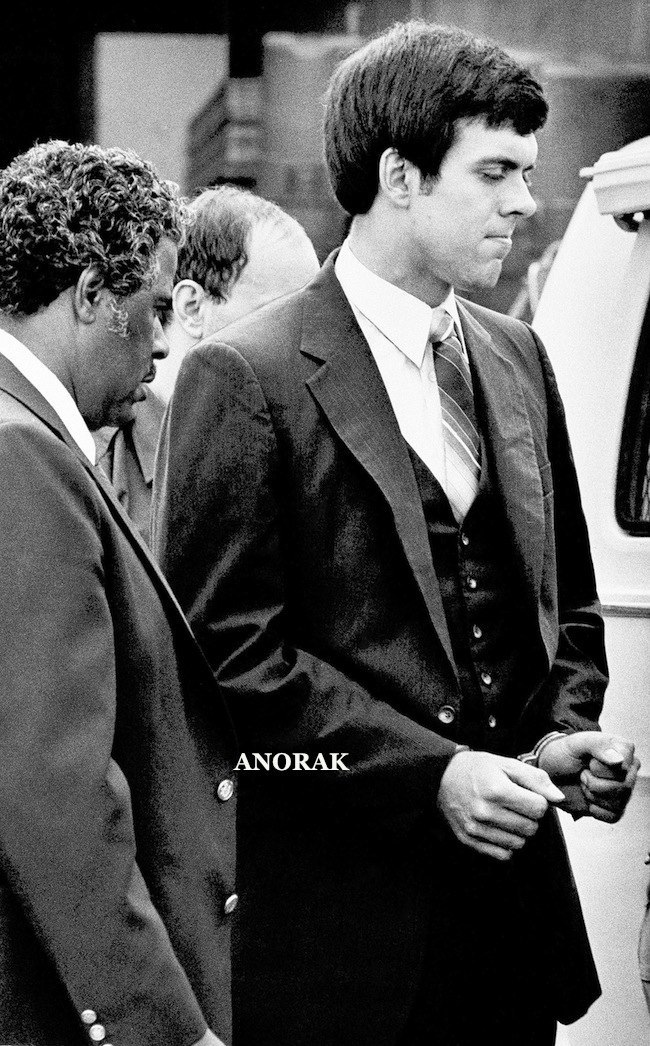 Ku Klux Klan grand wizard Don Black of Birmingham, Alabama, right, walks handcuffed to a police van for arraignment on charges of conspiring with nine others to overthrow the government of Dominica in the Caribbean. Escorting Black to court is Deputy U.S. Marshal Claude Mouton in New Orleans, Wednesday, May 14, 1981. (AP Photo)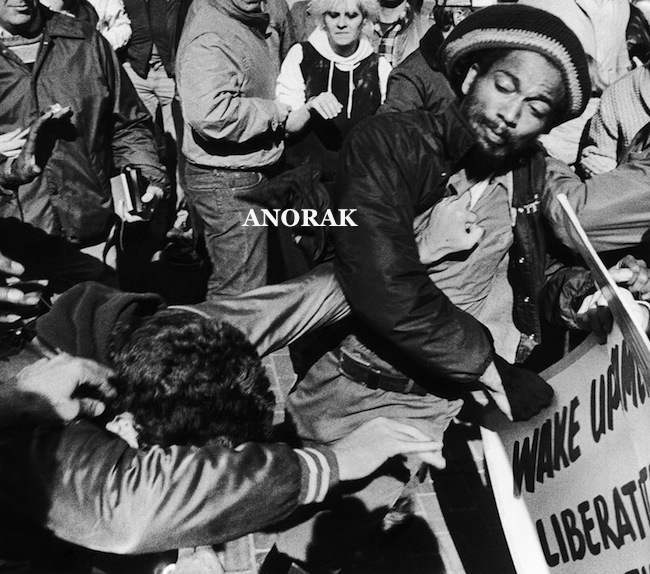 Two unidentified men mix it up in what was described as an isolated incident when the two men began fighting prior to the scheduled arrival of a Ku Klux Klan contingent which drew a crowd of demonstrators in City Hall Plaza in Boston, Saturday, Oct. 16, 1982. (AP Photo/Bill Polo)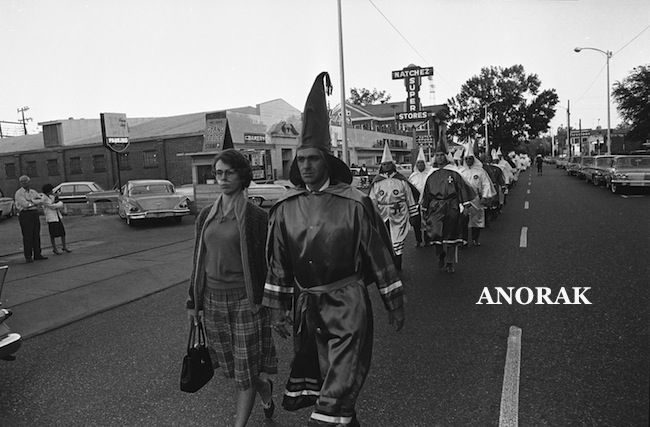 Mississippi Ku Klux Klan Grand Dragon E.L. McDaniel and wife lead nearly 600 whites including over 100 robed Klansmen down the streets of Natchez, Mississippi Oct. 30, 1965, just two hours after 1000 African Americans staged a protest march along the same route. Both groups marched to the Adams County Courthouse. (AP Photo)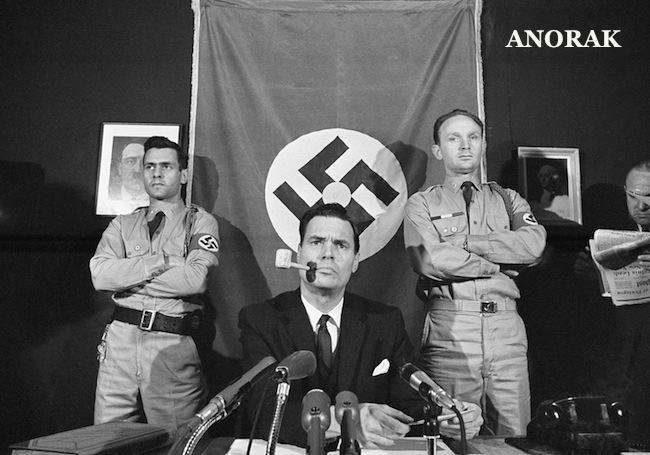 George Lincoln Rockwell, leader of the American Nazi Party holds a news conference in Arlington, Virginia, Nov. 3, 1965. Rockwell discussed the suicide in Reading, Pa., of Daniel Burros who was a member of Rockwell's outfit and named by the House Committee on Un-American Activities as Ku Klux Klan leader in New York. Rockwell said "If Burros had come and told me the truth I believe we could have straightened it out. Burros killed himself after his Jewish heritage was disclosed. At left is Matt Koehl, and at right is Alan Welch, deputy commander. (AP Photo/Harvey Georges)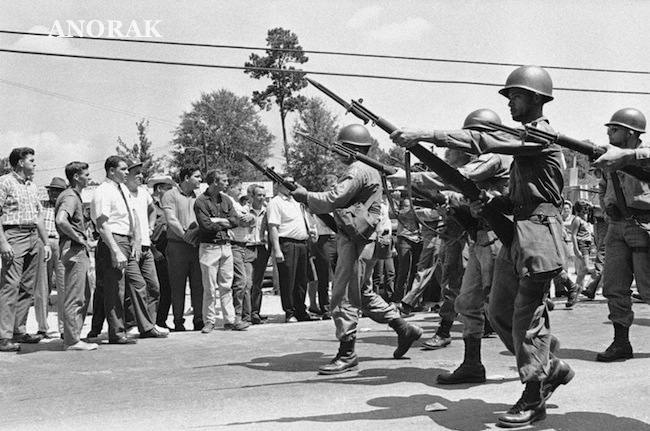 Louisiana National Guardsmen hold their rifles with fixed bayonets at ready as they pass a group of whites watching a civil rights march en route to the state capitol at Baton Rouge, Louisiana on August 18, 1967. Hundreds of guardsmen and state police are escorting the demonstrators through the Ku Klux Klan stronghold following several attacks by whites. (AP Photo/Jack Thornell)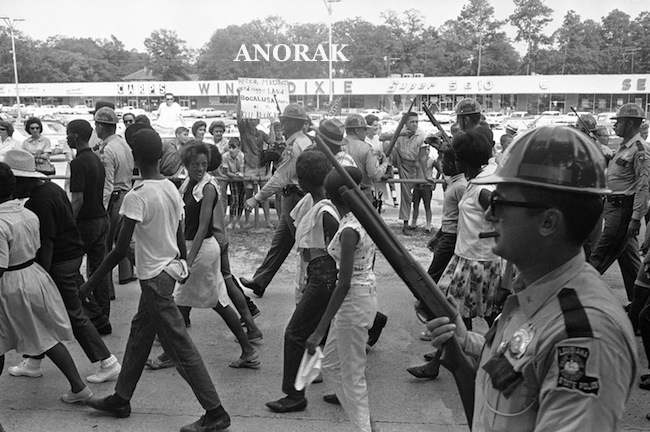 Civil rights marchers are guarded by state troopers in a march to the City Hall in the Ku Klux Klan stronghold of Bogalusa, Louisiana on July 13, 1965. A Klan sign can be seen in the left background. (AP Photo)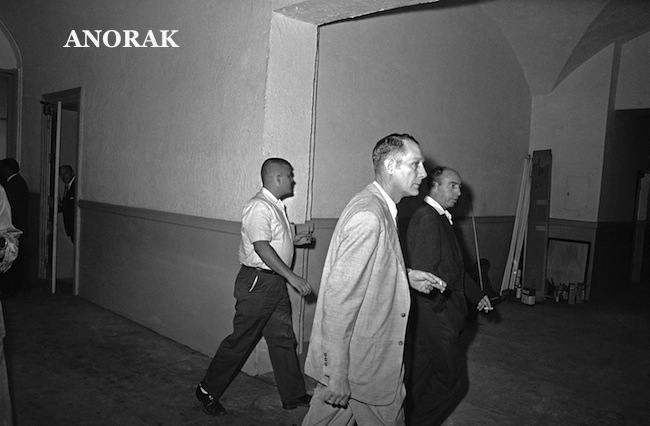 Collie Leroy Wilkins, Ku Klux Klansman, Eugene Thomas and William Eaton, all defendants in the slaying of civil rights worker Mrs. Viola Liuzzo, arrive at Hayneville, Alabama courthouse on Sept. 29, 1965 to be spectators at the trial in progress of Thomas L. Coleman, charged with the slaying of Jonathan Daniels, also a civil rights worker. The Klansman's trial is due to start later this week in same courtroom. (AP Photo/Horace Cort)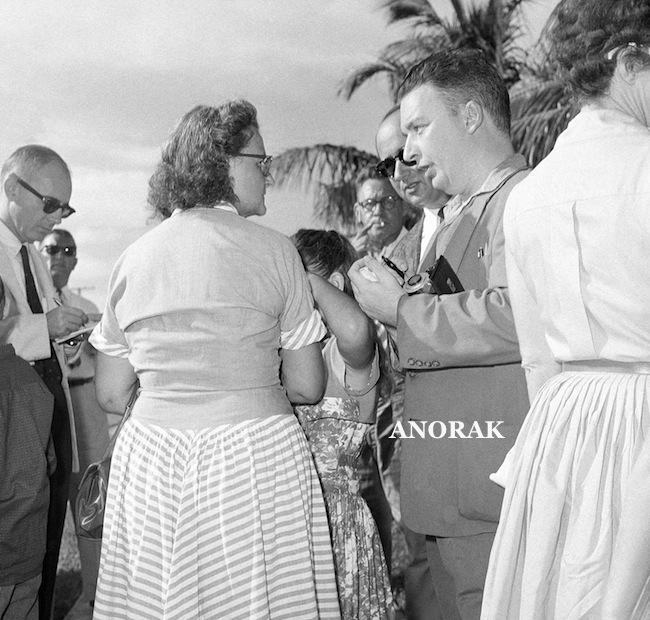 While taking her two children to Orchard Villa School in Miami, Sept. 8, 1959, Mrs. C.E. Arnold, left, hears arguments against integration of Florida's schools from J.B. Stoner, right, of Atlanta, Ga. Mrs. Arnold's daughter, Audrey, is at center. Stoner says he is a member of the Christian Knights of the Ku Klux Klan and is fighting integration. (AP Photo)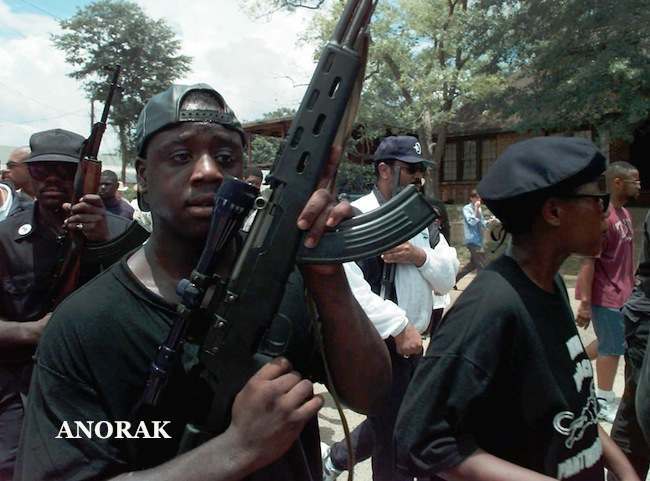 Members of the New Black Panthers carry their rifles through the streets of Jasper, Texas. White-hooded Ku Klux Klansmen waving Confederate flags marched Saturday in the Texas town where three white men allegedly dragged a black man to his death behind a pickup truck. Black counterdemonstrators carrying guns showed up and police kept the two sides apart, making one arrest as the Klan rally ended.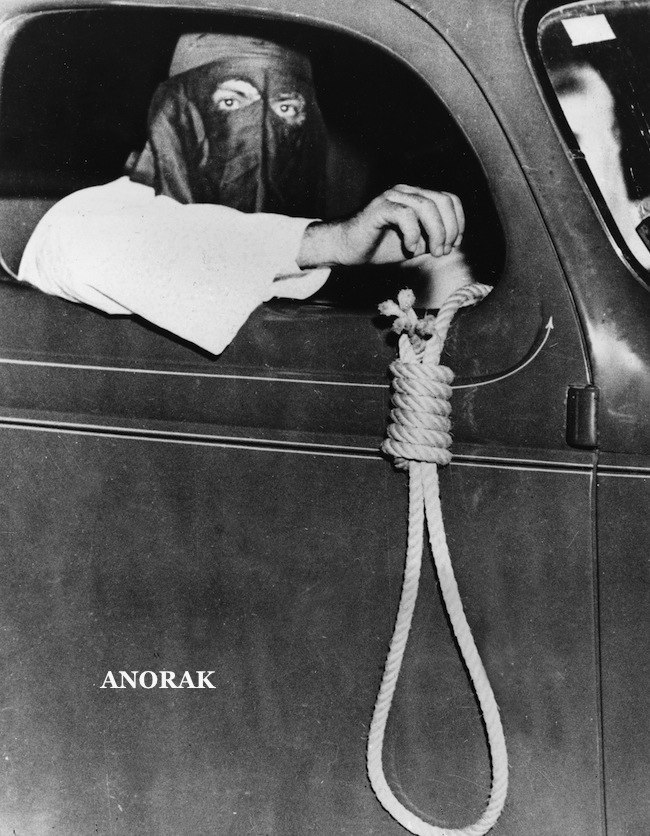 A hangman's noose dangling from an automobile driven by a hooded Ku Klux Klan member is among the grim warnings to blacks to stay away from the voting places in the municipal primary election at Miami, Fla., on May 3, 1939. In spite of the threats, 616 blacks exercised their right to vote. (AP Photo)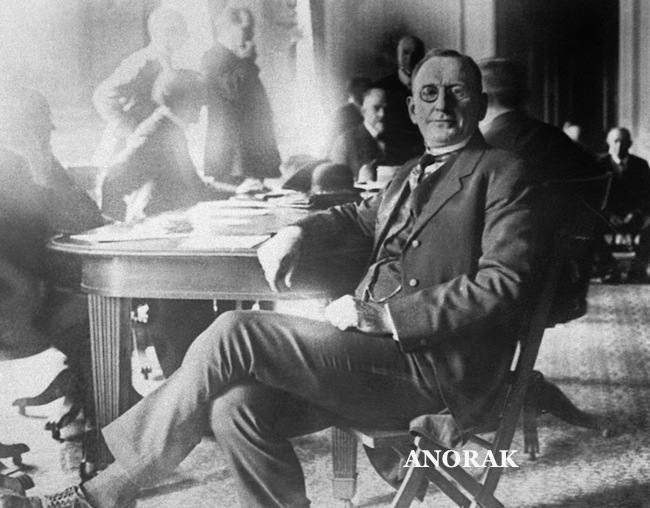 Col. William Joseph Simmons, the Imperial Wizard of Ku Klux Klan in 1921. (AP Photo)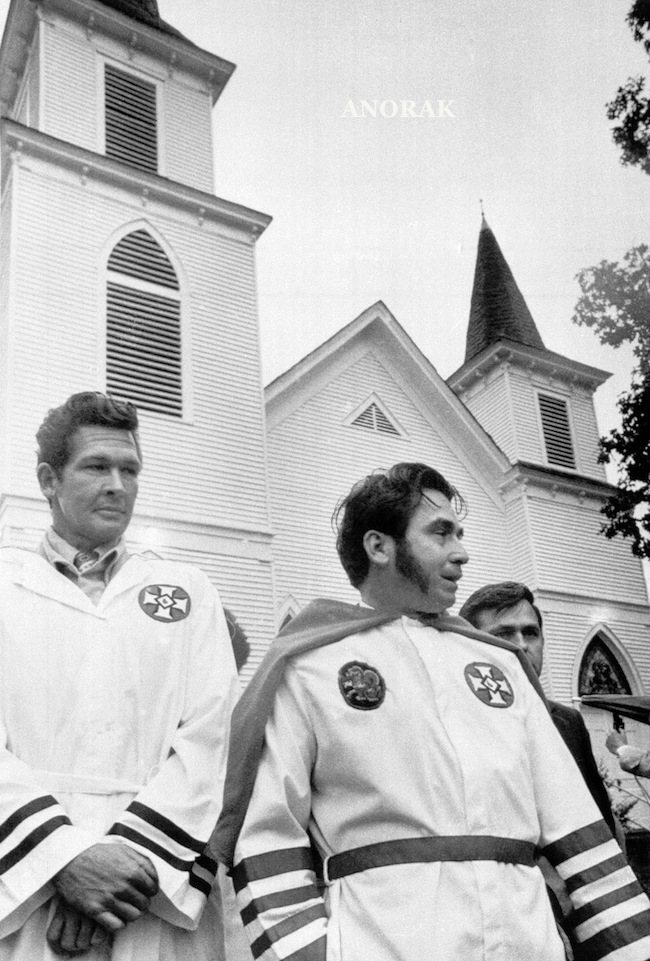 Bill Wilkinson, right, Imperial Wizard of the Ku Klux Klan tells the crowd outside the Plains Baptist Church in Plains, Georgia, Sunday, Nov. 15, 1976, of his disapproval of the church's decision to open its doors to all people. Wilkinson is from Denham Springs, La., as is Klansman, Jim Morris, left. The church, where President-elect Jimmy Carter is a member is in background. (AP Photo)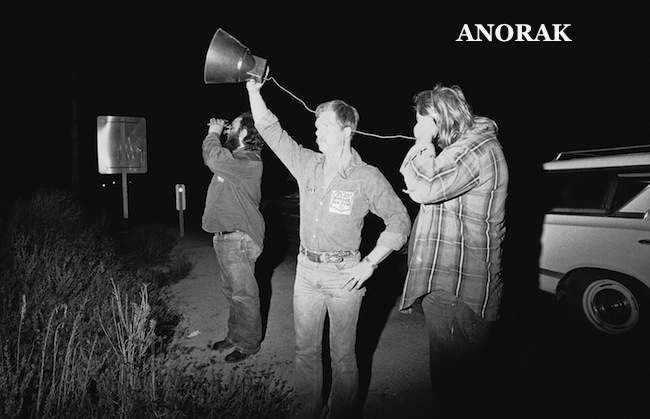 Three members of the Ku Klux Klan use a telescopic listening device and binoculars near the California-Mexico border in their search for illegal aliens entering the country in Dulzura on Tuesday, Oct. 26, 1977. Dennis Campbell, center, holds the listening instrument as Jim Shea, left, scans the hilltops for movement in the bright moonlight. The man at right refused to be identified. (AP Photo/Harold Valentine)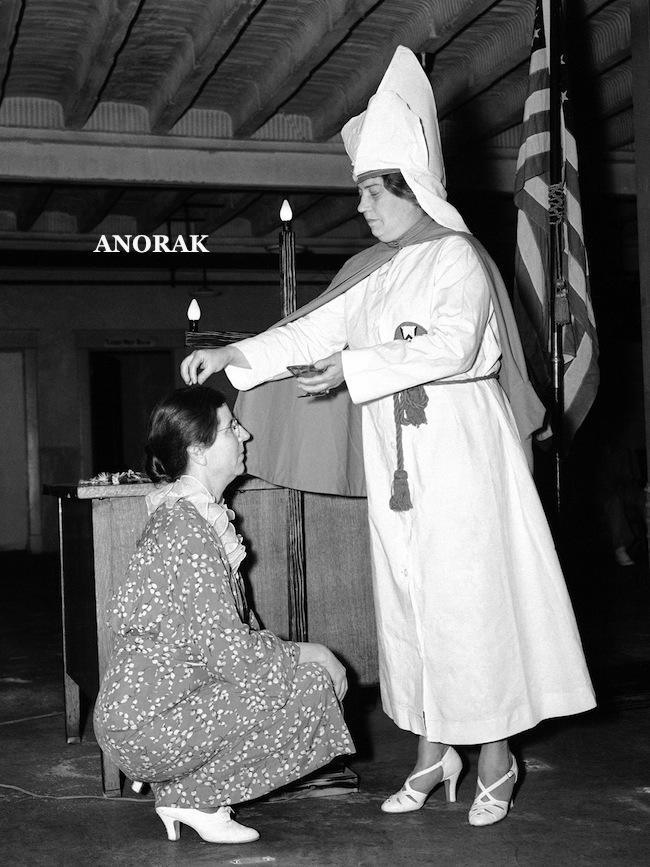 Attention has been focused on the almost mythical Ku Klux Klan organization in the United States, following the allegations that senator black, the new Supreme Court judge, was a member of the sect. Virtually unknown, even in the U.S., a women's branch of the Ku Klux Klan has grown into a powerful organization in the south. These are the first pictures ever to be made of the women's Klan and were taken at Atlanta, Georgia in 1937. Klan meeting scene. (AP Photo)