FAREWELL then, Ronnie Biggs.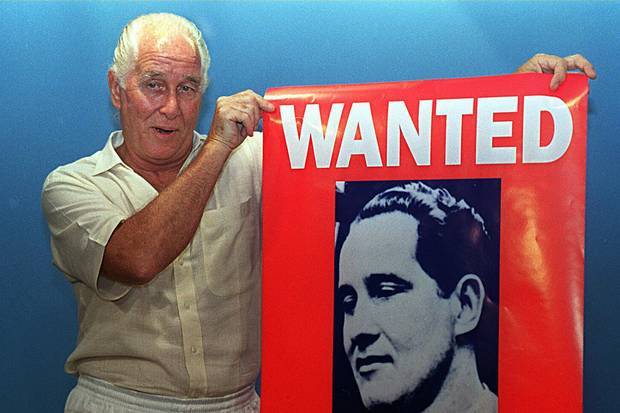 It was the funeral of the year.
Crowds gathered to see off the Ronnie Biggs, of Great Train Robbery fame, and his cortege included a Hell's Angels guard of honour.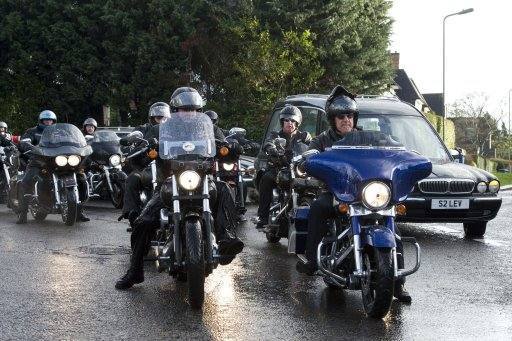 Celebrities and underworld faces mingled at Golders Green, and respect was paid to one of Britain's most famous fugitives – in some cases via video cameras while behind bars at Her Majesty's pleasure.
The coffin was draped in a Union Flag, which was itself pointedly covered up by a Brazilian flag and an Arsenal scarf.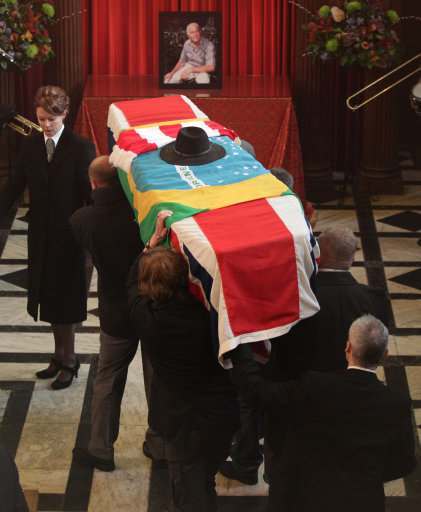 Biggs' role in the robbery, which netted an unprecedented haul of £2.6 million in used notes, was minor – he described himself as 'the tea boy'. His notoriety derives from his audacious escape from jail and his subsequent years in exile, during which time he thumbed his nose at the British establishment for a second time, as repeated attempts to abduct and extradite him ended in ignominious failure.
Before 8 August 1963 (his 34th birthday) Biggs was a small-time criminal. On that day, he took part in Britain's biggest-ever heist, and the rest of his days were lived in the public eye…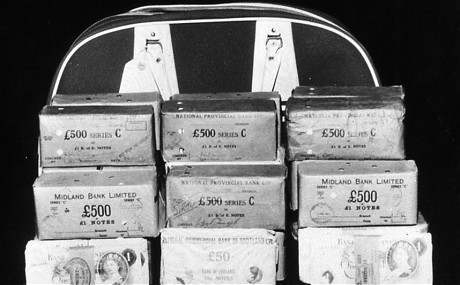 1963: Biggs joins the ranks of Britain's most wanted.
1963: Nicked! And sentenced to an unprecedented 30-year stretch.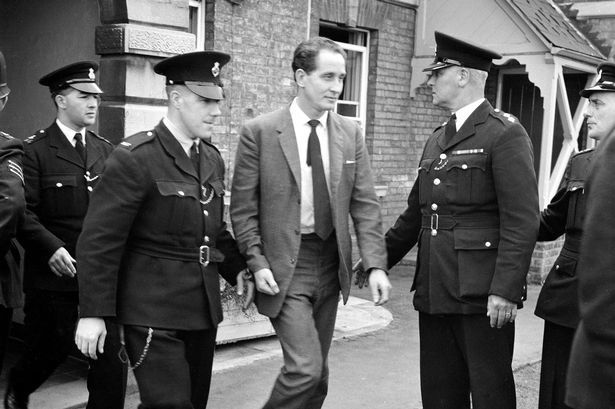 1965: HMP Wandsworth after Biggs' escape via a flexible ladder thrown over the wall.
A green Ford Cortina, one of the getaway cars, found abandoned in Holloway.
1971: On the run. This photo of Biggs on an Australian beach was circulated as part of a London Weekend Television appeal, as detectives from Scotland Yard's Flying Squad thought he might have returned to South London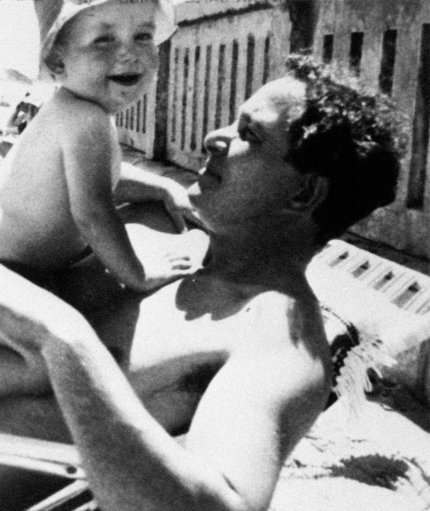 An artist's impression of a disguised Biggs, also circulated as part of the TV programme.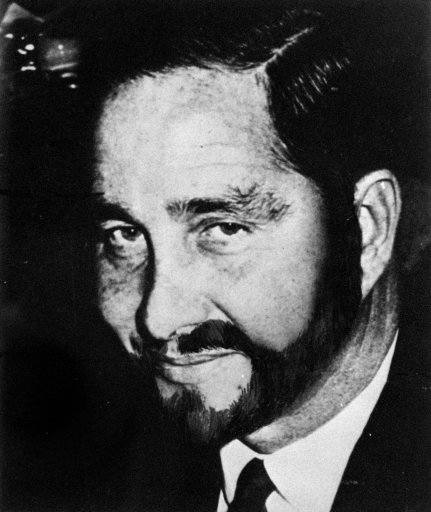 1974: Ronnie reunited with wife Charmain in his cell in Brasilia, awaiting word as to whether Britain's request for his extradition will be granted.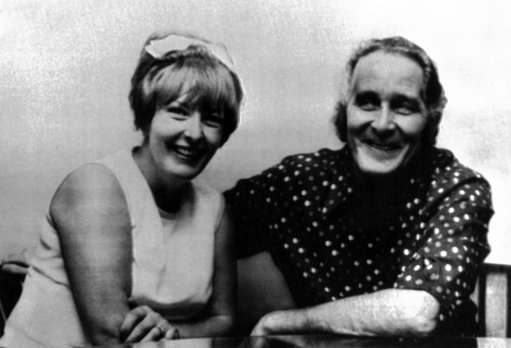 Chief detective superintendent Jack Slipper brushes reporters aside at Gatwick Airport, having returned empty handed after failing to secure Biggs in Rio.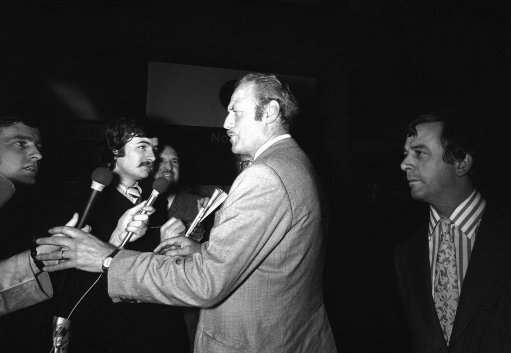 The Rio years. Sun, sea, and celebrity…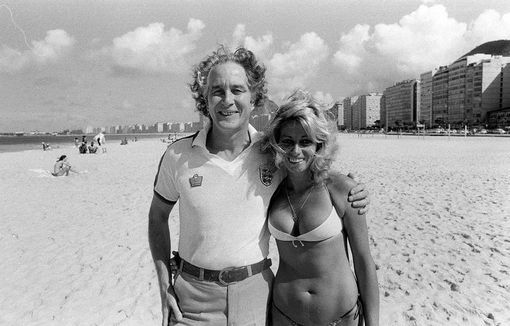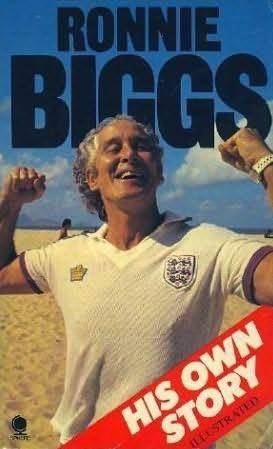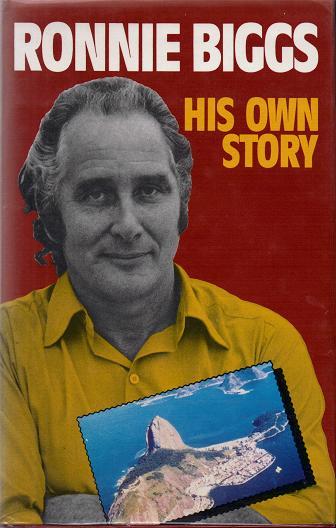 1977: Charles Watson, a Scottish school teacher designed and printed a T-shirt (above) with Ron's portrait. Biggs is wearing a Royal Navy hat with the name of HMS Danae, a ship he visited with British sailors.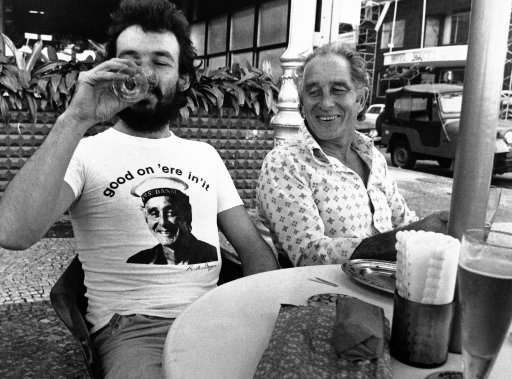 1978: Ronnie goes punk! Sex Pistols Steve Jones and Paul Cook meet up with him to record some songs and film The Great Rock'n'Roll Swindle. Together they came up with the superb – and hilarious – single 'No One Is Innocent'…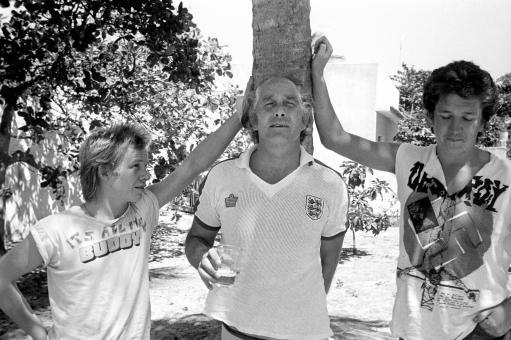 1981: Three Scotland Yard detectives arrive home after failing to nab Biggs in Barbados.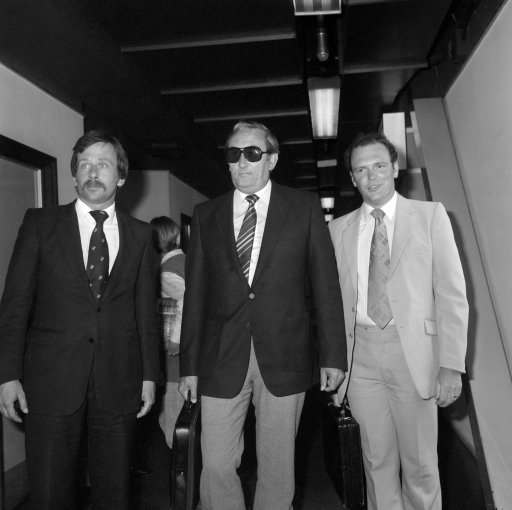 1982: With Albert Spaggiari in Rio de Janeiro. The Frenchman (in wig and moustache) masterminded the Nice sewers bank robbery and was also on the run.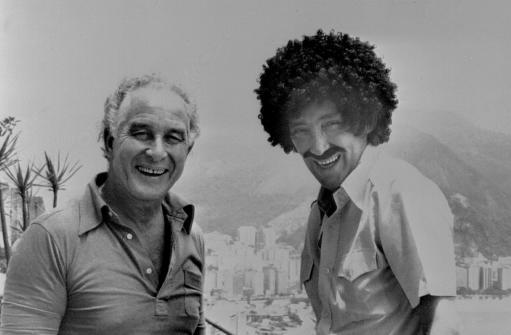 1988: Movie star! Ronnie filming his biopic, The Prisoner of Rio.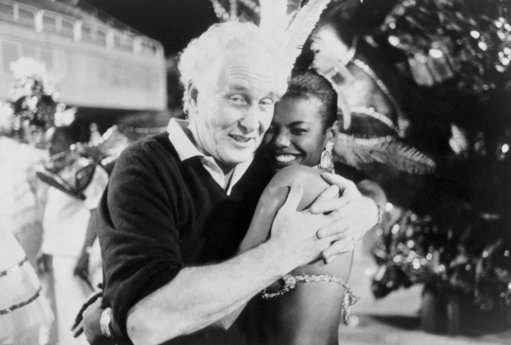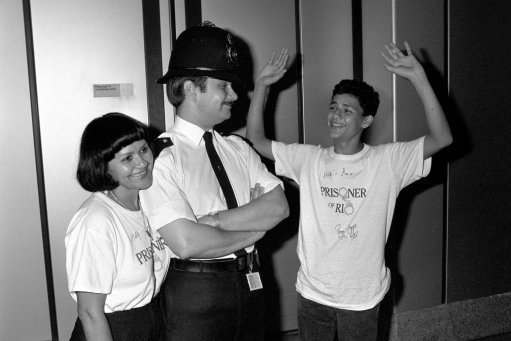 1988: Biggs' son Mike advertises the film (above) and goes to Buckingham Palace to hand in a letter requesting a royal pardon for his father. …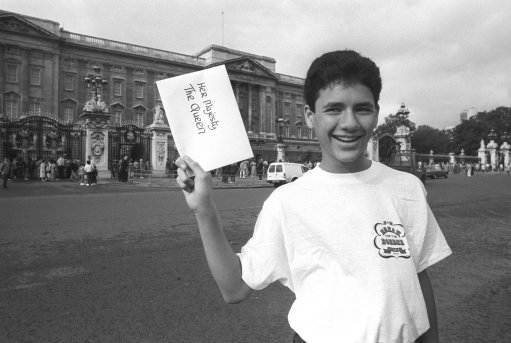 1994: Mike shows Jack Slipper (now retired) a copy of Ron's latest autobiography, 'Odd Man Out'.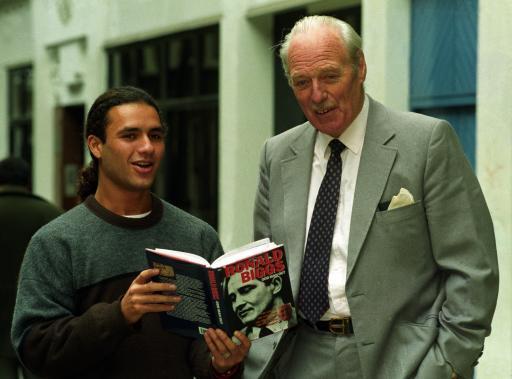 1997: Ronnie in Rio.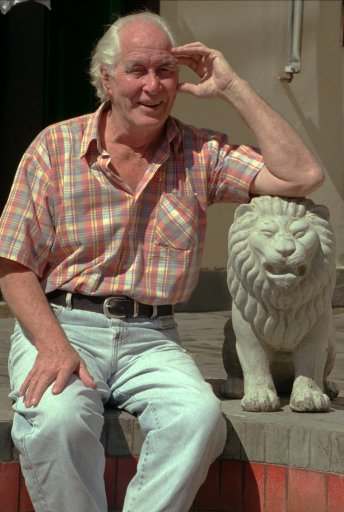 1999: Ronnie shares a laugh with Bruce Reynolds, right, and Roy Shaw in Rio.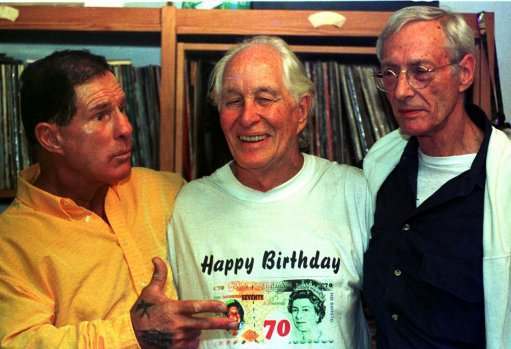 2001: Back in Blighty. Biggs leaves Chiswick Police Station on his way to court, having finally returned from Brazil.
And on to his new home – Belmarsh prison…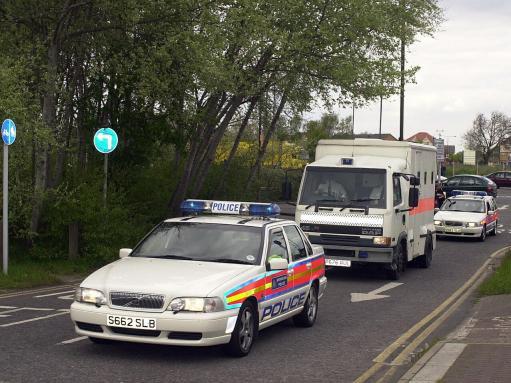 2009: Ronnie is carried into a nursing home after he was freed by Home Secretary Jack Straw on compassionate grounds. Biggs was by now seriously ill and not expected to recover.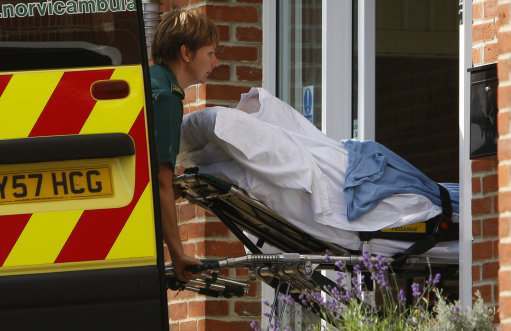 2011: News conference for the release of his updated autobiography, 'Odd Man Out: The Last Straw'.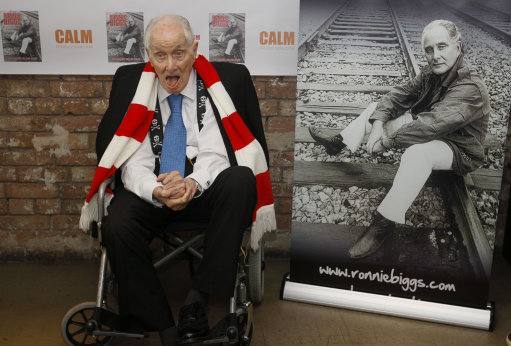 2013: Two fingers to the gentlemen of the press at the funeral of Bruce Reynolds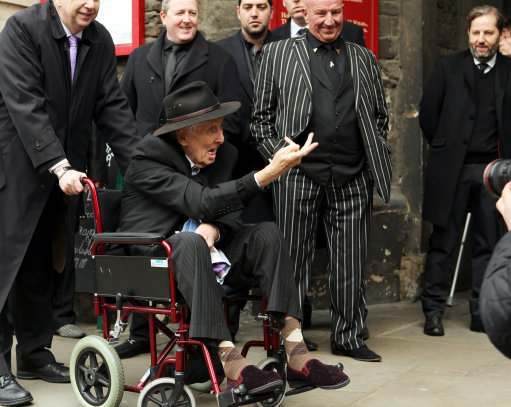 And two fingers again, at his own send-off…