"This is a doll show for people who like art. Art, real art, this is it. Don't come in if you don't like art"
– Calvin Black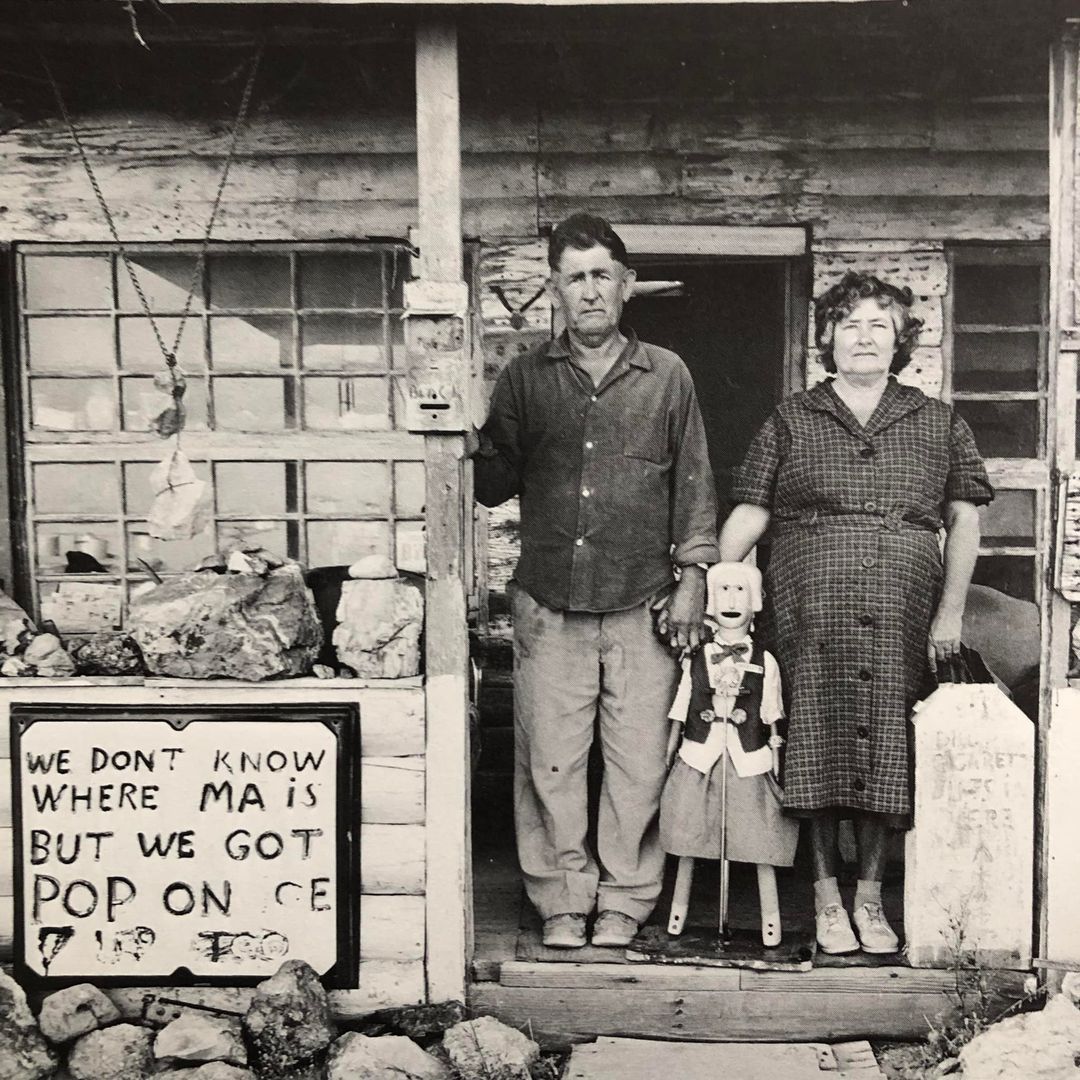 In the 1950s and ​'60s, husband and wife Calvin Black (1903-1972) and Ruby Black (1915-1980) ran ​'Possum Trot' in Yermo, California. The name, which harked to the couple's Southern roots (he from Tennessee; she from Georgia), was used to describe a shortcut between two settlements.
Located on the route to Calico Ghost Town, directly south of Death Valley in the heart of the Mojave Desert, the roadside attraction founded by the couple in 1954 offered a shop selling living rocks and gave visitors the chance to see 86 near life-size wooden dolls – bodies from redwood; noses and limbs from pine. Unlike Morton Bartlett's homemade children, Calvin Black modelled each of his dolls on a friend or famous face.
Carved and painted by Calvin, and dressed in costumes designed and made by Ruby, the all-female ensemble performed their ​"Fantasy Doll Show" at the Birdcage Theater. Having created the dolls and built the venue from wood and tin, Calvin recorded for the dolls' words, music and songs, the sound emerging from speakers attached to the dolls' backs. To being the show, Calvin would deliver a monologue. He'd then introduce the dolls and, having operated a puppet show and learned ventriloquism during is time working in carnivals and circuses, was able converse with them.
Each doll wore a nameplate and had a distinct personality. Outside, some dolls were rigged to be wind powered, arms in motion, a pair of legs pedalling a stationery bike – kinetic folk art sculptures catching the eye of passers-by.
Income came from visitors paying a donation of 25 cents or greater. If you liked one of the gils, you could drop money in "kitty boxes" displayed in front of each figure. Money wold be invested in buying the dolls new cloths, jewellery and perfume.
Not that they we motivated by money. "I'm happy to say that I've made thousands, and thousands, and thousands of people happy," says Calvin in the film. "As long as I can do that, money don't mean a thing to me."
"I've spent a lot of time and a lot of money trying to get 'em where I got 'em today. Some of these days, if I live and the Lord's willing, we gunna have some dolls here that walk backwards, upside-down, or some way…

"A lot of people just buy a place and they live in it, they fall down, and they die. "They get too old to work…when I get that old, well, I'll stir-up something, y'know? Ham 'n eggs or something. Gotta do something…We'll keep on making more dolls, and more sounds."

– Calvin Black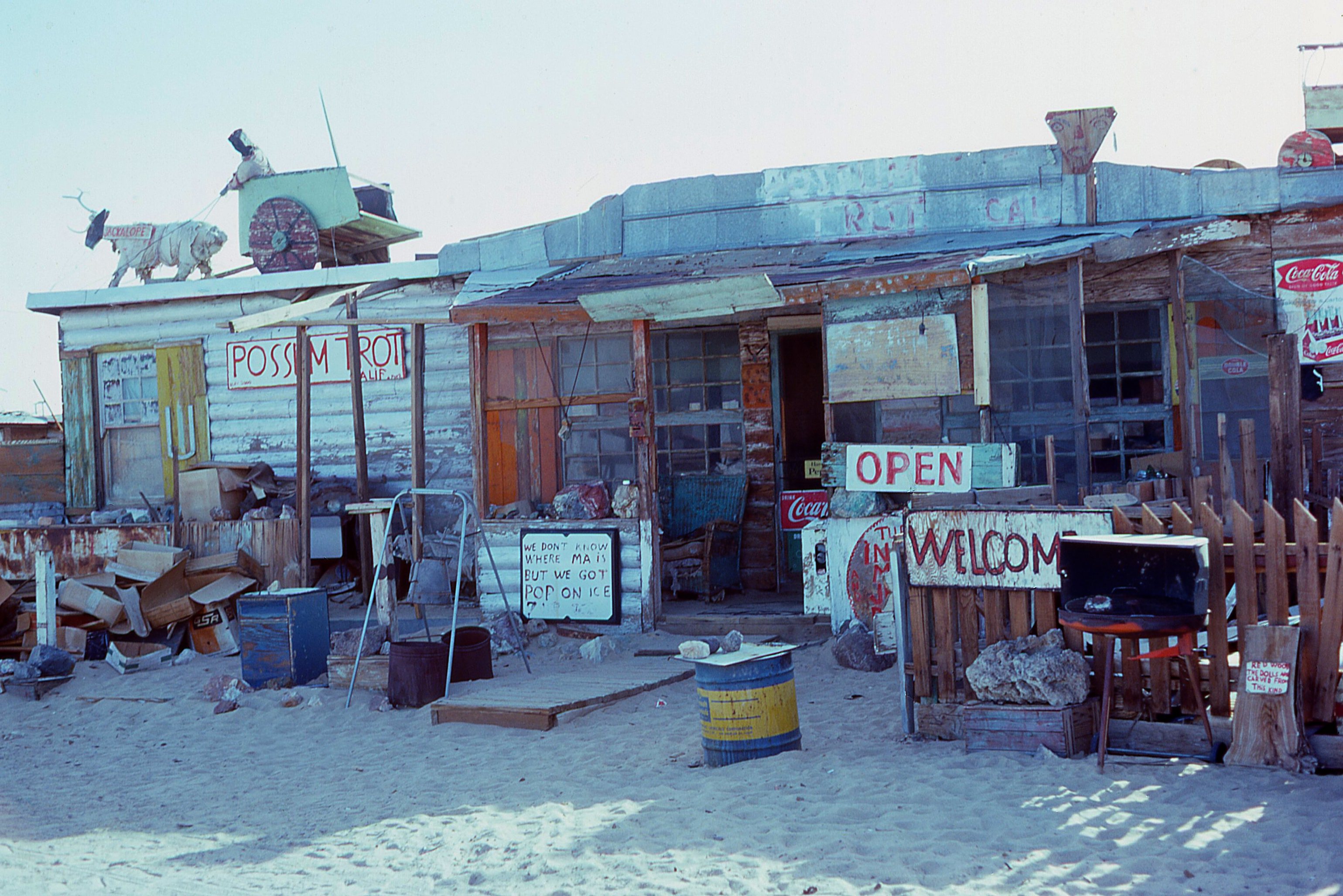 When Calvin died in 1972, Ruby declined his wishes to bun the dolls and continued to tend the store and theater. In 1977, filmmakers Allie Light and Irving Saraf released the documentary Possum Trot: The Life and Work of Calvin Black with a grant from the National Endowment for the Arts. The film included interview footage of Ruby and audio from an earlier interview with Calvin.
Ruby Black died in 1980, and the collection, including not just the dolls but also hand-painted signs and other paraphernalia, was scattered. Most ended up in collectors' hands. Individual dolls have sold for up to $80,000.
Artist and folk/self-taught art collector Michael Hall assembled the largest surviving collection of the dolls, as well as other original materials, then built a stage set to evoke the original theater. This was given to the Milwaukee Art Museum in 1989 as part of the Michael and Julie Hall Collection of American Folk Art, here you can visit an earlier Museum blog post about The Newsboy from the Hall Collection.
The Office of Historic Preservation (OHP) in the California State Park system has designated Possum Trot a California Historical Landmark. It shares the landmark designation number 939, "Twentieth Century Folk Art Environments (Thematic)", with other examples of folk art in the state.
Via: The Smithsonian, Milwaukee A Museum