THE London Underground turns 150 today. The first stretch of the world-famous network opened on January 9 1863, with the first passenger journeys taking place the following day. The Tube is place where you can be kind, funny and utterly miserable: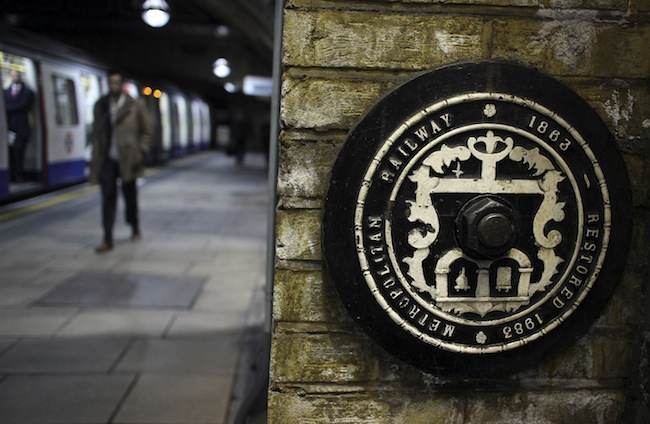 In this photo taken Tuesday, Jan. 8, 2013, a commemorative sign detailing when the station was opened and refurbished, displayed at Baker Street underground station in London. The world's first subway system marked its 150th anniversary Wednesday, Jan. 9, 2013, with reports showing conditions way back when were much as they are today: Busy, congested and stressful for passengers.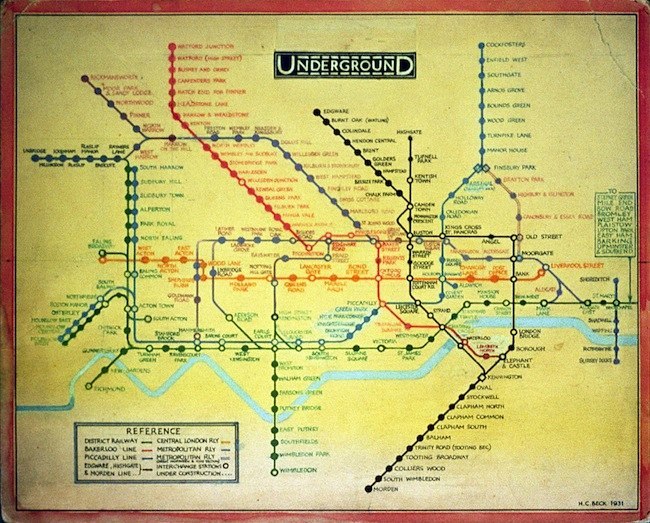 The original artwork for the London Underground map which goes on display at the London Transport Museum, Covent Garden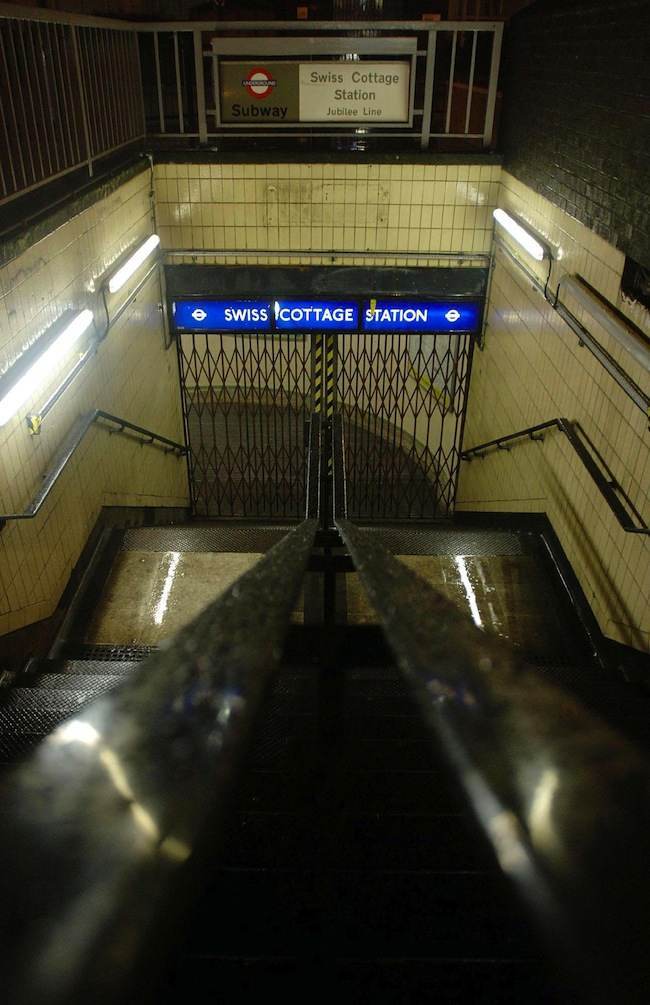 A general view of the entrance to Swiss Cottage tube station in north London
Passengers on an escalator at the Waterloo Underground station, part of the London Underground Jubilee line extension, designed by the architect Roland Paoletti.

The escalators on the top level of the renovated Westminster Underground station designed by Michael Hopkins & Partners architects, part of the London Underground Jubilee line extension.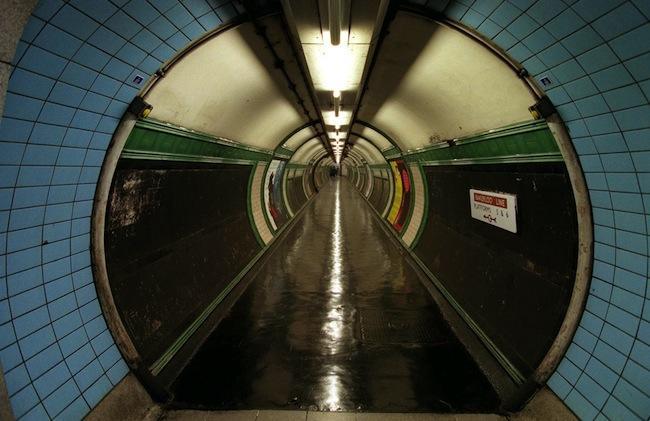 A passageway in Waterloo London Underground station.

Passengers waiting for a tube train at a Waterloo London Underground station platform.

A London Underground sign in a deserted tube station at 8.30 pm as the tube strike takes effect.

Long lines of commuters wait for buses outside London's Victoria Station after a 24-hour strike by Tube workers crippled services on the Underground.

Control Engineer Dave Youlton makes checks in the new control room adjacent to the main turbine hall at Lots Road Power Station in London.  The station, which has provided electricity to the London Underground for 97 years, is to close.

Undated handout photo comparing a picture of Alexander Williamson Fallon, the final victim of the 1987 fire that destroyed Kings Cross Underground train station in London to be identified, with the police reconstruction that helped identify him. His body remained unidentified for 16 years and was buried in a pauper's grave. Best available quality.

A police officer keeps a keen eye on passangers around London's, Waterloo train station Friday, July 8, 2005, as security is stepped up after Thursday's bomb attacks. 

A T-shirt, inspired by the London Underground logo, designed by Cambridge Circus stall holder Helen Long in the aftermath of the London terror attacks, worn in London. 

Musician Luke Albiges busks in Leicester Square underground station in London, on Tuesday 6 April 2006

London Underground employees observe a minutes silence outside Russell Square tube station in London, on the first anniversary of the terrorist attacks.

Photo showing the Stockwell Memorial Garden mural, which is situated on the deep-level shelter walls on the traffic island next to Stockwell underground station, in south London.

Disasters and Accidents – Moorgate Tube Crash – London – 1975

Deep in tubes underneath underground railway lines in London shelters provide safety from buzz bombs, July 25, 1944. Shelters prepare for bed.

Britain's Queen Elizabeth II walks passed the ticket barriers during a visit to Aldgate tube station, London.

RMT leader Bob Crow on the picket line outside Euston Station in London during the tube strike

London children enjoying themselves at a Christmas Party, Dec. 25, 1940, in an underground shelter. 

Aldwych Underground station which was used as an air raid shelter during the Blitz in World War II  Is Opened Up For Public Tours To Commemorate The Blitz.

Passerbys look at signs reporting missing people following the London bombings on Thursday July 7, 2005, outside Kings Cross underground station in central London, Sunday July 10, 2005. A bomb , one of four, exploded on the underground line between Russell Square and King's Cross underground stations, Thursday July 7.

A view from inside the driver's seat in the front cab of an London Underground train as it's driven out of a tunnel, in London, Wednesday, Jan. 18, 2012. 

Acts of Kindness is a project by artist Michael Landy celebrating everyday generosity and compassion on the Tube.

A commuter reading the paper on the London Underground 

File photo dated 19/11/1987 of firefighters at King's Cross underground station in London

Conservative leader David Cameron travels by tube on the Underground to the O2 Arena in London today where he launched his Tickets for Troops scheme encouraging promoters of music concerts and sporting events to give free tickets to soldiers.

Britain's Prime Minister Tony Blair travels on the newly built Jubilee Line extension on the London Underground, en route to the Millennium Dome in Greenwich.

Walking wounded leaving Edgware Road tube station to be treated at the London Hilton Metropole on Edgware Road. Explosions today ripped through central London, with scores feared dead and the city plunged into chaos.

File photo dated 07/03/1969 of Queen Elizabeth II opening the Victoria Line.

File photo dated 22/09/08 of tributes to Jean Charles de Menezes at Stockwell Underground Station, close to where he was shot dead.

File photo dated 19/11/1987 of the top of the fire-damaged escalators at King's Cross underground station in London.

Photo dated 24/04/01 of London resident Jean Farrow, 36, one of the first directly recruited female drivers sitting at the front of a tube train at Hammersmith station.

Lord Ashfield hands over the silver key to Col. Moore Brabazon during the opening of the new underground railway with the world's longest tunnel which ran from East Finchley to Morden on the Northern line, London.