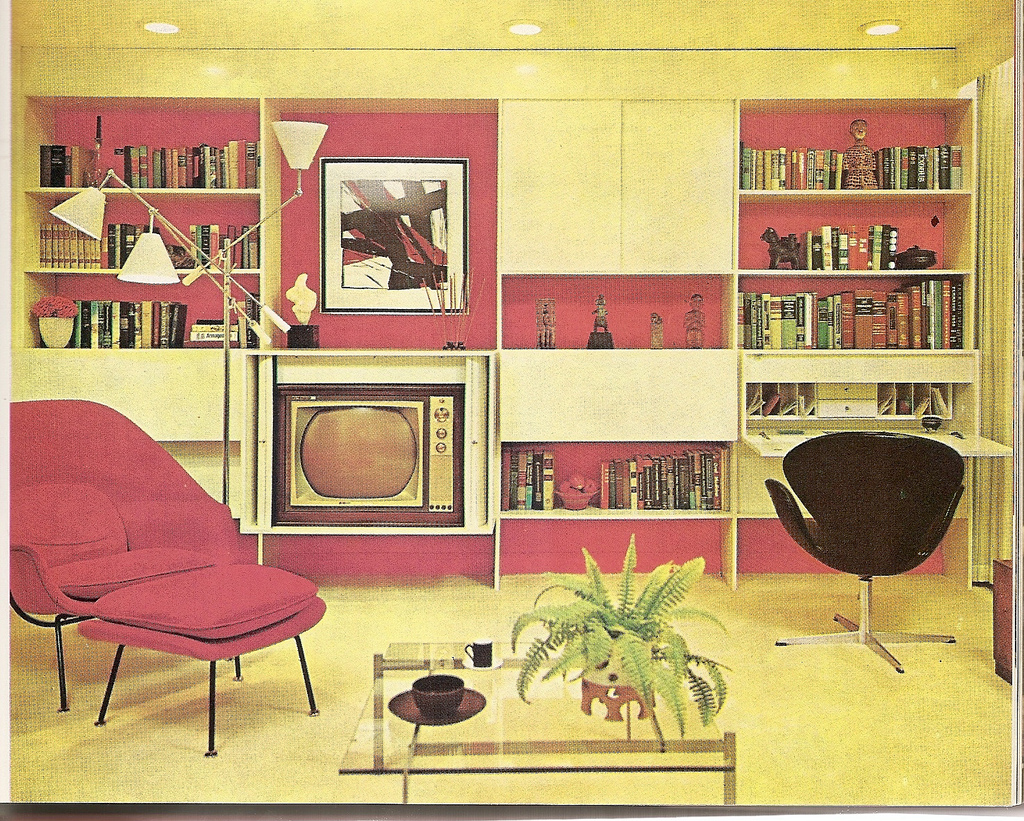 Mid-century modernism, they say, is timeless. But it's also very clearly from a certain time and place. An American take on Bauhaus designs and the International style, 50's modern interior designs have returned in force, bolstered by Mad Men, Etsy, Pinterest, and vintage stores. "The historic movement," Madeleine Morley writes, "continues to permeate our sense of what's contemporary."
The style integrated Danish modernism with the slightly bubbly designs of Eero Saarinen and the Eames, and a preference for bracing, unusual color contrasts augmenting the Bauhaus's primary palette. Mid-Century Modernism does clean lines and functionality, but it doesn't do subtlety, at least in its original incarnation.
Design guides coach decorators through mid-century interiors that don't look dated, showing them how to avoid "recreating The Jetsons" with earth tones in place of candy-colored oranges, reds, yellows, and blues. This misses all the fun. As John Waters and the B-52's understood decades ago, 50s and 60s kitsch is wildly underrated.
Of course, at the time Mid-Century Modernism was simply modernism. It wasn't until 1984 that the hindsight descriptor was coined by art history writer Cara Greenberg in her book Mid-Century Modern: Furniture of the 1950s. "Some love it and others simply can't stand it," wrote a New York Times review, "but there is no denying that the 50's are back in vogue again." The book, with its 250 photographic examples, was a hit, and the trend has never gone away.
Its epicenter remains Palm Springs, the American modernist mecca and home of Modernism Week. Still, the toned-down examples in the toniest Palm Springs homes seem safe and drab next to the eye-scrambling mashes of colors, patterns, and materials on display in photos of model living rooms like these. The durability of these designs may be explained by playfulness coupled with usefulness, a sense of the retro and handmade coupled with the futuristic and machined.
But while there's no sign of the Mid-Century Modern going away anytime soon, the clashing patterns and garish color schemes of sixty-plus years ago will likely—maybe sadly—stay in the past.