In 1978, Parker Bros. introduced the world to a hand-held electronic game that became beloved by generation of kids…even if it pales in comparisons to today's smart phones and their 21st century computing capabilities
The toy in question, is, of course, MERLIN, a red telephone-like "computer brain."

The copy on the back of the box lays down a challenge for intrepid youngsters: "Can you outsmart MERLIN?
Before you answer, consider further details: "He's remarkably intelligent," the box reports.  "With lights, a powerful computer brain, and a vocabulary of 20 different sounds he challenges you to beat him at these six games of strategy, memory and skill:"
The box then goes on to list the games MERLIN plays, which include:
"TIC-TAC-TOE: MERLIN's aggressive tactics keep you on your toes in this ever popular strategy game."

"MUSIC MACHINE: Here's your opportunity to compose music. Teach MERLIN a tune of up to 48 notes and rests. Then be entertained as he plays it back to you."

"ECHO: Test your mental agility by repeating a sequence of notes played to you by MERLIN. You can make this game easy or tough by selecting the length of the sequence."

"BLACKJACK 13: MERLIN deals and keeps score in this computerized version of the classic card game. The object: to acquire the higher hand of 13 or less."

"MAGIC SQUARE:Form a square of 8 lights by breaking MERLIN's secret CODE. This electronic puzzle changes constantly as you play."

"MINDBENDER: Discover the computer's mystery number. This game of logic is the ultimate challenge – to win you'll have to read MERLIN's mind."
Designed for 1 or 2 players, Ages 7 to adult, MERLIN is described in his instruction manual as "a remarkably intelligent computer." The same instructions also note that "as you compete with him, you'll discover that MERLIN is very talkative."
The next section of the instructions notes about how to properly care for MERLIN: "Take care not to get MERLIN wet," and "Don't drop or jolt MERLIN."
Below you can watch some old TV commercials for Parker Brothers' MERLIN:
Although MERLIN was the best-selling toy of 1980, it wasn't long before the game was replaced by a new and improved model.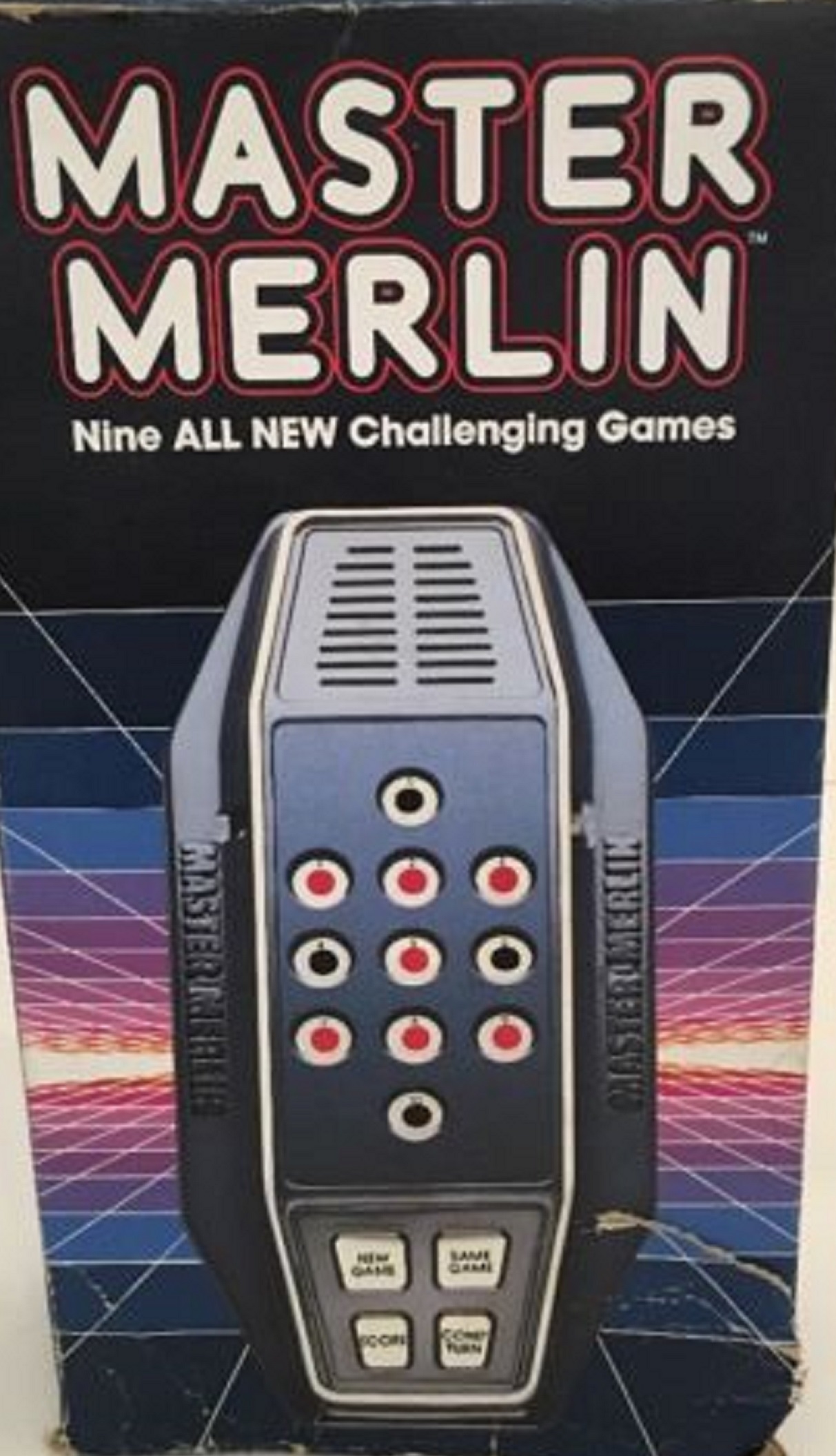 Master MERLIN was released in 1982.  It was a bulkier version of MERLIN, and one not as colorful. It could play 9 games instead of six, including "Three hells," "Hi/Lo," "Match It," "Hit or Miss," "Tempo," "Pair Off," "Musical Ladder," "Patterns" and "Hot Potato."
The new game could do more, sure, but somehow it lacked the charm of the original electronic wizard.