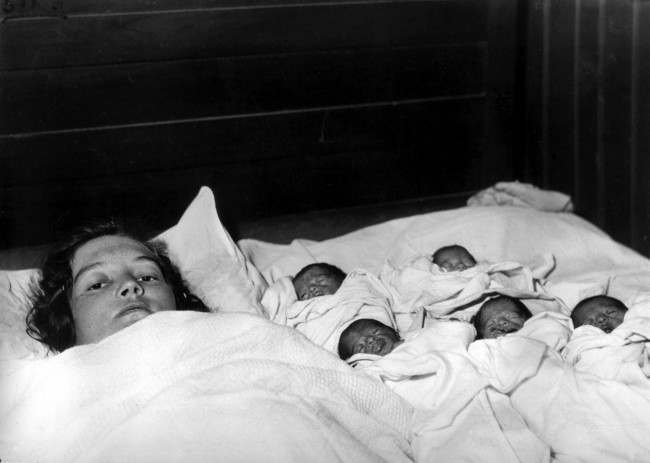 ON May 28, 1934, the Dionne Quiontuplets were born. They became the first quintuplets known to survive their infancy.
In the above photograph, Elzire Dionne, 25, is shown with her five girls shortly after their birth in Corbeil, near Callander in northern Ontario, Canada. The identical quintuplets were born at least two months premature. The girl's father was Oliva-Edouard. He and Elzire already had five other children. Another child had died not long after her birth.
The Dionnes also had 3 sons after the quintuplets. Oliva Jr. (b. 1936), Victor (b. 1938), and Claude (b. ca. 1940).
The girls are/ were: Annette (1934- ), Cecile (1934- ), Emilie (1934-1954), Marie (1934-1970), and Yvonne (1934-2001).
Ontario Premier Mitchell Hepburn with the Dionne babies
The Family Home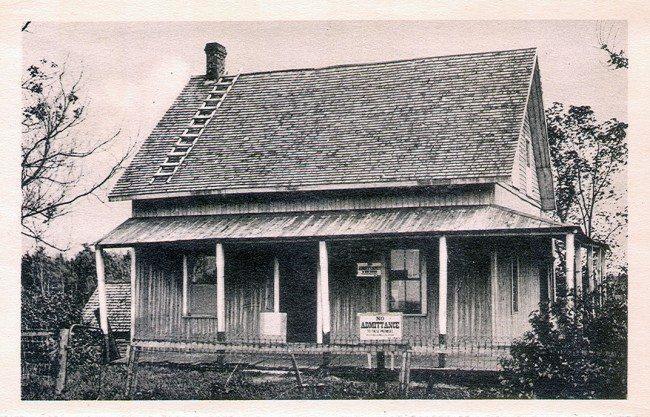 The girls were an instant sensation. Exhibitors for Chicago's Century of Progress exhibition made the parents an offer to showcase the sisters. Mum and dad agreed but before the show, they cancelled.  The Ontario government was concerned. The parents were poor. Could they care for such a huge family?
No, said the State. Four months after their birth, the Ontario government took the children. The children were put under the guidance of Dr. Allan Roy Dafoe, who had helped deliver them, and two other guardians. The girls were made wards of the Crown until their 18th birthdays.
Fame beckoned.
They were the subjects of four Hollywood films: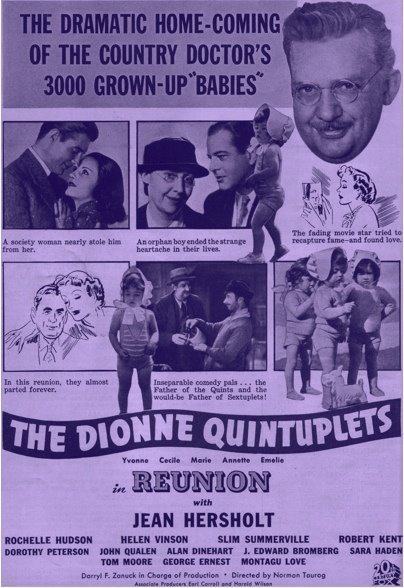 The Country Doctor (1936)
Reunion (1936)
Five of a Kind (1938)
Quintupland (1938)
Radio Guide explained:
Opposite screen veteran Jean Hersholt—the quintessence of Hippocratic fidelity—those essential quints had already starred in The Country Doctor, released in March 1936, to be followed up by Reunion later that year. Quite a life for carpetful of rug rats once described as "bluish-black in color, with bulging foreheads, small faces, wrinkled skin, soft and enlarged tummies, flaccid muscles and spider-like limbs!" However fortunate to escape life as a sideshow attraction, the medical history makers could "hardly avoid" being turned into celebrities and groomed for stardom.

"Whether they like it or not," as the Radio Guide put it.

"As entertainers they may not have the expertness of Eddie Cantor or Jack Benny but their gurgling and cooing will surely remind us of what a magnificent instrument for participating in the life about us young Guglielmo Marconi provided when he invented radio."
Could they sings and dance?
And let's not forget:
Photo: The Dionne quintuplets, legal wards of the King, arrived in Toronto, and were presented to the King and Queen. They traveled with their parents and seven other brothers and sisters and with Dr. Dafoe. The Quins'' arrival at Toronto in their special train with their nurses, on May 22, 1939. Dr. Dafoe is centre, wearing top hat.
What did they sell?
Soap.
Books.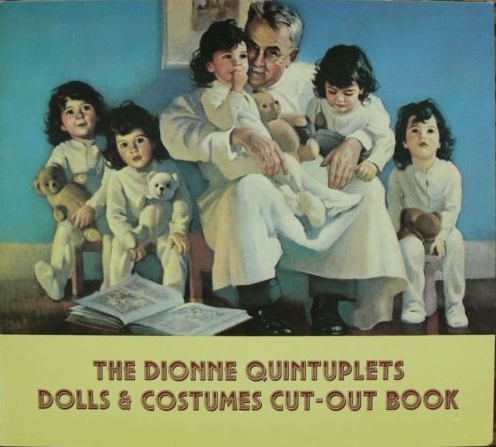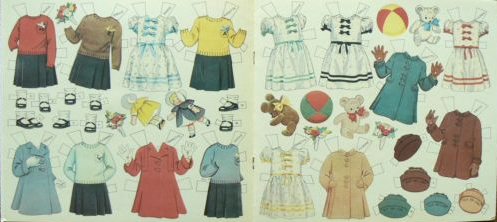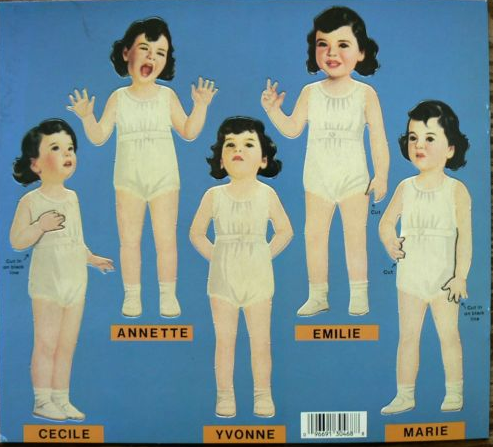 Newspapers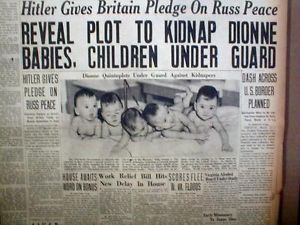 Cutlery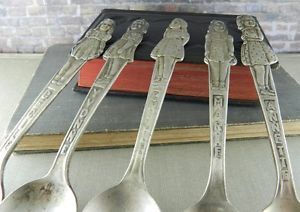 Syrup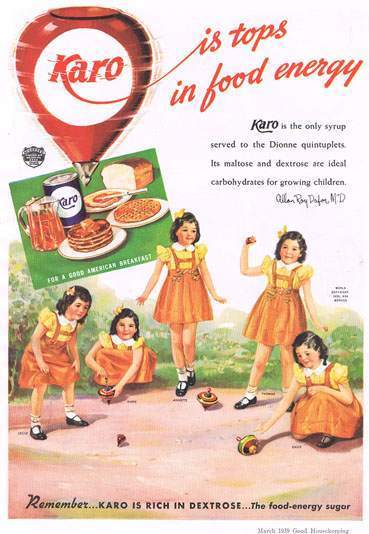 Air Cooled Electrolux Refrigerators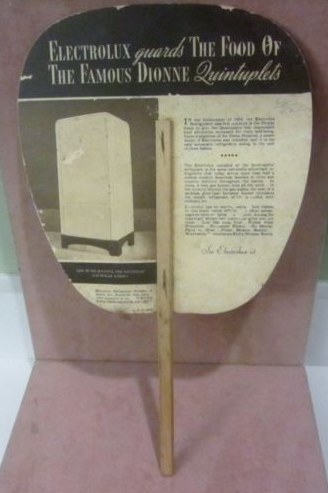 Disinfectant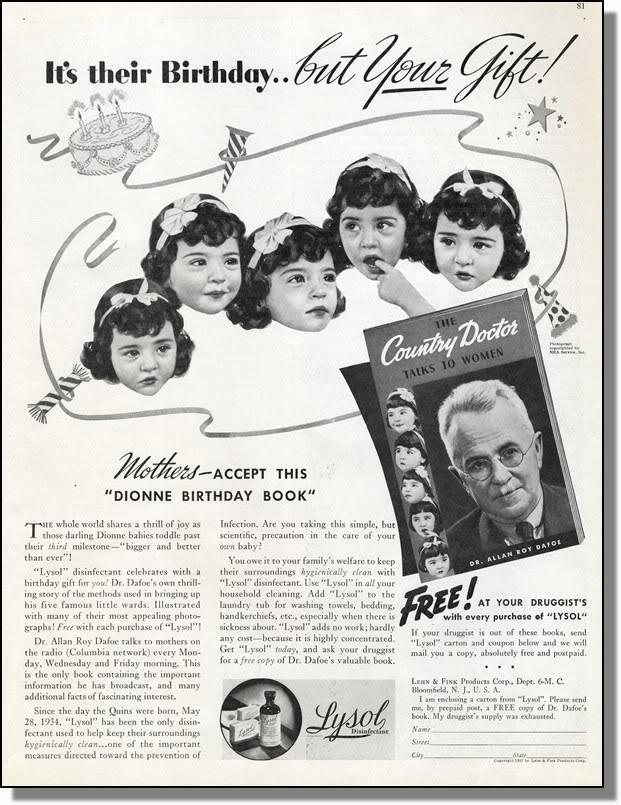 Raincoats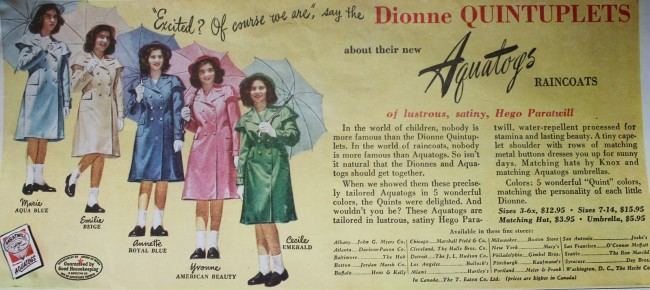 * Images of the five girls were used to shill just about everything else – Quaker Oats, Bee Hive corn syrup, Alexander dolls, and many other products. Carnation evaporated milk ads even boasted that the quintuplets had "consumed 2,500 tins" and "practically bathed in the milk." In truth, the quints refused to drink it! The parents meanwhile did a booming business selling "magic fertility stones" found on their farm to childless couples who wished to become pregnant.
More dolls – this is Marie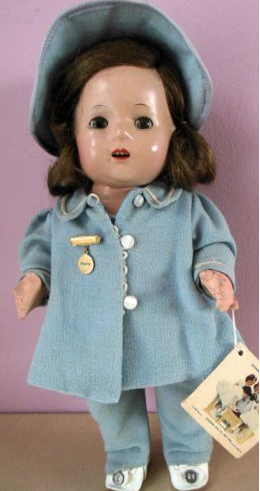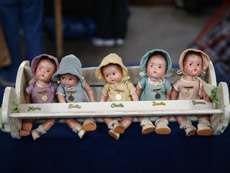 In a crimson and gold special train the Dionne quintuplets, legal wards of the king, arrived in Toronto, to be presented to the King and Queen. With them travelled their parents, nurses, Dr. Dafoe and seven other little brothers and sisters. Part of the Dionne family, but not the quins, arriving in Toronto, on May 22, 1939. Children from left to right are Daniel, Rose Pauline, Theresa, Oliva, Ernest. The parents are at the rear with other unidentified women. Date: 22/05/1939.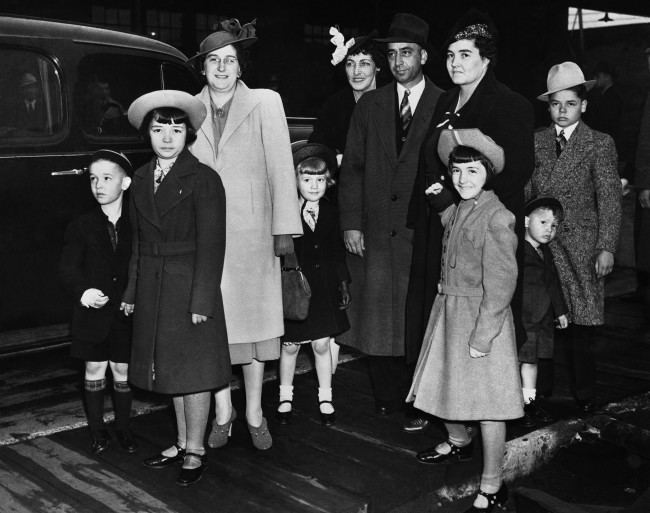 Roll up to the show at Quintland: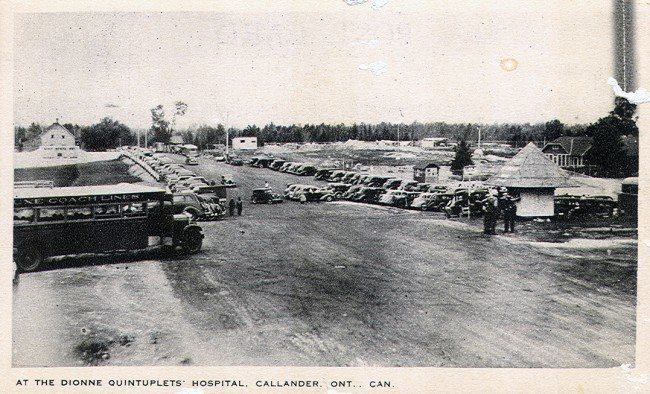 Across the road from their birthplace, the Dafoe Hospital and Nursery was built for the five girls and their new caregivers. The girls were moved from the farmhouse to this nursery at the end of September. The compound had an outdoor playground designed to be a public observation area. It was surrounded by a covered arcade that allowed tourists to observe the sisters behind one-way screens.

Approximately 6,000 people per day visited the observation gallery that surrounded the outdoor playground to view the Dionne sisters. Ample parking was provided and almost 3,000,000 people walked through the gallery between 1936 and 1943. Oliva Dionne ran a souvenir shop and a concession store opposite the nursery and the area acquired the name "Quintland".
Quintland
The Twinsoporium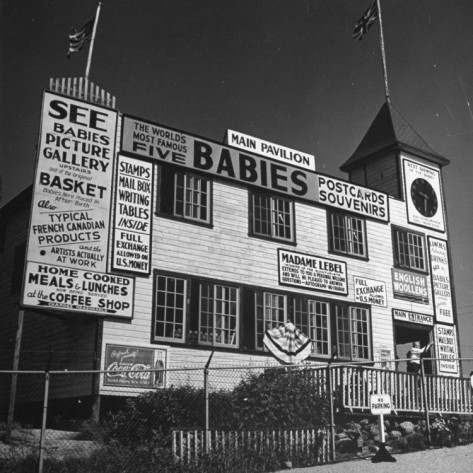 Boy, were they famous.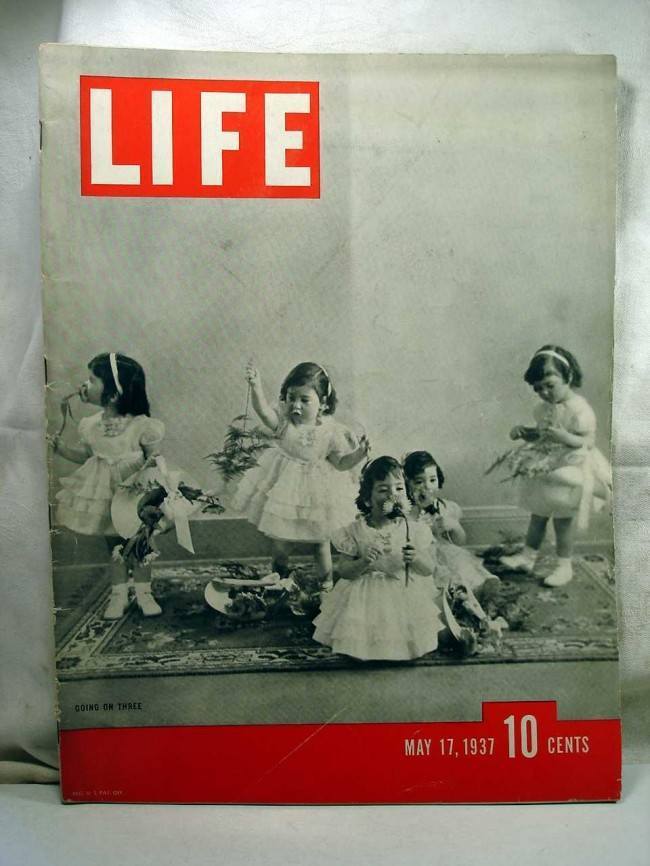 Here they are being used a punchline in The Marx Brother's A Night At The Opera:
Photo: The Dionne quintuplets are shown in May 1943, a few weeks before their ninth birthday, as they made their trip to Superior, Wis., to launch five newly completed Liberty ships during World War II.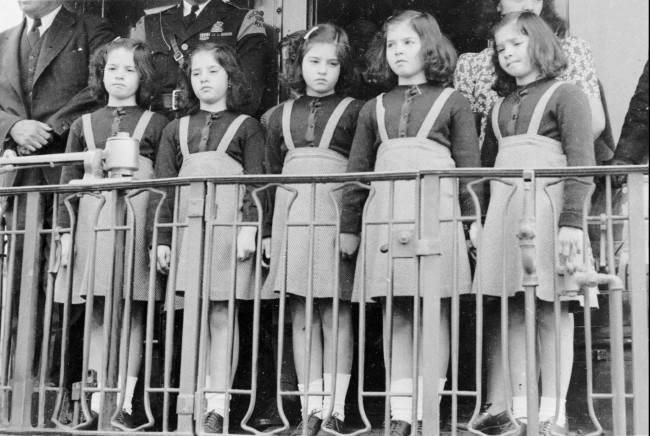 In November 1943, the Dionne parents won back custody of the sisters.
In 1951, the sisters achieved their "proudest moment": they met The Future Queen Elizabeth.
In 1965 they co-authored an often bitter book about their childhood, called We Were Five.
"We dwelt at the center of a circus. A carnival set in the middle of nowhere."

…

"Money was the monster," they said in We Were Five, "So many around us were unable to resist the temptation."
The girls' fame endured. In 1971, Stephen Sondheim namechecked them on the song I'm Still Here from his 1971 musical Follies:
I've been through Gandhi, Windsor and Wally's affair, and I'm here
Amos 'n' Andy, Mah-jongg and platinum hair, and I'm here
I got through Abie's, Irish Rose, Five Dionne babies, Major Bowes
Had heebie-jeebies for Beebe's, Bathysphere
I got through Shirley Temple, and I'm here
In 1994, a TV film of their lives was released. Million Dollar Babies.
The sisters talked about its making:
The film:
In 1995, the three surviving sisters claimed they were sexually abused by their father for years:
Annette, Cecile and Yvonne Dionne, now 61, made the allegation in an interview on the Radio-Canada television network in Montreal over the weekend. Asked why they had waited so long to break their silence, Yvonne spoke of their need to find "inner peace." Annette said, "We've come to a point where we had to liberate ourselves from the past." Cecile added, "It's a long time, but that's normal for something so deep."
And then their abductors owned up:
In March 1998 the Ontario government announced that it would pay the three surviving quints $4 million in compensation for the nine years they spent on display at a tourist theme park. Three years later Yvonne died of cancer. Not until September 1987 was another set of quints—this time two boys and three girls—born in Canada.
In 1997, Annette, Cécile and Yvonne wrote a wise, compassionate and eloquent letter to the parents of the McGaughey septuplets. It was published in the December 1, 1997 issue of Time magazine and is included here in full to serve as warning to parents of children born today in multiple births.
* Dear Bobbi and Kenny,

If we emerge momentarily from the privacy we have sought all our adult lives, it is only to send a message to the McCaughey family. We three would like you to know we feel a natural affinity and tenderness for your children. We hope your children receive more respect than we did. Their fate should be no different from that of other children. Multiple births should not be confused with entertainment, nor should they be an opportunity to sell products.

Our lives have been ruined by the exploitation we suffered at the hands of the government of Ontario, our place of birth. We were displayed as a curiosity three times a day for millions of tourists. To this day we receive letters from all over the world. To all those who have expressed their support in light of the abuse we have endured, we say thank you. And to those who would seek to exploit the growing fame of these children, we say beware.

We sincerely hope a lesson will be learned from examining how our lives were forever altered by our childhood experience. If this letter changes the course of events for these newborns, then perhaps our lives will have served a higher purpose.

Sincerely, Annette, Cécile and Yvonne Dionne
You can can find out more at a museum dedicated to them.
Now. Who wants sextuplets?