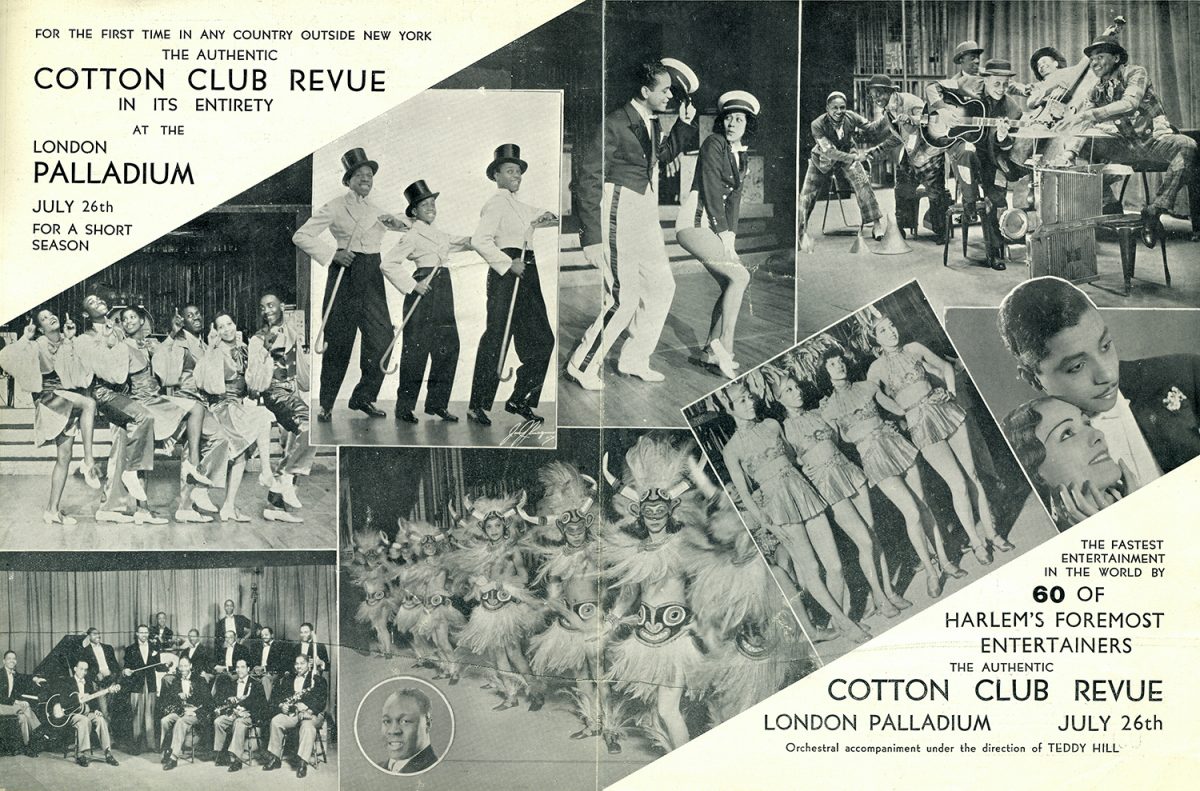 In the summer of 1937, and for the first time out of New York, the authentic Cotton Club Revue, pretty much in its entirety, visited London. Sixty of Harlem's famous entertainers played twice daily for five very successful weeks at the London Palladium.
The first half of the show had English acts such as Ted Ray, Wences the famous ventriloquist, Norman Evans, Lucan and McShane, Gene Seldon and Tex McLeod. However the second half of the show featured the complete Cotton Club Revue with Teddy Hill conducting the Cotton Orchestra along side acts such as Bill Bailey the Rhythm Tap Dancer, The Three Berry Brothers, the jitterbugging Whyte's Hopping Maniacs, Alberta Hunter and The Twenty Five Copper Coloured Gals.
Their speciality is rhythm; rhythm which is merely a nervous tremor, and rhythm that does not so much stimulate as achieve frenzy. – H.H. The Observer, August 1937.
The English high-brow critics initially looked down their nose at what they had been forced to watch. The Times wrote: "..the few numbers which attempt the sentimental or the elegant are presented with so little artistry that we sigh for the talent with with which some other Blackbirds long ago enchanted us." But even he begrudgingly allowed the thought that: "even the most jaded palate will be stung." Meanwhile 'H.H.' in the Observer began his review by describing 'the coloured entertainment from New York' as: "tap-dancing da capo et in excelsis.", and continued with, "trim little coryphées smile and shiver while their bodies undulate.". The Observer's critic also came across as slightly uncomfortable with the "wuzzie-wuzzies" and felt much more at home with the 'white variety' which preceded the 'coloured revue' and wrote: "these half-dozen turns are entertainment which is the cream of its kind."