The CIA's Simple Sabotage Field Manual (1944). – a guide to creating mayhem behind enemy lines. The Introduction states:
Office of Strategic Services

Washington, D. C.

17 January 1944

This Simple Sabotage Field Manual Strategic Services (Provisional) is published for the information and guidance of all concerned and will be used as the basic doctrine for Strategic Services training for this subject.

The contents of this Manual should be carefully controlled and should not be allowed to come into unauthorized hands.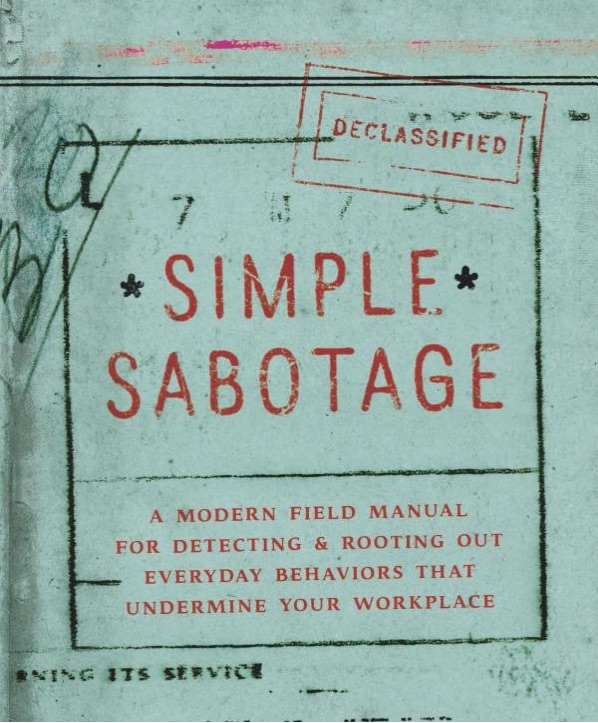 When the UK voted on continued membership of the European Union, the electorate was advised to read up, to find things out for themselves. Well, you could try. The EU is a byzantine institutional complex. There is huge amounts of incompetence, manifest in 'wine lakes', people 'silos' and the bizarre way in which for four days of every month the entire outfit moves between Strasbourg and Brussels.
It's all utterly confusing. And you wonder if it's all deliberate, a cunning plot to sabotage understanding, befuddle activism and keep us all guessing? If you can't grasp what it is, how can you counter its actions from within or without? Are the flaws we can see designed to promote "purposeful stupidity", a condition defined in the Office of Strategic Services 1944 guide to obfuscation, Simple Sabotage Field Manual? Are we the people – the bureaucrats' enemy – being outwitted by the dumb show?
The manual, now available on the CIA's website, was used to promote "citizen-saboteurs" in Nazi-occupied countries. "Purposeful stupidity is contrary to human nature," says the guide. Stuffing up is counter-intuitive. It needs to be learnt:
To incite the citizen to the active practice of simple sabotage and to keep him practicing that sabotage over sustained periods is a special problem.

Simple sabotage is often an act which the citizen performs according to his own initiative and inclination. Acts of destruction do not bring him any personal gain and may be completely foreign to his habitually conservationist attitude toward materials and tools. Purposeful stupidity is contrary to human nature. He frequently needs pressure, stimulation or assurance, and information and suggestions regarding feasible methods of simple sabotage.
HIGHLIGHTS
Organizations and Conferences
Insist on doing everything through "channels." Never permit short-cuts to be taken in order to expedite decisions.
Make "speeches." Talk as frequently as possible and at great length. Illustrate your "points" by long anecdotes and accounts of personal experiences.
When possible, refer all matters to committees, for "further study and consideration." Attempt to make the committee as large as possible — never less than five.
Bring up irrelevant issues as frequently as possible.
Haggle over precise wordings of communications, minutes, resolutions.
Refer back to matters decided upon at the last meeting and attempt to re-open the question of the advisability of that decision.
Advocate "caution." Be "reasonable" and urge your fellow-conferees to be "reasonable" and avoid haste which might result in embarrassments or difficulties later on.
Managers
In making work assignments, always sign out the unimportant jobs first. See that important jobs are assigned to inefficient workers.
Insist on perfect work in relatively unimportant products; send back for refinishing those which have the least flaw.
To lower morale and with it, production, be pleasant to inefficient workers; give them undeserved promotions.
Hold conferences when there is more critical work to be done.
Multiply the procedures and clearances involved in issuing instructions, pay checks, and so on. See that three people have to approve everything where one would do.
Employees
Work slowly.
Contrive as many interruptions to your work as you can.
Do your work poorly and blame it on bad tools, machinery, or equipment. Complain that these things are preventing you from doing your job right.
Never pass on your skill and experience to a new or less skillful worker.
FULL TEXT