Sir Archibald Clark Kerr (17 March 1882 – 5 July 1951) was British Ambassador to China (1938 – 1942) the Soviet Union (1942 to 1946) and to the United States (1946 and 1948). On 6 April 1943, he wrote to Foreign Office minister Lord Reginald Pembroke (8 September 1880 – 13 January 1960). The letter involved a Turkish diplomat whose name is, well… see for yourselves.
A copy of the letter was published in The Spectator in 1978 with the comment that "an acquaintance has been delving among the Foreign Office records for the war years". Well, so they say…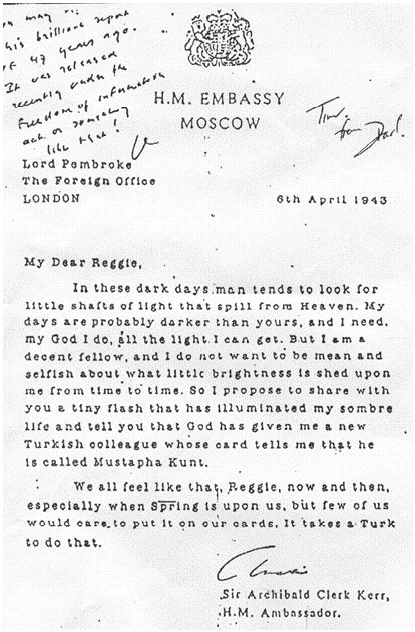 The Foreign Office

London

6th April 1943

My Dear Reggie,

In these dark days man tends to look for little shafts of light that spill from Heaven. My days are probably darker than yours, and I need, my God I do, all the light I can get. But I am a decent fellow, and I do not want to be mean and selfish about what little brightness is shed upon me from time to time. So I propose to share with you a tiny flash that has illuminated my sombre life and tell you that God has given me a new Turkish colleague whose card tells me that he is called Mustapha Kunt.

We all feel like that, Reggie, now and then, especially when Spring is upon us, but few of us would care to put it on our cards. It takes a Turk to do that.

[Signed]

Sir Archibald Clerk Kerr,

H.M. Ambassador.
Kerr was an avid letter writer. He corresponded often daily with his mother. Kerr also wrote to his colleagues and friends, such as Harold Nicolson, Vita Sackville-West, Eustace Percy, Alice Drummond-Hay, Robert Boothby and Gerald Villiers, and with British and foreign aristocrats, such as the German Kaiser's sister, Sophie Duchess of Sparta (later Queen Consort of Constantine I of Greece) and Elizabeth Bowes-Lyon (later Queen Consort of Georg VI and Queen Mother).
Via Letters of Note. More of his paper are at the Bodleian in Oxford.