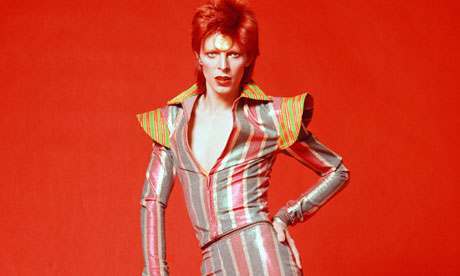 In May 1973, BBC TV's Nationwide despatched Bernard Falk to the Winter Gardens in Bournemouth, Dorset, to show David Bowie to the great unwashed. Falk was a journalist of the old school. This would be no sycophantic fawn. In 1971 Falk, formerly of the tabloid Daily Mirror, was imprisoned for four days in Belfast's Crumlin Road jail for contempt of court. He had interviewed a member of the IRA for the BBC but refused to reveal his source to the police. When the IRA member was put on trial, Falk refused to identify him in the dock. As for music, well, prior to journalism, Falk had played rhythm guitar for the band Tony Snow and his Blizzards (featuring Richard Stilgoe).
(An aside: Tony Snow and the Blizzards was a take on Liverpool's Rory Storm and the Hurricanes, whose drummer was Ringo Starr. Whatever happened to him?)
In his narration, Falk observes Bowie as one might view a specimen in a jar. It's May 25 1973. Bowie is changing into his Ziggy Stardust gear:
"David Bowie spends two hours before a show caressing his body with paint. Bowie is a skinny lad with a pasty complexion and ochre-dyed hair in a Teddy Boy-style of 20 years ago. Yet with a dash of make-up he is transforming himself into an object that is worshipped by millions of girls…An ex-art student from Brixton, whose Dad worked for Dr Barnardos Homes, (he) has turned himself into a bizarre self-constructed freak. It is a sign of our times that a man with a painted face and carefully adjusted lipstick should inspire admiration from an audience of girls aged between 14 & 20…."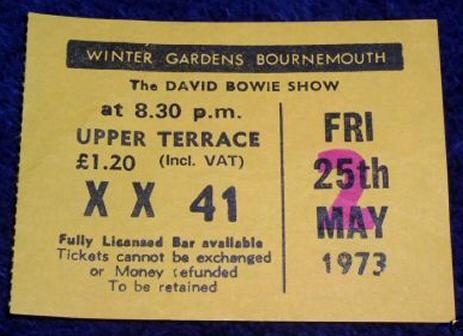 Catty stuff from Falk, who also meets the Bowie fans:
Falk: What would it mean to you to be able to go through that door?
Female Fan: I'd give anything to go in there – I really would.
Falk to a Male Fan: He's just another fellow – you know.
Male Fan: Well – no – he's not. Nobody else …could produce that music. He's a fantastic person.
Falk to Female Fans: Isn't it a bit degrading standing outside the door when he is inside?
Female Fan: No!
Narrator: Why? It's degrading for me standing outside here.
Female Fan: (Showing annoyance) Why don't you go in then!
Falk: Don't you find…I mean…why do you stand for it?
Female Fan: (Gives look of disbelief) What do you think?
Enjoy: