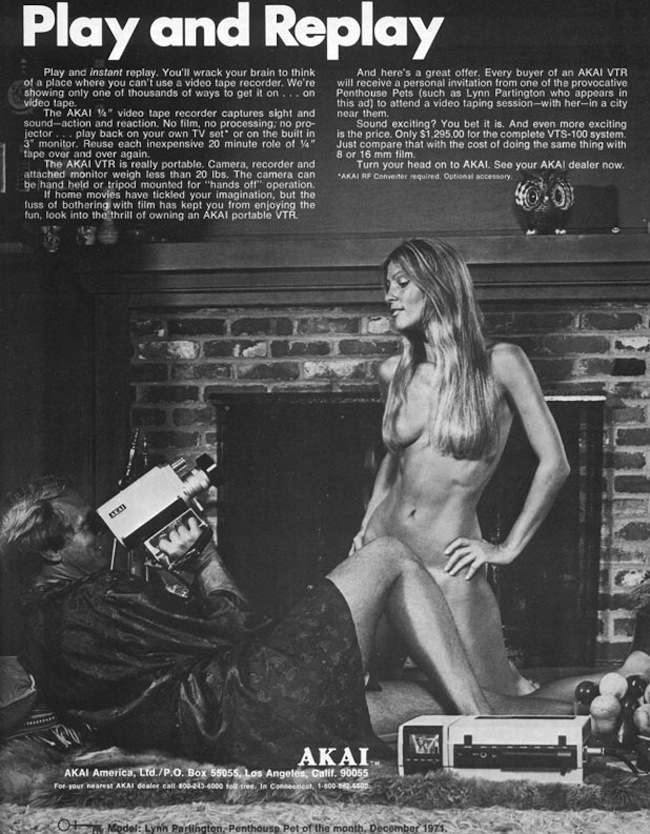 WHEN was user-generated pornography born? Before the camera phone it was 1972 and amateur filmmakers were getting to grips with the AKAI "portable" VTR 1/4″ video tape recorder. The tapes required no processing, so negating any need for trips to that special shop at the back of the precinct. It had a "hands-off  operation".
The advert featured Penthouse Pet Lynn Partington and the legend:
"Play and instant replay. You'll wrack your brain to think of a place you can't use a video tape recorder. We're showing only one of thousands of ways to get it on…on video tape. And here's a great offer. Every buyer of an AKAI VTR will receive a personal invitation from one of the provocative Penthouse Pets to attend a video taping session—with her—in a city near them."
Making porn was just one of the thousands of ways to use your AKAI gadget – but it might have been the only one that mattred.
AKAI went bust in 2004.
[imagebrowser id=4472]
Spotters: copyranter,bitterbuffalo, inmont4uk, nevver,stepa