A HISTORY of National Anthem Diasaters:
2012: Kuwait
When Kazakhstan's Mariya Dmitriyenko received her gold medal at the recent Arab Shooting Championship in Kuwait, she was greeted, not with the customary national anthem, but by the obscene version from the film Borat. Highlights included "Kazakhstan's prostitutes cleanest in the region" and "come grasp the mighty penis of our leader".
But she took it in all in her stride, possibly aware that such indignities are nothing new…

2007: England v Croatia
Opera singer Tony Henry entertained the Croatian section of the Wembley crowd before this crucial Euro qualifier by interpreting their national anthem in his own unique style. He was supposed to sing "You know my dear how we love your mountains". Instead he sang "My dear, my penis is a mountain."
"I can't even defend myself at the end of the day," he said afterwards, on learning of his schoolboy error. "It was apparently the last line on the second verse which I made the mistake on."
The Croats took it in good heart, and had the last laugh, winning 3-2 and qualifying at England's expense.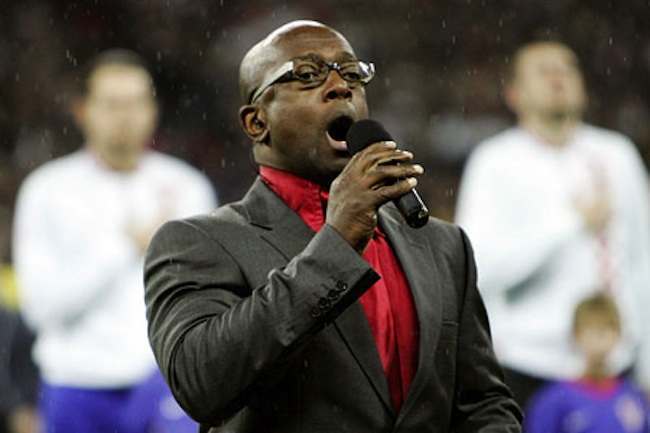 1993: Welsh Conservative Party Conference
John Redwood, in addition to being MP for the Planet Zog South constituency, was also Secretary of State for Wales. Not that you would have guessed it from his rendition of Hen Wlad Fy Nhadau…
2009: Munich
Pete Doherty treated the crowd at his German concert to a full version of that country's national anthem. Full, that is, in the sense of including the discarded Nazi verse "Deutschland, Deutschland über alles", which was dropped after the Second World War.
Doherty's spokesperson explained that: "[He] wanted to celebrate his appearance in Munich by assimilating and integrating with the crowd, something he tries do wherever he goes. He was unaware of the controversy surrounding the German National anthem and he deeply apologises if he has caused any offence. […] Peter himself is from Jewish descent and has fought against racism and fascism with numerous organisations including Love Music Hate Racism. This is a subject he feels very strongly about."
2011: Super Bowl
Christina Aguilera's mauling of the Star Spangled Banner is deserving of approbrium for musical reasons alone. Not content with turning it into a bombastic power ballad and emoting in ways that would be physically impossible for any normal human being, she also rewrote the lyrics.
"What so proudly we watched at the twilight's last reaming," she sang, to the delight of nobody.
"I got so caught up in the moment of the song I lost my place," she claimed. "I can only hope everyone could feel my love for this country and the true spirit of its anthem still came through."

2011: Green Bay Packers v Detroit Lions
Anything Christina can do, American Idol contestant Lauren Alaina can do better, as she proved at this Thanksgiving football match.
There was some sympathy on this occasion, but as she herself admitted, "the truth is I messed up. I'm gonna spend the rest of the day being thankful for all my blessings."
1990: Jack Murphy Stadium
And finally, from the mother of all TV mothers, the mother of all hatchet jobs. Roseanne Barr's rendition before the San Diego Padres v Cincinnati Reds game was described by President Bush as "disgraceful". Barr said she had been told to "bring humour to the song".