In 1983 Stevie Nicks starred in Hands Off!: A Unique New System of Self Defence Against Assault for the Women of Today. Written by Bob Jones, an Australian martial arts expert who worked security for Fleetwood Mac, The Beatles, Joe Cocker, The Rolling Stones, David Bowie, and other big names, Stevie Nicks was on hand to showcase Bob's nine "mnemonic movements".
Witty insults can also help fend off a sex attacker. Bob offers one line: "I've seen better knobs on toilet doors."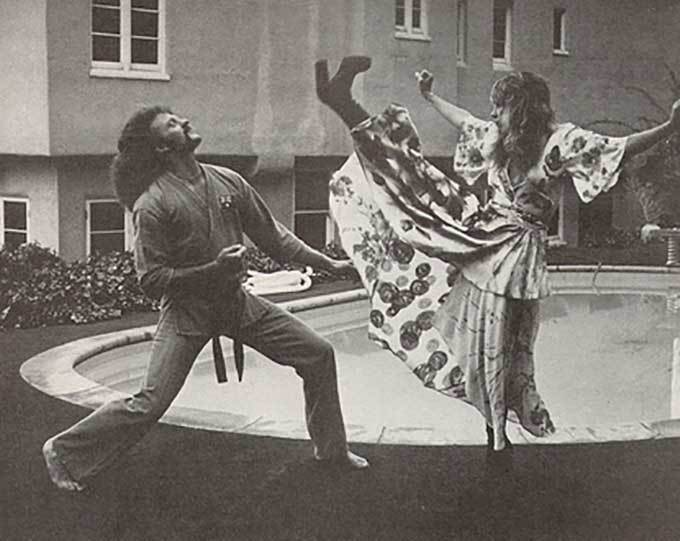 Jones recalls:
"This lady was a professional: in two hours I had a hundred of the most magnificent photos ever offered to the martial arts, and just one would make the cover…

"On this day of the shoot I was standing in my martial arts training uniform, wearing my Black Belt. Then Stevie appeared, her hair done to resemble the mane of a lion. She was psyched up for some serious photographing. Stevie wore her familiar thick-soled, thick-heeled, knee-high brown suede kid leather boots. High roll-over socks appeared over the top of these elegant Swedish boots and hung tentatively around her knees… In these kicking-style photographs the sun also made her dress partially see-through: just enough to be artistically interesting."
Also on hand to endorse Bob was Frida Lyngstad from Abba: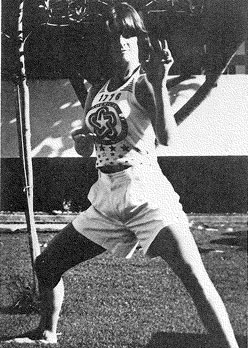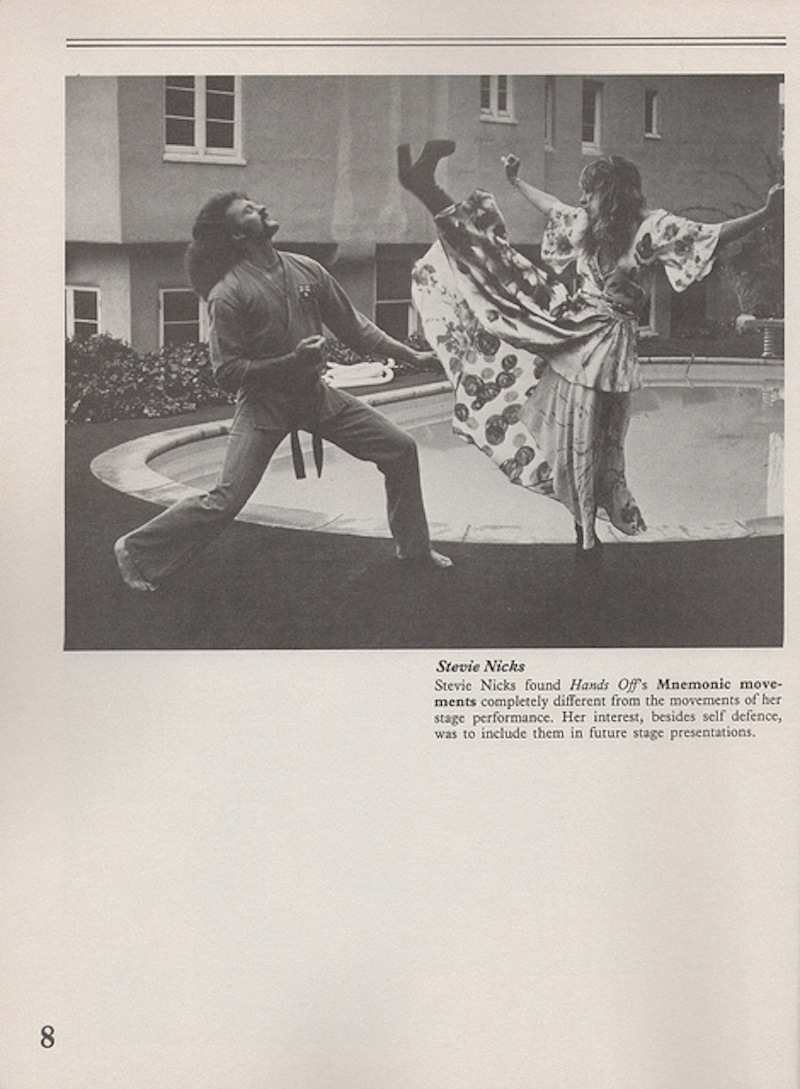 The text on the back cover tells readers:
COULD YOU AVOID BEING RAPED? INSTEAD OF BEING PARALYSED WITH FEAR YOU WILL BE READY AND BRACED IN ANY RAPE SITUATION AFTER READING THIS BOOK – NO OTHER BOOK HAS EVER BEEN WRITTEN LIKE THIS… IT USES THE TECHNIQUES OF MNEMONICS (MEMORY FIXERS) SO YOU WILL AUTOMATICALLY REACH BACK INTO ITS PAGES WHEN FIGHTING FOR YOUR LIFE.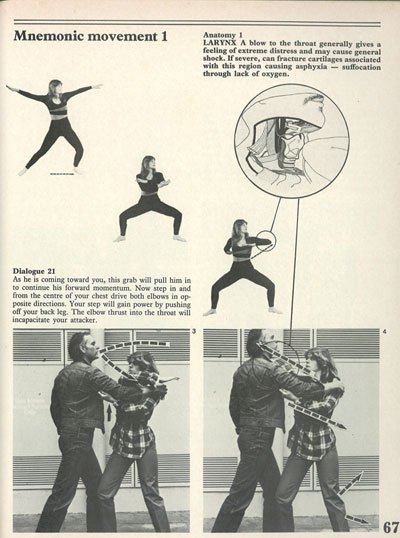 The book begins:
PUBLISHER'S NOTE

The laws relating to assault permit one to legally defend oneself against attack from another person, using only the minimum amount of necessary force. Use of excessive force may lead to charges against the defender. Some of the techniques in this book may cause serious injury and even death if applied with undue force. No responsibility can be taken by the publishers or author for injuries resulting from employment of these techniques.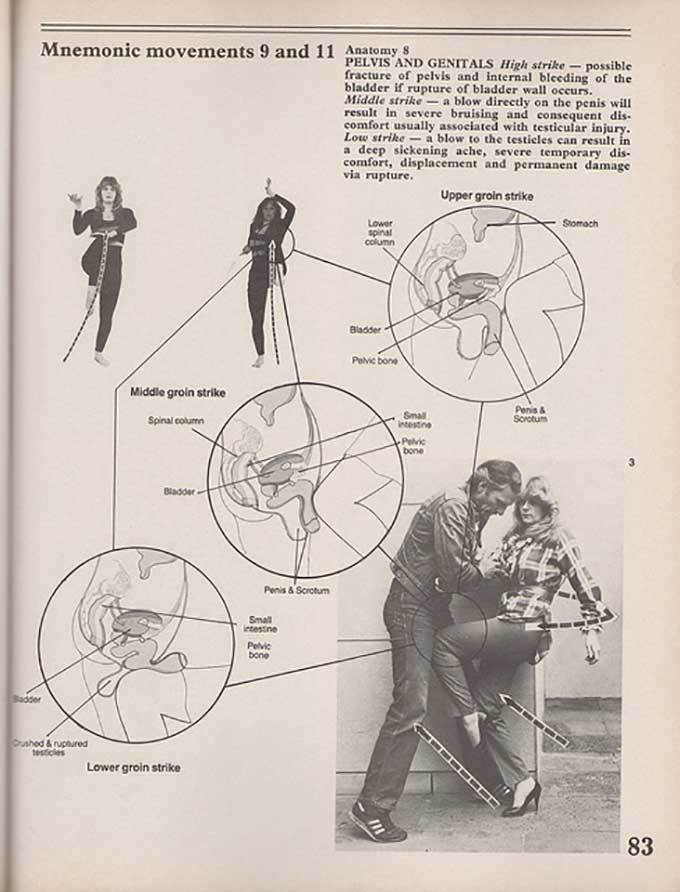 What to do if under attack? Says Bob:
"The answer is in your hands. Read this book, and read it again and again as the simple explanation of Environmental Defence Awareness will fill you, a woman, with a sense of pride, dignity and self respect."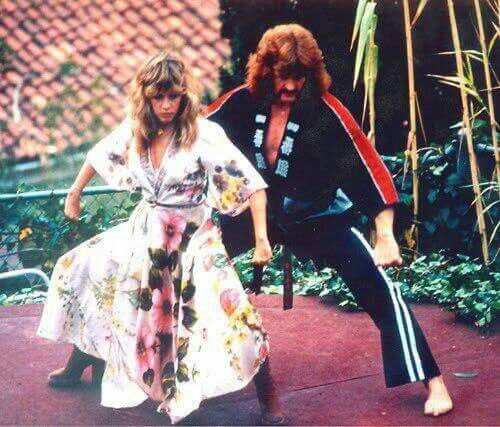 Says Bob:
The physical act of rape, sometimes only lasting a matter of seconds, is not the end product of an assault on a woman – it is merely the beginning. Months later the court proceedings will take the form of emotional rape, day after day of continual cross-examination, being forced to relive every terrifying second. The degradation of having to tell and retell every detail of the degrading assault has driven many women to the thought and act of suicide. Body scars can be repaired; asylums are full of mental scars that will never repair. Look out if you go to court and have to say you didn't fight back. If you are really lucky your parents might understand. Some husbands and boyfriends tend to see you as having had sex with another man even if you do convince them that you were raped.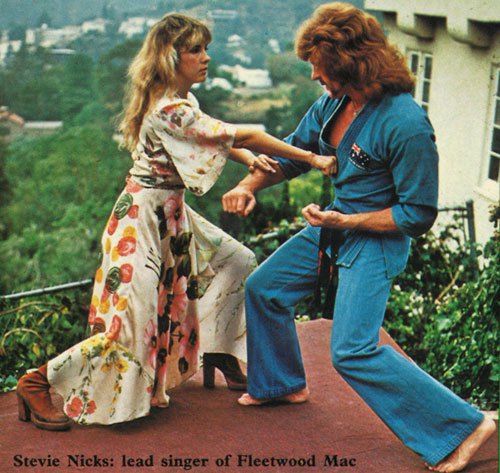 Bon then shows us pictures of a naked man. He advises:
Even the most violent rape situation imaginable is simply countered by the use of EDA weapons. These simple weapons which every woman carries are best utilised against exposed parts of the body. Therefore, the naked male is the most vulnerable.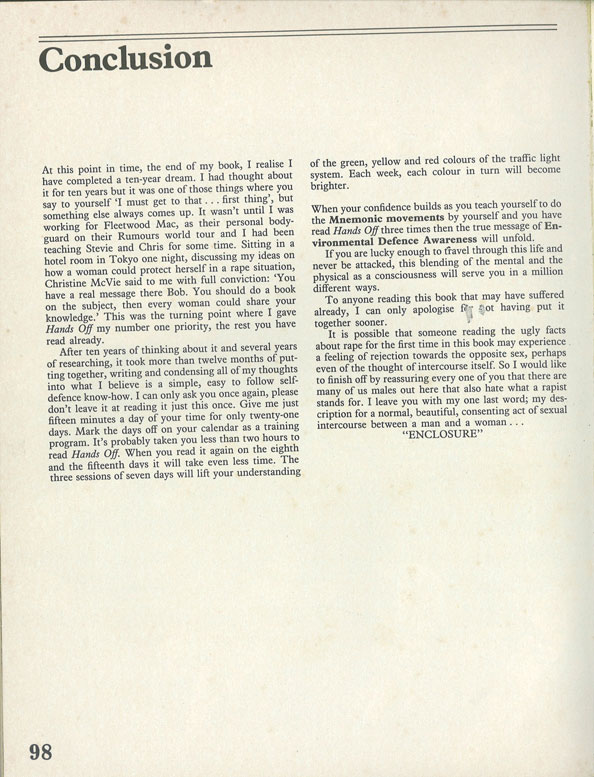 It is possible that someone reading the ugly facts about rape for the first time in this book may experience a feeling of rejection towards the opposite sex, perhaps even of the thought of intercourse itself. So I would like to finish off by reassuring every one of you that there are many males out here that also hate what a rapist stands for. I leave you with my one last word; my description for a normal, beautiful, consenting act of sexual intercourse between a man and a woman… "ENCLOSURE"