Roberta Ashley's 1967 Singers and Swingers in the Kitchen is the "scene-makers cookbook". The book features "The Scene Makers Cookbook Dozens of Nutty Turned On Easy-To-Prepare Recipes From The Grooviest Gourmets Happening". Ready for "hip, mod, delicious recipes".
Theses cats were the original celebrity master chefs. With recipes from The Rolling Stones, Leonard Nimoy, The Byrds, Omar Sharif (Southern Fried Chicken), Barbra Streisand, Peter Tork, Liza Minelli, Simon & Garfunkel, the Mamas & Papas, Paul Revere and the Raiders, Paul Anka and The Buckinghams..
As Roberta writes: "Give it a try, the recipes are mostly easy ones and remember a year ago, Barbra Streisand couldn't cook at all".
Not all stars are into Extreme Dieting, like The Who's Keith Moon was.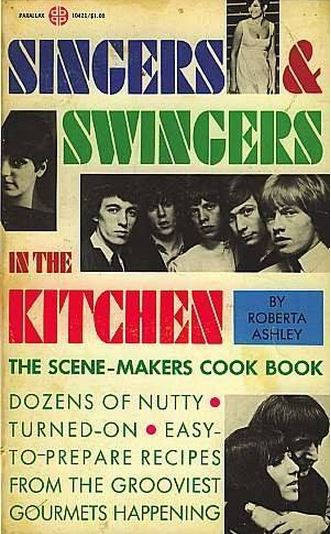 Bab's "likes anything from hot-dogs to pheasant".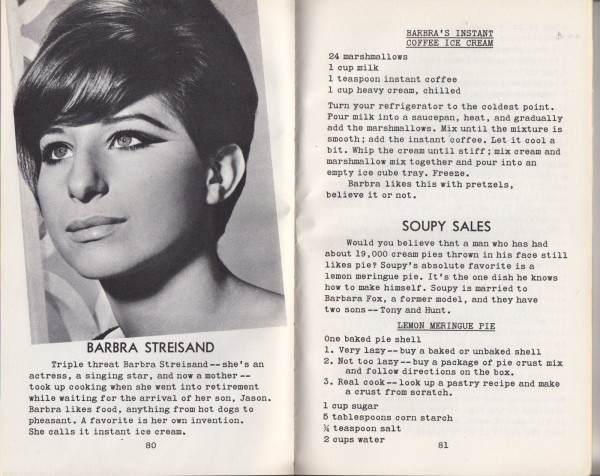 Simon And Garfunkel's Potato Pancakes. Guarantee the sound of silence at any dinner table.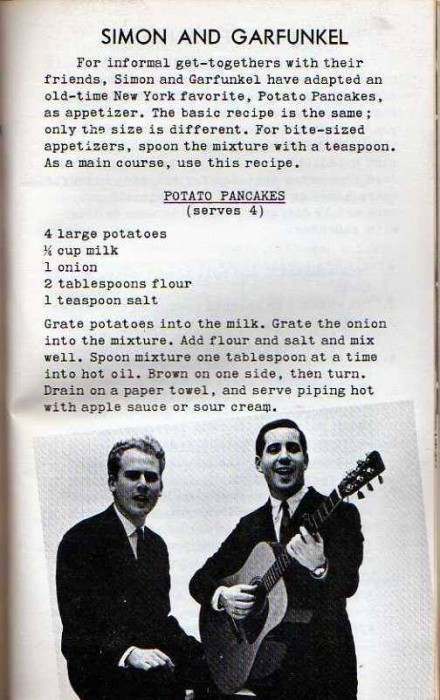 Who doesn't look at Keith Richards and think "I'll have what he's having"? But man cannot live by booze and fags alone. Notes Roberta: "Mick Jagger invented the potatoes and franks; Charlie Watts added the beans."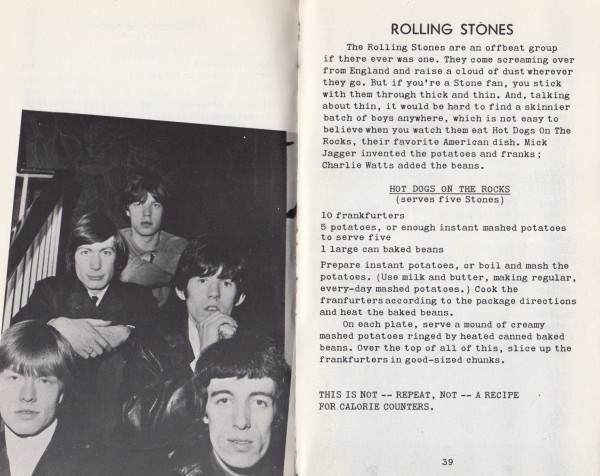 Leonard Nimoy's has a great "repertoire of budget recipes for entertaining". Has there even been written a more damning line? Oh. Mr Nimoy, with this tinned Cold Soup you're really spoiling us.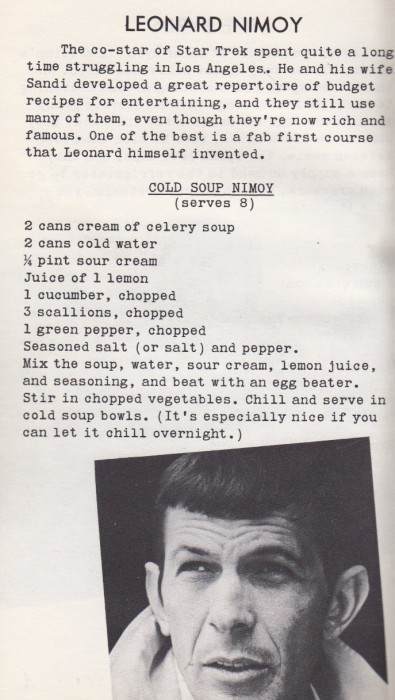 Noel Harrison fancy mince. Harrison get a big blurb build up. But who was he? His father was the actor Rex Harrison and his mother, the first of six Mrs. Rex Harrisons, was Collette Thomas.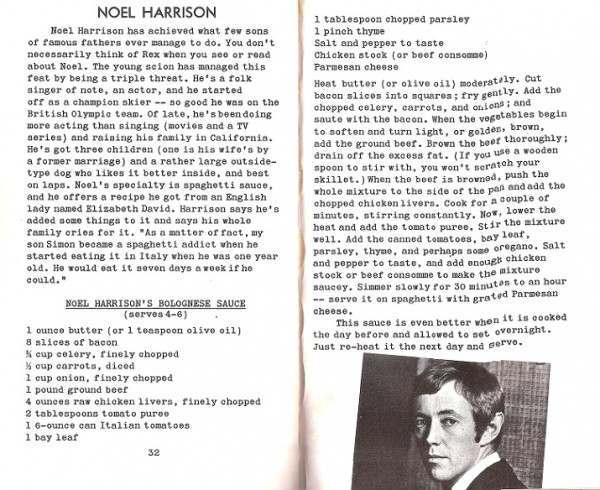 The Cyrkle. That's Ky-are-kill (or is it?).  They could have been America's homegrown Fab Four. And with their battered sausages they stayed battered.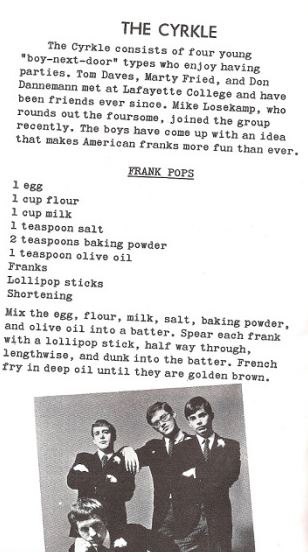 Lesley Gore's makes a hamburger from beef. Gore 's smash hit was It's My Party and I'll Cry If I Want To. Her guests might just wonder if cooked soup makes a decent relish?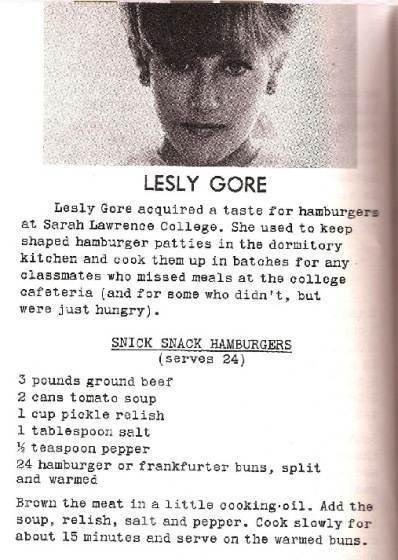 The Robbs make Robb Stew.
The Robbs were brothers Dee Robb, Joe Robb, Bruce Robb and their cousin Craig Robb (nee Craig Krampf). "Each member of the original Robbs lineup ultimately left the group until only Krampf remained." (The Robbs are award-winning producers/engineers, creating hits for Rod Stewart, John Cougar Mellencamp, Alice Cooper,  The Gogo's, Aerosmith, Lenny Kravitz, Devo, Public Enemy and Jane's Addiction Steely Dan, to name a few.)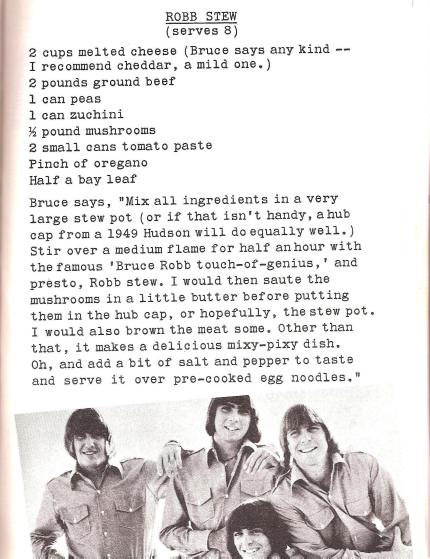 Carol Lawrence's Lasagne. Was it good? You betcha.
Says Roberta: "Making a rather nice name for herself in Hollywood; not as a star but as a lasagne-maker."  Just add lemons.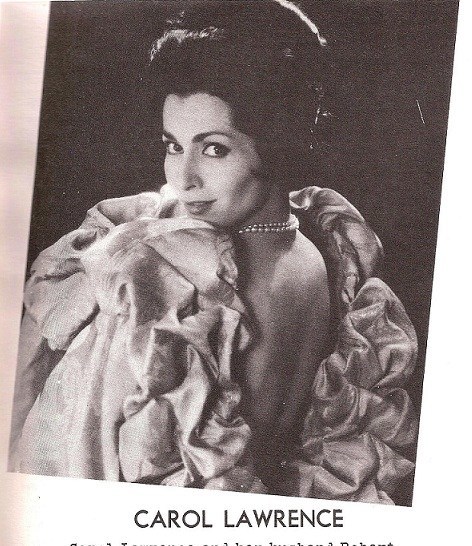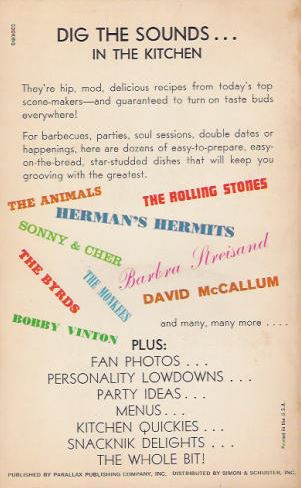 Spotter: RetroFoodModernTimes