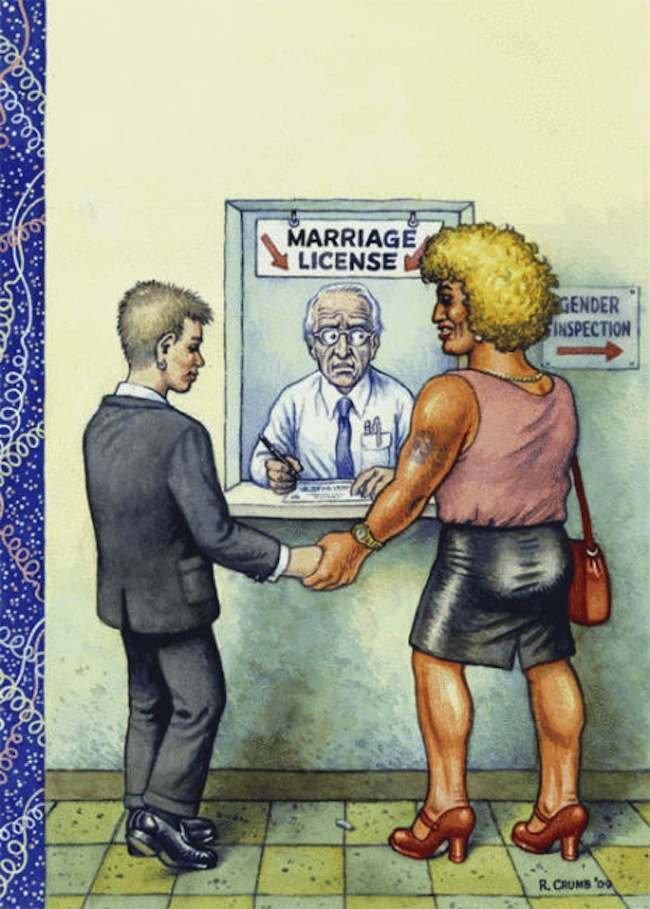 WHY did the New Yorker magazine reject Robert Crumb's same sex marriage cover (see above)? Nadja Sayej got the bottom of why the New Yorker didn't use this art by Robert Crumb: They never told him…
Did the rejection offend you?
I'm in a privileged position because I don't need the money. When you go to the cover editor's office, you notice that the walls are covered with rejected New Yorker covers. Sometimes there are two rejected covers for each issue. I don't know what the usual policy is, but I was given no explanation from David Remnick, the editor in chief, who makes the final decisions.

Has the New Yorker attempted to commission work from you since this cover?
Yeah, Françoise [Mouly, the art editor] keeps mailing me these form letters, which they send to various artists they like to use. It says something like, "OK, so here are the topics for upcoming covers." They send it out a couple of times a year or something. But it's a form letter, not a personal letter.

Did you receive an apology?
An apology? I don't expect an apology. But if I'm going to work for them I need to know the criteria for why they accept or reject work. The art I made, it only really works as a New Yorker cover. There's really no other place for it. But they did pay me beforehand—decent money. I have no complaint there. I asked Françoise what was going on with it and she said, "Oh, Remnick hasn't decided yet…" and he changed his mind several times about it. I asked why and she didn't know. Several months passed. Then one day, I got the art back in the mail, no letter, no nothing.
You ask Robert Crumb to produce cover art and then are shocked when the reader is riled. That's like buying an omelette and being amazed and aghast when it comes made from egg.
Crumb returned to the subject:
The cover editor explained to me that the chief editor, David Remnick, went back and forth, first accepting my cover design, then rejecting it, then accepting it, then rejecting it. This went on for many months. I heard nothing for a long time. Finally, the artwork was returned to me without explanation, nor was an explanation ever forthcoming. Remnick would not give the reason for rejecting the cover, either to the cover editor, or to me. For this reason I refuse to do any more work for the New Yorker.
I felt insulted, not so much by the rejection as for the lack of any reason given. I can't work for a publication that won't give you any guidelines or criterion for accepting or rejecting a work submitted. Does the editor want to keep you guessing or what? I think part of the problem is the enormous power vested in the position of chief editor of the New Yorker. He has been 'spoiled' by the power that he wields. So many artists are so eager to do covers for the New Yorker that they are devalued in the eyes of David Remnick. They are mere pawns. He is not compelled to take pains to show them any respect. Any artist is easily replaced by another. Fortunately for me, I do not feel that I need the New Yorker badly enough to put up with such brusque treatment at the hands of its editor-in-chief. The heck with him!
Crumb will be remembered as a great American artist. You can see more of his work here.