"And isn't this a nutty kinda country where you can draw any irreverent, degrading thing about the most powerful people and nobody cares! You don't get jailed. You don't get persecuted. They just ice you out of the marketplace" – R Crumb, HUP, Romping Girls and Existential Smut, 1989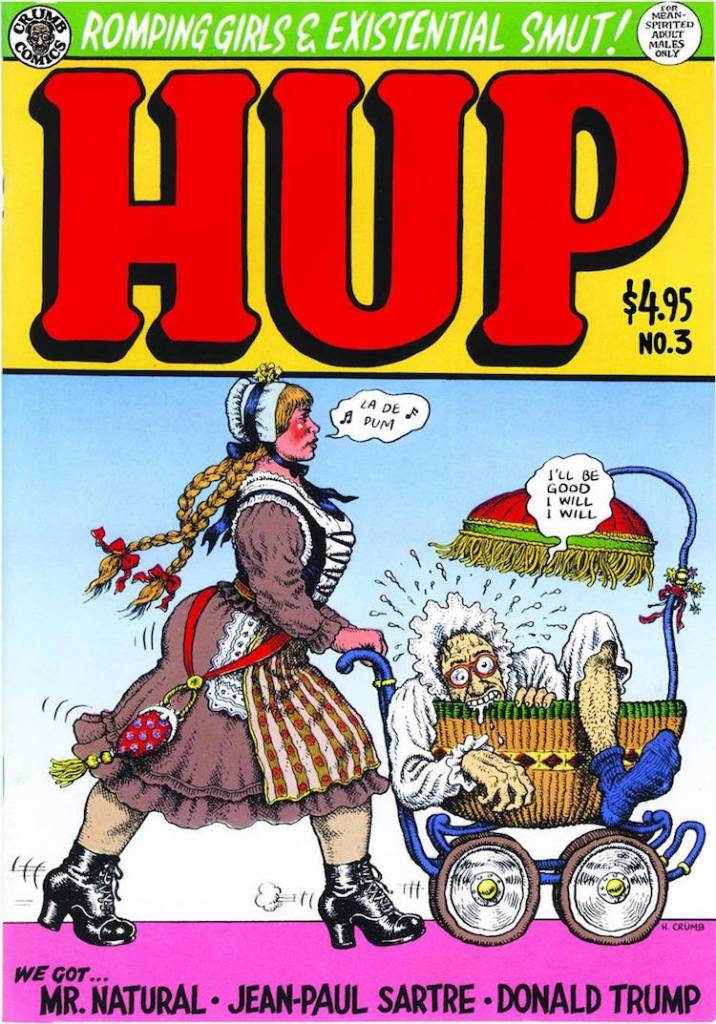 For the third issue of HUP comic in 1989, cartoonist Robert Crumb turned his ire on real estate tycoon Donald Trump, "one of the most evil men alive." Two years after the comic book hit the shelves, Crumb voted with his feet and left the US for life in France. Before leaving Crumb told the Observer:
…it all gradually fell apart through the 70s, and by the 80s with the rise of the yuppies, Reagan's election and the real estate boom. In California it was always about real estate ever since the Gold Rush, but the 80's saw a new explosion of it. They went crazy. Everybody was getting their real estate license. They kept on building these hideous housing developments where we lived. It used to be farmland there when we first arrived, then everything became a fight. Dow Chemical tried to come there, we fought that. Then the Super Collider, we fought that. It was this constant battle against these forces of development and business.
The story is called Point the Finger, a title with a portent of doom, given that in 2004 Trump – aka 'The Donald' and when offering new, "sustainable" gated golf course communities for the paranoid and rich in Scotland 'McDonald Trump' – began pointing the finger and barking "You're Fired"on TV's The Apprentice, a show in which vain contestants compete for a job as an apprentice to The Don's hair tsunami.
Crumb warns the agonists against competing to learn from a "venal" man who earns his bodyweight in gold teeth ever 30 seconds. In Point The Finger he issues a call to fight Trump, one of the "big-time predators who feed on this society:
We've had out run, wallowed in out perversity… Now it's time to shake our fist at the injustices of the system… Time to vent our rage at the rich and powerful… who force us al to live  in this polluted concrete jungle … Time for our serious political protest feature..
Tracy and Marny have brought Trump to Crumb for force.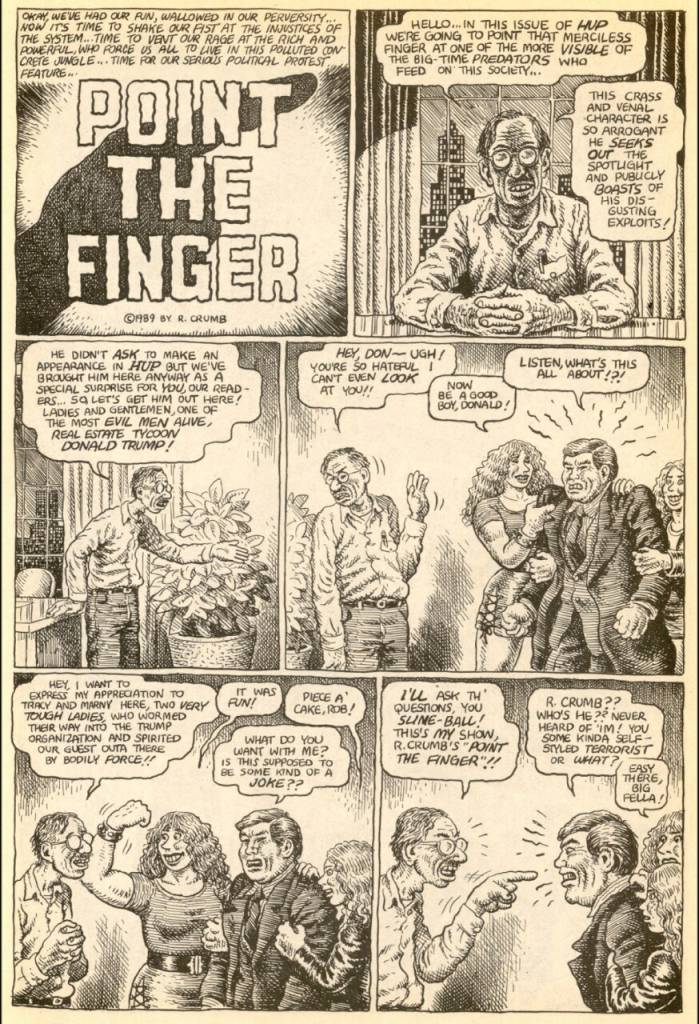 Trump tries to win the day. He fights back. Tracy and Marny begin to warm to their prisoner.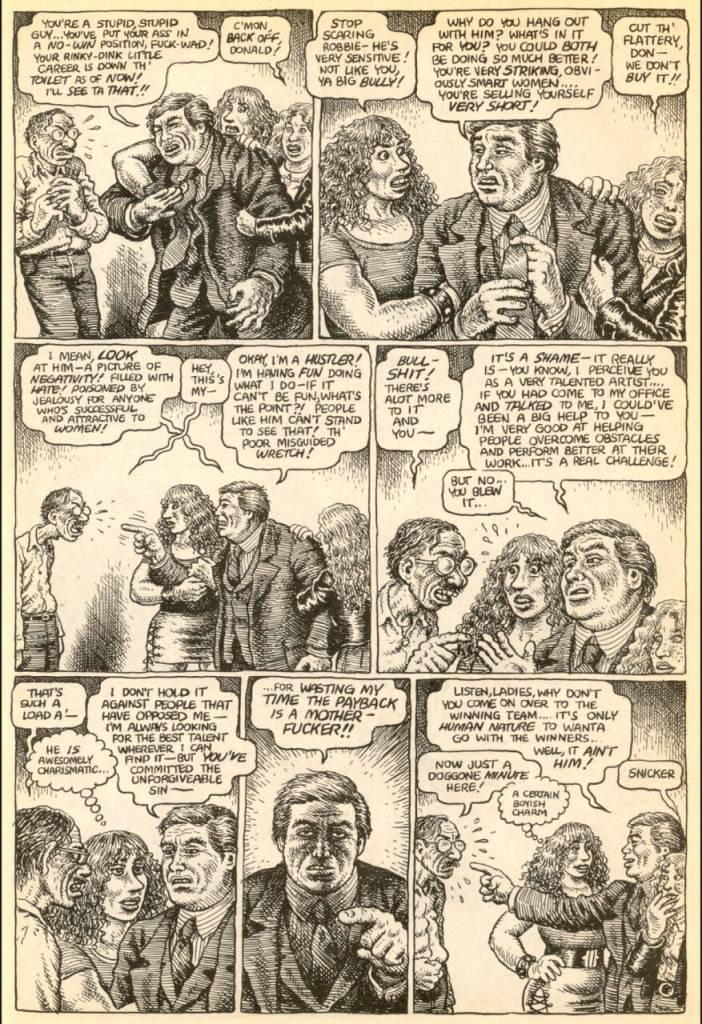 Trump senses victory. He offers the women a trip on his jet to an exotic location. There will be famous faces, eligible men, fabulous food and unique and valuable gifts.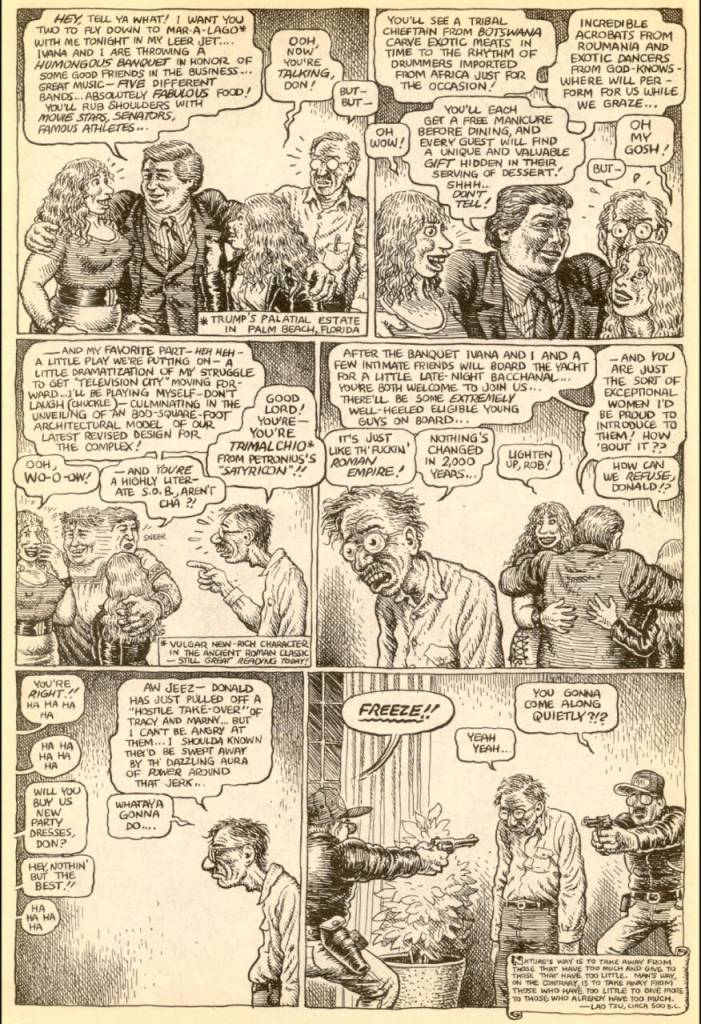 Crumb looks down for. He calls Trump Trimalchio, the revolting character in Petronius' Satyricon. He quotes the ancient wisdom of Lao Tzu, Tao Te Ching:
Nature's way is to take away from those that have too much and give to those that have too little. Man's way, on the contrary, is to take away from those who have too little to give more to those who already have too much.
But… Hold it! Crumb freeze the frames and rewinds.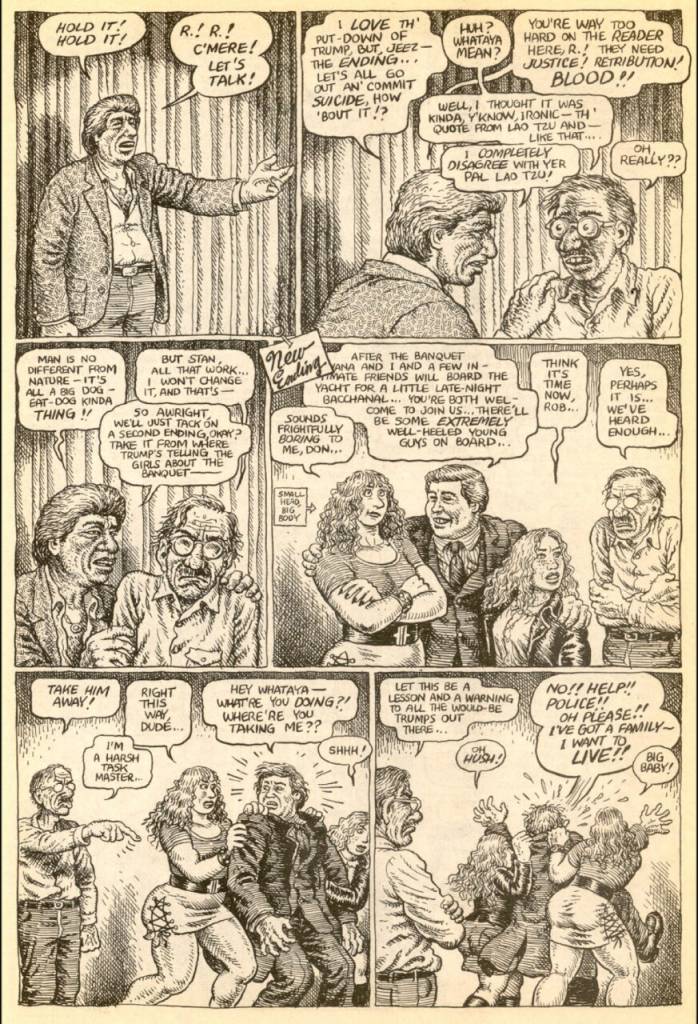 "If anybody deserves a 'swirly' it's America's hottest young billionaire"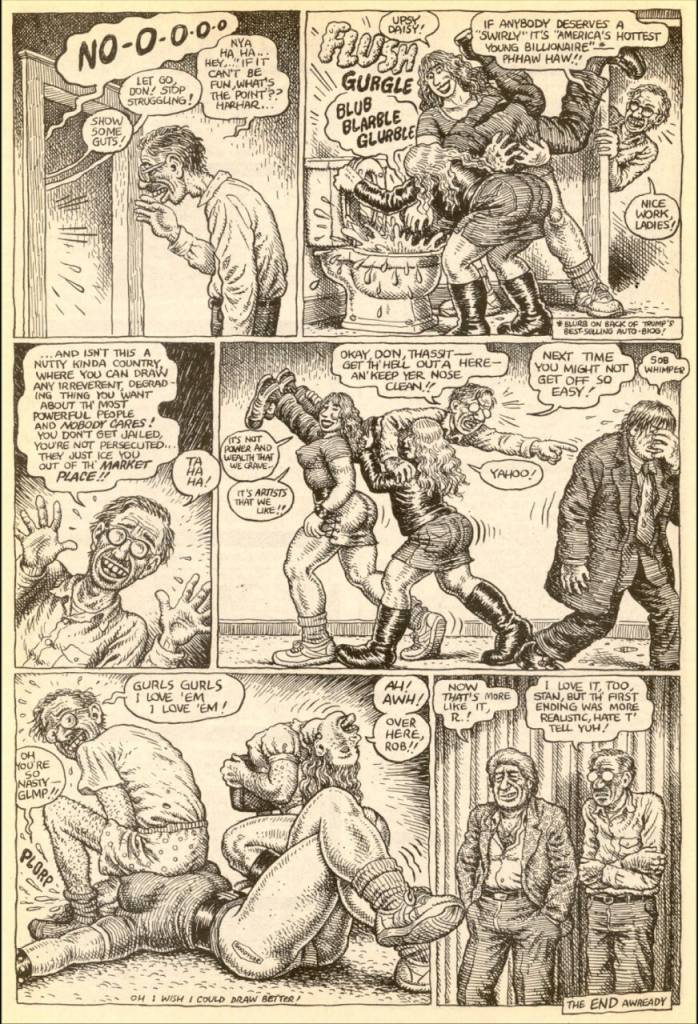 Via FatPollysComix, Open Culture, Dangerous Minds