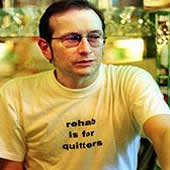 RIP Michael Wojas. You were the third and last owner of Soho's Colony Room club. The afternoon drinking club closed in 2008.
Wojas was the former Haberdashers' Aske's Boys' schoolboy who studied Chemistry at Nottingham University and found his niche in an upstairs bar with lurid green tones on Dean Street.
* In his first two years at the club, each day would begin with a hunt to find the previous day's takings, which a suspicious Ian Board had hidden behind a mirror or inside the piano before passing out and forgetting the spot.
* One acquaintance described him as looking like a blade of grass growing under a bucket.
Michael Wojas, born 9 August 1956; died 6 June 2010.
[imagebrowser id=1325 template=fancy]