You can now read George Herriman's (1881–1944) stupendous comic strip Krazy Kat (1913 to 1944) online. Thanks to Krazy Kat aficionado Joel Franusic, you can enjoy the images enlarged and in high resolution – fitting for strips originally published in full and half pages on broadsheets.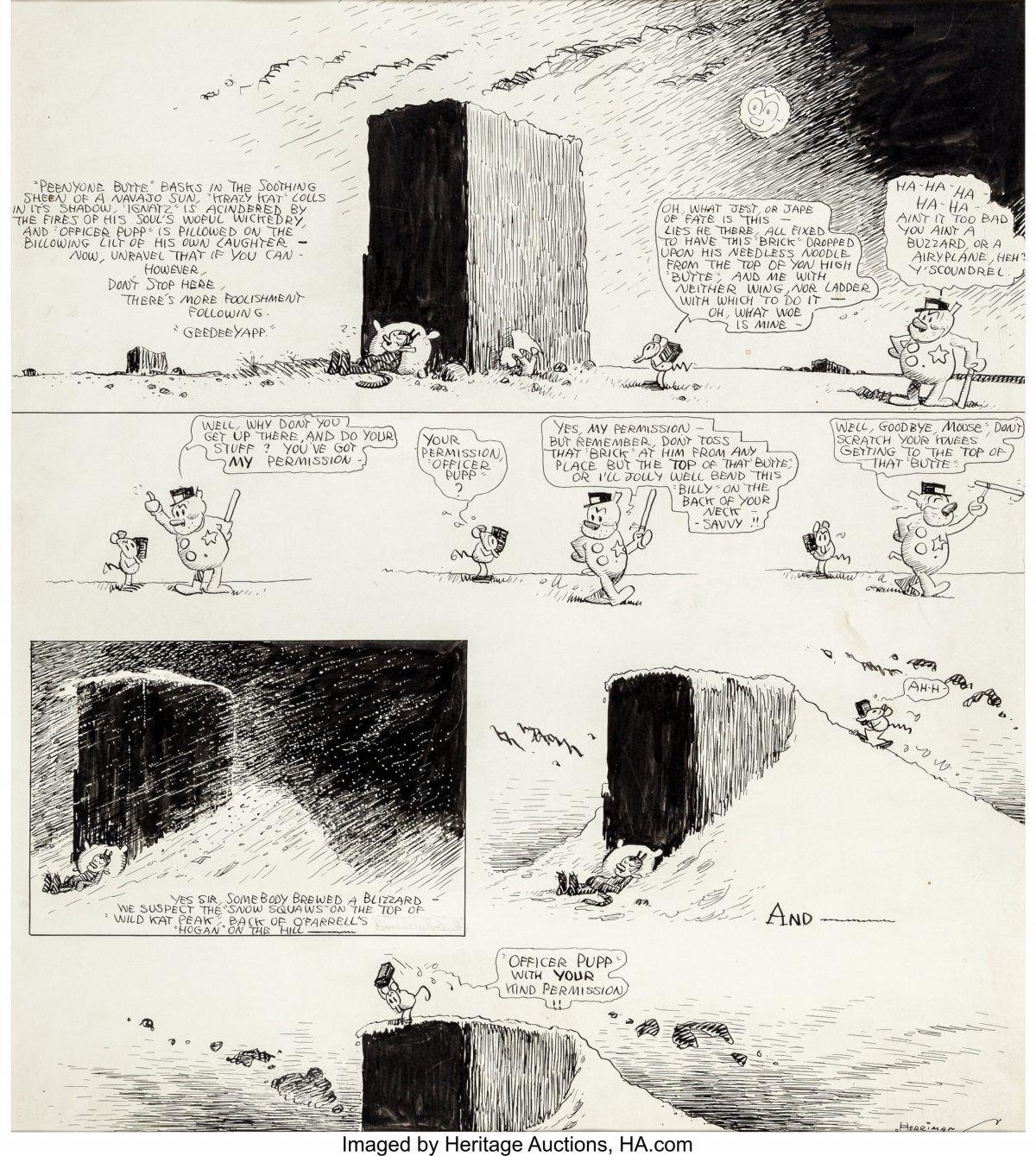 Says Joel:
"After becoming a little obsessed with Krazy Kat, I was very disappointed to see many of the books I wanted were incredibly expensive. For example Krazy & Ignatz: The Complete Sunday Strips 1916-1924 was selling on Amazon for nearly $600 and Krazy & Ignatz 1922-1924: At Last My Drim Of Love Has Come True was selling for nearly $90.

"At some point, I realized that the copyright for many of the comics that I was looking for has expired and that these public domain comics were likely available in online newspaper archives.

"So, driven a desire to obtain the 'unobtainable' and mostly by curiosity to see if it was possible, I set out to see if I could find public domain Krazy Kat Sunday comics in online newspaper archives.

"As you can see in the 'Comics' section of this site, it is possible to find Krazy Kat comics in online newspaper archives and I've made all of the comics I could find viewable on this web page."
How good is Krazy Kat? Just as Roy Lichtenstein raised comic strips to the status of art, Harriman made them works of literary renown. Both men elevated American culture and invited the rest of the world to reconsider their downward stare. Fantasy brought reality into focus. And America was a better place for it.
A few words from people who know are worth quoting. For hymned writer Umberto Eco, Krazy Kat reproduces "the myth of Scheherazade".
George Herriman's Krazy Kat came into existence around 1910–1911 and ended in 1944 with the death of the author. The dramatis personae were three: a cat of unspecified sex, probably female; a mouse, Ignatz; a dog acting as policeman, Offissa Pupp…

In Krazy Kat the poetry originated from a certain lyrical stubbornness in the author, who repeated his tale ad infinitum, varying it always but sticking to its theme. It was thanks only to this that the mouse's arrogance, the dog's unrewarded compassion, and the cat's desperate love could arrive at what many critics felt was a genuine state of poetry, an uninterrupted elegy based on sorrowing innocence. In a comic strip of this sort, the spectator, not seduced by a flood of gags, or by any realistic or caricatural reference, or by any appeal to sex and violence, could discover the possibility of a purely allusive world, a pleasure of a "musical" nature, an interplay of feelings that were not banal.

– Umberto Ecco, NY Review of Books (1985)
"Let's make no mistake about Krazy. A lot of people 'love' because, and a lot of people 'love' although, and a few individuals love. Love is something illimitable; and a lot of people spend their limited lives trying to prevent anything illimitable from happening tothem. Krazy, however, is not a lot of people. Krazy is herself. Krazy is illimitable – she loves.

"She loves in the only way anyone can love: illimitably. She isn't morbid and she isn't long suffering; she doesn't 'love' someone because he hurts her and she doesn't 'love' someone although he hurts her. She doesn't, moreover, 'love' someone who hurts her. Quite the contrary: she loves someone who gives her unmitigated joy…

"…her helplessness…is merely sensical nonsensically she's a triumphant, not to say invincible phenomenon… We understand that just as there is something love infinitely more significant than brute force, there is something wisdom infinitely more significant than mental prowess…. Wisdom, like love, is a spiritual gift. And Krazy happens to be extraordinarily gifted."

– E.E. Cummins, Introduction to the first book collection of Krazy Kat
"Mr Herriman, working in a despised medium, without an atom of pretentiousness, is day after day producing something essentially fine. It is the result of a naive sensibility rather like that of the douanier Rousseau; it does not lack intelligence, because it is a thought-out, a constructed piece of work…

"In one of his most metaphysical pictures Herriman presents Krazy as saying to Ignatz: "I ain't a Kat . . . and I ain't Krazy" (I put dots to indicate the lunatic shifting of background which goes on while these remarks are made; although the action is continuous and the characters motionless, it is in keeping with Herriman's method to have the backdrop in a continual state of agitation…

"It is rich with something we have too little of – fantasy. It is wise with pitying irony; it has delicacy, sensitiveness, and an unearthly beauty. The Strange, unnerving, distorted trees, the language inhuman, un-animal, the events so logical, so wild, are all magic carpets and faery foam-all charged with unreality. Through them wanders Krazy, the most tender and the most foolish of creatures, a gentle monster of our new mythology."

– Gilbert Seldes in his 1924 analysis of popular culture, The Seven Lively Arts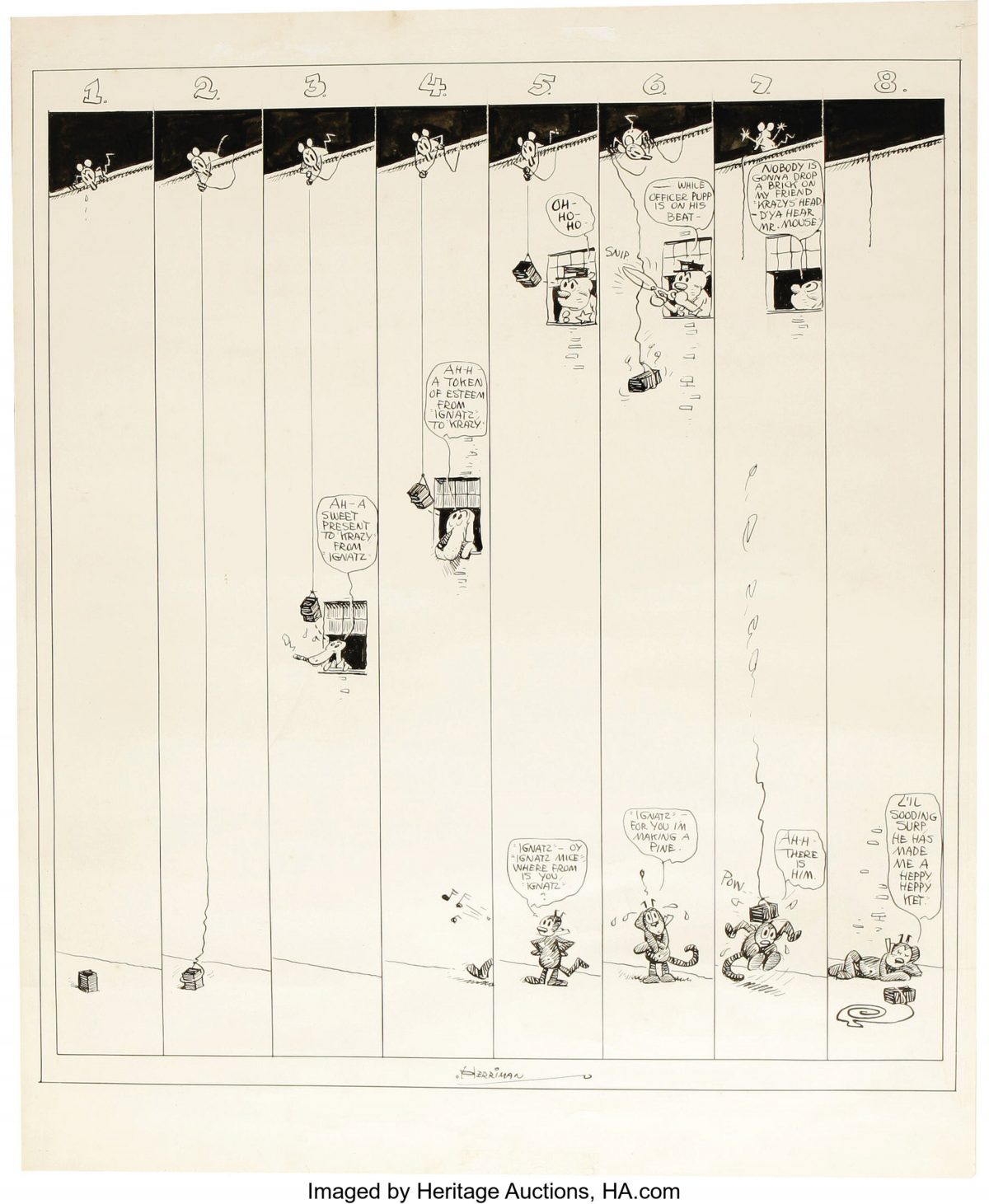 "Krazy Kat  is such a pure and completely realized personal vision that the strip's inner mechanism is ultimately as unknowable as George Herriman…

"The self-consciously baroque narrations and monologues ("From the kwaint konfines of the kalabozo del kondado de Kokonino–Officer 'Pup' gives answer") show that words can be funny in themselves, just as drawings can. The sky turns from black to white to zigzags and plaids simply because, in a comic strip, it CAN.…

Nothing in Krazy Kat had a supporting role, least of all the Arizona desert setting. Mountains are striped. Mesas are spotted. Trees grow in pots. The horizon is a low wall that characters climb over. Panels are framed by theater curtains and stage spotlights. Monument Valley monoliths are drawn to look more like their names. The moon is a melon wedge, suspended upside down. And virtually every panel features a different landscape, even if the characters don't move. The land is more than a backdrop. It is a character in the story, and the strip is "about" that landscape as much as it is about the animals who populate it…

"As the artwork is poetic, so is the writing's unique 'texture' comes in large part through the conglomeration of peculiar spellings and punctuations, dialects, interminglings of Spanish, phonetic renderings, and alliterations. Krazy Kat's Coconino County not only had a look; it had a sound as well. Slightly foreign, but uncontrived."

– Bill Watterson, creator of the comic strip Calvin and Hobbes in The Komplete Kolor Krazy Kat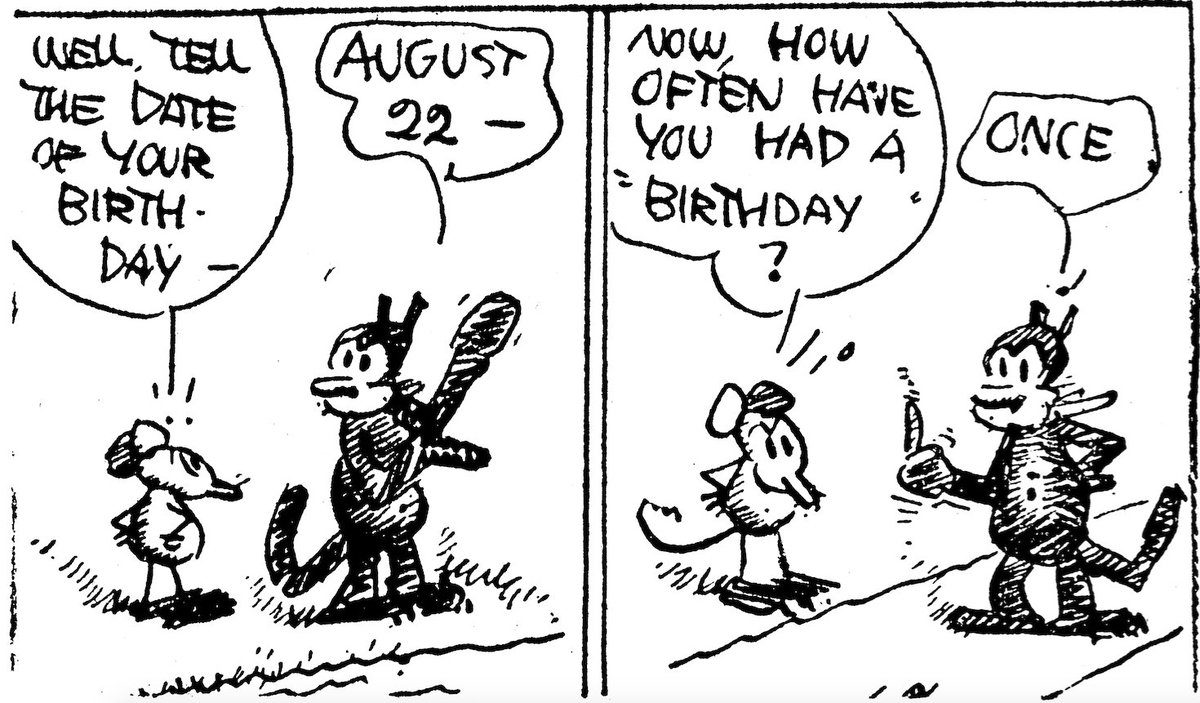 Joel adds:
After many hours of frustrating research, I was finally able to narrow determine that Krazy Kat Sunday comics are available from the following sources:

Sunday comics:

The Chicago Examiner via the Chicago Public Library
The Washington Times via the excellent "Chronicling America" archive at the Library of Congress
Newspapers.com
HA.com
In the process of looking for Sunday comics, I was also able to find several newspapers in various archives that also have copies of the daily Krazy Kat comics. However, given a self-imposed deadline I set for myself, I didn't have the time to do anything other than make a list of newspapers that have the dailies. Below is a list of newspaper archives and the year that I was able to find daily Krazy Kat comics:

Daily comics:

The St. Louis Star and Times (1913)
The Oregon Daily Journal (1914)
The Lincoln Star (1919)
El Paso Herald (1919)
The San Francisco Examiner (1920)
Salt Lake Telegram (1920)
The Pittsburgh Press (1920)
The Minneapolis Star (1920)
The Lincoln Star (1920)
There's lots more at Joel Franusic's web site.