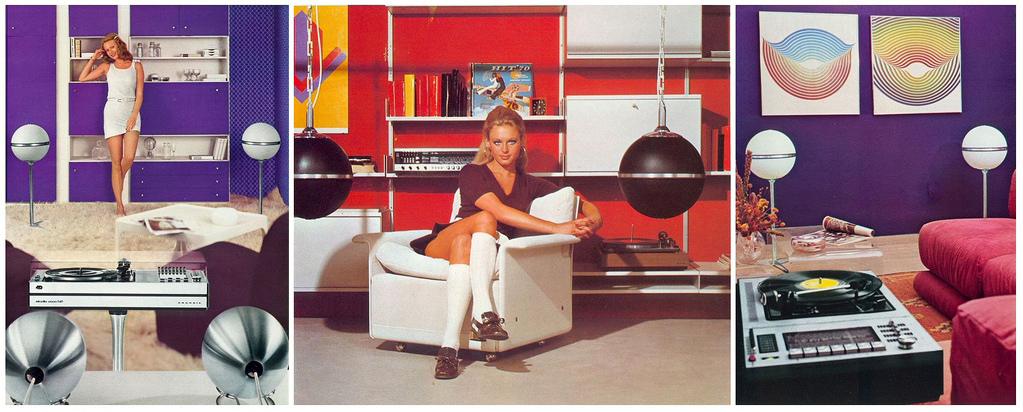 Ladies dig records – at least that's what vintage photographs, advertisements, album covers and other ephemera tells us.  Here is a gallery of chicks & discs – a collection of images of women and their vinyl from mid-century through the 1970s. Enjoy!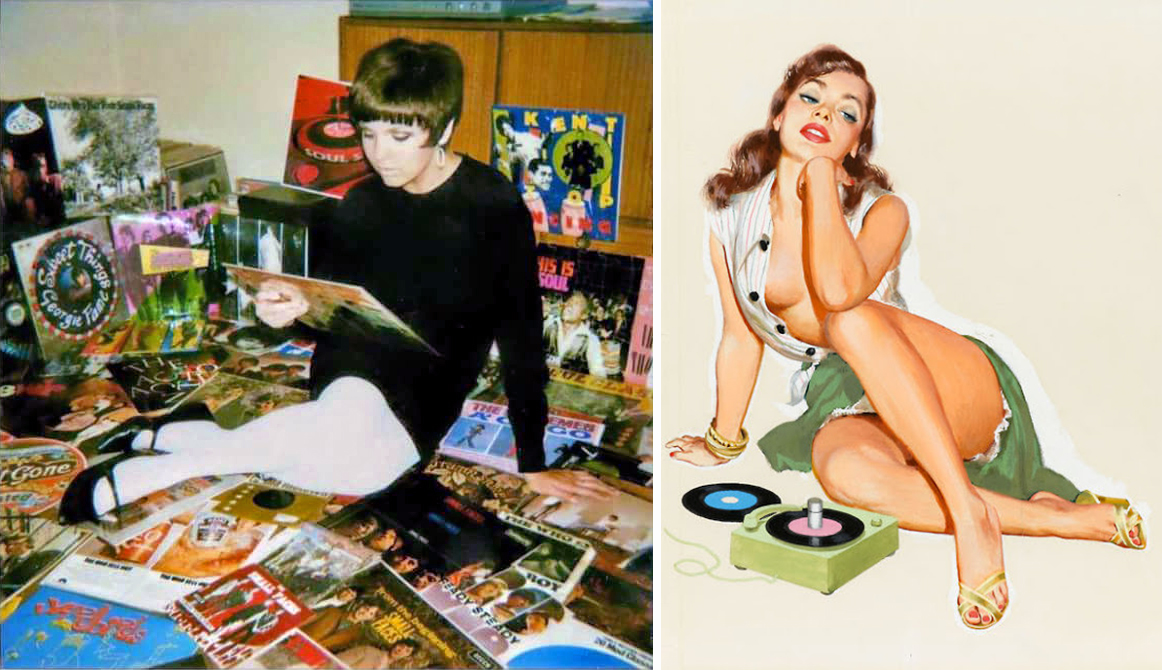 I spy the Yardbirds, Georgie Fame and the Blue Flames, Small Faces (including my favorite, Ogden's Nut Gone Flake), The Who, and an Atlantic compilation "This Is Soul" (1968).  Can you spot any others? (If only the resolution was a tad better!)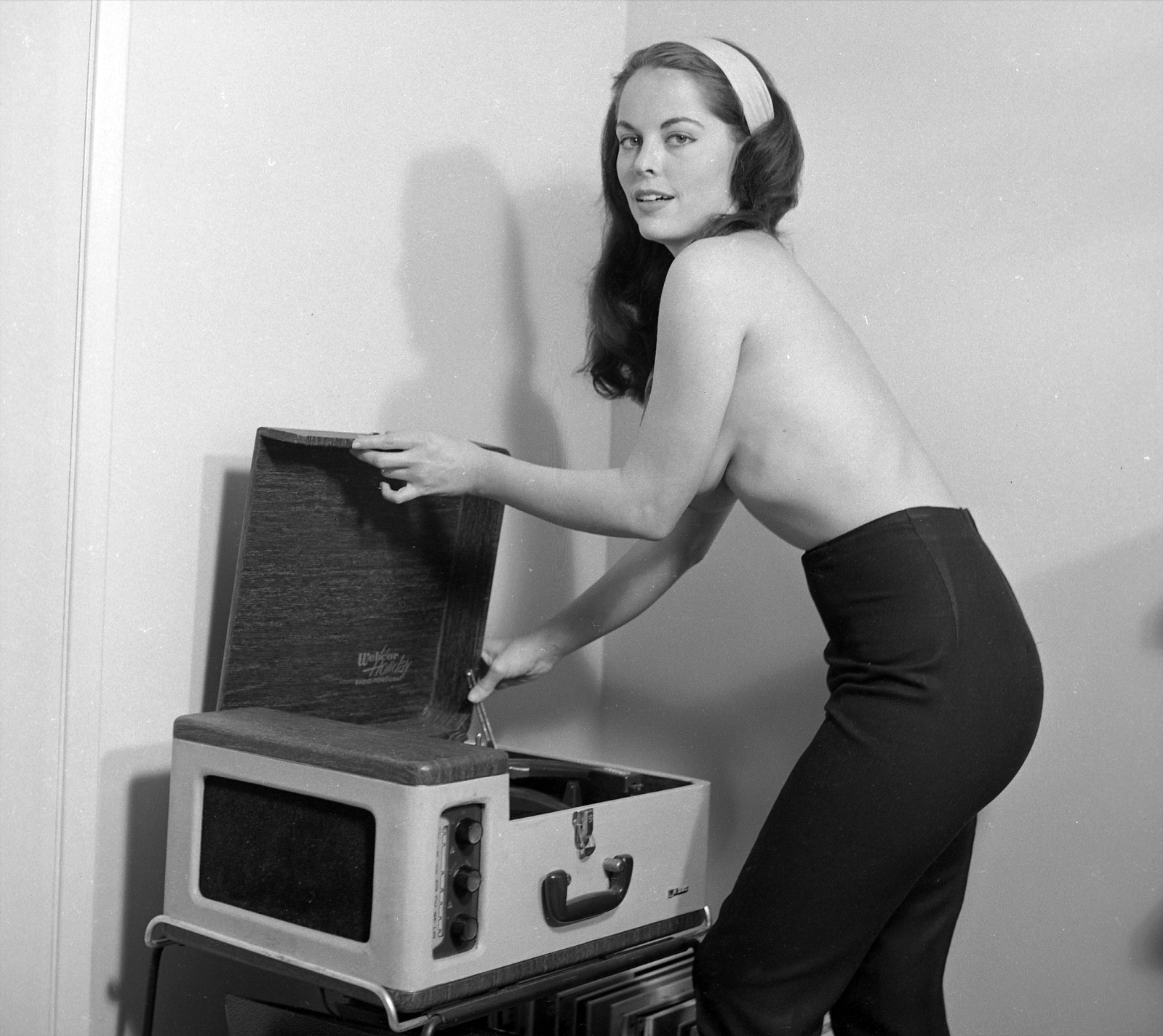 Isn't this how all ladies listen to their records – topless with high-waisted pants?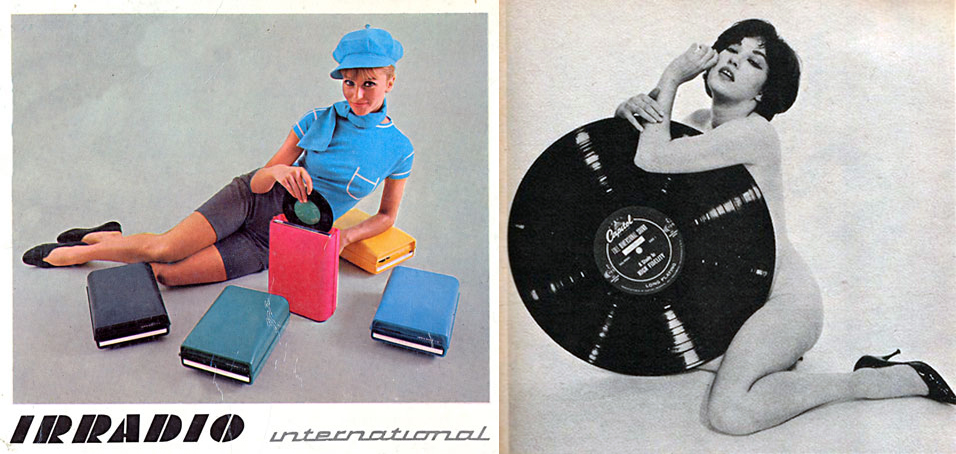 Those are some cool looking players for 45s… I'm thinking the record on the right isn't going to fit.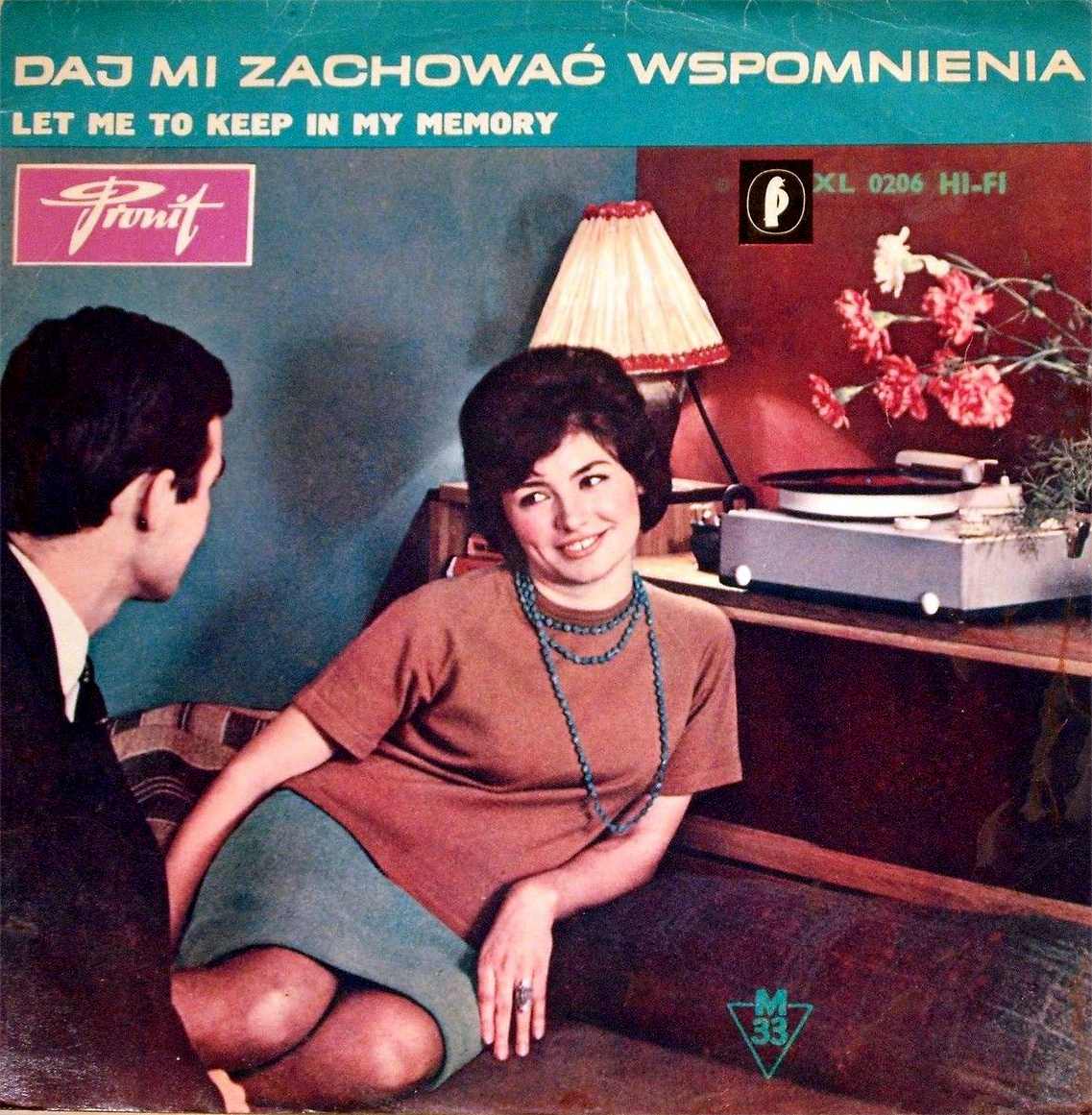 "Let Me To Keep In My Memory" – something tells me the translation is a bit off here.

Sonya enjoyed playing records for her puppy… years later she'd dye her hair and become a Bunny; but the thrill she felt at the turntable remained. If only her Yorkie were here to share the experience.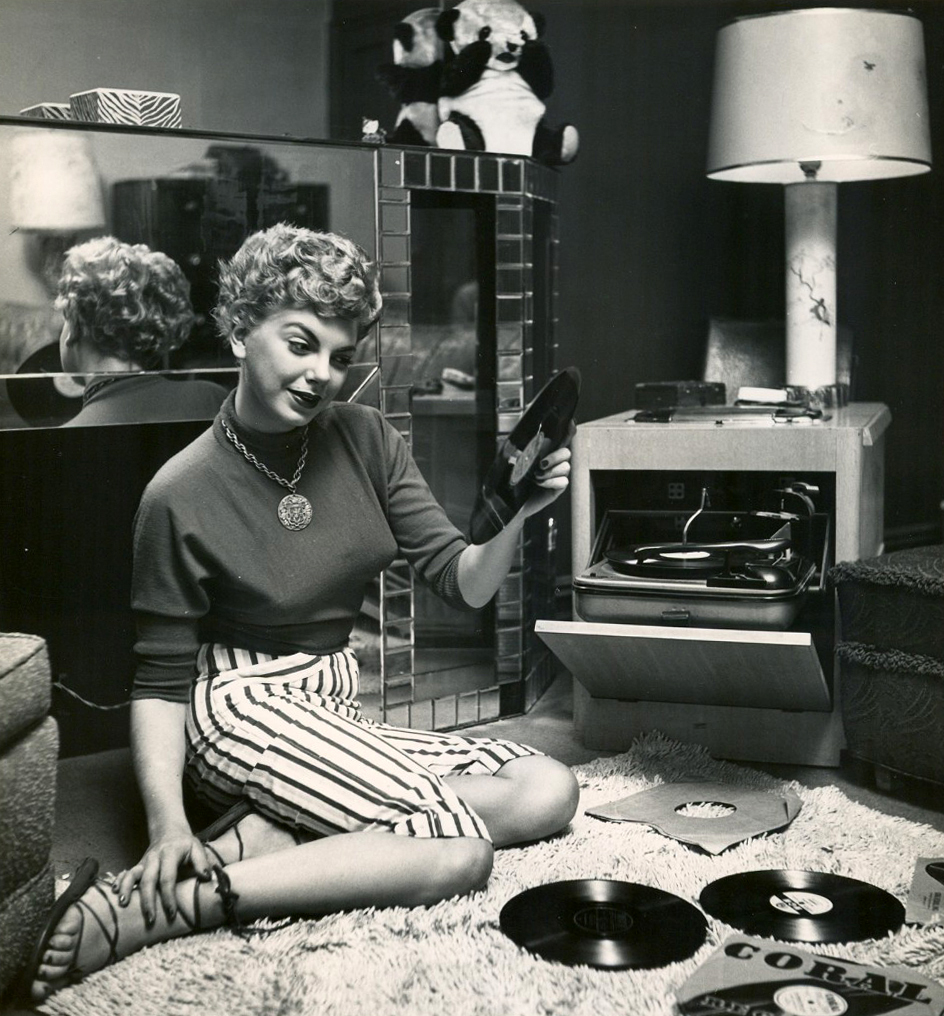 Shag carpet is the perfect habitat for records.  Shag and vinyl go together so well.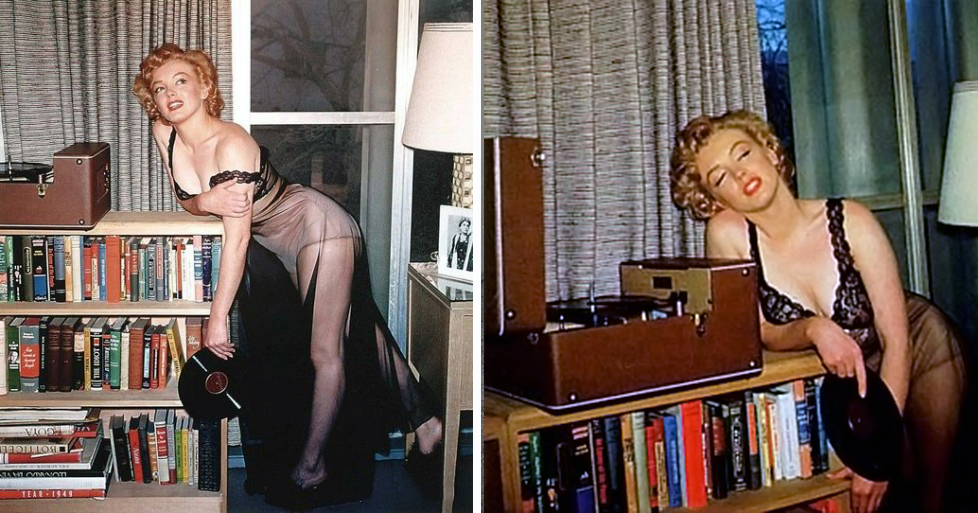 Marilyn Monroe really getting into some music… what do you suppose she's listening to.  I'll wager it's not Burl Ives.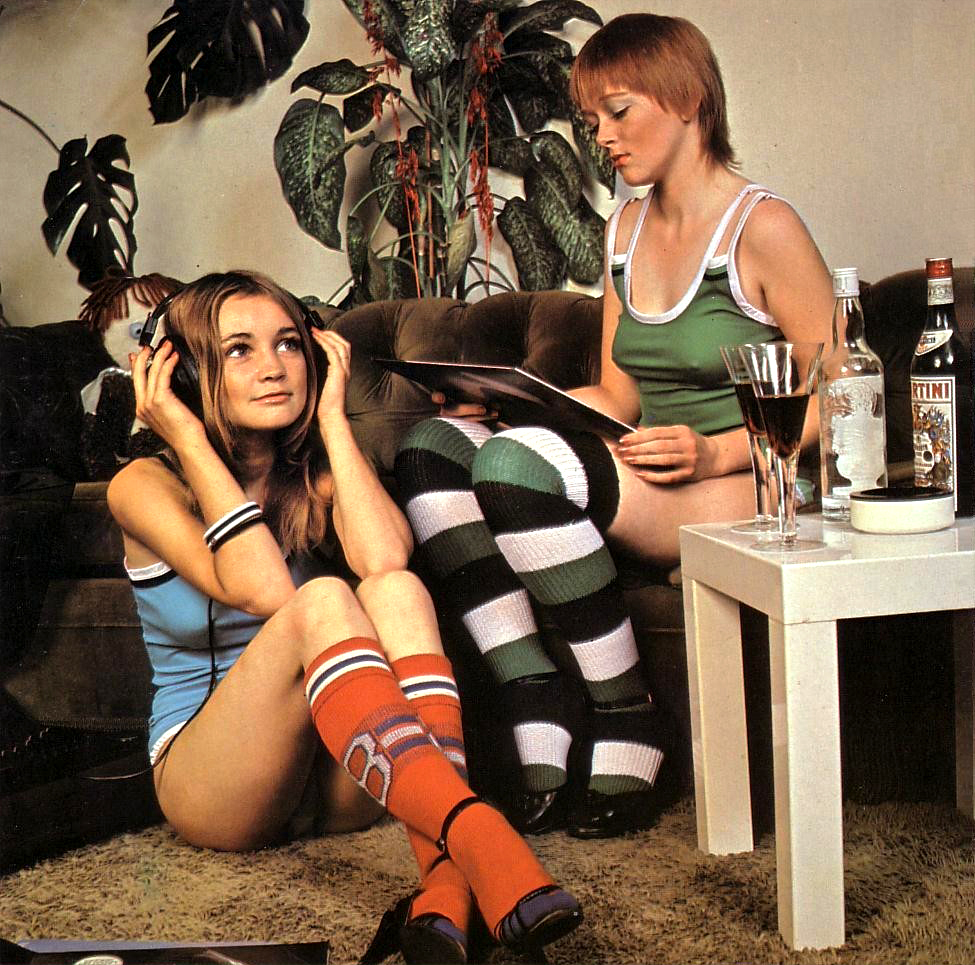 These girls have amazing socks.  I can't help but wonder if their musical selection is equally wonderful.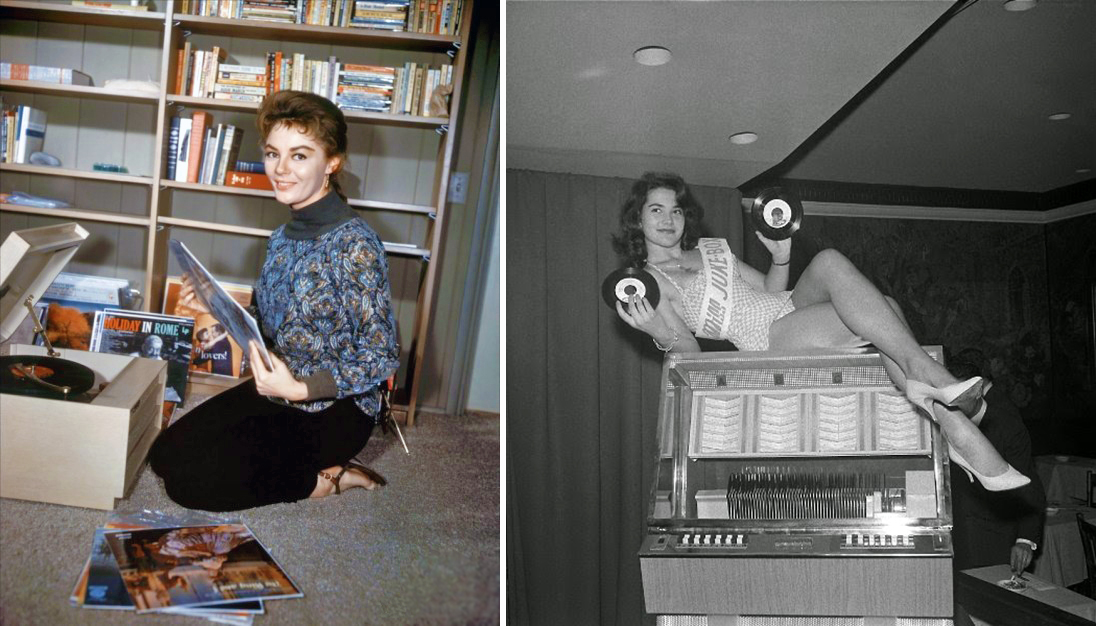 The lady on the left is relaxing with some old-school EZ Listening, while Miss Jukebox is clearly ready to rock 'n' roll.  (Pascale Breugnot, French Miss Jukebox 1959)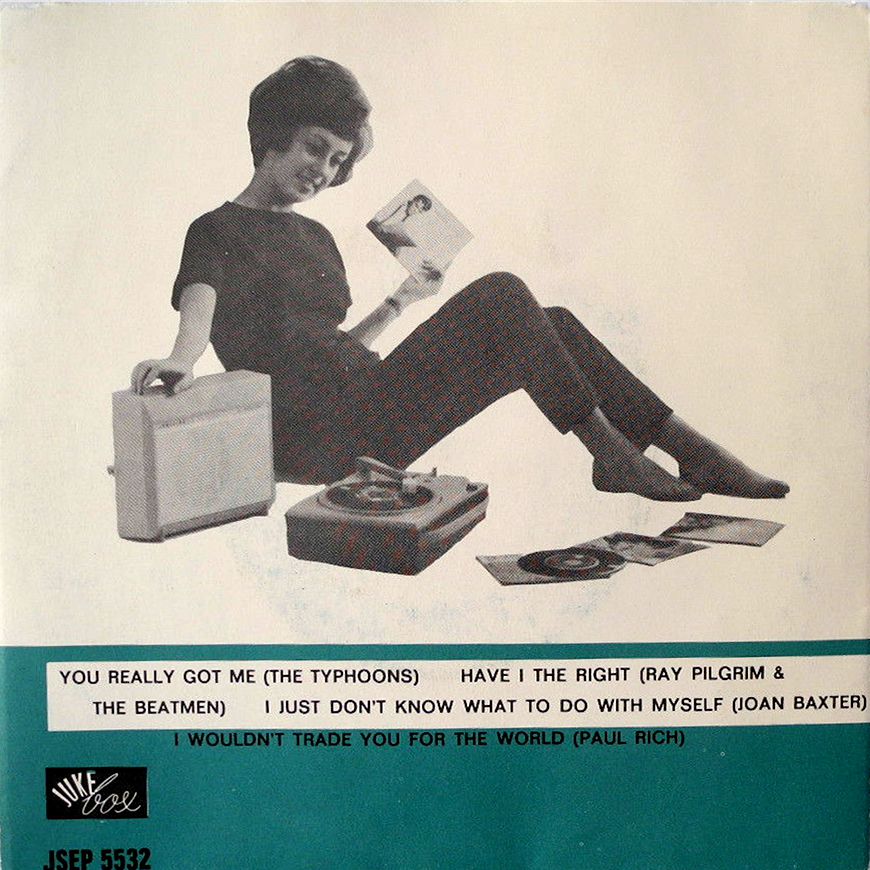 Yeah, I know.  It's not exactly the greatest Hi-Fi sound system ever made, but it'll do.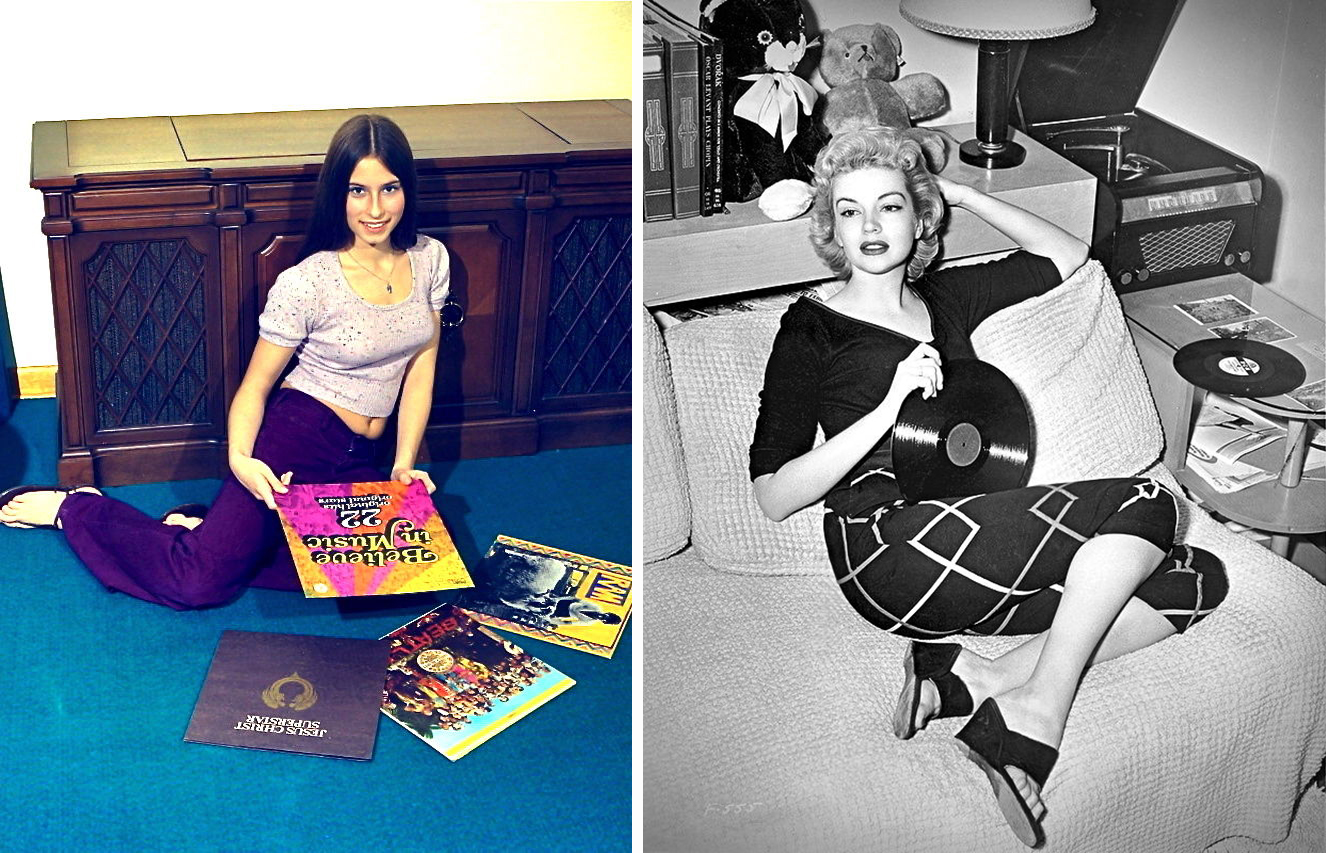 I still have that "Believe in Music" K-Tel record.  You'll note she chose this over Sgt. Pepper, Ram, and Jesus Christ Superstar.  A woman after my own tastes.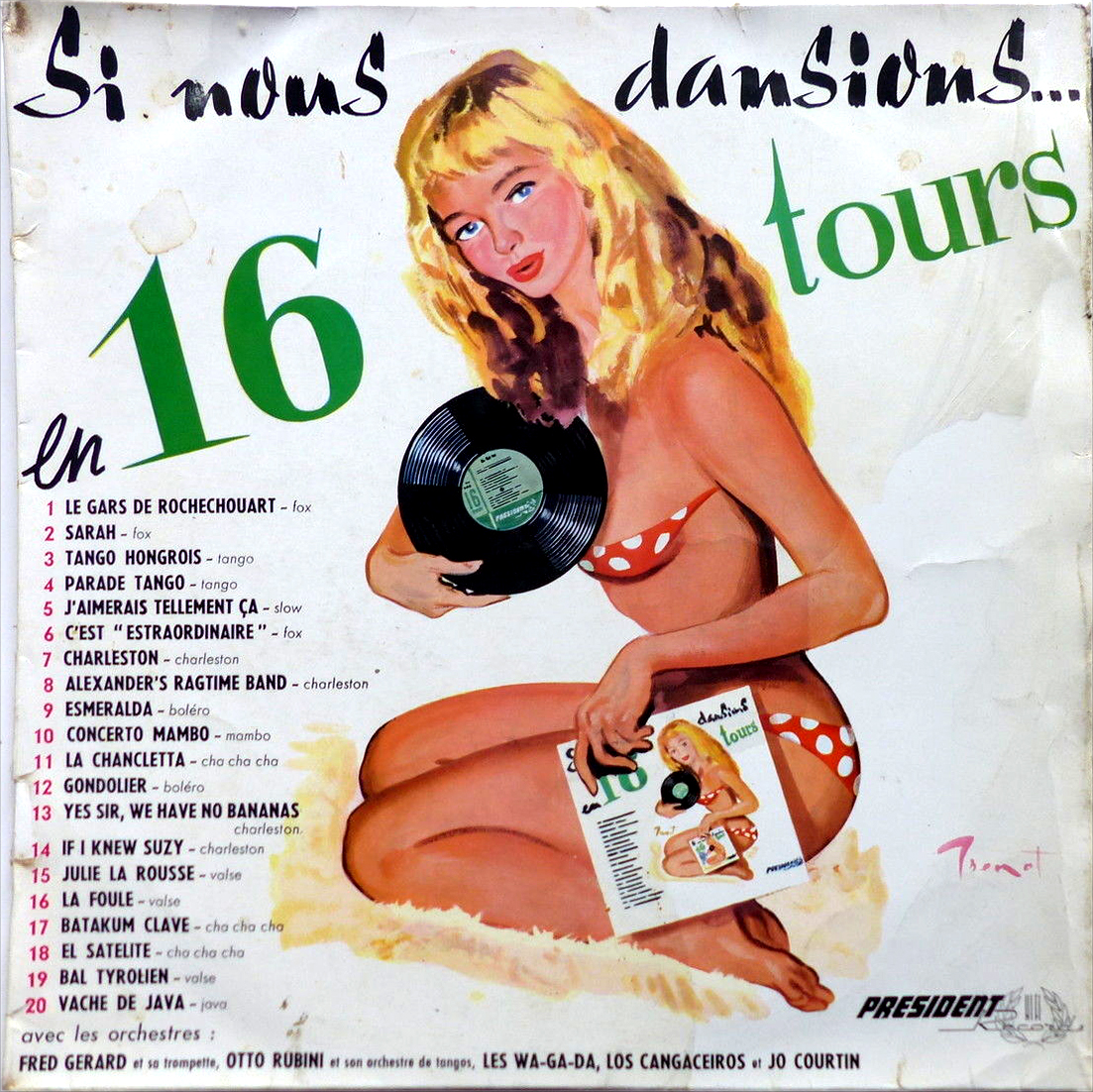 I love artwork that employs the Droste Effect: the illusion that the image inside the image goes on to infinite (limited only by the picture's resolution).  One of these days, I'll have to do an entire article on examples.  Stay tuned.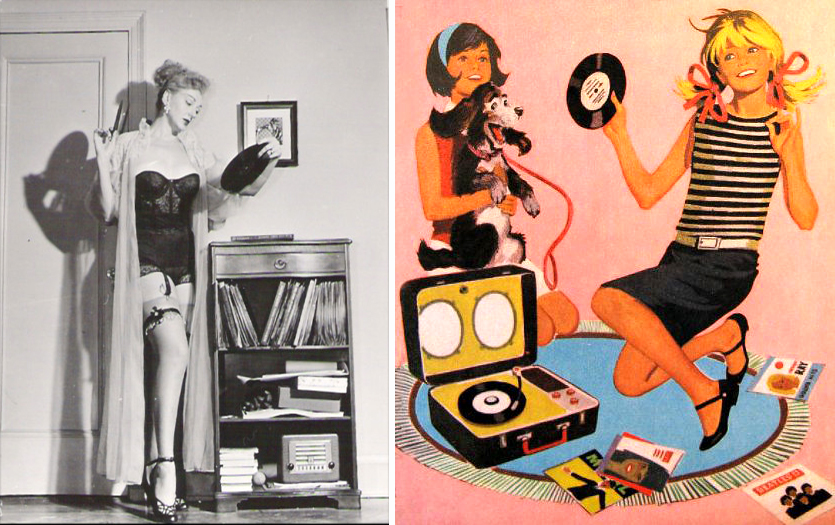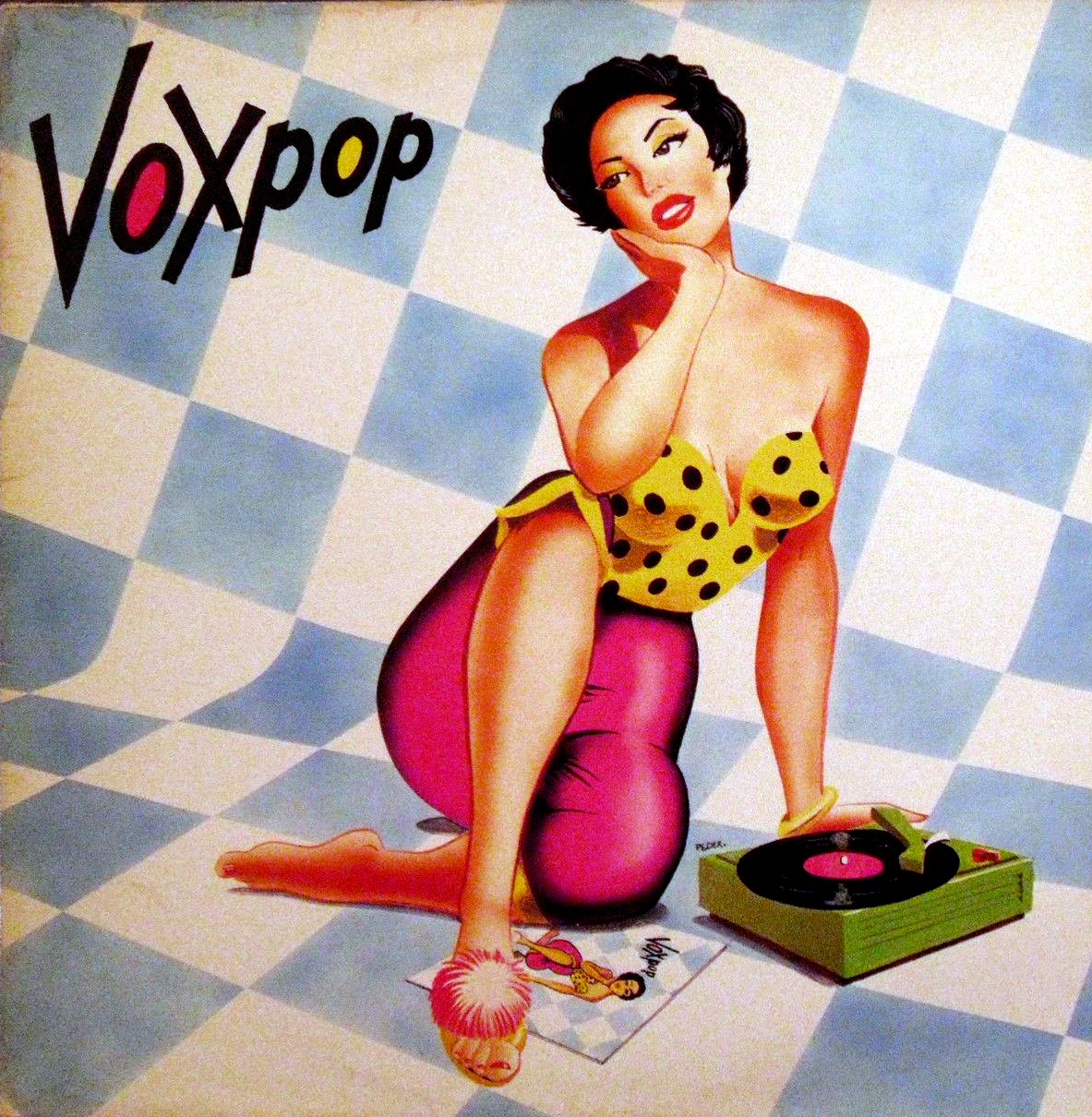 Voxpop's eponymous 1980 LP from Denmark featuring the song "Den Elektriske Husmor" (The Electric Housewife)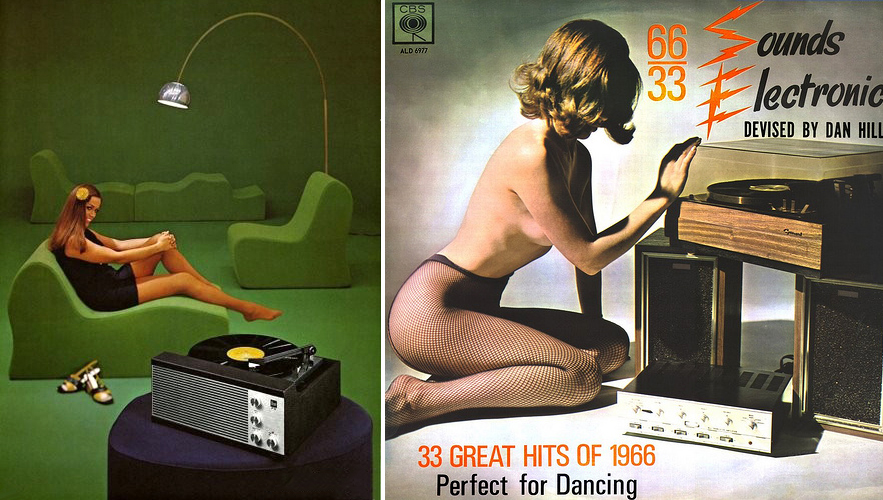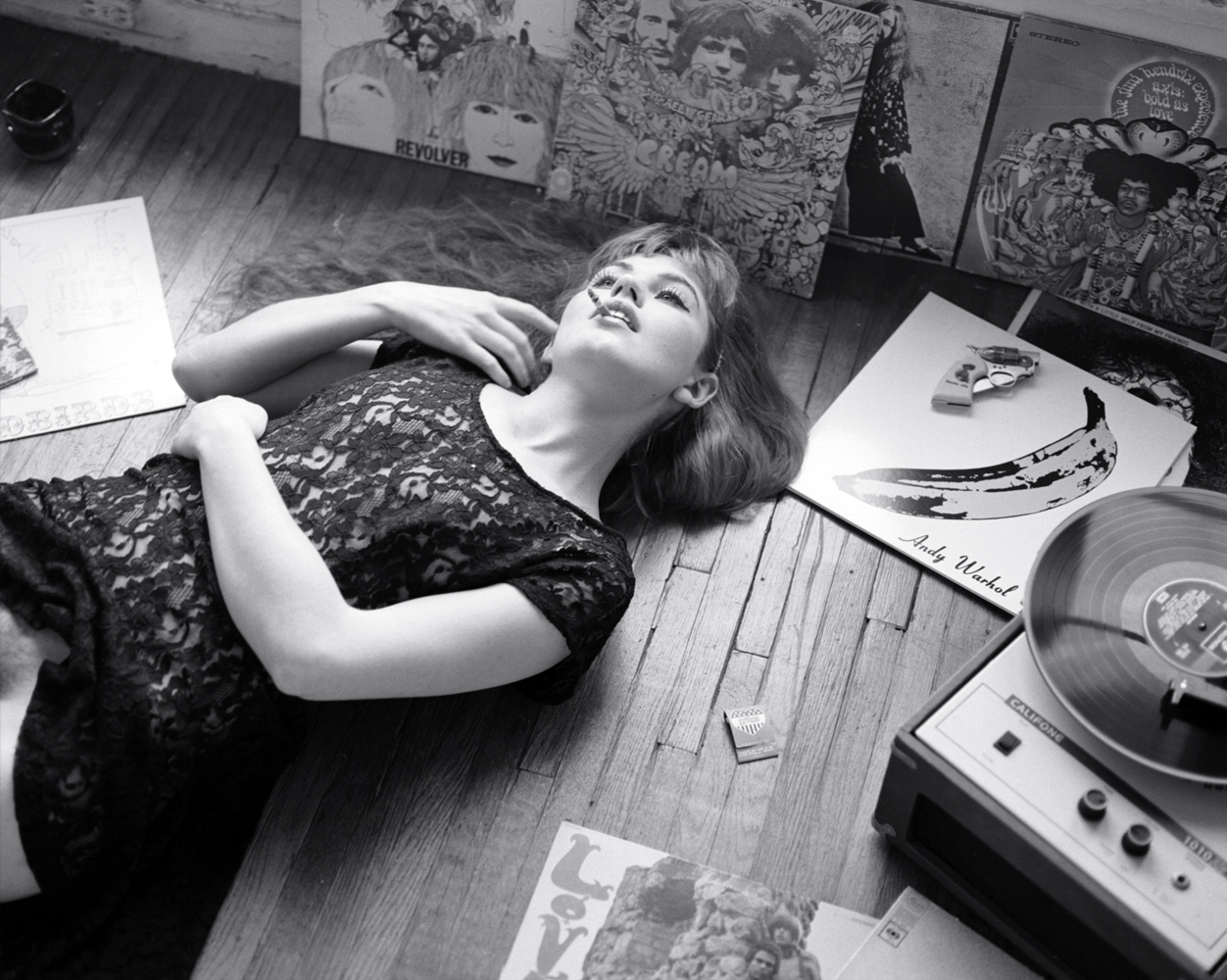 Man, some real classics here: Revolver, Disraeli Gears, Axis: Bold As Love, The Velvet Underground & Nico, and a personal all-time favorite, Love.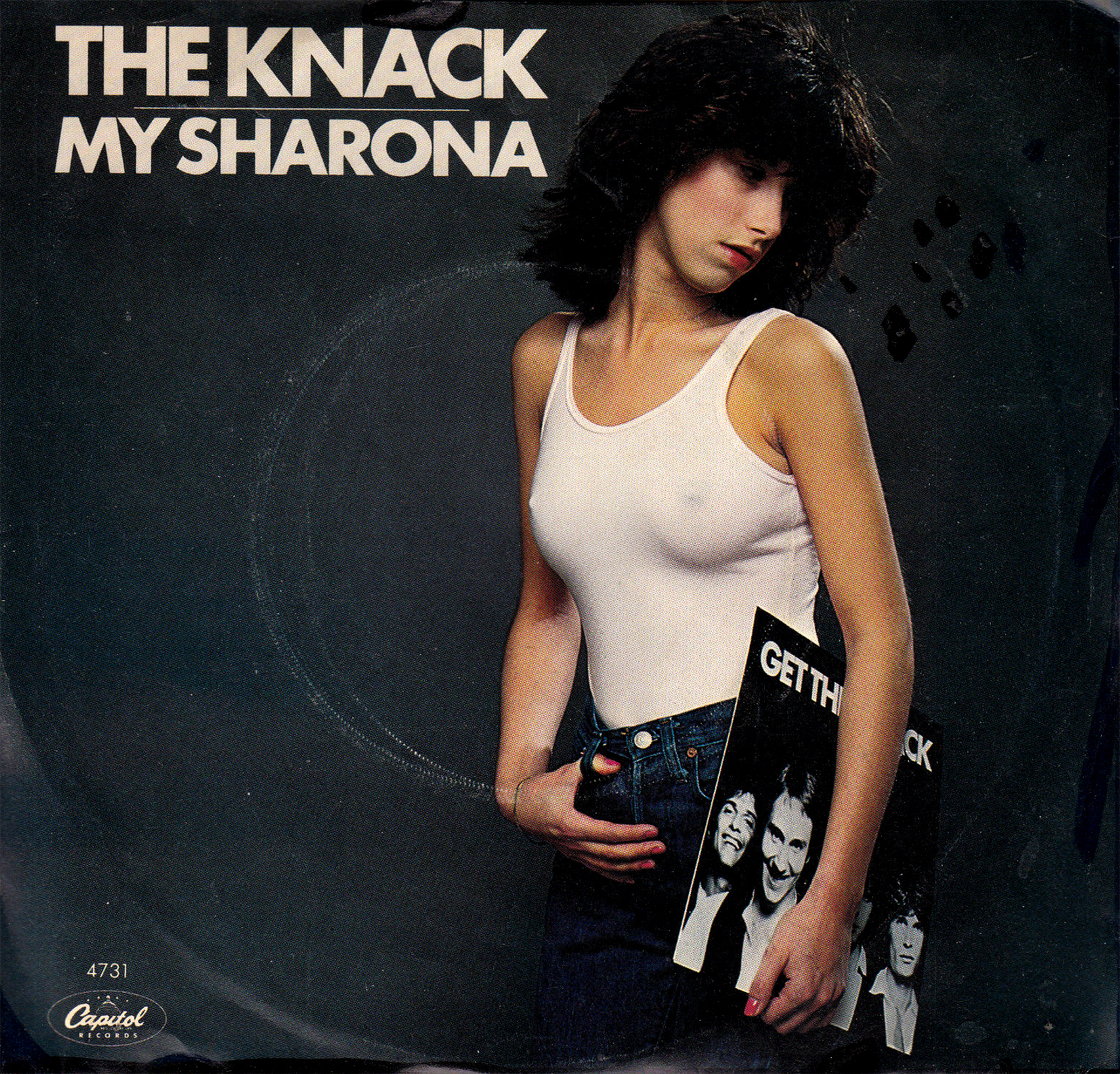 Never gonna stop, give it up, such a dirty mind
I always get it up, for the touch of the younger kind
My, my, my, aye-aye, whoa!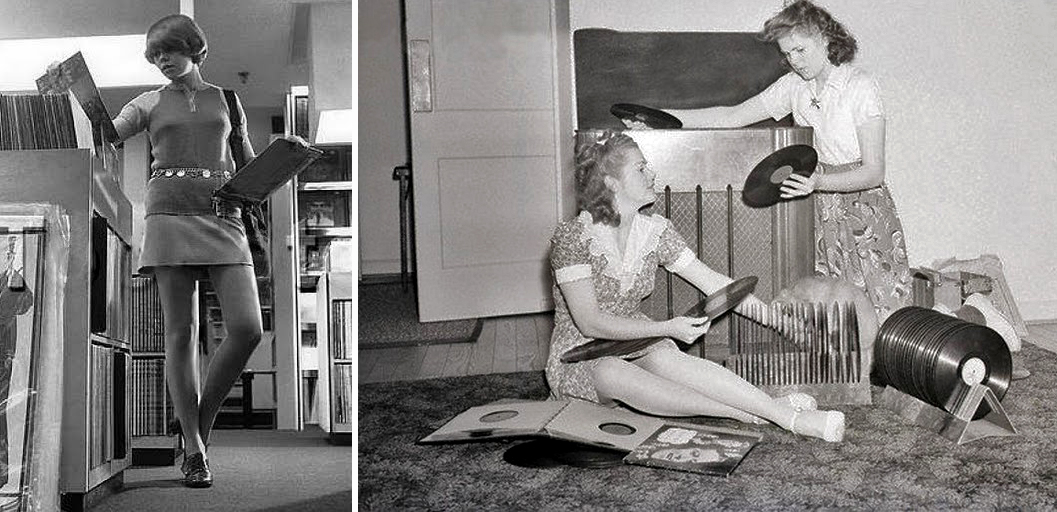 Ah, the glory that was the local record store. See also: Amazing photos of closed records stores and vinyl shoppers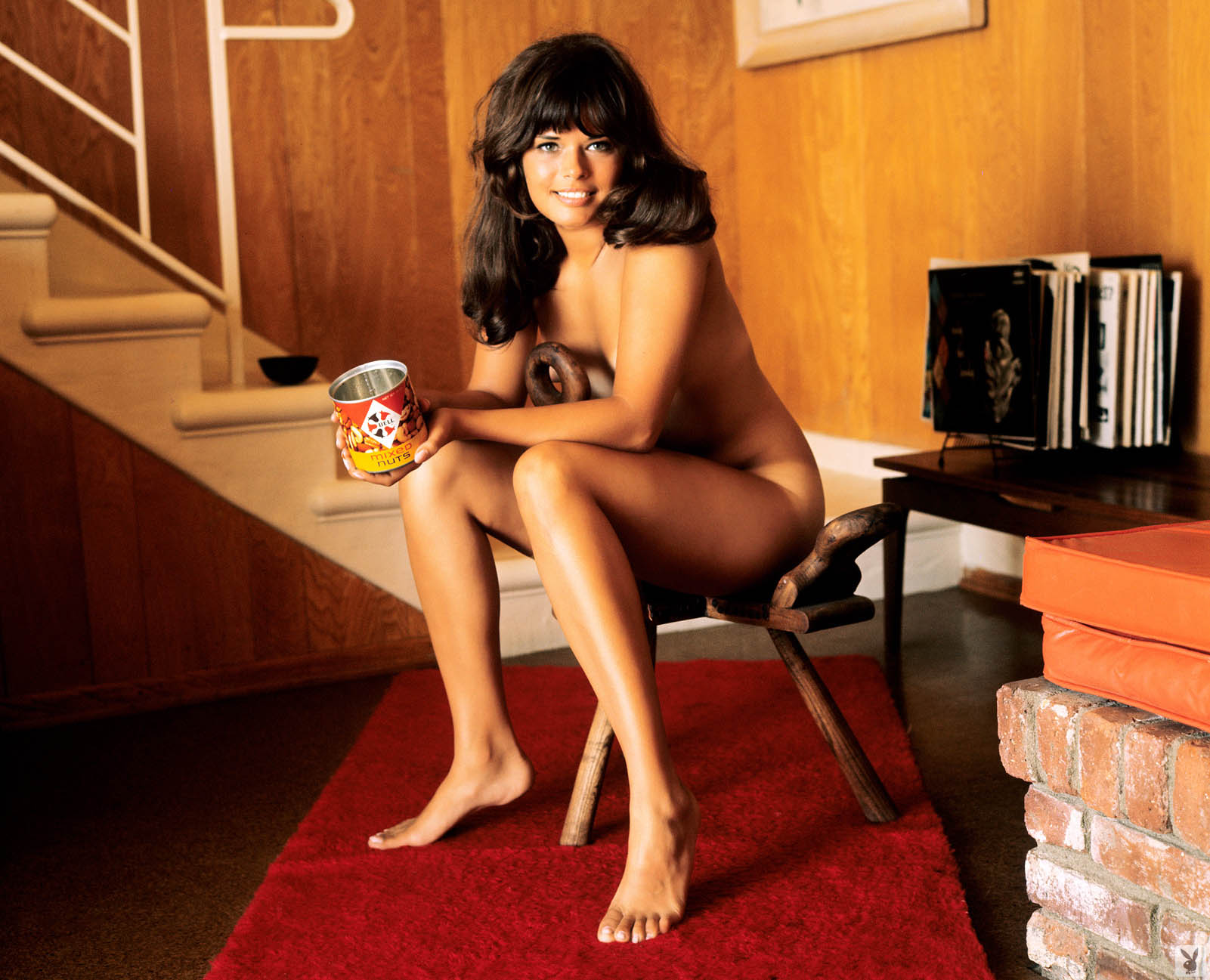 I have no idea what's going on here with Playmate Chris Koren (1970).  Why she is holding an empty can of nuts while a chocolate doughnut is cleverly perched over her breast is a mystery.  But she has a rack of records, so here it is.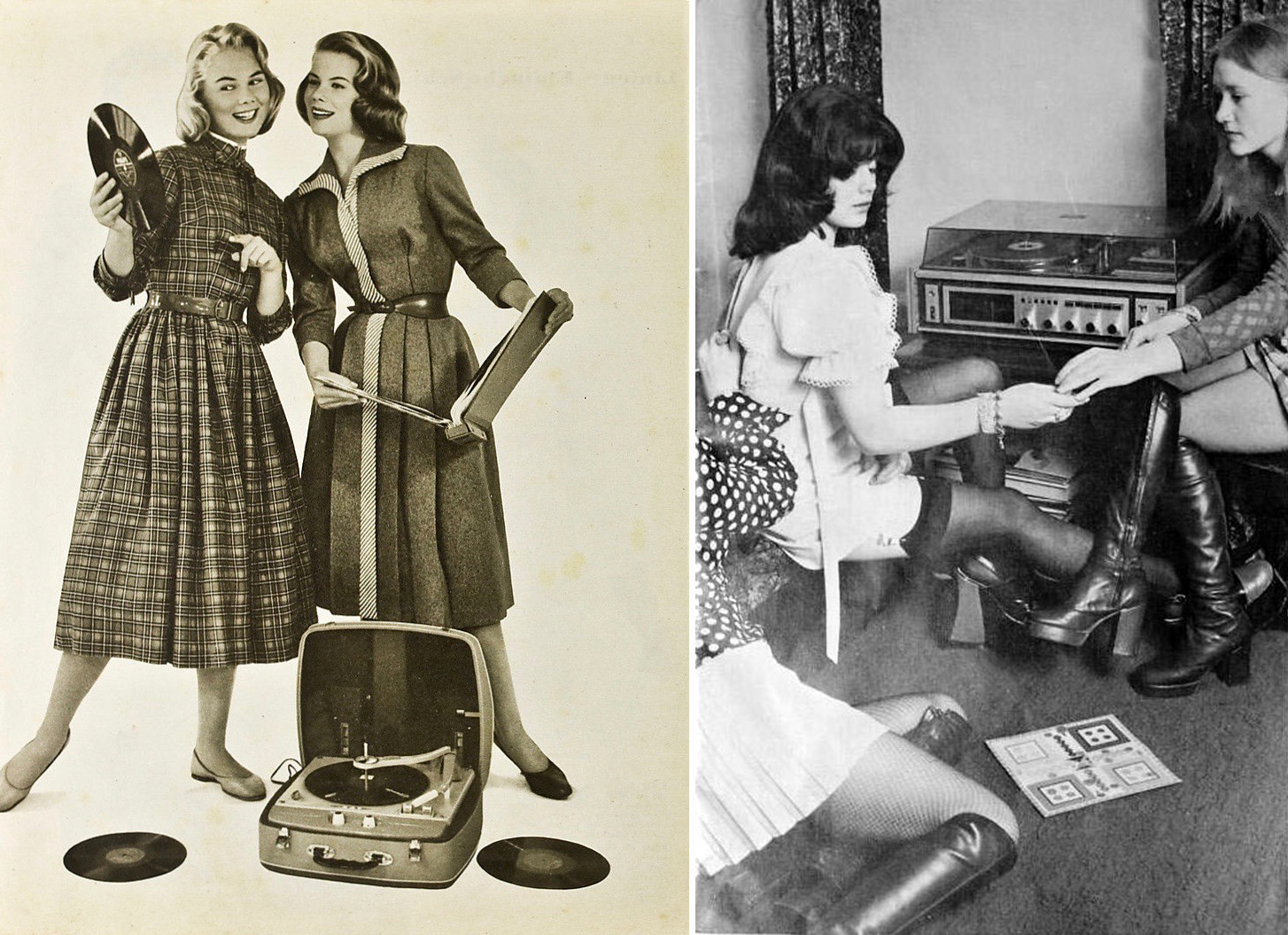 Just a couple o' pictures of friends gathering together to enjoy their records.  What a difference a Sexual Revolution can make.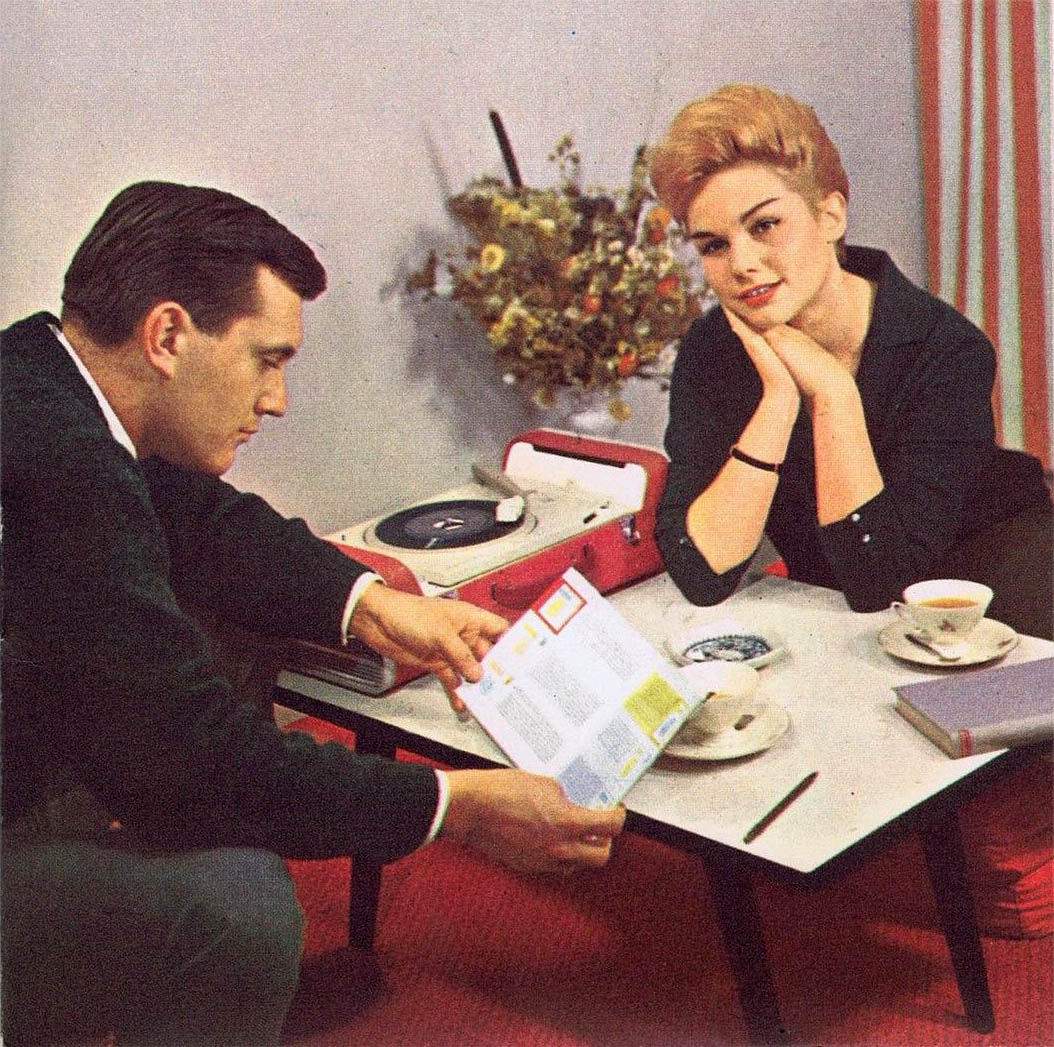 This is a close-up of a record called Make Your Mind Up at Home.  Evidently it was a collection of classical music excerpts and consumers could "make their mind up" which to buy.  Sort of an early version of the K-Tel record.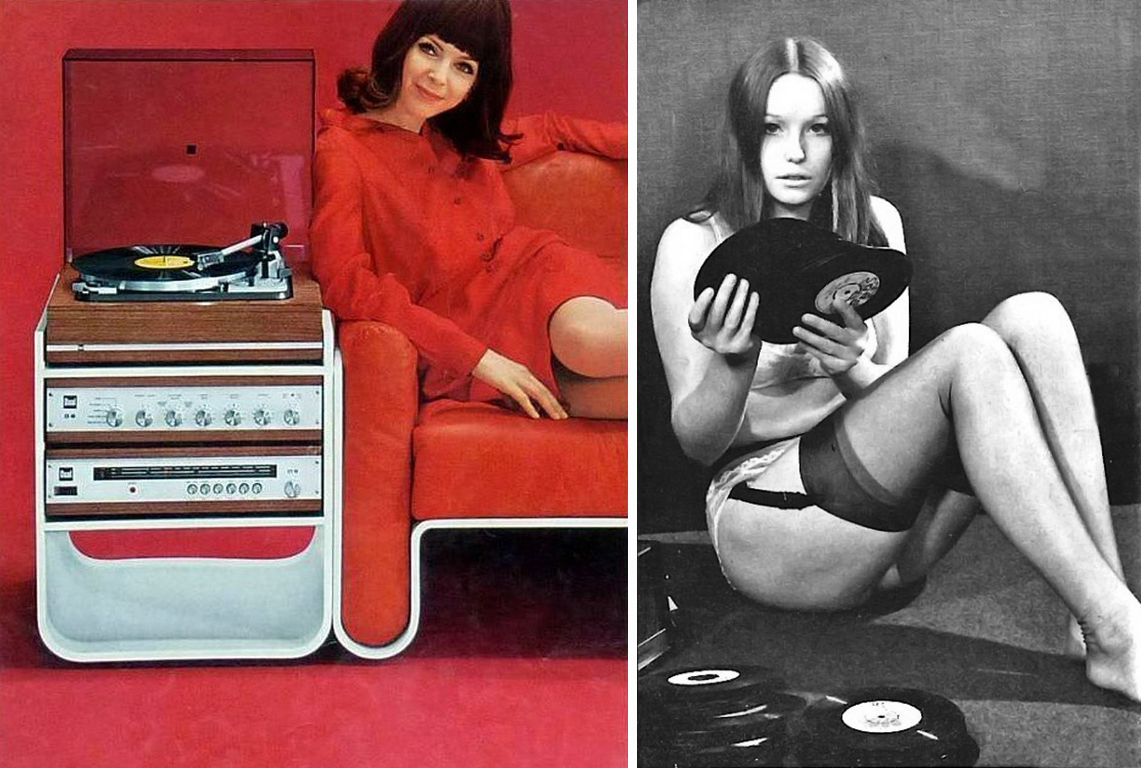 The image on the left is from a 1967-1968 stereo catalog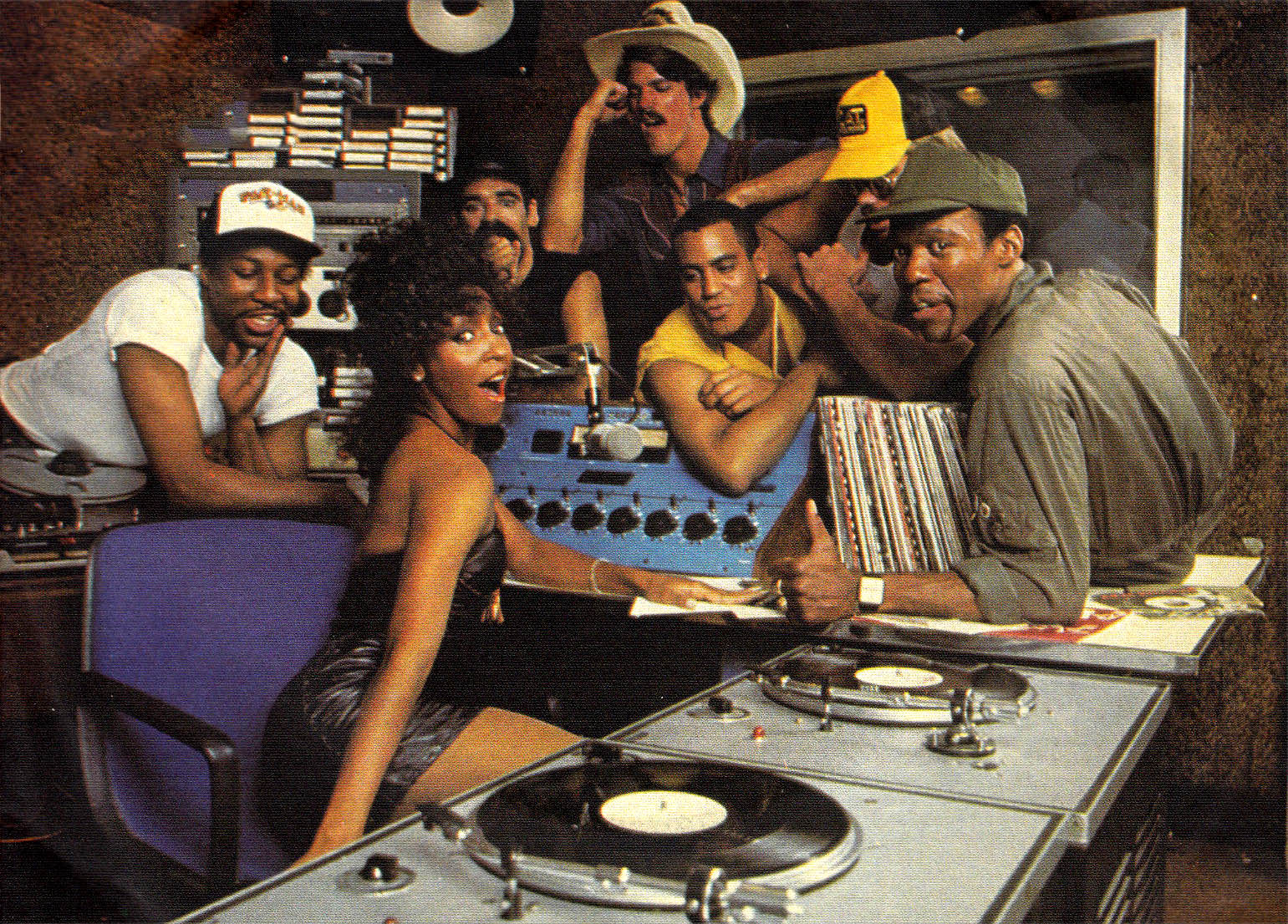 This is a close-up of a record by The Village People (called "Play Bach").  They seem to be really enthused by the sexy lady at the turntable… but The Village People were….. oh, never mind.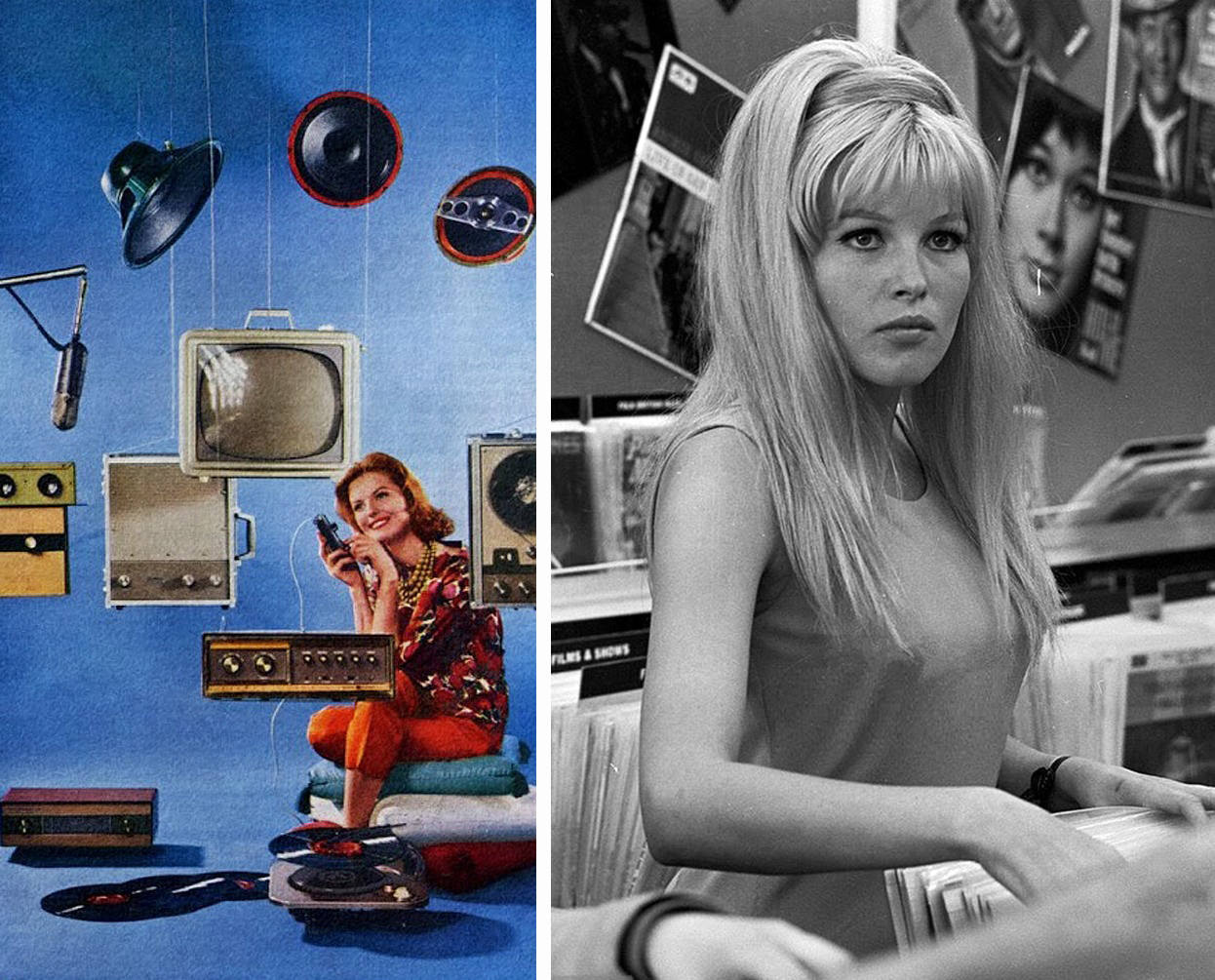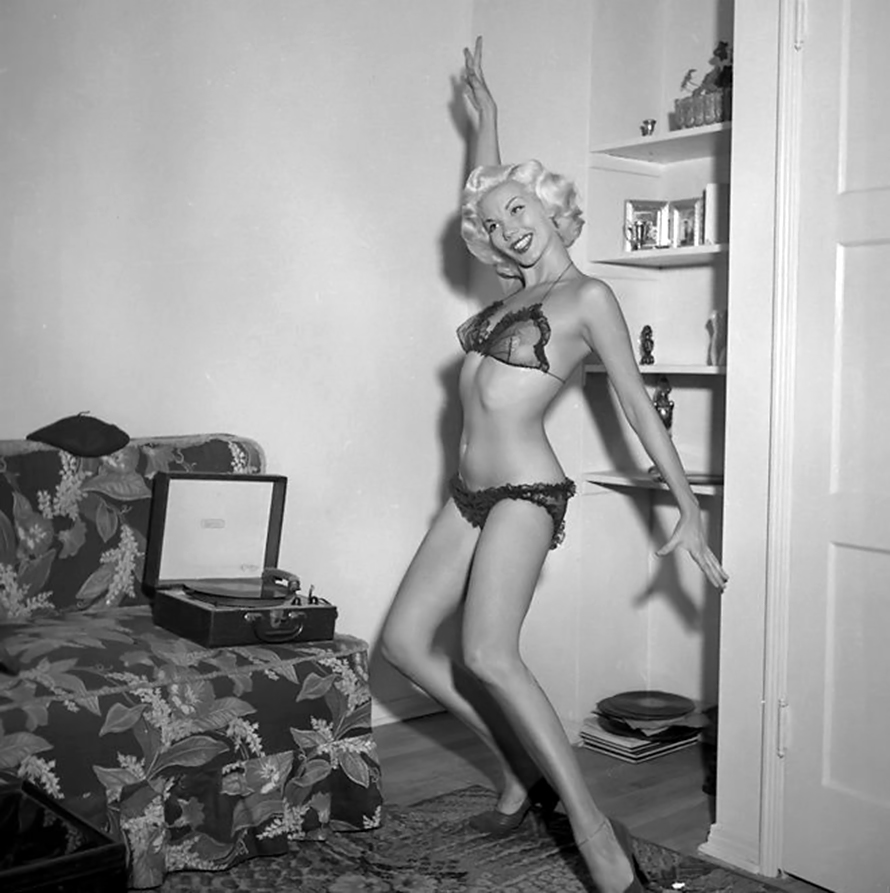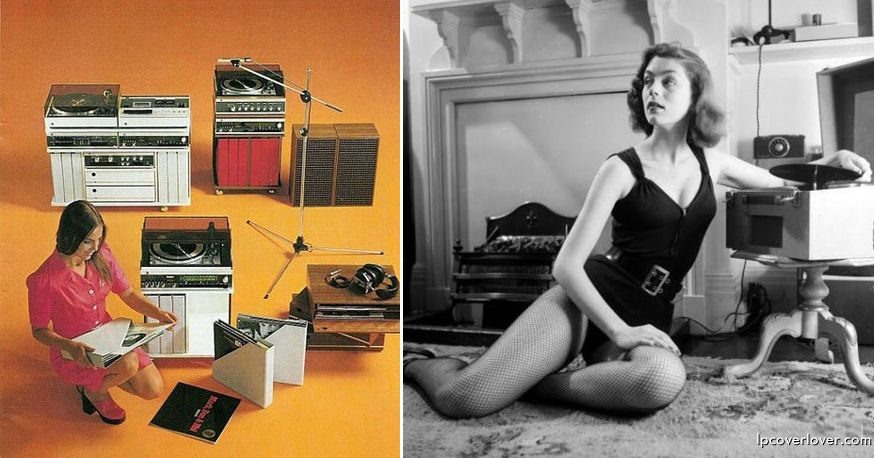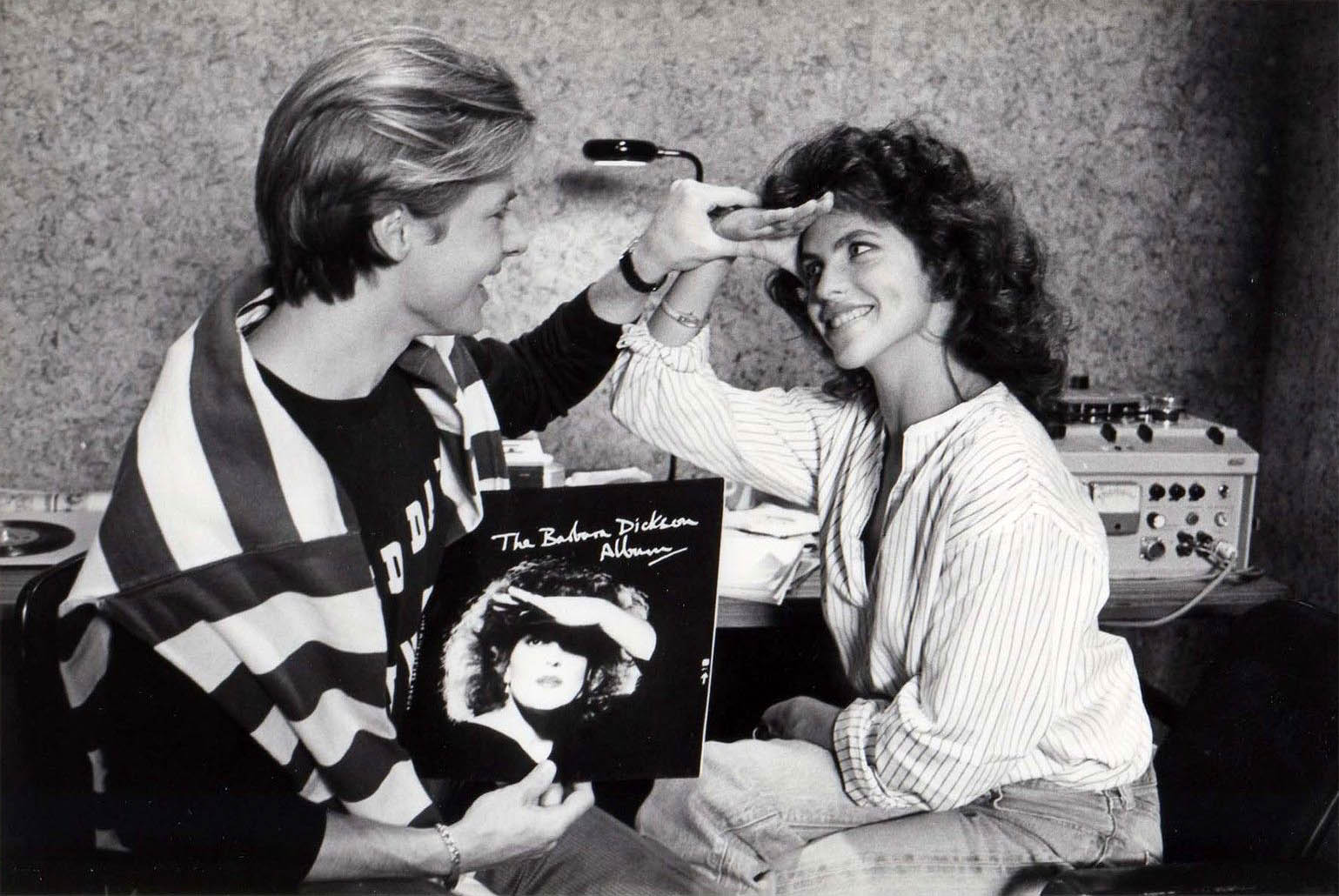 A couple crazy kids doing the trademark Barbara Dickson gesture in 1980.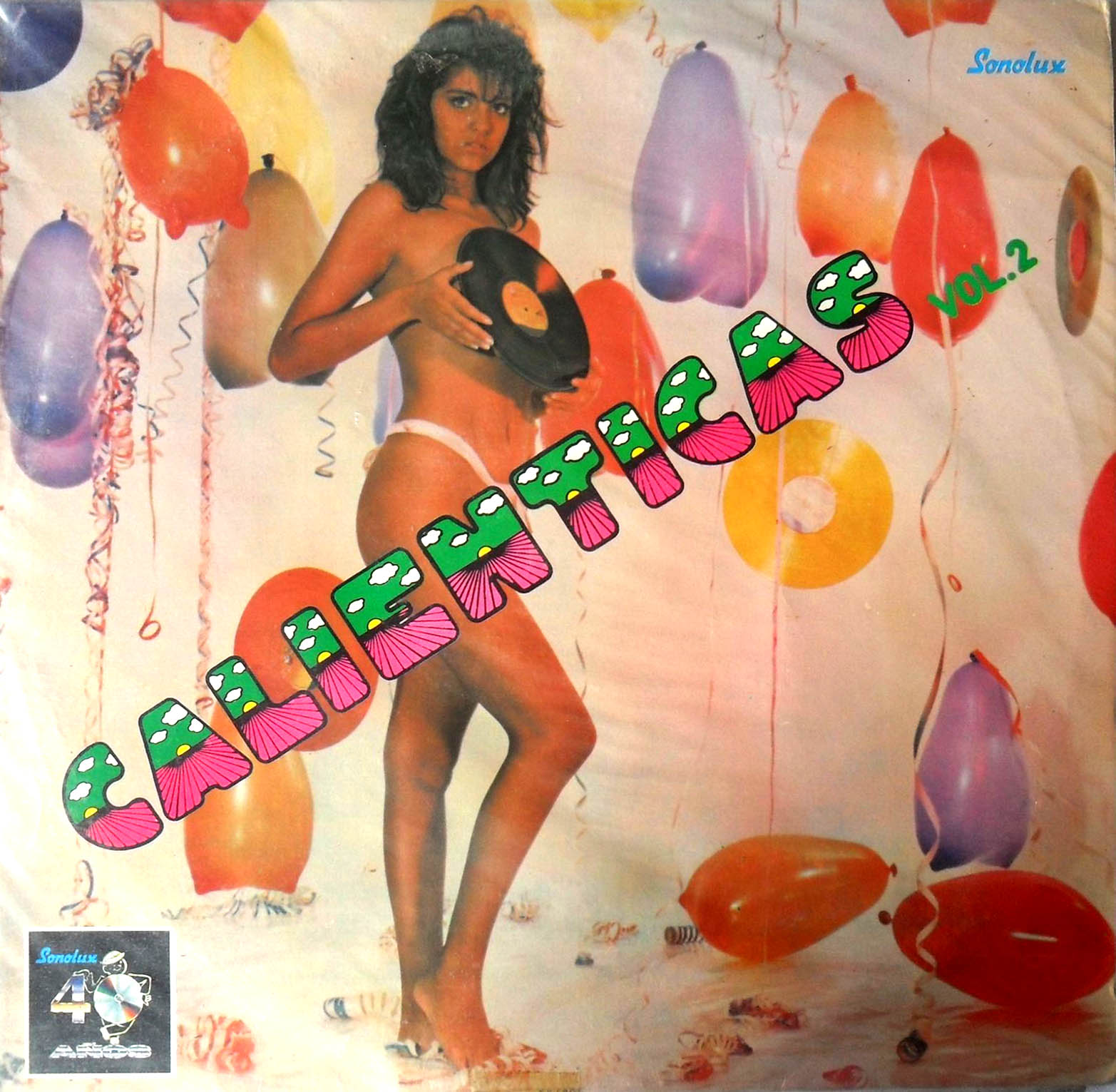 That must've been some party.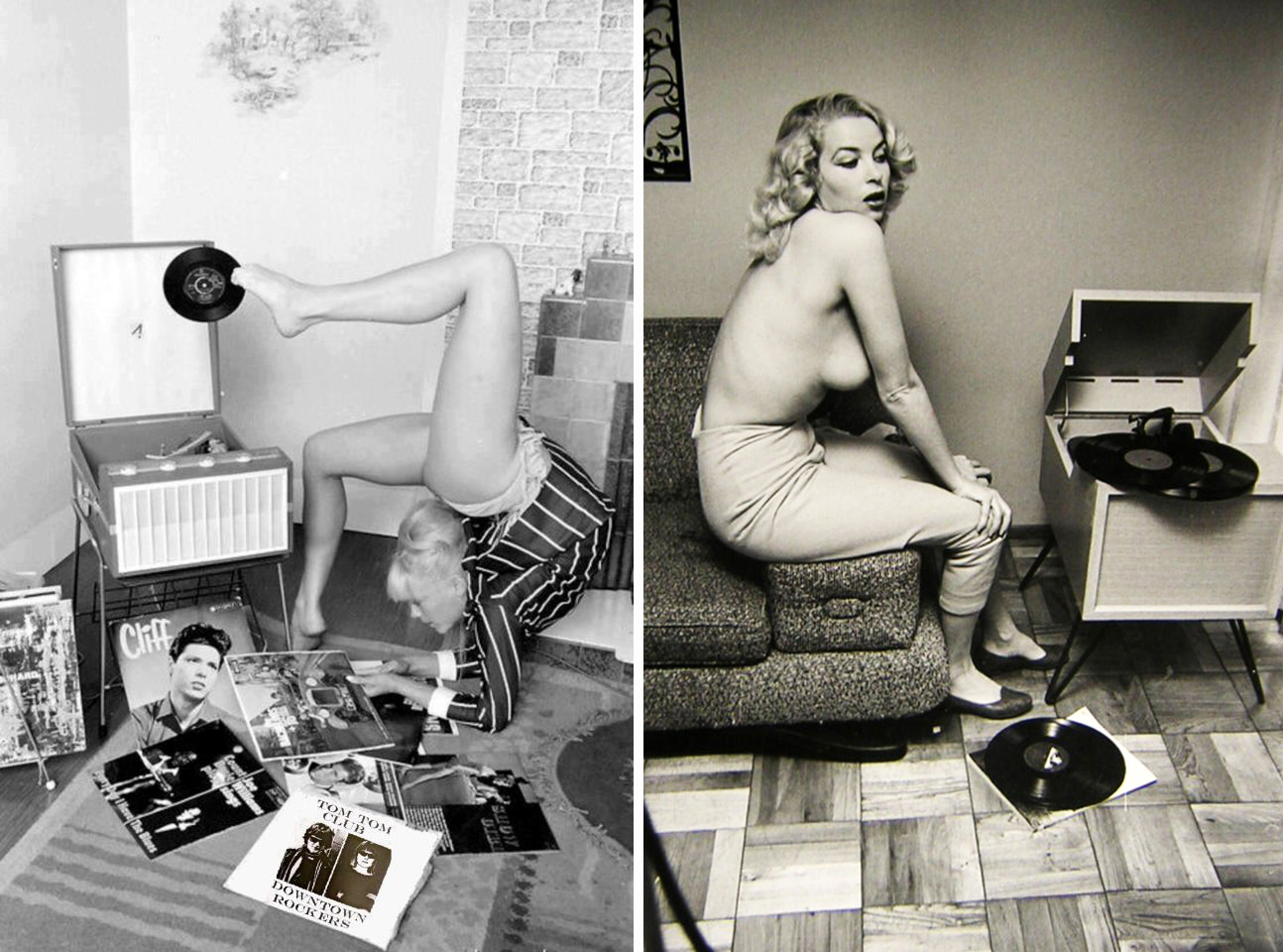 I'm at a loss for words regarding the picture on the left.  To say I'm impressed doesn't even come close.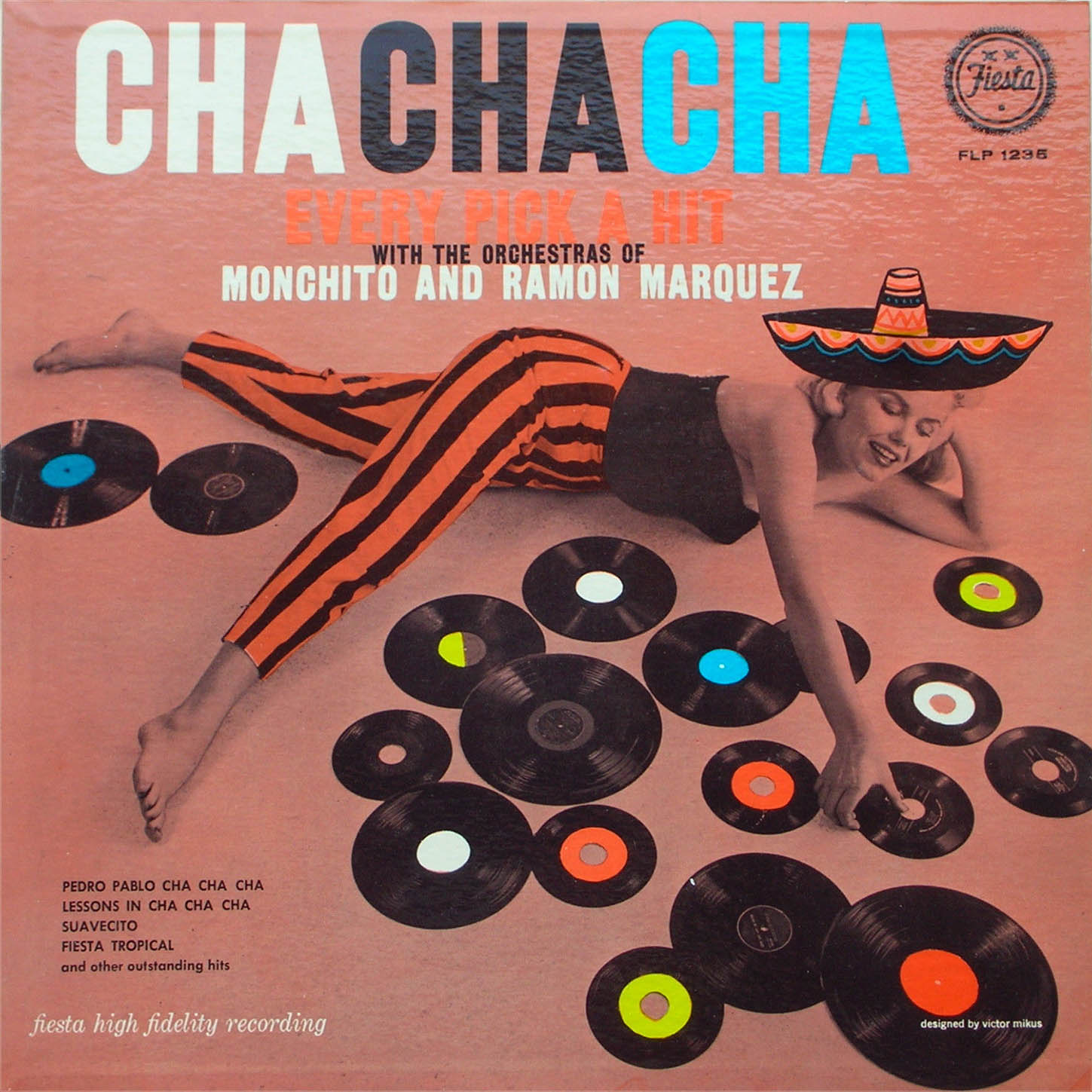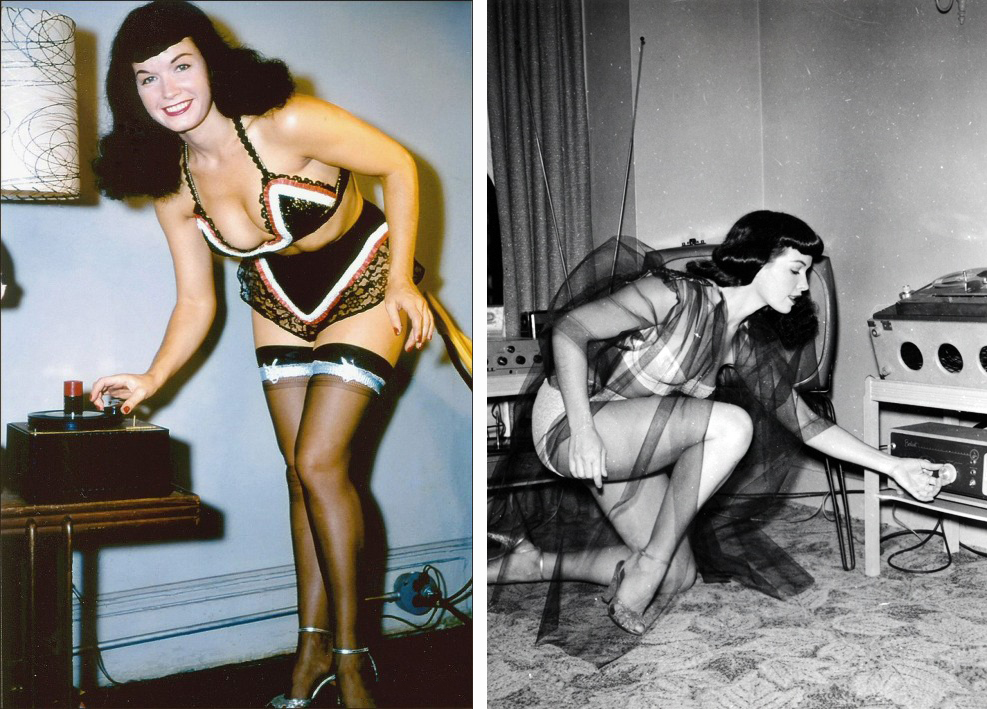 Betty Paige and her various sound systems.  I suspect the stereo on the right is a reel-to-reel, but I'm letting it slide.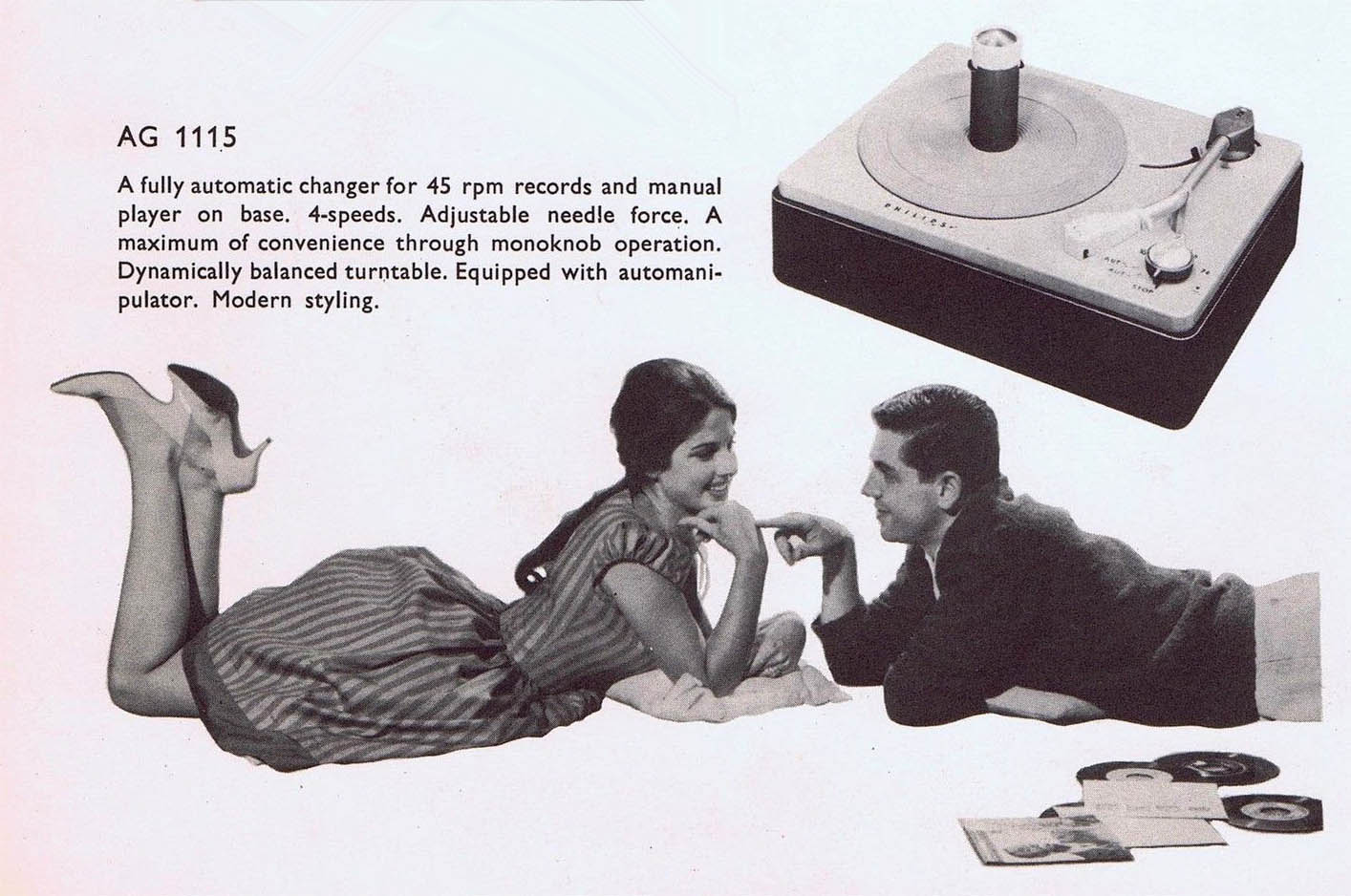 A detail from an old advertisement with headline: "There's more in life for the family with gramophones".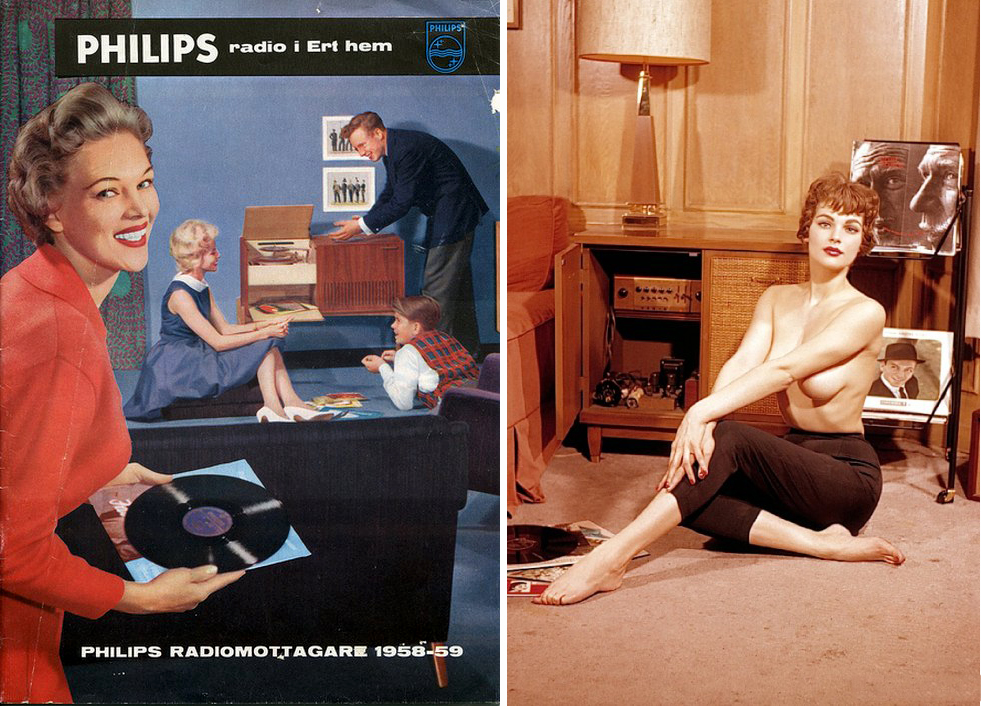 Wouldn't it be awesome if this were the same lady? After the children are put to bed, mom gets funky.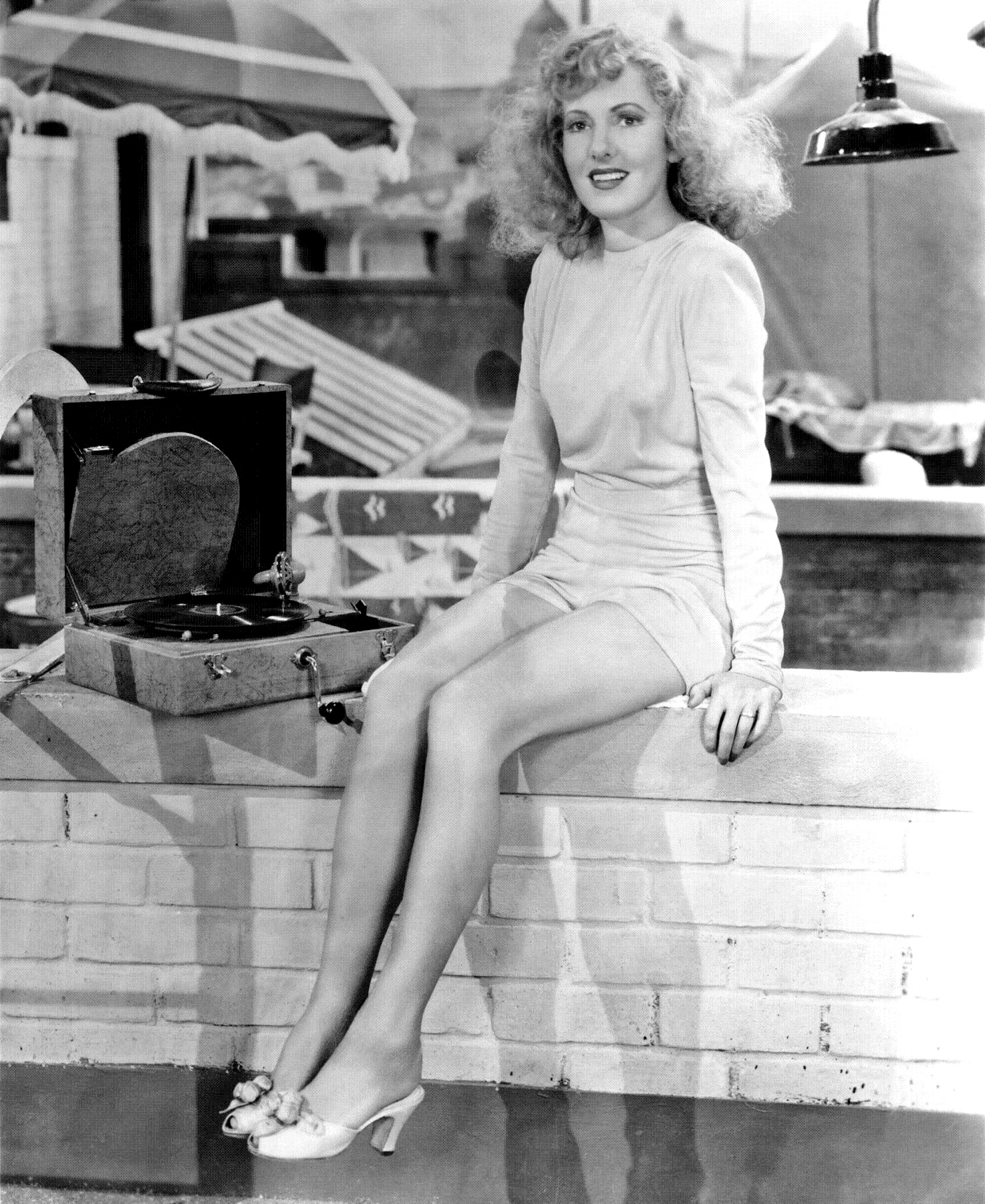 Before boom boxes, before Walkmans, before iPods – there was just the wildly immobile record player.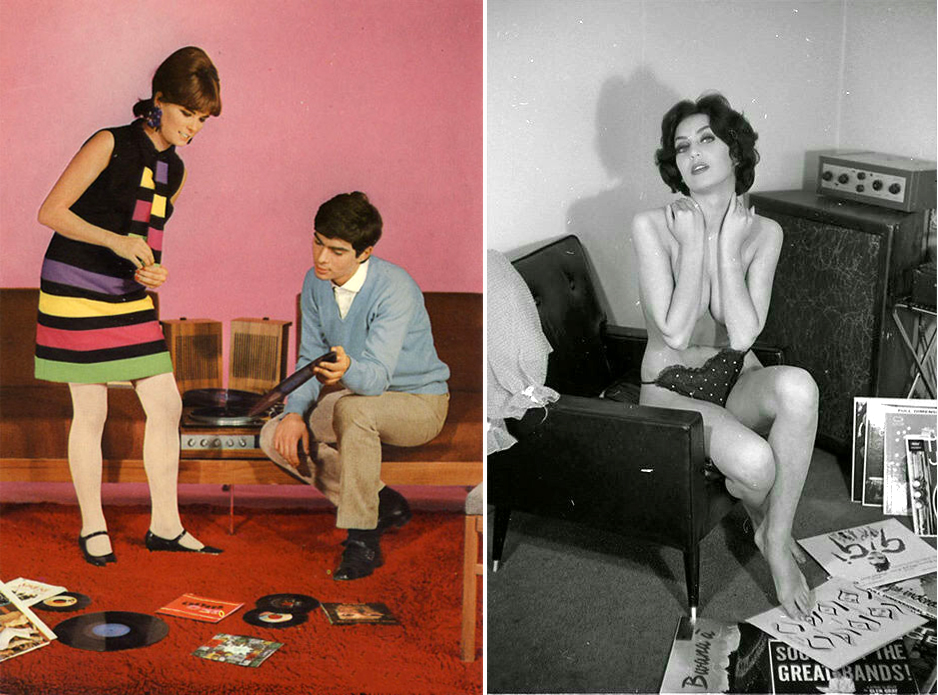 At right I spy: the Gigi soundtrack, Arthur Lyman's Bwana A , and a Sounds of the Great Bands! compilation.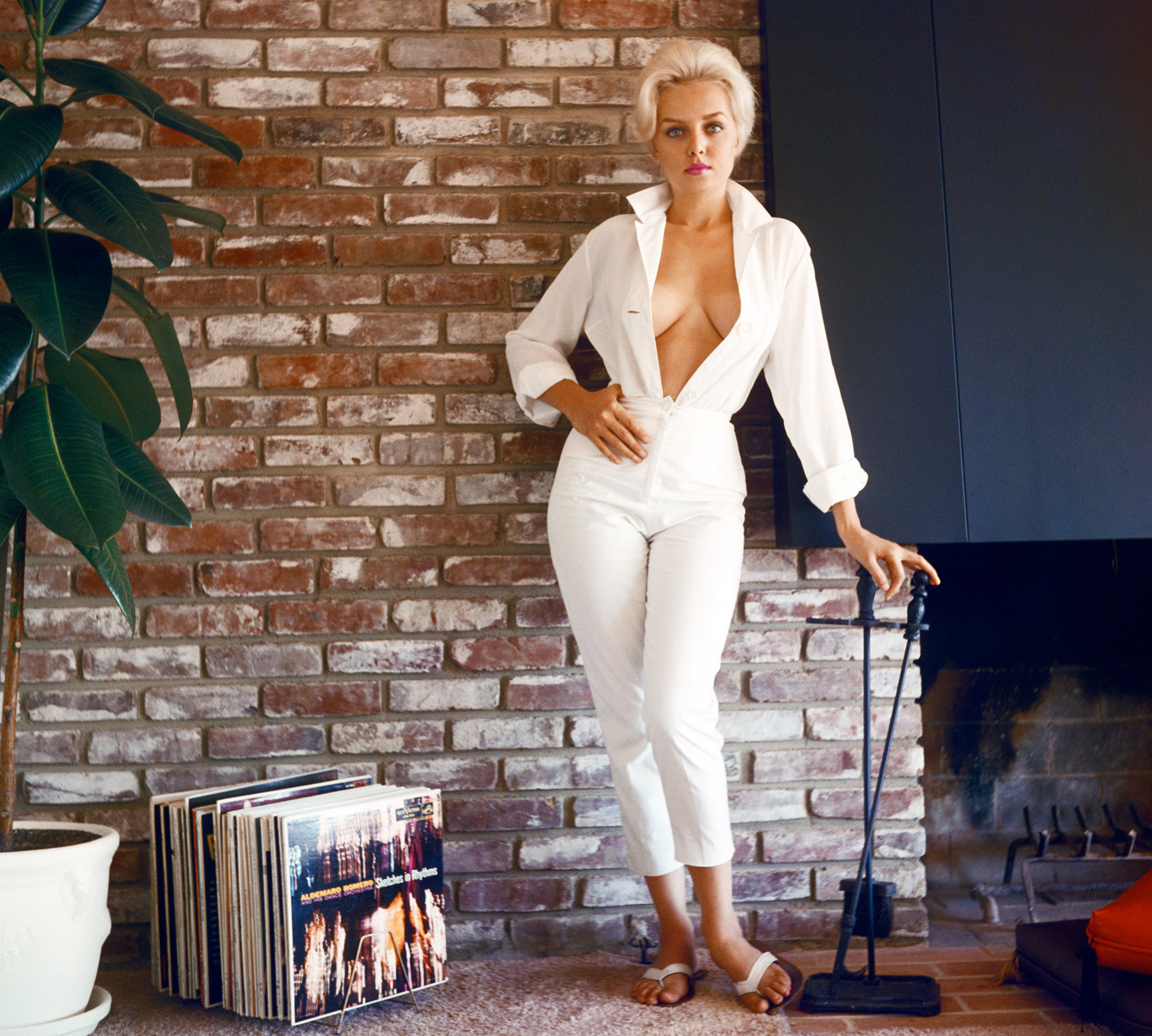 Of all the records in Linda Gamble's collection, they choose Aldemaro Romero's Sketches & Rhythms to be up front.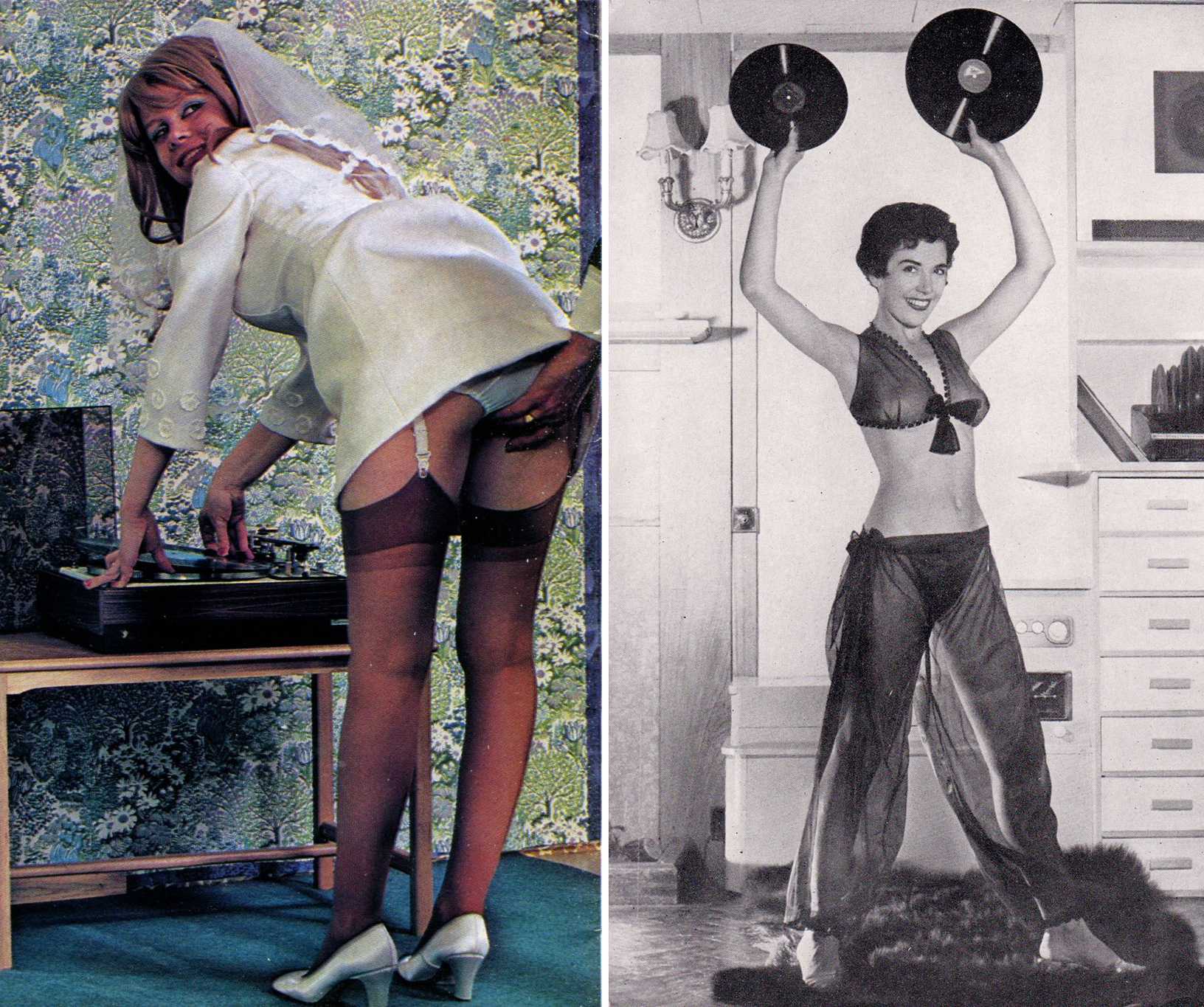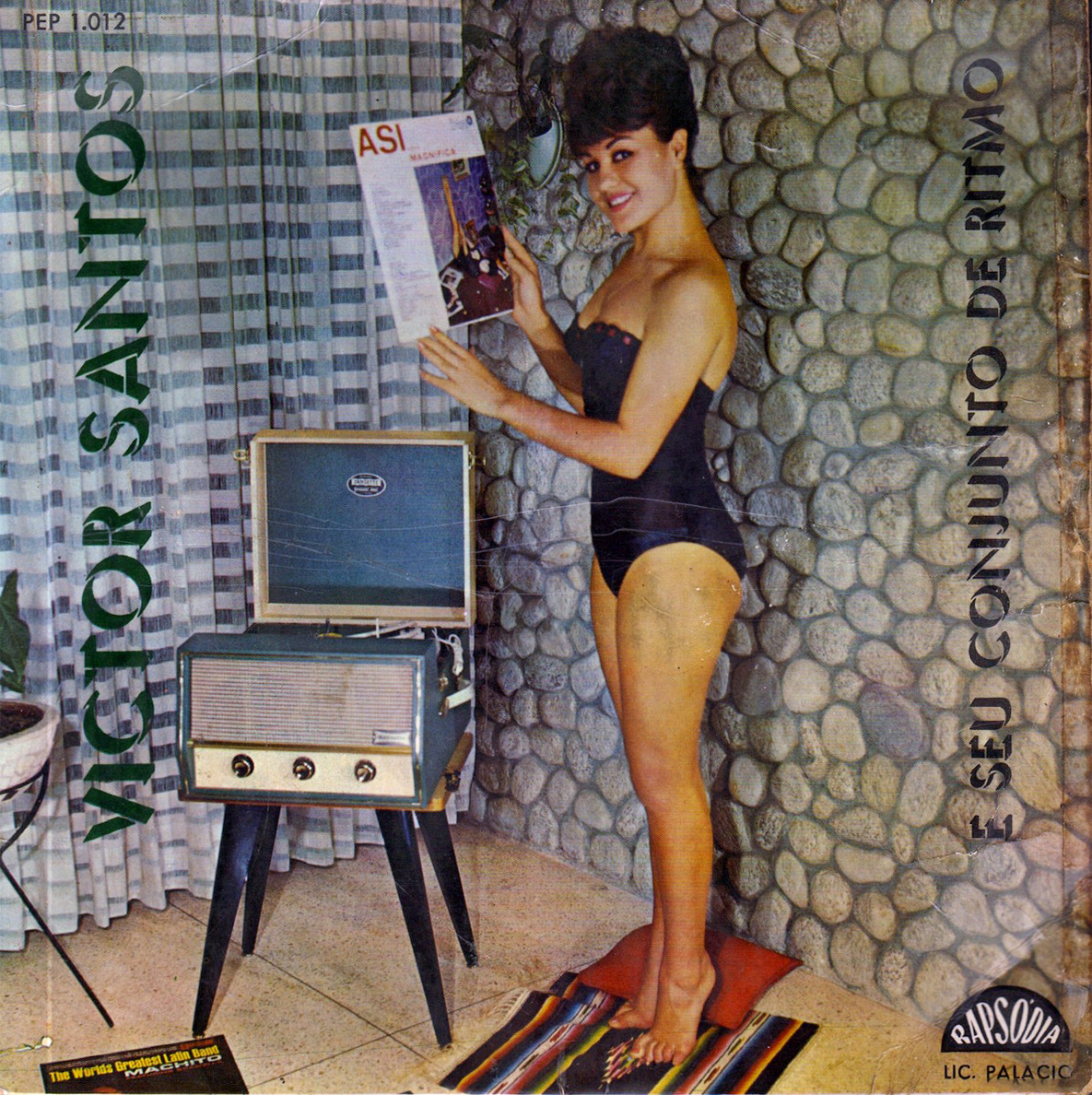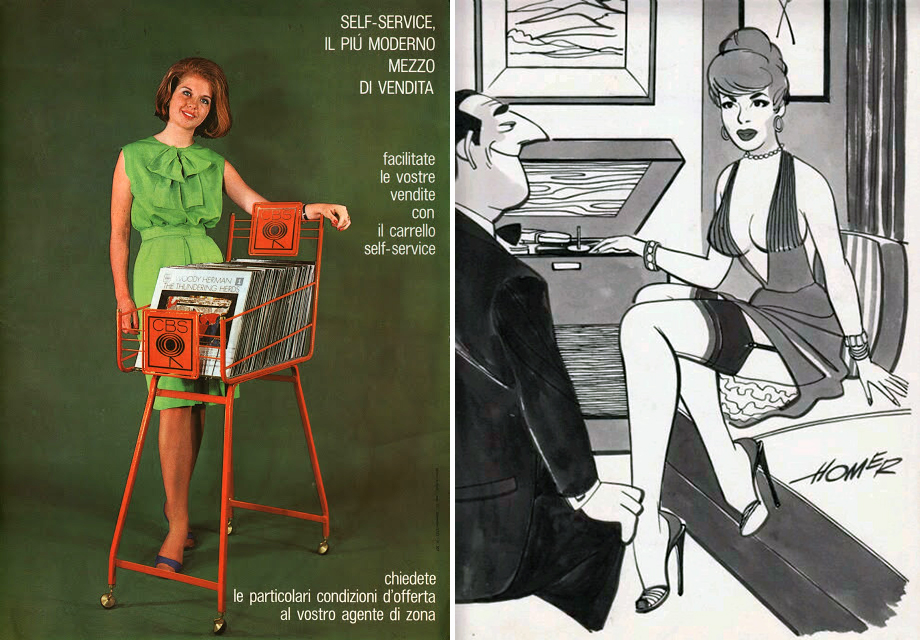 Those only listening to digital music don't understand the very real problem of record storage.  Stack them on top of each other, they warp.  And good luck finding a bookshelf that will fit them all.  The handy mobile record rack is nice, but I'm afraid I'd need about 20 of those.  The struggle is real.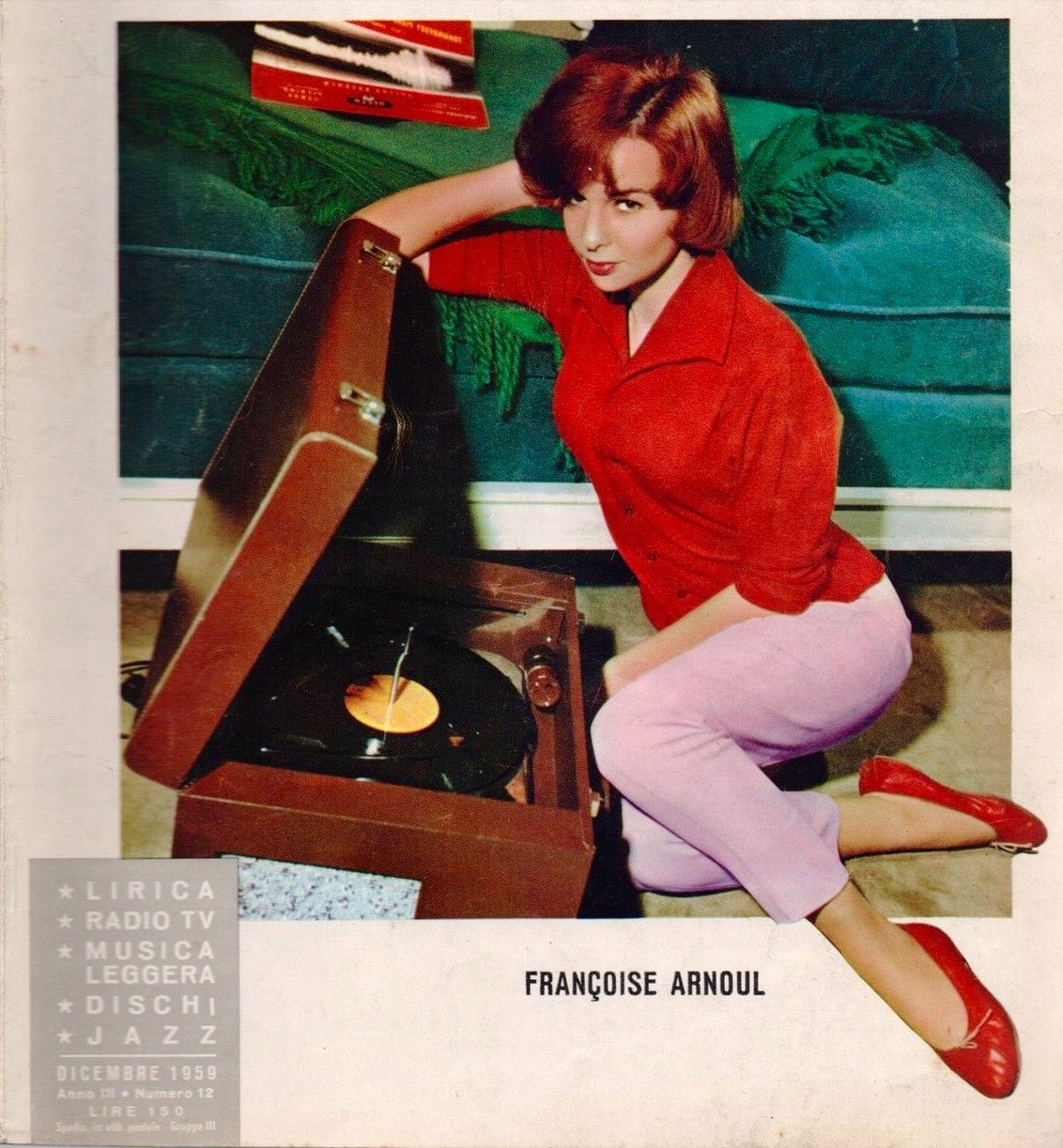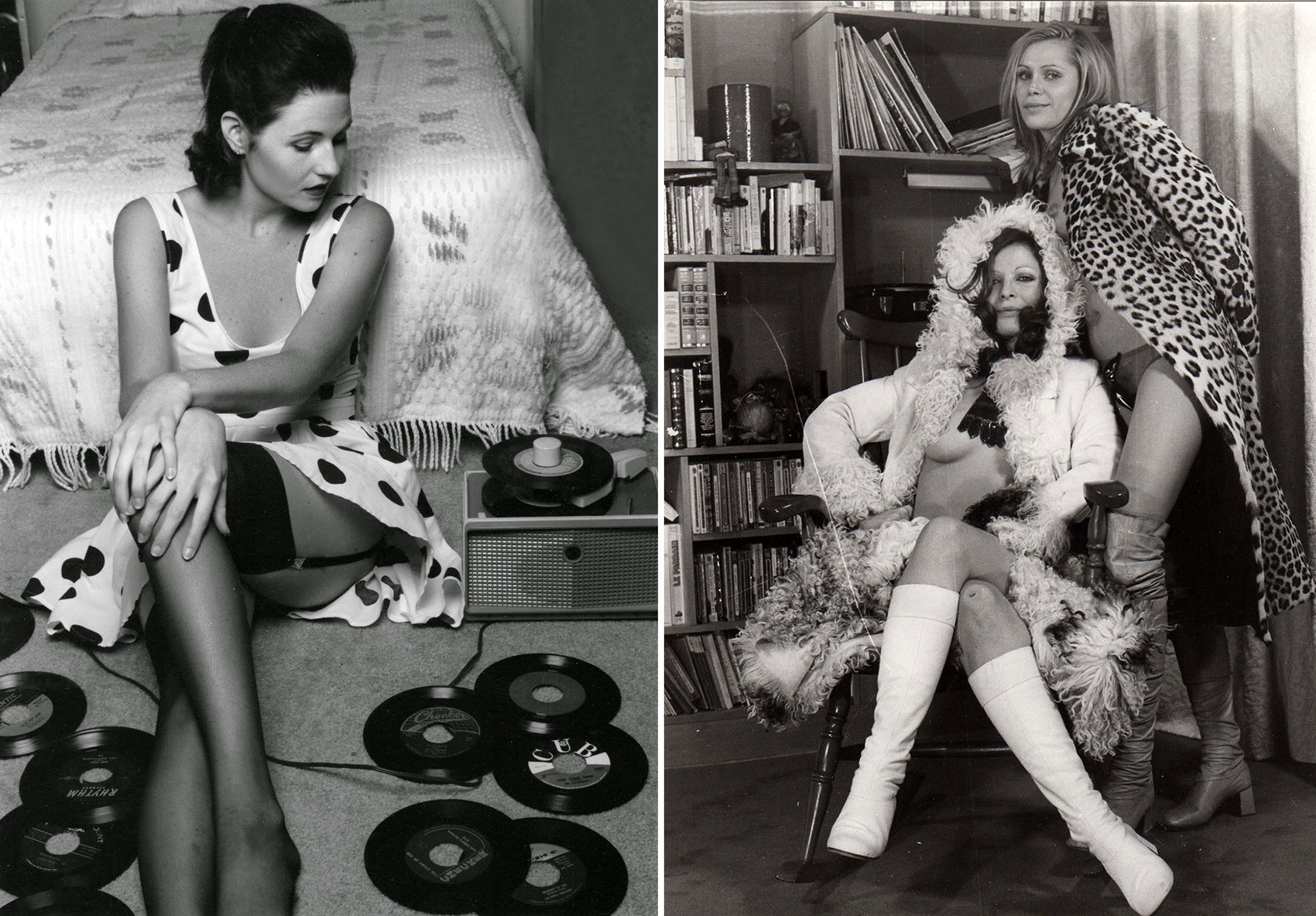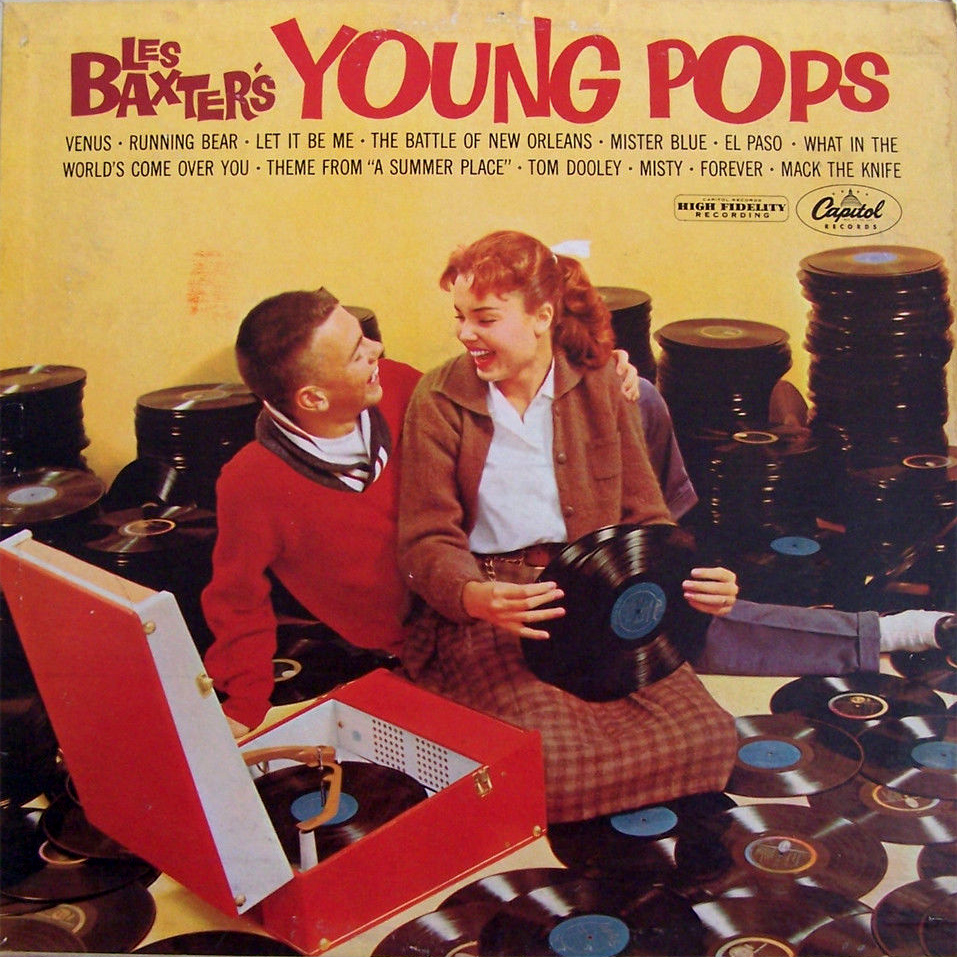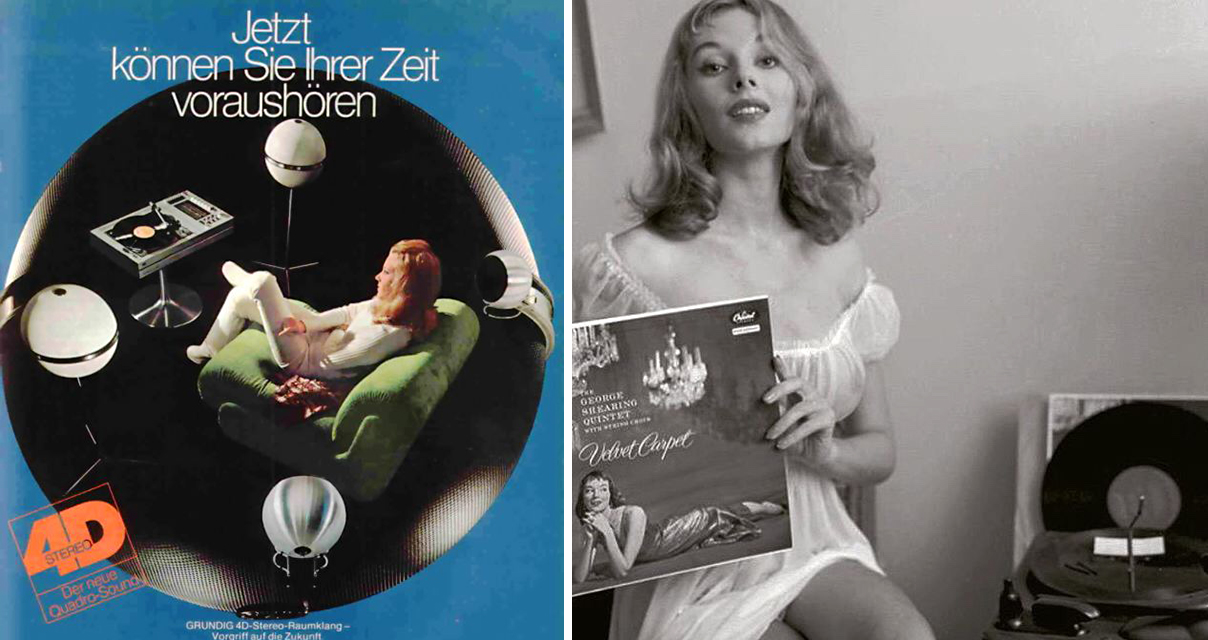 The George Shearing Quintet – The Velvet Carpet (1956) – Bachelor pad music for the ages.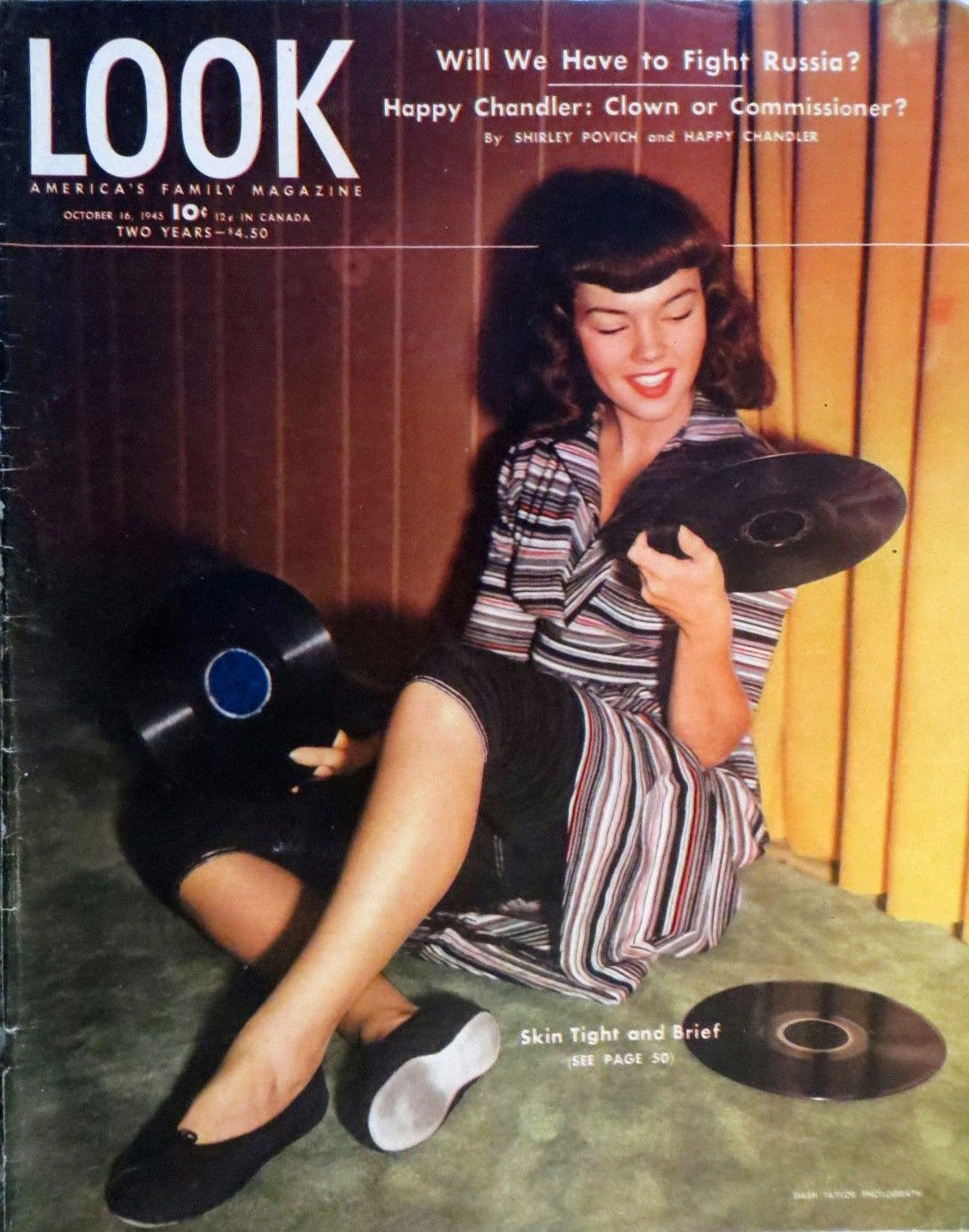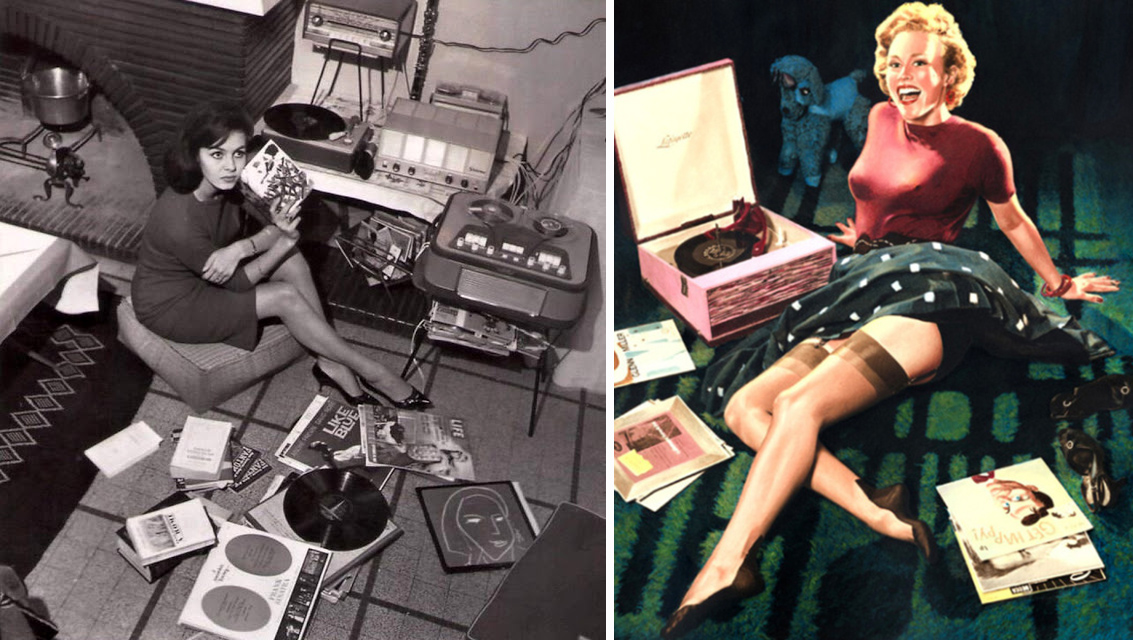 I spy the classic Like Blue LP by André Previn and David Rose (1959).  Nice.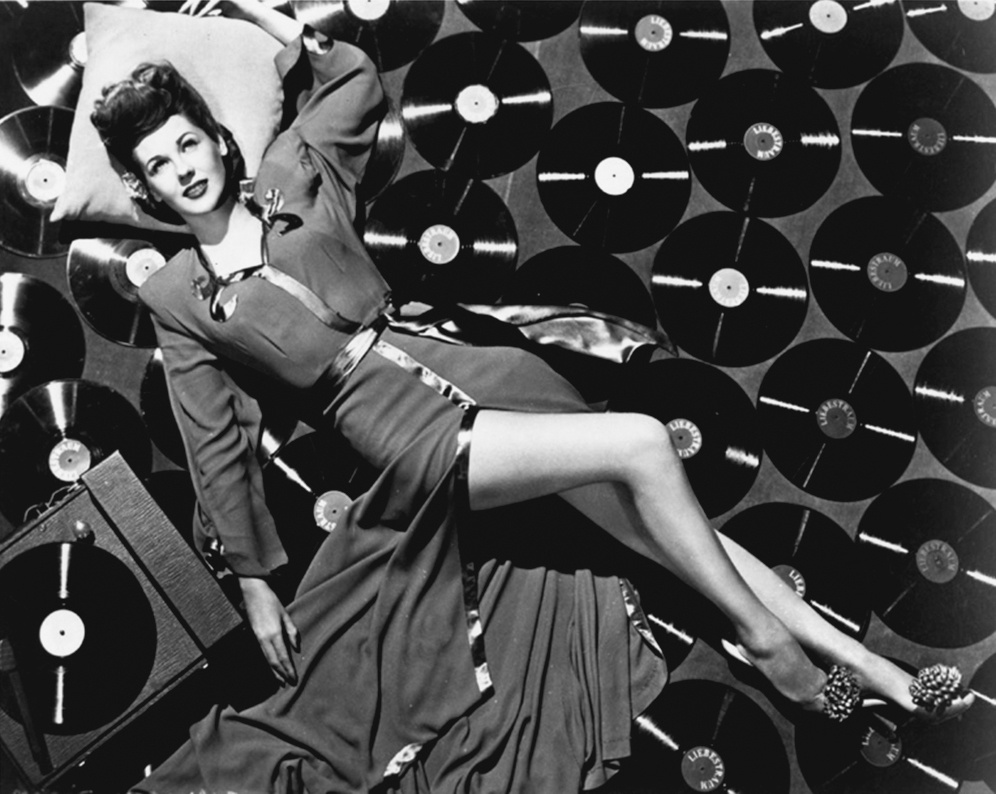 Marie McDonald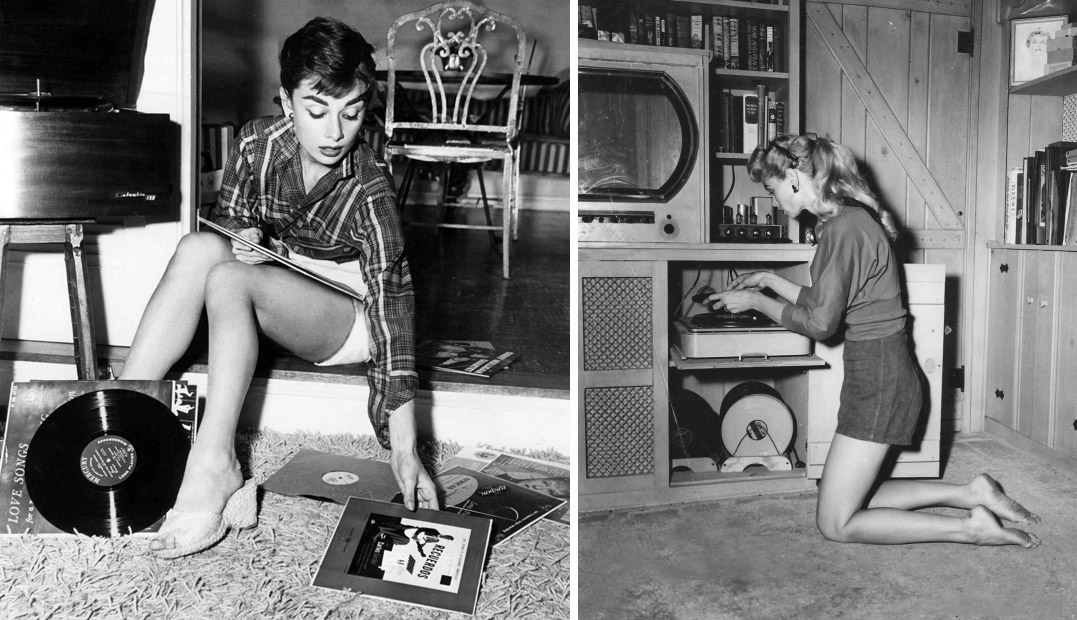 Audrey Hepburn at left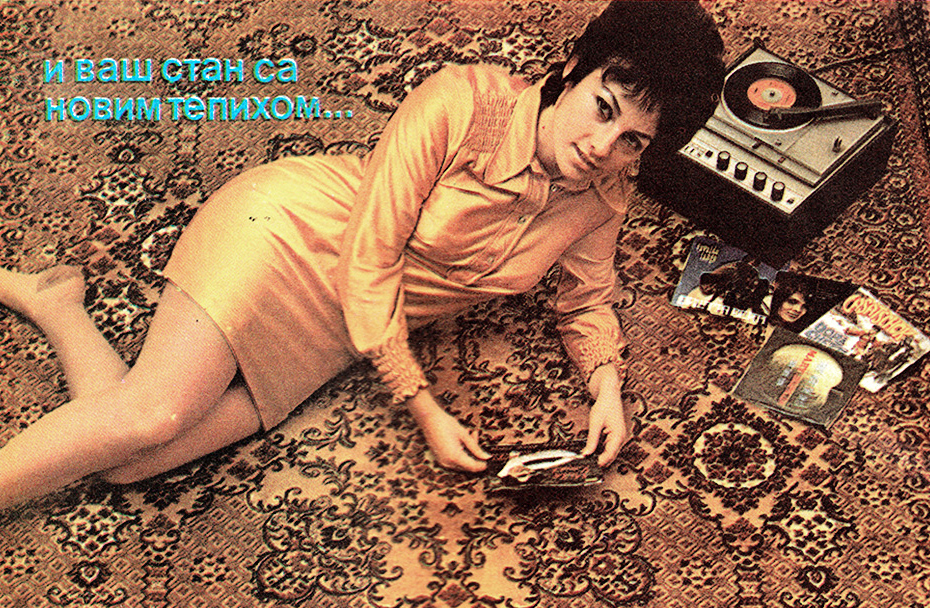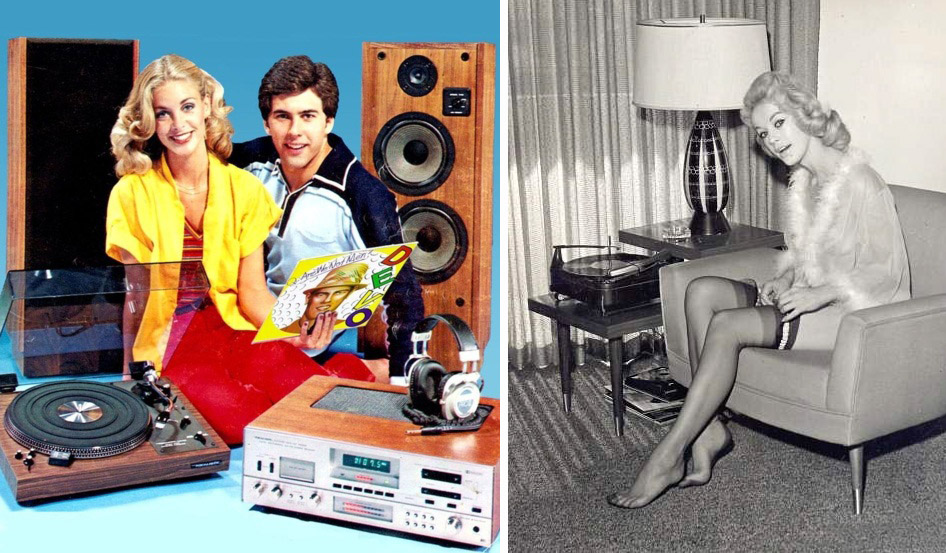 I can't tell you how much I love that this girl on the cover of an electronics catalog is holding up a Devo album.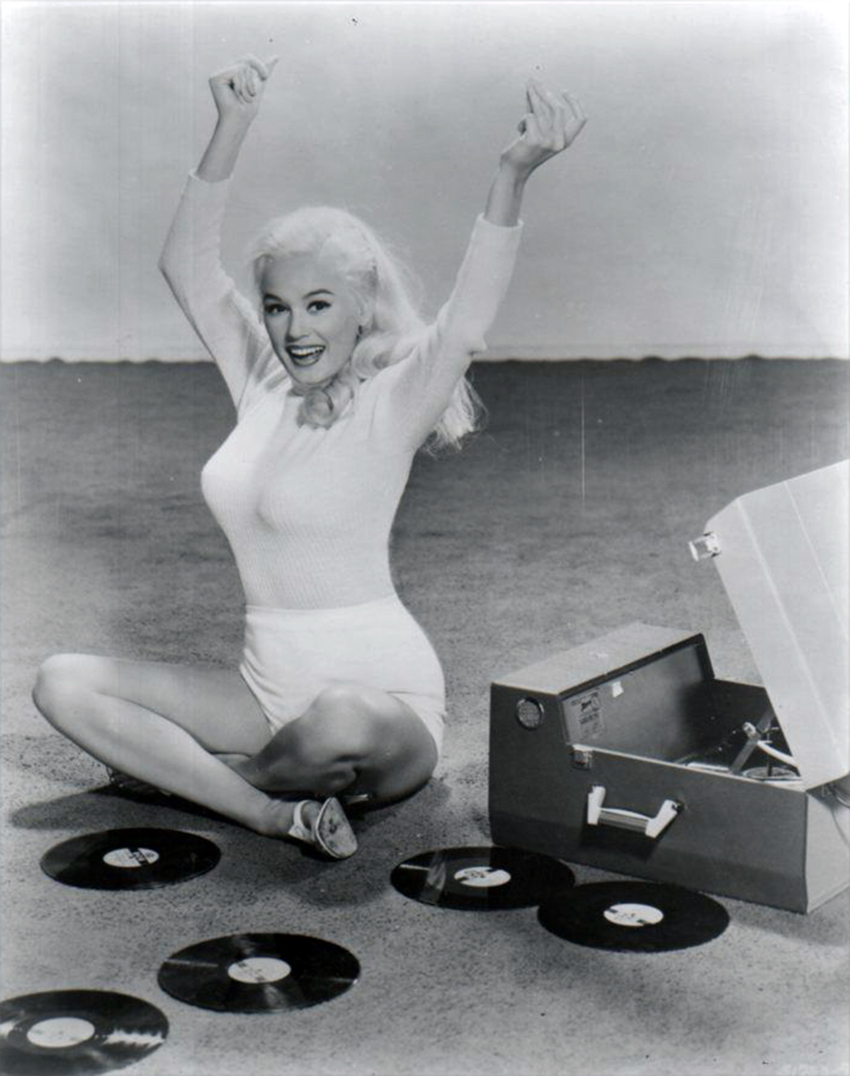 Mamie Van Doren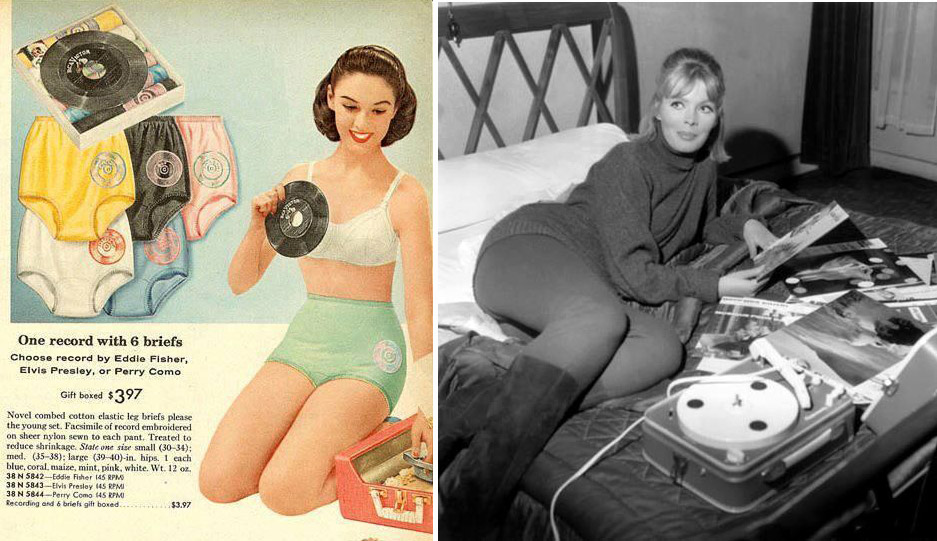 Let your mind comprehend that, at one time, they sold granny panties that came with Elvis, Eddie Fisher (Carrie Fisher's dad), and Perry Como records.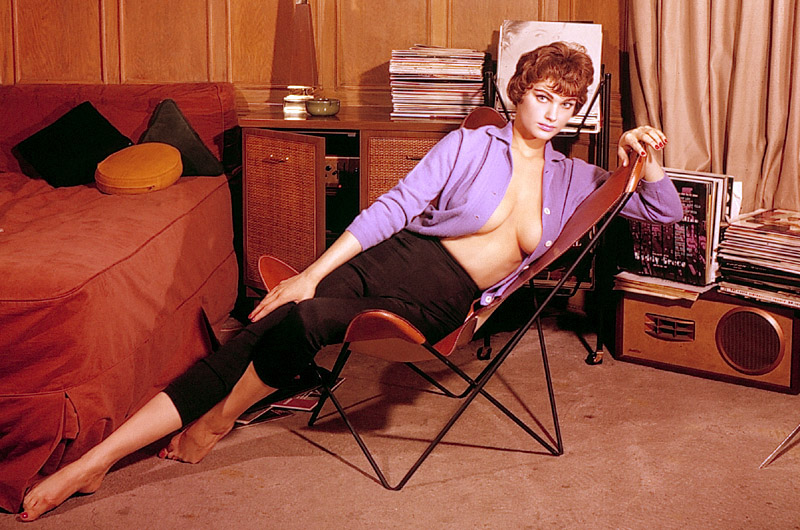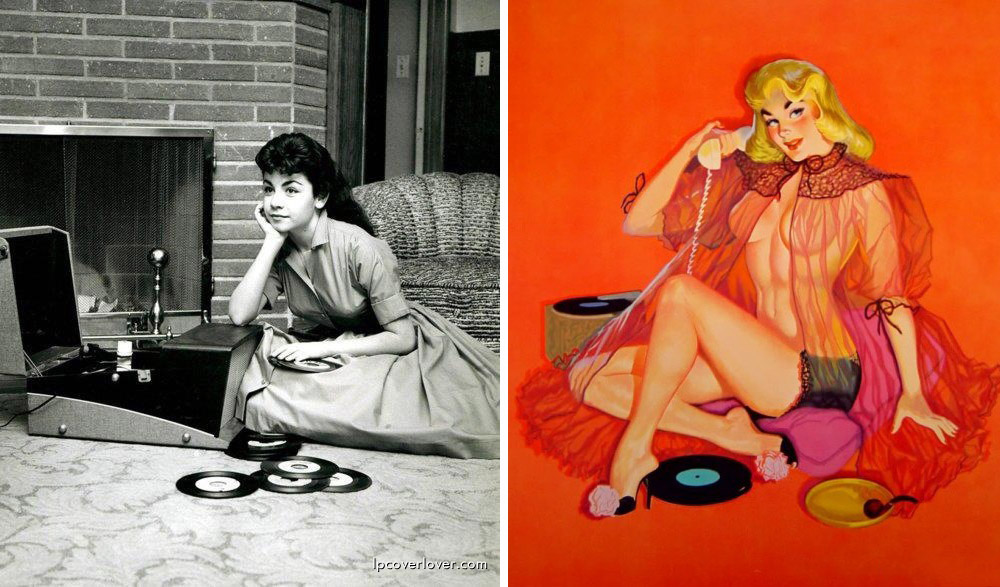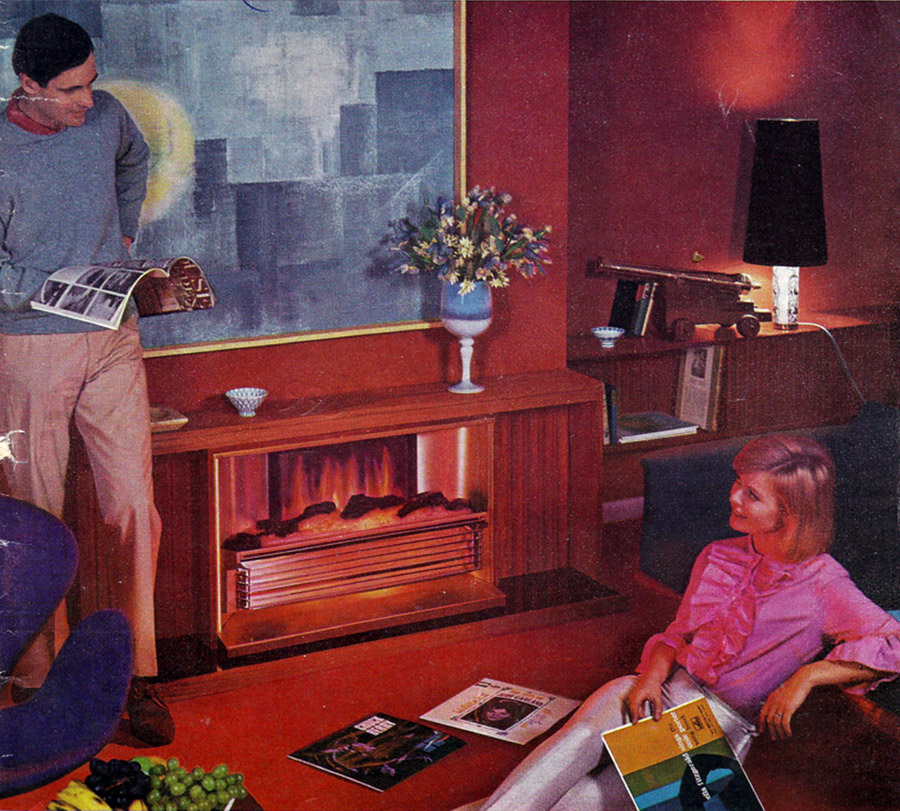 A close-up from the cover of Woman's Way magazine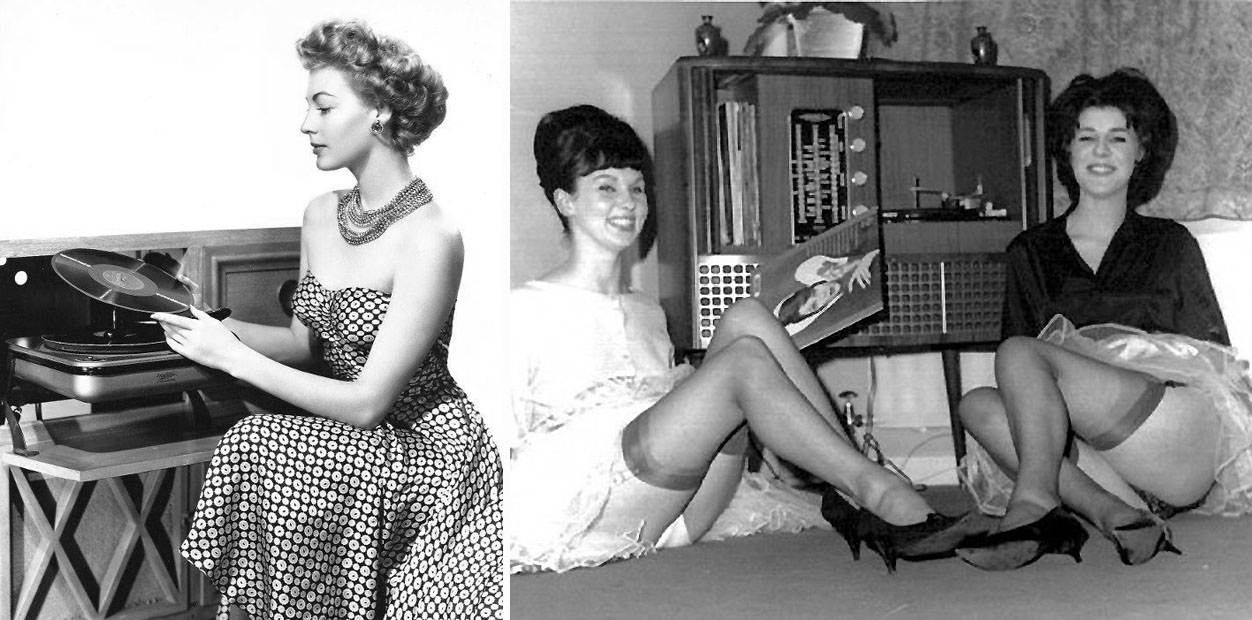 Ava Gardner and a couple gals not quite so prim and proper.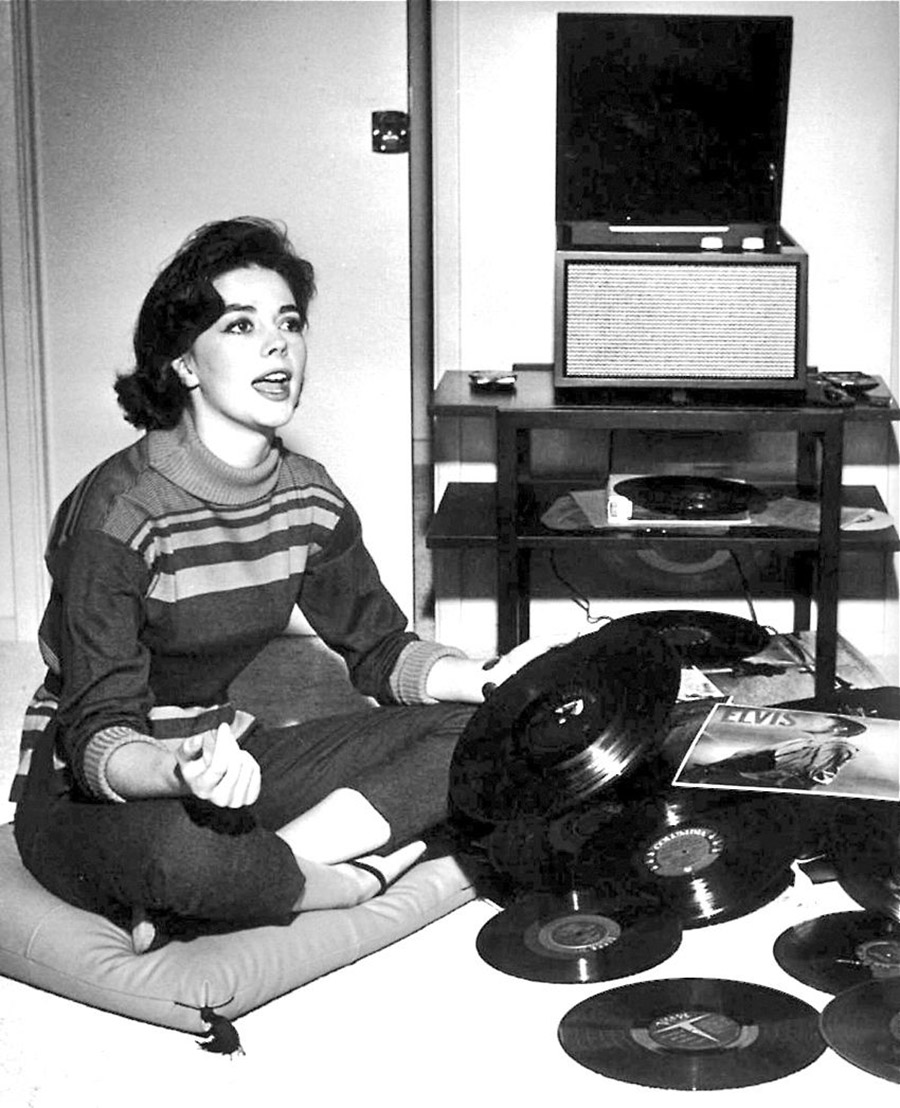 This is my favorite of the bunch: Natalie Wood.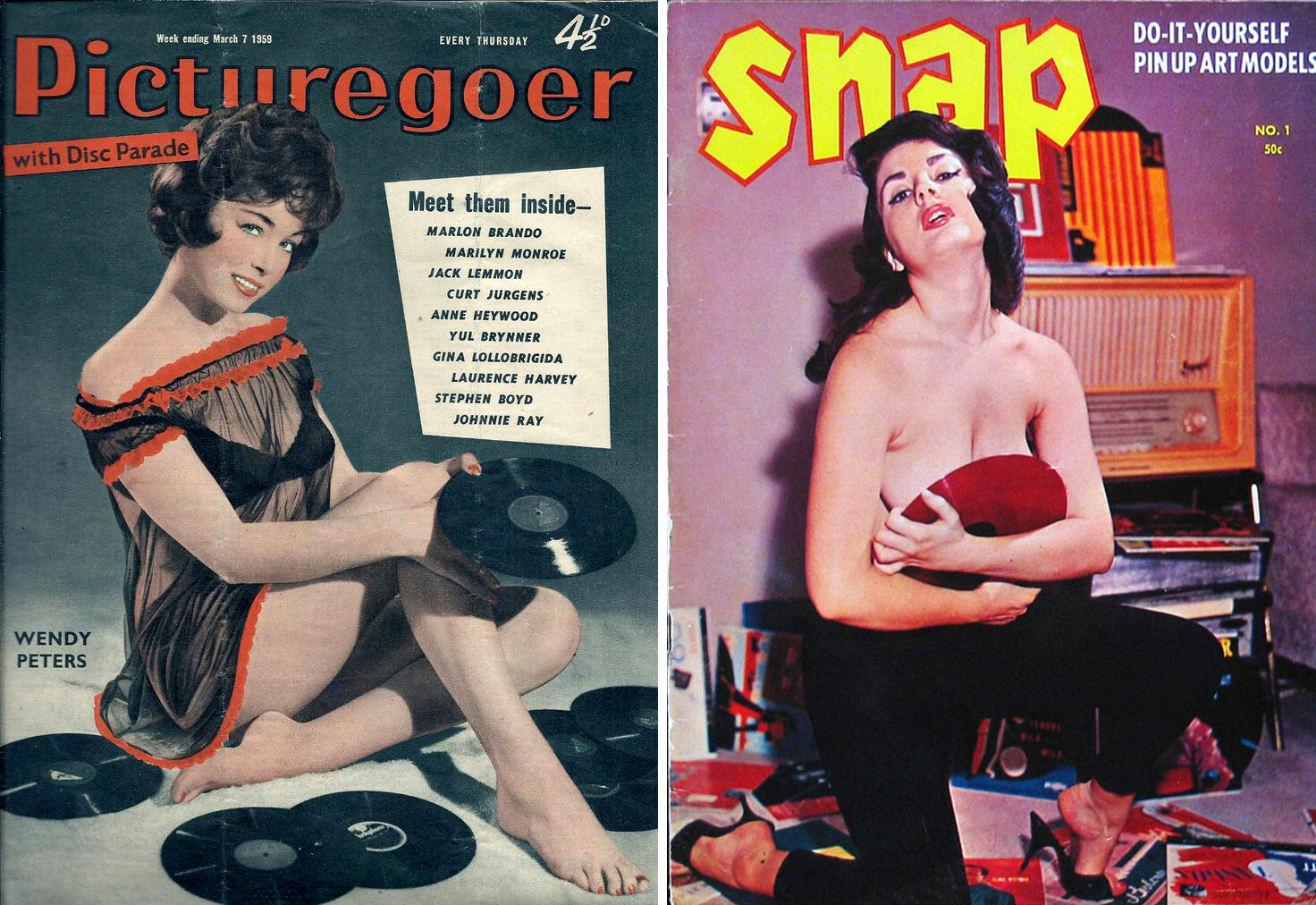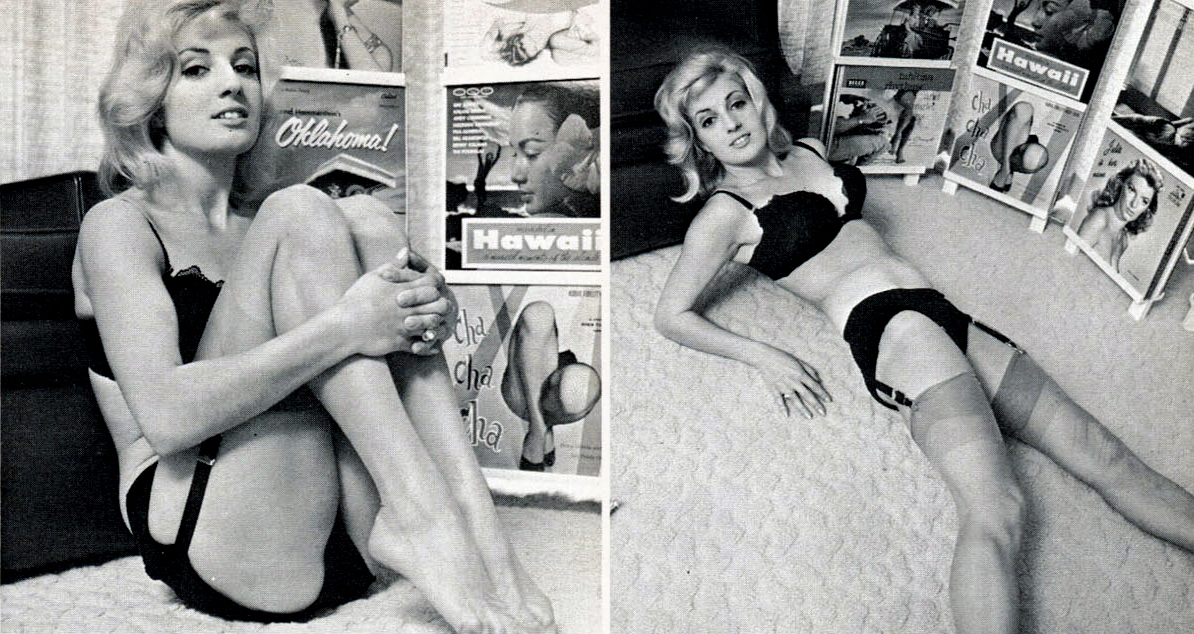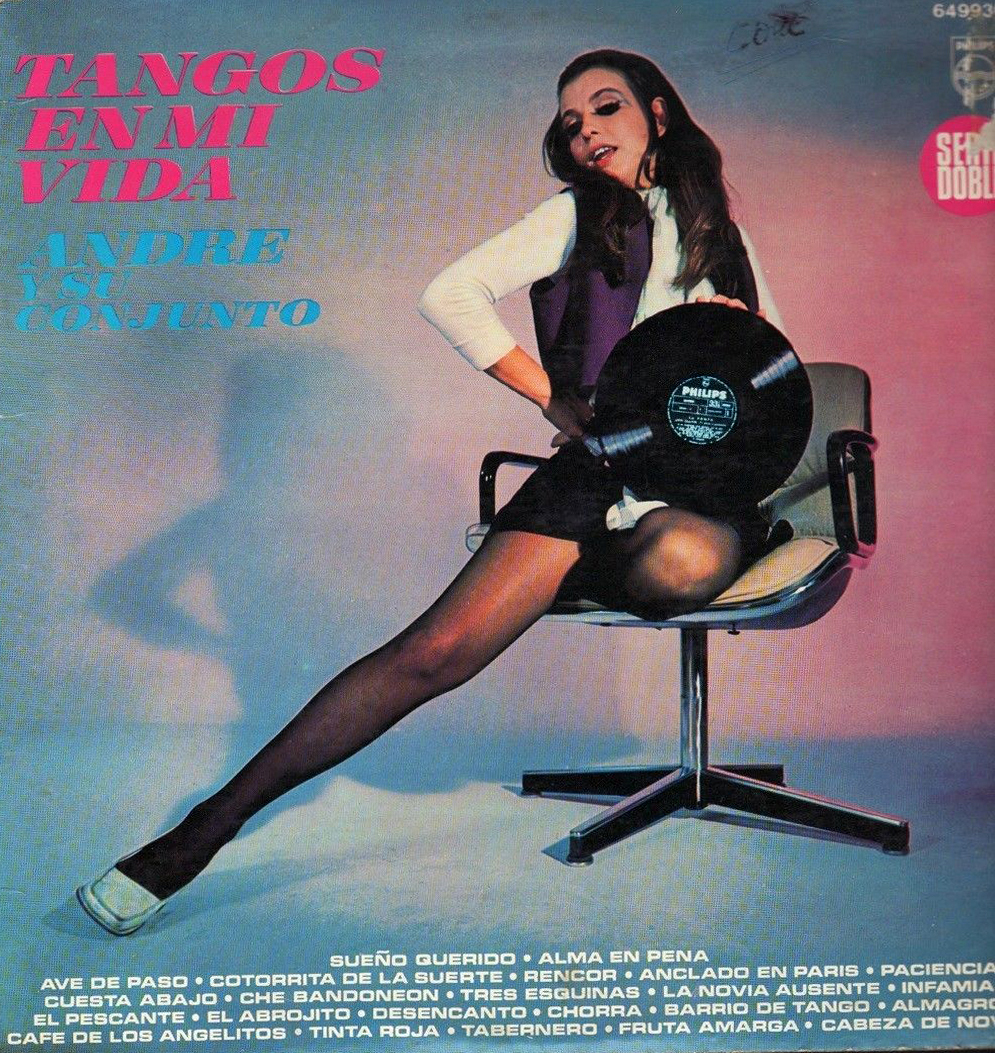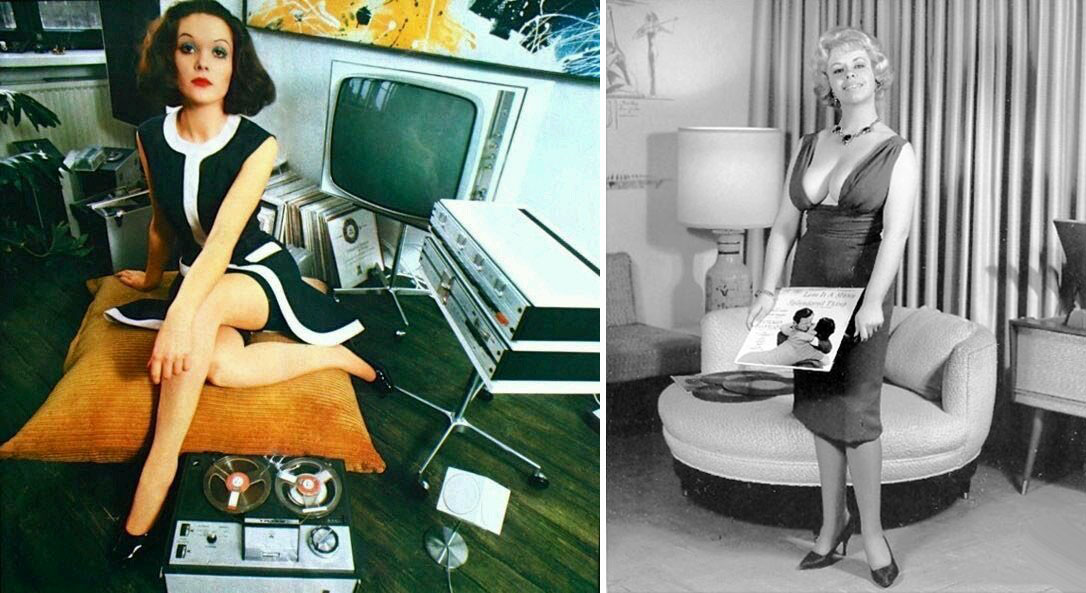 Yes, I know it's a reel-to-reel, not a record player – but there's a big stack o'wax behind her, so it's all good.  Also, I want that round chair in the picture to the right.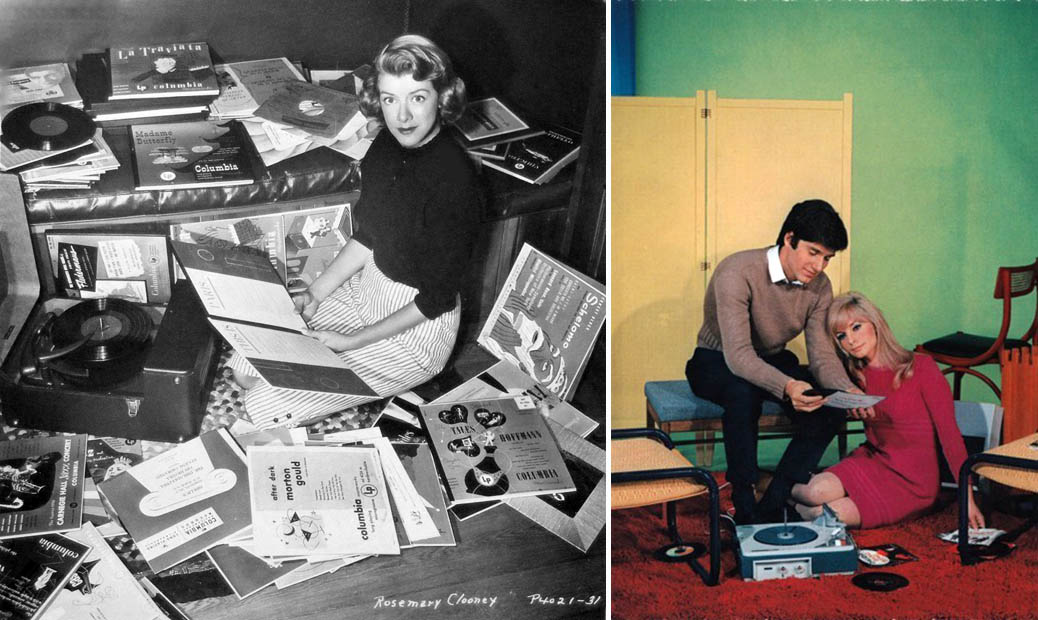 Rosemary Clooney with amotherload of vintage records.  I wonder if she passed them along to George.