SYD Barrett's first trip (magic mushrooms) as filmed in 1966 by Nigel Lesmoir-Gordon.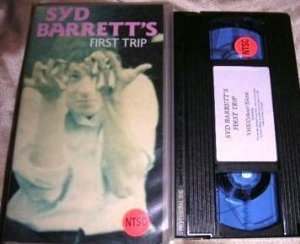 This experimental silent short is very rare (filmed in 8mm) and only lasts 11 minutes. Nigel Gordon, film student, filmed Syd Barrett while he tripped on mushrooms. This film is made up of two parts. Part 1: Syd tripping at Gog Magog Hills. Part 2: April '67, Pink Floyd right after they signed their first recording contract, with EMI Records at Abbey Road Studios.
Early signs of the Pink Floyd front-man's mental disintegration were apparent in 1967. That year he appeared on stage with an entire tube of Brylcreem in his hair into which – according to some accounts – he had crushed a handful of Mandrax tablets. Mandies or not, the lotion melted under the lights, leaving him looking like 'a guttered candle'. The song Vegetable Man (unreleased) reflected Syd's self-loathing at the time…
I am Nigel Lesmoir-Gordon and I shot this film of Syd on a visit from film school in London to my hometown, Cambridge. We were on the Gog Magog hills with a bunch of friends. David Gale is there along with Andrew Rawlinson, Russell Page, Lucy Pryor and my wife, Jenny. She's the one in the yellow mac talking to the tree. The mushroom images are iconic and will last forever. It is an unselfconscious film. It was not planned. It just happened. The guy on the balcony is me at 101 Cromwell Road, London SW7.
This footage was shot by Jenny. When David Gale wrote about 101 in The Independent he recalled: As the 60s began to generate heat, I found myself running with a fast crowd. I had moved into a flat near the Royal College of Art. I shared the flat with some close friends from Cambridge, including Syd Barrett, who was busy becoming a rock star with Pink Floyd. A few hundred yards down the street at 101 Cromwell Road, our preternaturally cool friend Nigel was running the hipster equivalent of an arty salon. Between our place and his, there passed the cream of London alternative society – poets, painters, film-makers, charlatans, activists, bores and self-styled visionaries. It was a good time for name-dropping: how could I forget the time at Nigels when I came across Allen Ginsberg asleep on a divan with a tiny white kitten on his bare chest? And wasn't that Mick Jagger visible through the fumes? Look, there's Nigel's postcard from William Burroughs, who looks forward to meeting him when next he visits London! The other material is of the band outside EMI after their contract signing. It's raw, unedited footage and stunning even so. It is silent but many people have subsequently put music to it on their youtube an google postings. Good luck to them.
Spotter: Ron Kretsch