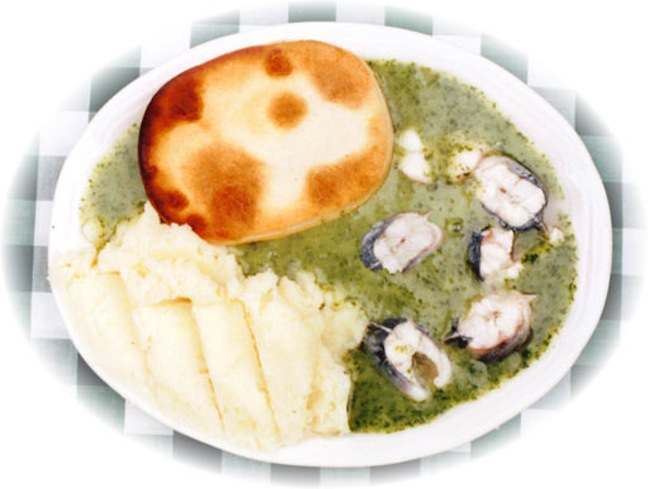 PIE and Mash, the traditional cockney staple, is under threat. An ageing fan base, coupled with a shortage of eels, has accelerated the decline of the traditional eel and pie shop.
But this is nothing new. Pie and mash itself resulted from the rising cost of eels a century ago, as beef replaced the slithery fish as a pie filling, with stewed eel slices becoming a pricey side order.
All is not lost, however. We could be in for a resurgence of youthful interest in P&M, thanks to its tireless champion, Sir David Beckham.
Becks has never made a secret of his love, and has been a regular, man and boy, at Tony's in Waltham Abbey. Such is his devotion that he not only pops in whenever he's in town, but was also reported to have had pie and mash flown out to Madrid and Paris during his stays at Real and PSG – much as Elvis used to send a jet to collect his peanut butter and jelly sandwiches. Proprietor Tony Lane denies these fanciful tales, although he is in no doubt of the celebrity effect on his clientele: "When we first opened the shop twenty years ago the customers were aged between 45 and 75, and now, we are getting kids coming in at about 12 years of age. I do believe that it is off of his back."
Sky's latest ads feature David watching Sky Go at Cooke's in Shepherd's Bush. And Brand Beckham has also hinted at plans for a posh pie and mash chain to be run with his friend Gordon Ramsay.
115 England caps? Streets paved with red carpet? Pah, never mind that. For services to the preeminent pie, the majestic mash and the lustrous liquor, we hereby induct you, David Robert Joseph Beckham, to the P&M Hall of Fame.
Come in and meet the gang…
Roy Orbison: Manze's, Tower Bridge Road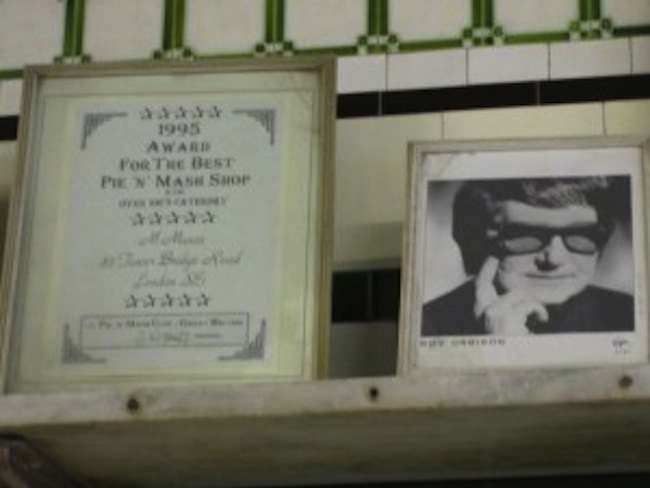 A portrait of 'The Big O' has pride of place behind the counter at Manze's in Tower Bridge Road, which claims to be the first modern pie an mash shop. Fellow Travelling Wilbury Jeff Lynne recalls how Orbison used to arrive at his Birmingham gaff, open the boot of his motor and unload boxes of Manze's finest.
George Melly: Sargents, Golborne Road
Liverpool-born Melly developed his love of pie and mash as a result of his life among the demi-monde of the jazz world. He penned the affectionate foreword for Chris Clunn's beautiful book of photographs, Eel, Pie and Mash.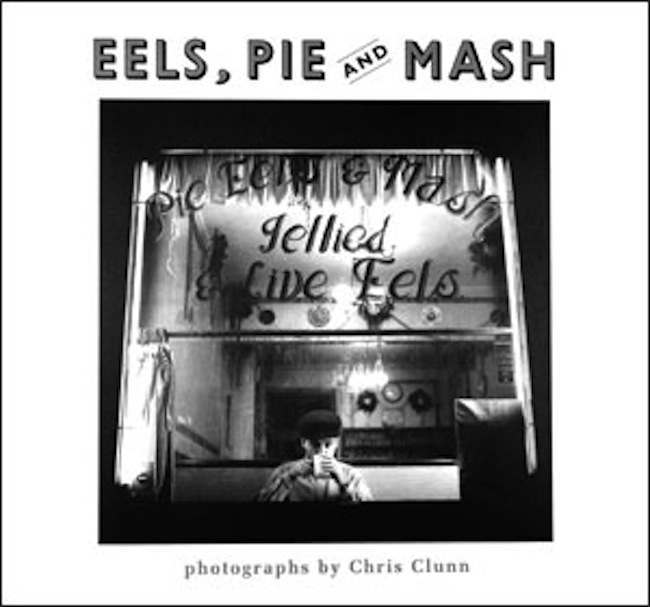 Chas Hodges: Cooke's, Dalston
Inevitably, pie mash and liquor have cropped up in the picaresque lyrics of Chas & Dave: 'I can't remember what we wrote now, but it was probably about Fred's place. I'm always in there. I can't do without my pie and mash.'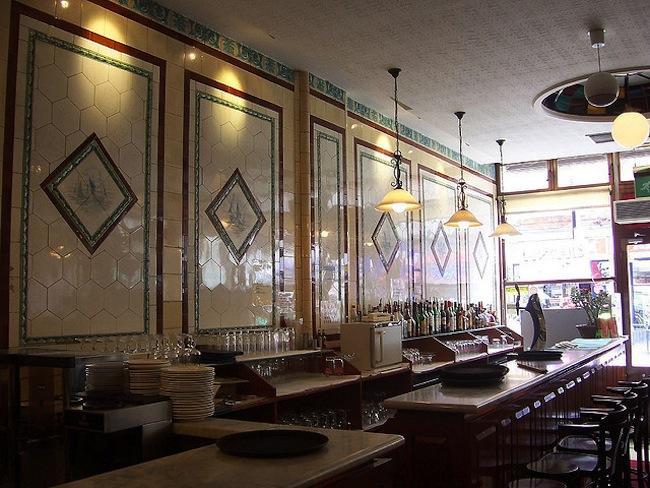 Tommy Steele: Joyce's Tower Bridge Road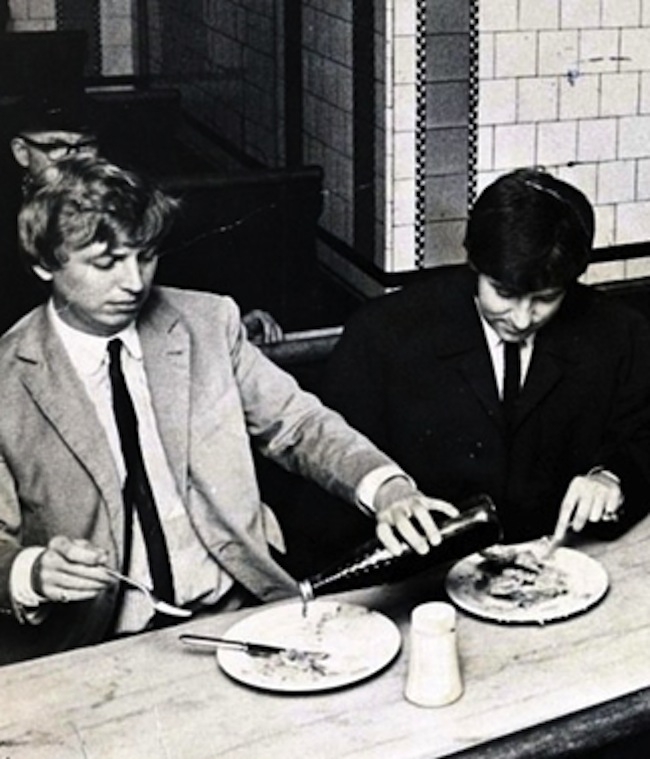 Steele's dad was a market trader, and you could be sure that whenever the Bermondsey pop sensation had 'half a sixpence' he would be at Joyce's near the stalls. Her he tucks in with showbiz pal Jimmy Tarbuck.
Russell Grant: Cooke's, Goldhawk Road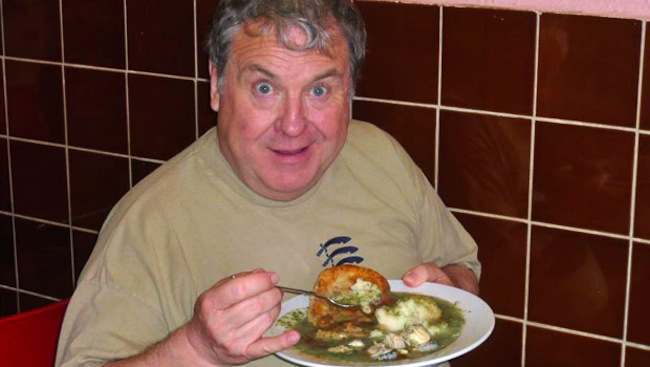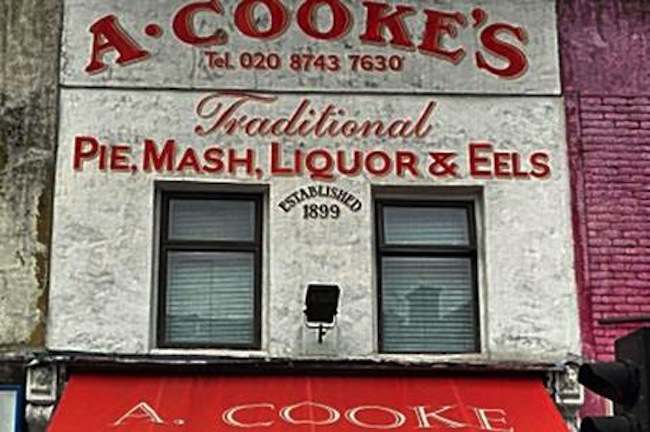 Cooke's is under threat from developers, and even astrologer Russell doesn't know what the future holds. He is a leading light in a campaign to save the shop, along with figures such as Quadrophenia director Franc Roddam. Cooke's was used as a location for a scene in that film with Ray Winstone and Phil Daniels.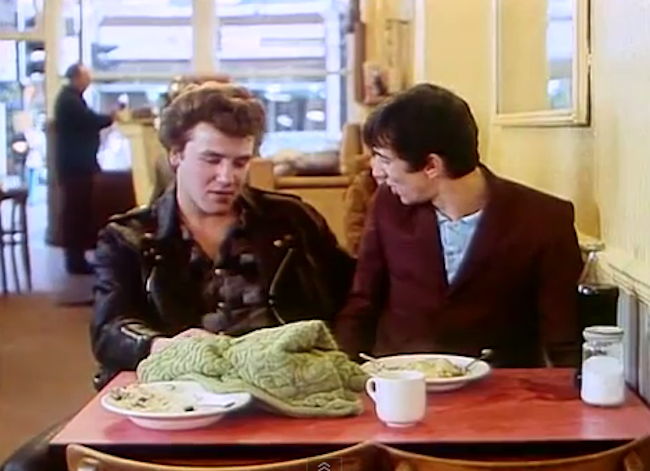 And Pete Townshend dropped by during filming too.
Danny Dyer: Pie and mash manor unknown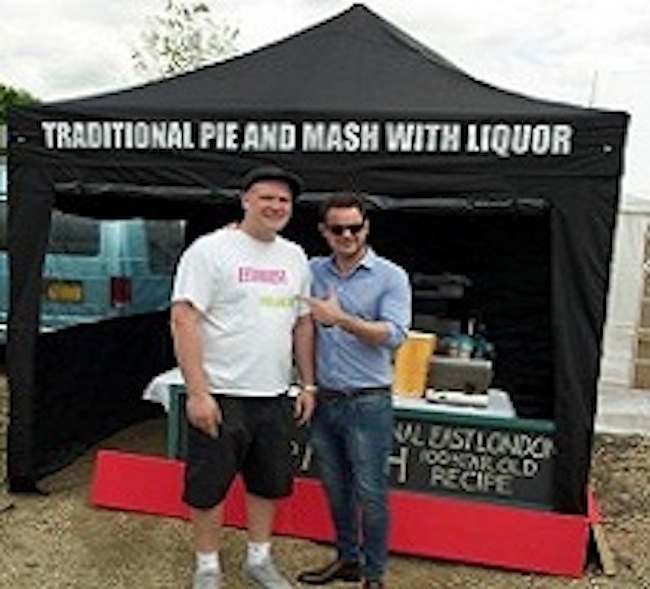 Jeffrey Archer: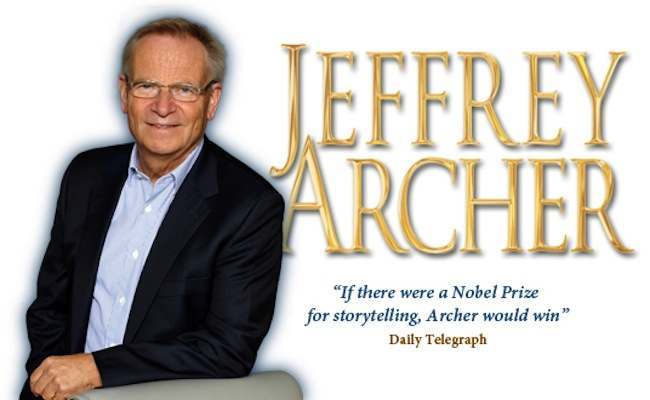 Tasted it and liked it apparently, and why would anyone doubt his word?
Eric Hall: Cooke's, Dalston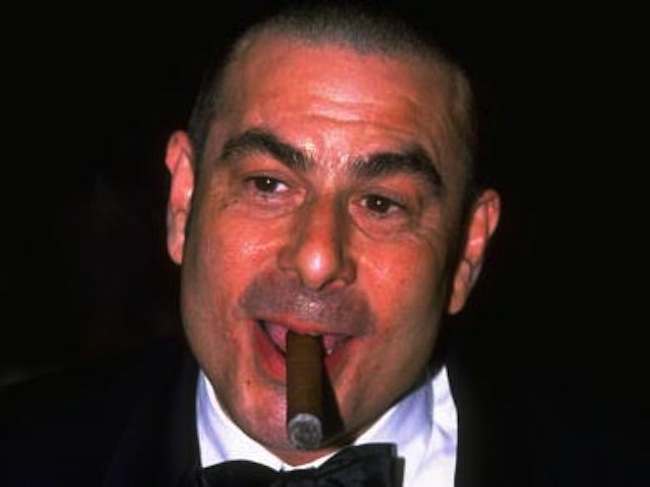 "I visited the world's best pie and mash shop last week," wrote Eric 'Monster' Hall in 1996. "Fred Cook's in Dalston, and he took a picture of me noshing his great grub to put on the wall. It was a monster honour for me because I used to eat there as a kid. 'Where do you want me to put the picture?' asked Fred. I could have gone beside Bob Hoskins, Russell Grant, Frank Bruno, Chas and Dave and many other stars. But the spot I had my eye on was next to the lovely Barbara. And that's where Fred is putting me. So I can now honestly say I'm appearing next to Barbara Windsor in the East End, and if I mumble a bit I can make it sound like EastEnders.'
Andy McNab: Manze's, Tower Bridge Road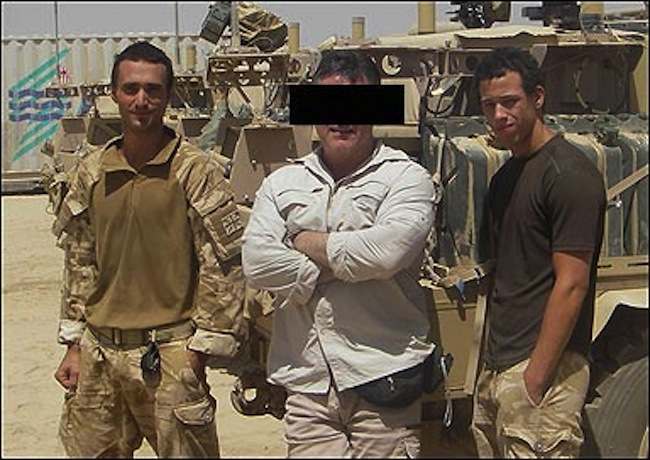 "I've been coming here since I was a kid and still can't resist stopping off whenever I cross Tower Bridge," he told the London Evening Standard in 2002. "The food is always the same and I have still never tasted pies as good as these. And, as much as it disgusts my wife, don't forget to pour the liquor over your pie and mash when you go."
Disgusting? Strong words from a man who had to wrap his turds in clingfilm and store them in his parka hood while on reconnaissance. But as the former SAS man knows only too well, what doesn't kill you makes you stronger.