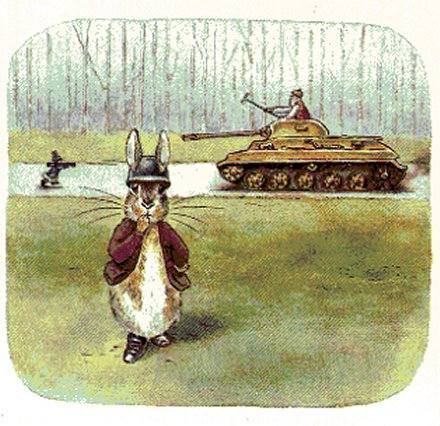 IT was the literary partnership of the century.
Two best-selling writers from very different genres joining forces in one heart-rending, barnstorming adventure.
Beatrix Potter was an English mycologist who rose to fame as the author of children's books such as The Tale of Jemima Puddle-Duck, The Tale of Timmy Tiptoes and The Tale of Peter Rabbit.
Sven Hassel is, by his own account, a Dane who took German nationality and went on to serve in the 2nd and 6th Panzer Divisions in World War Two. His novels – including Legion of the Damned, Wheels of Terror and Monte Cassino (The Beast Regiment) – have been translated into 18 languages.
Put them together and what do you get? Peter Rabbit – Tank Killer. A taleof hatred, barbarity, revenge and fluffy bunnies, set against the harsh backdrop of rural England.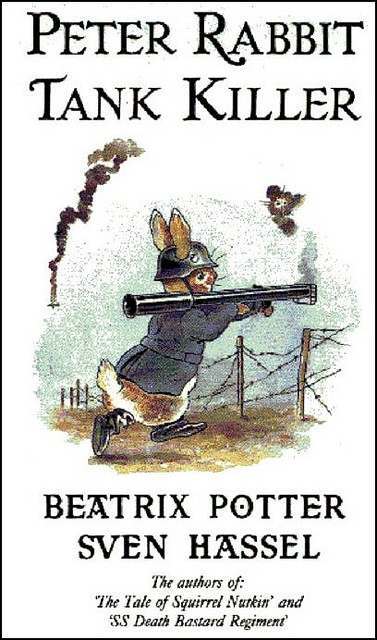 Old Mrs Rabbit warns young Peter that he and his naughty cousin Benjamin are not to antagonise Mr McGregor the farmer.
Needless to say they are soon up to no good, and lay in wait for McGregor's MkII Tiger with its 88mm howitzer and forward-mounted 7.62mm machine guns. When it appears, they let loose their Panzerfaust arms, with terrible consequences.
Carnage and bad language ensue. Mrs Rabbit is furious and sends Peter to bed without any supper.
It is a sobering end to an all-too-real nightmare.
Unfortunately, the collaboration happened only in the imagination of Mark Leigh and Mike Lepine, in The Book of Revelations, published in 1988. But it is, you will surely agree, a tantalising glimpse of what might have been…